Printer-friendly version
I used white cotton candy to dress up cupcakes and turn them into Spooky Spider Web Cupcakes, but I also wanted to serve Cobweb Cotton Candy at our Spiders' Den Trunk or Treat. Just using plain white sugar makes great spider-weby candy, but I had an idea to make my creepy candy even better:  Bones instead of paper cones!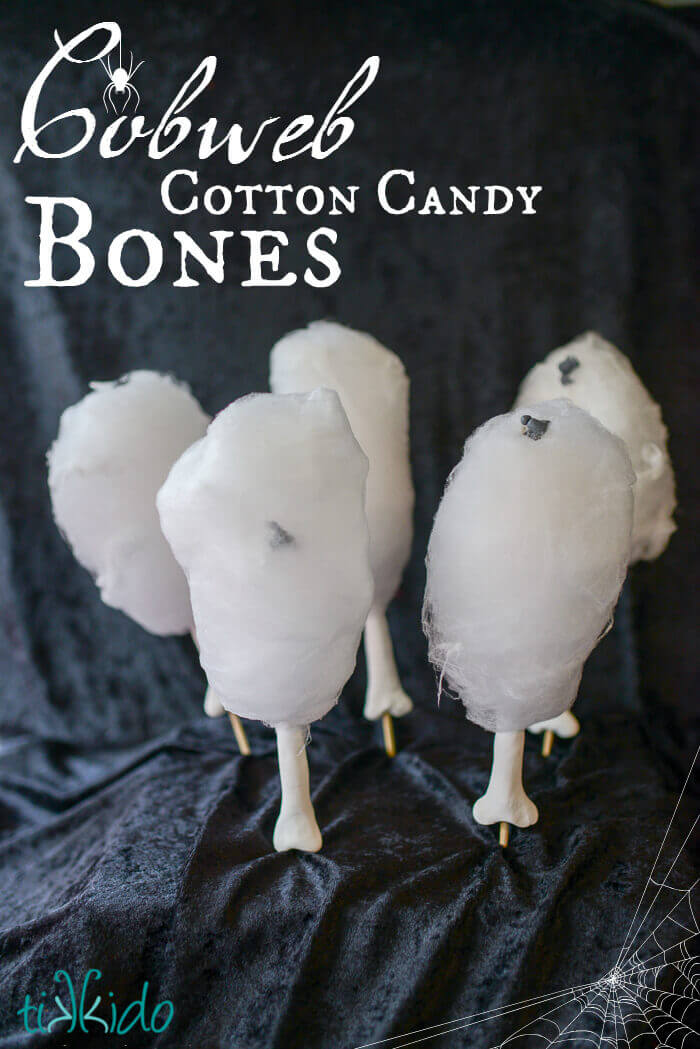 Creepy, right?  The kids loved these!
Materials for making Cotton Candy Bone Cones:
bamboo skewers
kitchen cling wrap
You could use any kind of air dry clay, but I really like Crayola's Model Magic.  It's smooth, easy to work with, doesn't crack, is lightweight, and dries in the air.  Such cool stuff.  I used it to make the (non edible) teapot spout and handle on the teapot cake I made for my daughter's Under the Sea Tea Party birthday (no link, done before my blogging days, I'm afraid!). 
Pull off a chunk of the clay.  Roll into a fat snake of clay approximately as long as you want the bone to be.  Flatten slightly, and press the bamboo skewer into the center of the clay.
I used bamboo skewers for two reasons:  first, because the clay, when it dries, isn't the sturdiest thing in the world and could use the extra support, and second, because I wanted to have the pointy end sticking out so that I could poke it into Styrofoam to easy stand up and display my cotton candy cobwebs.
Roll the clay between your hands, embedding the skewer in the middle and smoothing out the clay on all sides.  Make it a little thinner in the middle than at the ends.  Pinch the ends into those two little bumps that give the clay that distinctive bone shape.
Then just let dry!
After the bones have dried, wrap a bit of plastic kitchen cling wrap around the end of the clay bone and any skewer sticking out.  The plastic wrap is food safe, and gives kids an obvious clue when to stop eating.  The air dry clay is soft enough that a kid might take a bite of the bone in his or her enthusiasm for the cotton candy, and I'd rather not take that chance.
Fire up your cotton candy maker (I have this handy dandy, inexpensive little home cotton candy machine that works like a champ), and start spinning that sugar.  Just using plain white sugar makes perfect cobweb cotton candy.
The kids would have been thrilled with any kind of cotton candy, I'm sure, but it's the little details like using bones instead of paper cones that really delight me in party planning.