Printer-friendly version
Who doesn't love a good Ugly Sweater party?  Embracing those delightfully gaudy Christmas themed sweaters, rejoicing in them, wearing them with absolutely no self-consciousness?  Maybe it's just because I've never been the Cool Kid, and I don't particularly care that I wasn't; I've always liked what I've liked.  Public radio (yes, even as a kid)!  Star Trek!  Old English archaeology and language!  Obscure German board games!  So anything that embraces the quirky, the individual, the odd, and celebrates it, I love.  I may not be a connoisseur of Christmas sweaters, but I am delighted to celebrate them with others!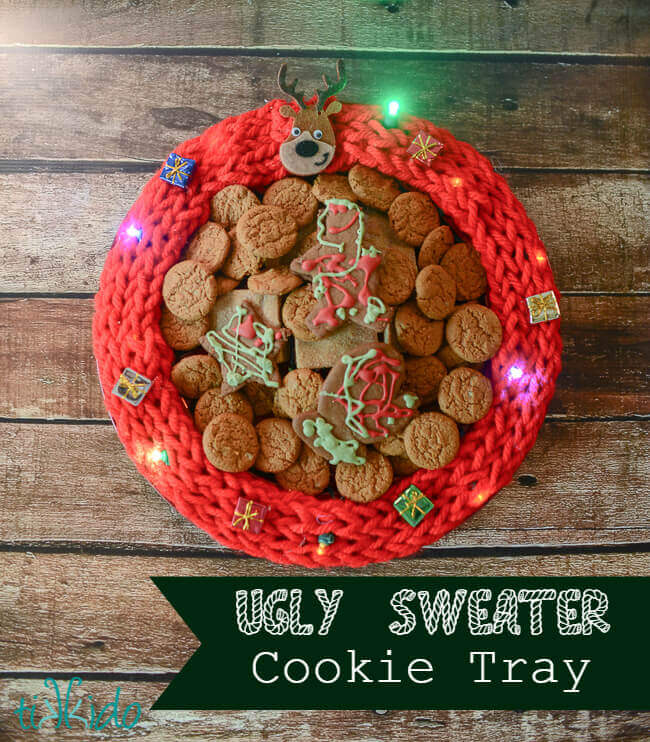 Ugly Sweater Cookie Serving Tray Materials:
Inexpensive plastic charger
yarn
Inexpensive felt reindeer ornament
low temp glue gun
All of these materials can be found at your local craft store.  The small, 10 strand battery operated LED light pack was the perfect size for this project.  The presents were found with the miniature Christmas trees and other miniature ornaments at my local Michaels.  The felt reindeer ornament was perfectly goofy looking, and cost only $0.99.  The chargers are available at any large craft store for between $1 and $1.50, depending on the sales going on that day.  They always go on sale this time of year, too.
Start by finger knitting a quick border for your charger.  I was totally going to make a video showing how to do finger knitting (the only kind of knitting I can do with any success), but my daughter had Oireachtas (say oh-ROCK-tus, it's a huge regional Irish dancing competition, three days long, ALL DAY long) and I seem to have caught The Plague, and have no voice.  None.  So I found this video instead:
I used to love doing this as a kid!  I even made my own pair of rainbow leg warmers.  (Yes, you may laugh, it was the 80s.)
One strand of finger knitting is the perfect width to cover the edge of one of those plastic chargers!  Glue only along the outer edge.
I thought it looked pretty cool just like this as an actual charger.  Wouldn't it look amazing done in cream, with white plates?  Very cozy winter wonderland.
Anyway, back to our delightfully tacky version.  Tuck the battery operated lights under the knit yarn edging.  (This is why we only glued it on the outside edge, so it would be easy to tuck the lights under.)
Glue on the rest of your embellishments.  Somehow, just a reindeer head seemed more appropriate for an ugly sweater theme, rather than the entire reindeer.  Besides, the scale was better with just the head.  I glued the reindeer head on top of where the two ends of the finger knitting were glued to the plate, so you don't see any raw ends.  
Pile high the cookies, and you'll easily hide the battery pack.  Thanks to my five year old daughter, Niamh, for letting me borrow a few of her beautiful cookies for this photo!  
Now, who's ready for some more AWESOME ugly sweater ideas?  Check out all the links in this amazing Virtual Ugly Sweater Party hosted by The Country Chic Cottage.