Printer-friendly version
My Christmas tree is full of an eclectic mix of ornaments--ornaments from my childhood, ornaments my children have made, pretty things I've bought, ornaments I've bought on our travels, etc.  There is definitely no theme that the ornaments create on my Christmas tree.  But it still looks absolutely beautiful, because I always use one unifying design element to create a cohesive look to pull everything together.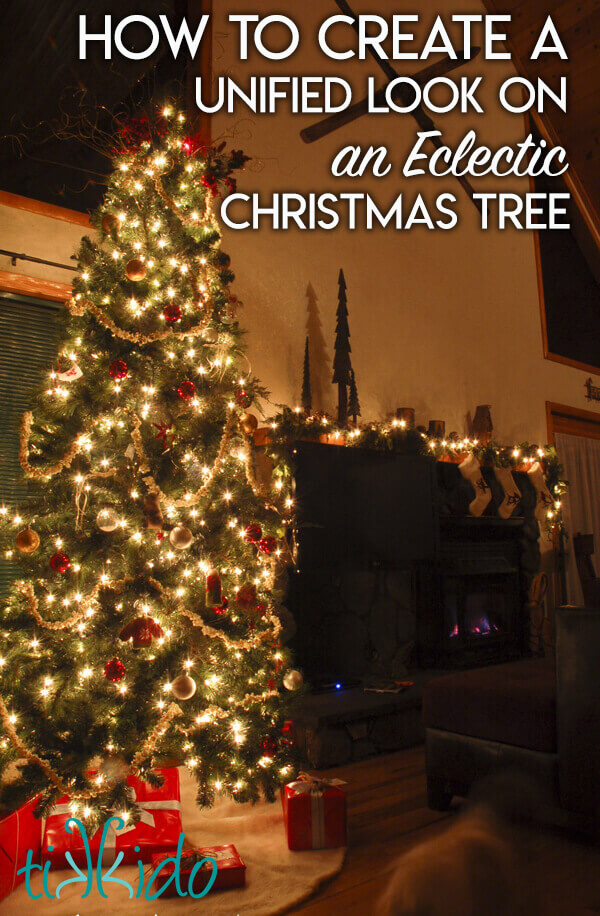 I'm sharing this Christmas tree design tip as part of the Festive Christmas Ideas blog hop.  Today, our theme is Christmas Trees!
Welcome back to year 6 of our Festive Christmas Event where we team up with a bunch of talented blogging friends to bring you a plethora of creative ways to celebrate your holiday season.
We will be baking some cookie recipes for you, sharing some party games, making some handmade gifts, doing some ornament crafting, and sharing our Christmas movies family fun. There will be breakfast recipes and as always our decorated Christmas Trees which is always a fun tour of homes.
You will find new ideas every Monday and Wednesday between Oct. 19th through Nov. 18th. Scroll all the way down to find all the ideas linked at the end.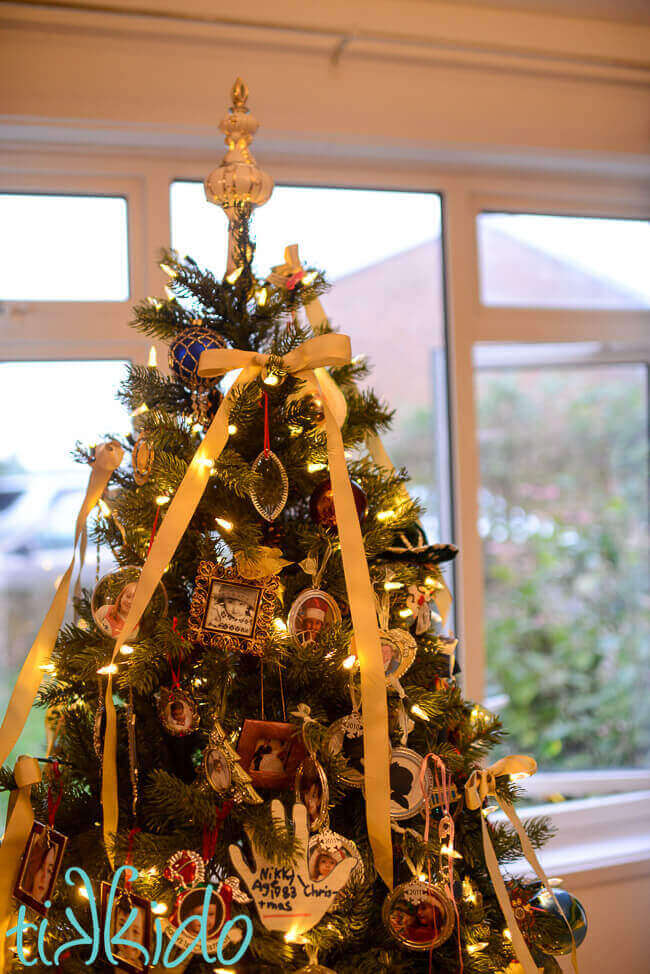 The key to creating a unified, cohesive look to a Christmas tree with an eclectic collection of ornaments, is to repeat an element over the entire tree to bring it all together.   On my Christmas tree, that's the pale gold ribbons.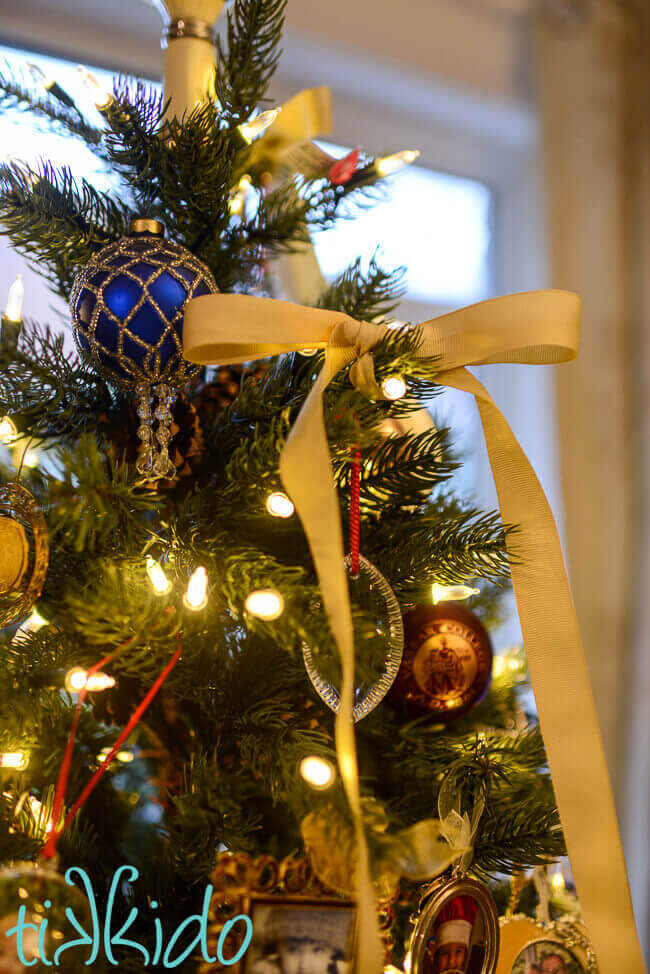 The ribbons are actually a meaningful element on our Christmas tree, too.  My husband and I got married 19 years ago, and we registered at Williams Sonoma.  The ribbons came from the wedding gifts that came from that registry!
It's really remarkable how adding that unifying element transforms the look of the Christmas tree!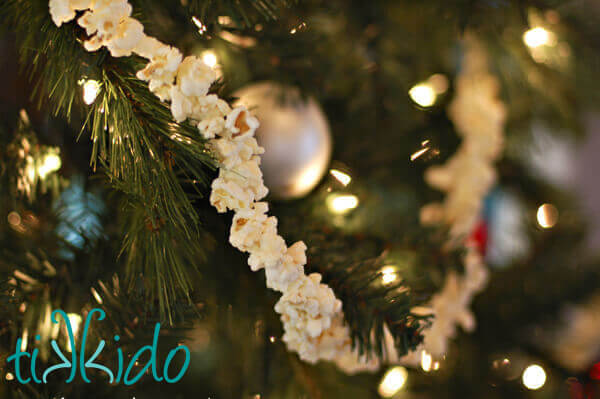 You don't have to use something special and memorable, of course.  Any repeated element will do it.  A garland (like a simple popcorn garland) does the exact same job, and beautifully!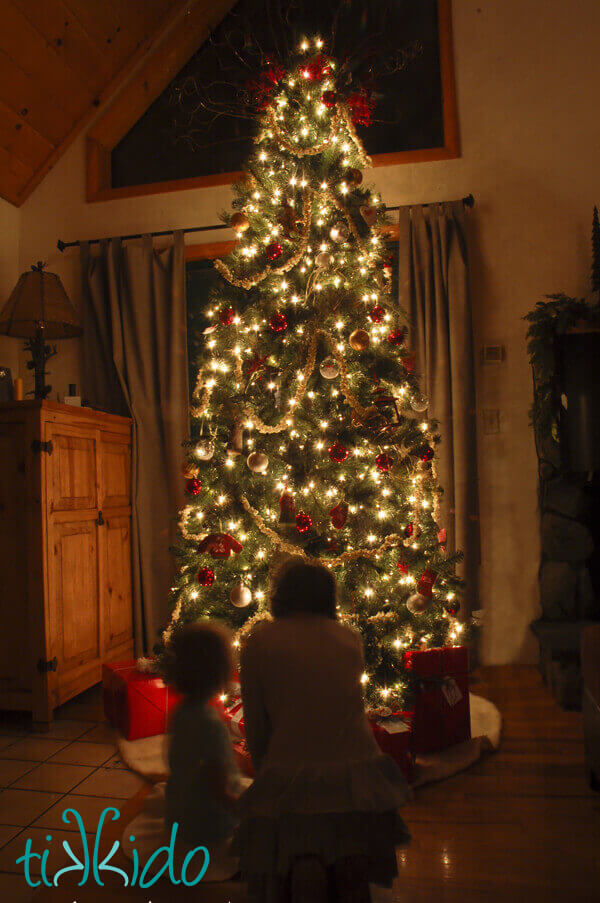 This is the Christmas tree at a family cabin we used to have.  I used some red baubles and popcorn garland to create a unified look on this tree, which was decorated with lots of ornaments made by my children and a collection of hand-me-down ornaments from many family members through the years.  But when you look at the tree as a whole, it has a remarkably cohesive look.
Other Christmas Tree Ideas from the Festive Christmas Ideas Blog Hop:
Animal Crossing Christmas Tree My Pinterventures
Simple Silver & Gold Christmas Tree Decorations Intelligent Domestications
3D Felt Christmas Tree Creative Cynchronicity
Tips for Decorating a Small Christmas Tree Farm Girl Reformed
Small Christmas Tree for the Bedroom Little Vintage Cottage
Slim Flocked Christmas Tree An Alli Event
Louvered Door Slat Tabletop Christmas Tree Interior Frugalista
Rustic Minimal Christmas Tree Mom Home Guide
Coastal Christmas Tree Across The Blvd.
How to Create a Unified Look on an Eclectic Christmas Tree Tikkido
Black and White Christmas Tree Domestically Creative
2020 Candy Christmas Tree Craft Rocker
Rustic Christmas Tree As For Me and My Homestead
Washtub Christmas Tree Skirt Coffee With Us 3
A Christmas Tree Filled with Memories Made Through the Years Blogghetti
Woods and Silver Christmas Tree Polka Dot Poplars
Crochet Filled Christmas Tree Eye Love Knots
Purple Hues Christmas Tree Purple Hues and Me
Festive Outdoor Christmas Trees Domestic Deadline
How To Decorate A Stunning Christmas Tree - 5 Easy Steps My Humble Home and Garden
How to Make a Super Easy Paper Christmas Tree! Our Sutton Place
Neutral Farmhouse Christmas Tree Pretty DIY Home
Grinch Christmas Tree From House to Home
Mickey Mouse Christmas Tree Simply Inspired Meals
Christmas Tree Trends for 2020 Christmas Tree Lane