Printer-friendly version
Yorkshire pudding is a traditional side dish for a Sunday roast, and is a must-make for our family's holiday meals.  This Yorkshire pudding recipe is made in a large 9x13 pan, so you can feed the whole family.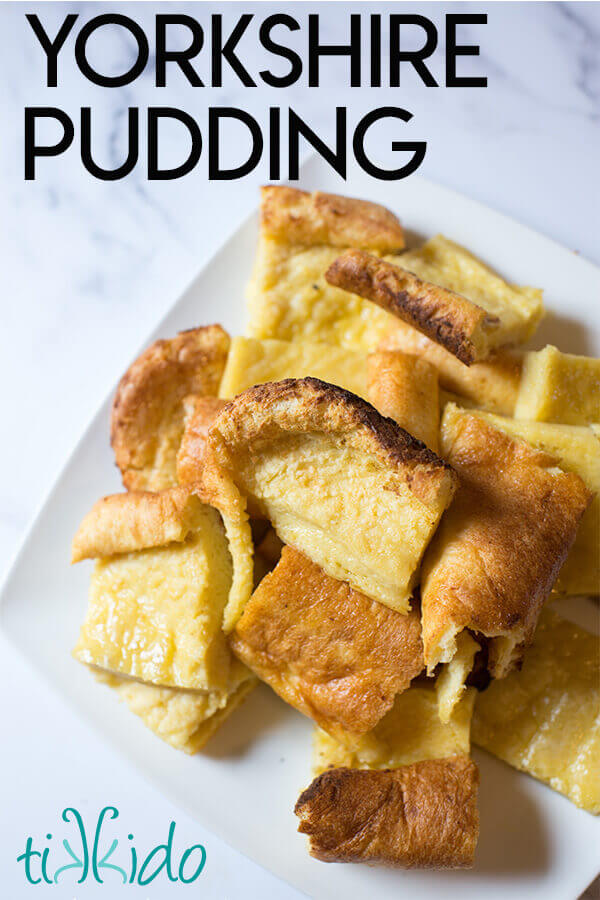 The Thanksgiving holiday weekend is officially over, I'm back to work and routines, but the leftovers in the fridge are a tasty reminder of the feast we had on Thursday.  The whole spread was magnificent, but my favorite part of any holiday meal is Yorkshire pudding.  
Sure, Yorkshire pudding is more traditionally served with beef than turkey.  But I, for one, never pass up a good excuse for Yorkshire pudding.  
What is Yorkshire Pudding?
It's not a pudding in the American sense at all.  It's a dense, moist, eggy (without tasting like eggs--blech), bready...thing.  A lot like a popover.  Or German pancakes.  And if you've never had any of those, I'm pretty much stumped for something to compare it to.  And sad for your tastebuds, because all three are exceptionally delicious.  It's served in place of bread or rolls in a traditional roast dinner.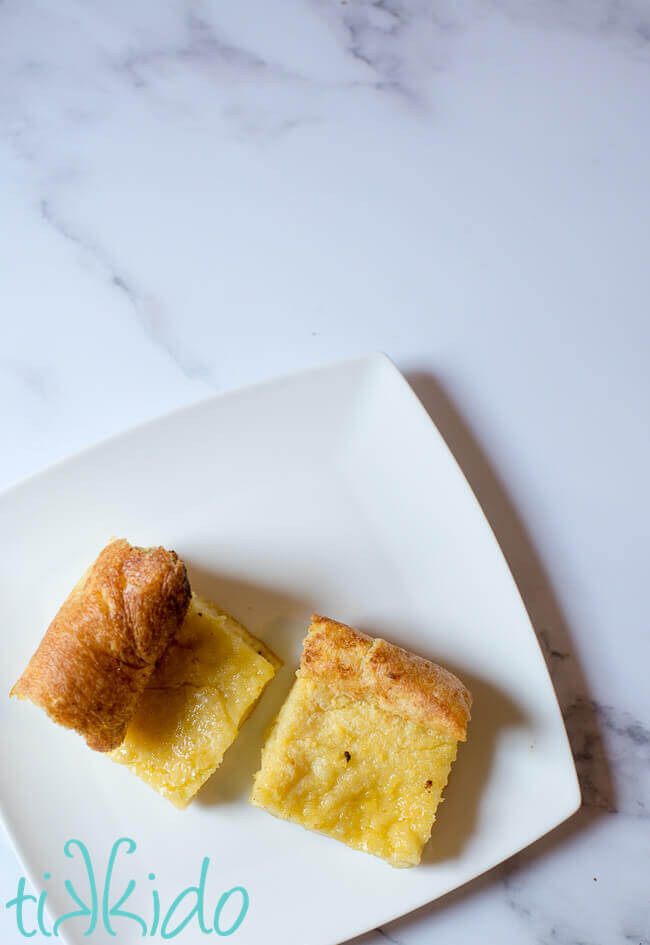 Like popovers and German pancakes, Yorkshire pudding puffs up impressively while it's cooking, so be sure you don't place it on too high of a rack near the top heating element!  
How to Serve Yorkshire Pudding:
Yorkshire pudding is best served straight out of the oven and piping hot, and the timing works out perfectly for cooking it at the last minute while the turkey or roast is resting before carving.
Yorkshire pudding is traditionally served with gravy.
Yorkshire pudding is also delicious with sweet toppings, too!  Get creative.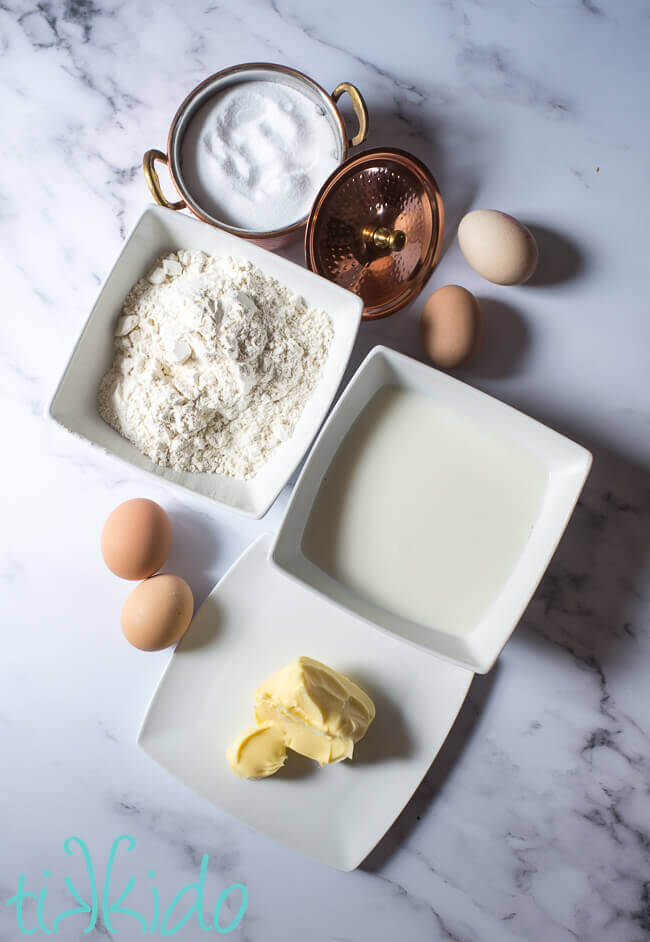 Yorkshire Pudding Recipe
4 eggs, beaten
2 cups flour
2 cups milk
1 teaspoon salt
1 stick (8T) butter
1)  Preheat the oven to 425 degrees Fahrenheit.   While the oven is coming to temperature, put the stick of butter in a 9x13 pan and place the pan in the oven.  Let the butter melt and brown--but watch it carefully, so that it doesn't burn!  You just want that fabulous browned butter flavor.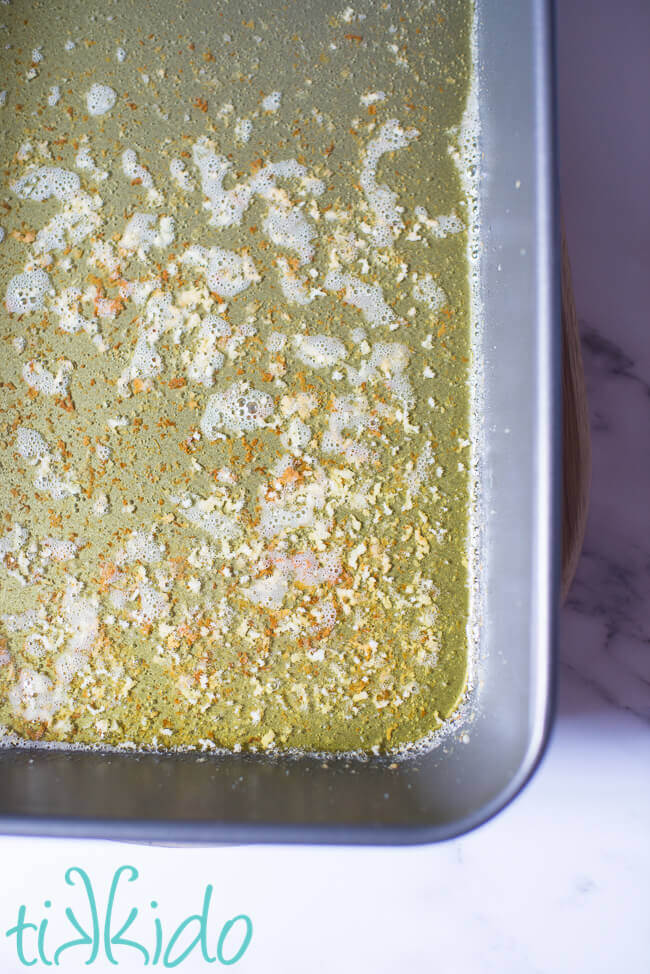 You can see the butter beginning to brown in the above photo.  That's the color of delicious flavor right there!
2) In the meantime (or earlier in the day--some recipes call for several hours for the batter to rest, but I've always had luck doing it at the last minute), combine the eggs, flour, milk, and salt in a bowl.  Combine with a whisk until incorporated.  There will still be some lumps, but that's fine.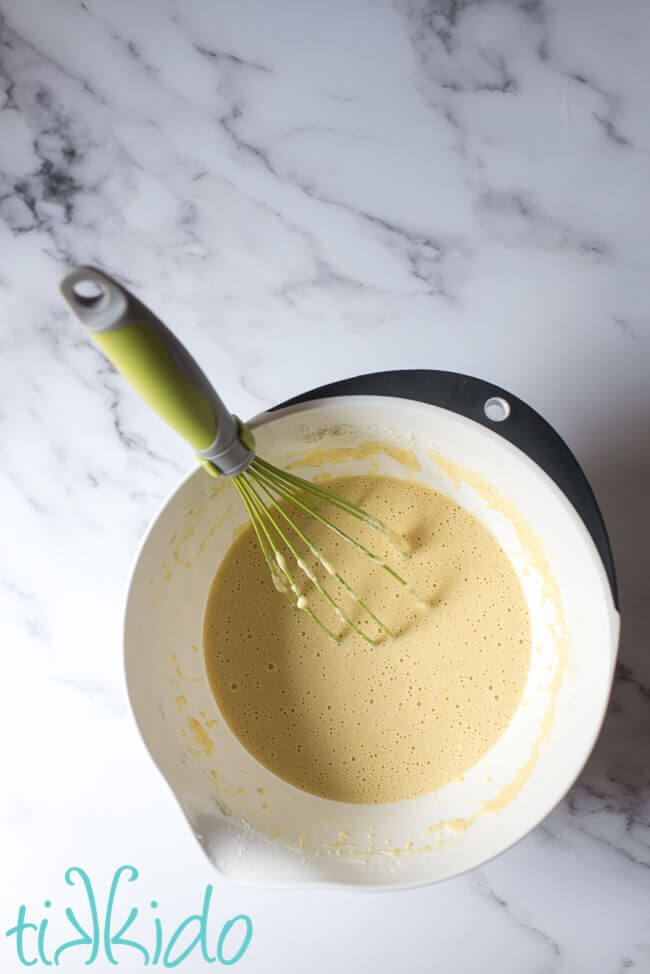 3)  Pour batter in the browned butter.  Bake for 25 minutes.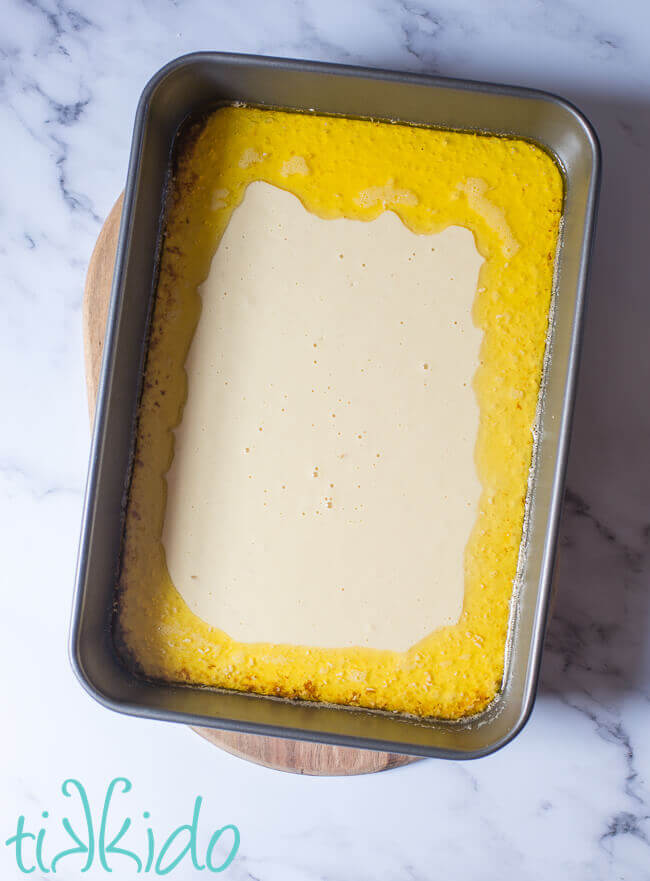 Buttery, salty, bread(ish) heaven.  It tastes so rich and decadent, but I once ran the calorie count, and it was just about the same as a store bought roll.  Pass me the Yorkshire pudding any day!  (Or at least on Thanksgiving and Christmas, the two times a year when we make this amazing dish.)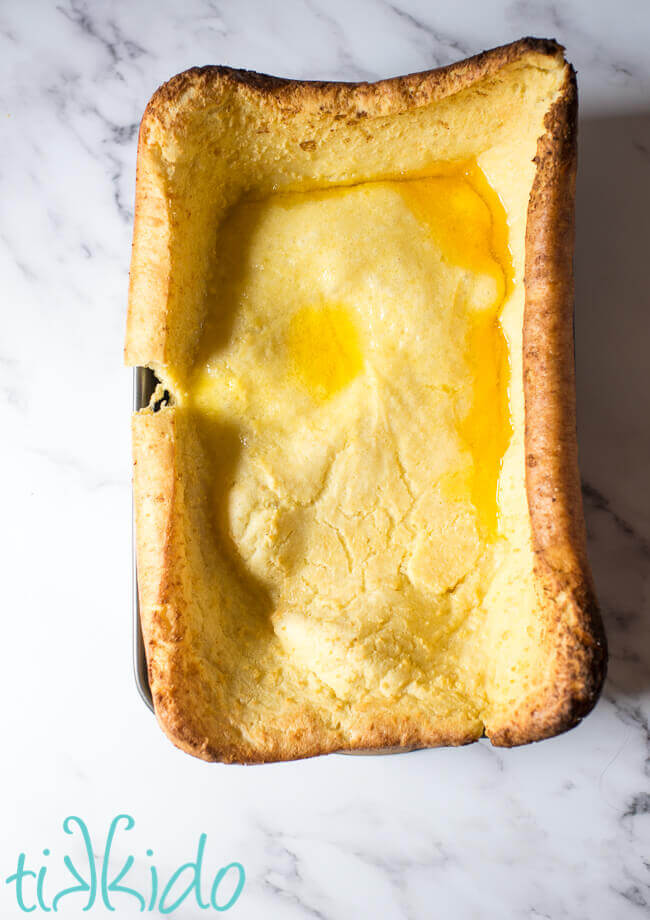 You can also make individual Yorkshire puddings in Yorkshire pudding pans.  They puff up into a perfect bowl, just right for holding lots of gravy.  But since Yorkshire pudding is always so popular with my guests, I always make it in a 9x13 pan.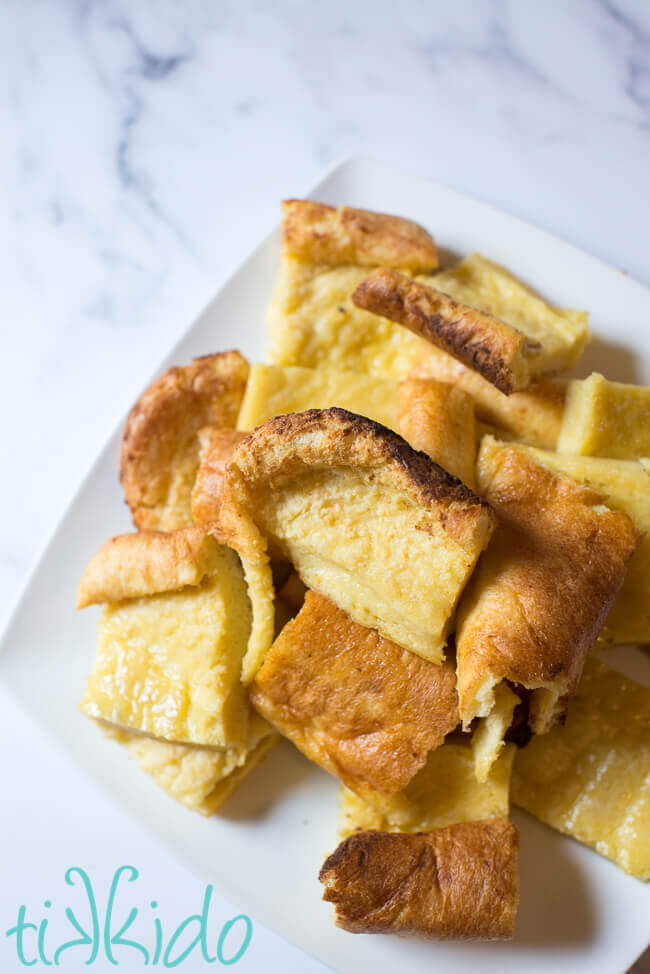 In fact, I often have to make two pans, it's so popular!
Printable Yorkshire Pudding Recipe: