Printer-friendly version
I LOVE German pancakes.  The eggy, denser bits (funny, since I don't like eggs), paired with the bubbling, light, slightly crispy crust.  Dusted with powdered sugar and sprinkled with fresh lemon juice, German pancakes are pretty much the most delicious things in the world.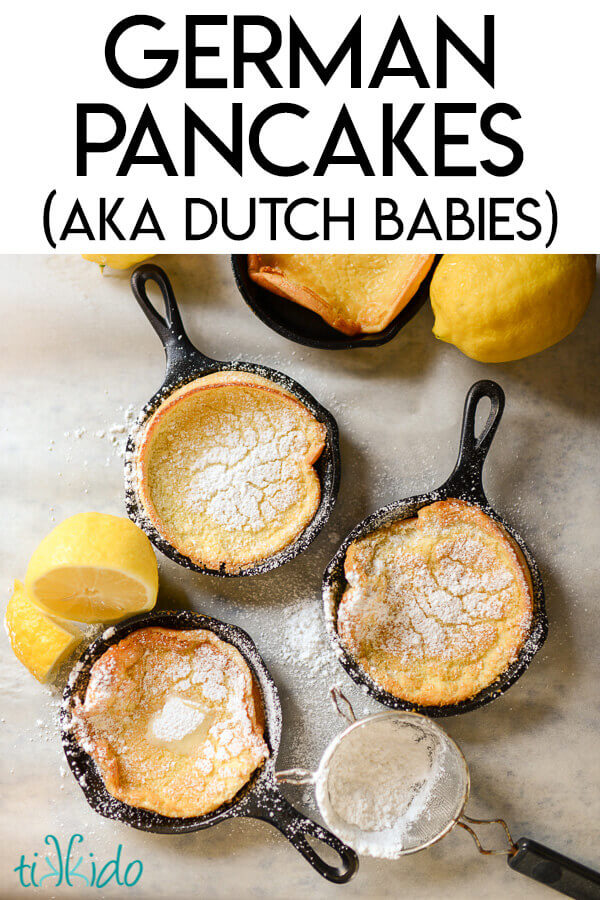 German Pancake (aka Dutch Baby) Recipe:
4 eggs
1 T sugar
1/2 t salt
2/3 cup flour
2/3 cup milk
2 T soft butter
The ingredients are simple.  How can you go wrong, really, with eggs, butter, flour, milk, salt, and sugar?  Preheat the oven to 400 degrees Fahrenheit and mix up your batter.  
Toss it all in the blender and mix until it turns into a light yellow batter.  This happens in about 3 seconds in my blender.
Pour into well-buttered pans.  The way my family has always made it has been in two 9" round cake pans, but I received these adorable cast iron skillets for Christmas a year ago, and I decided to experiment.
I put the pans in the pre-heating oven, and pulled them back out when the butter had melted.  
Pour the batter into the skillet or pan with melted butter.  I filled five 4.5" diameter cast iron skillets with my batter.
If making the German pancakes in two 9" cake pans, bake for 20 minutes at 400, then drop the temperature to 350 and bake for 10 more minutes.
If making miniature German pancakes in skillets like these, bake for 15 minutes at 400, then drop the temperature to 350 and bake for another 10 minutes.
No finer breakfast to be had, I promise you.  
I also adore Yorkshire pudding and popovers, which are very similar.  If you've never had any of them, it's time.  High time.  Past time.  Go forth and make and let your tastebuds rejoice!  Happy National Pancake Day!