Printer-friendly version
Many thanks to The TomKat Studio for debuting our April Fool's Day party yesterday! I'm really excited to be able to show off all the details here now!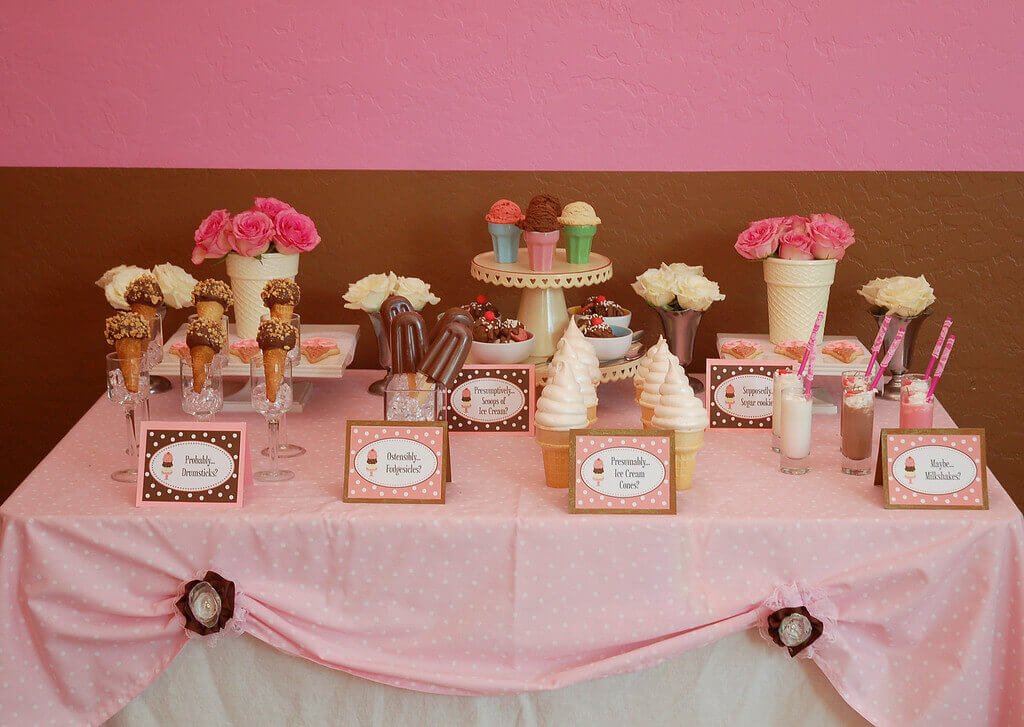 It all started a few months ago, when the universe started telling me to throw a Neapolitan ice cream themed party. They were little messages. Individually, they didn't mean anything. But they just kept falling in my lap, until, without any real planning effort, I essentially had every element for the party ready. Just a small sampling of the offerings from the universe:
My daughter already had the perfect dress from her grandpa's wedding a few months ago.
I found a darling little set of play dishes at Ikea and thought the glasses looked just like little ice cream cones. So cute!
I'd finally figured out how to make cookies that look like scoops of ice cream.
I saw floral containers (on sale!) at Joann Fabrics that looked just like ice cream cones.
TomKat and about three other designers all created adorable Neapolitan ice cream themed printables.
TopIt Cupcakes opened up less than a mile from my house, and its entire concept was based on a top-it-yourself ice cream shop...but with cupcakes!
And on top of it all, the cupcake shop is painted in Neapolitan stripes of pink, brown, and cream!
So I had the outfit, the theme, the decor, the venue, and one of the activities handed to me on a silver platter. I couldn't not throw this party!

The concept for this April Fool's Day party was that nothing would be quite what it seemed, that everything would have a trick or a twist and fool the eye. That meant, with a Neapolitan ice cream theme, that everything on the dessert table would look like ice cream...but wasn't.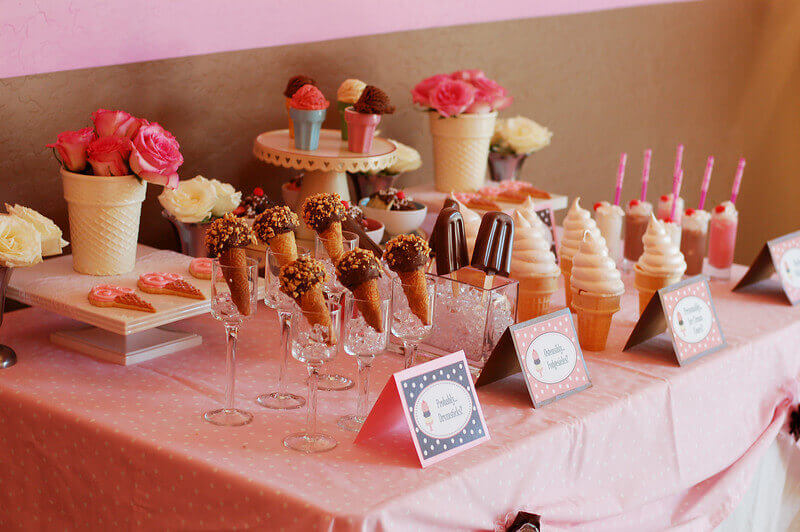 We served:

Maybe...Milkshakes? (Actually white, chocolate, and strawberry milk, topped with whipped cream and a fondant cherry.)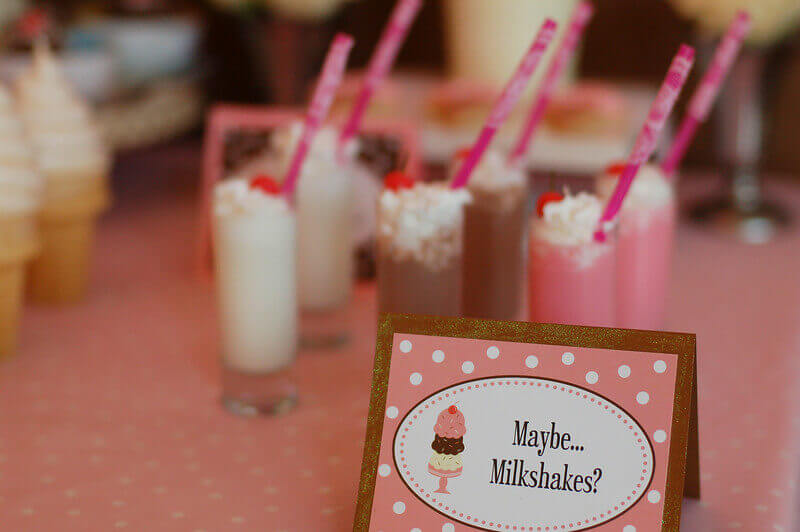 Probably...Drumsticks? (Actually cake balls on homemade krumkake miniature cones, decorated to look like the classic Good Humor ice cream treat.)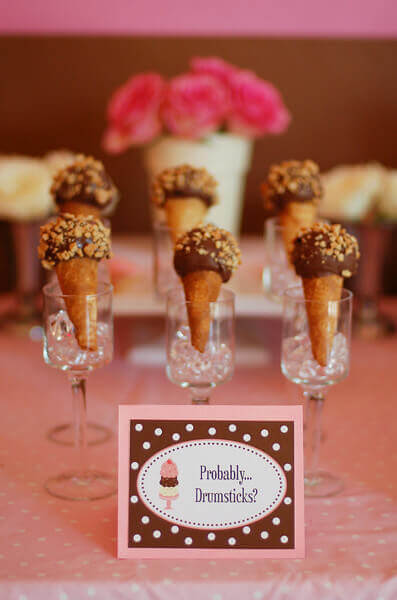 Ostensibly...Fudgesicles? (Actually chocolates with a peanut butter filling, sprayed with luster dust to give it a little bit of a frosty look, and nestled in fake ice to help give it some extra realism.)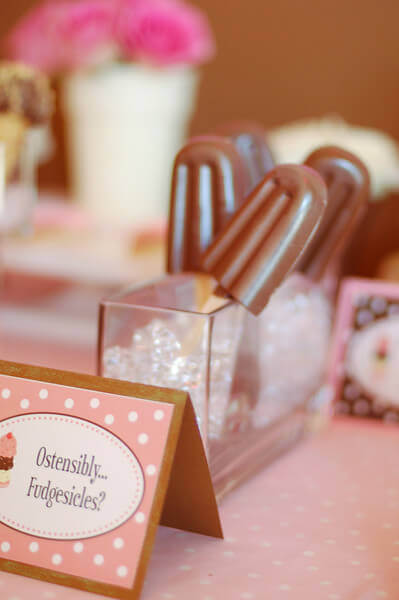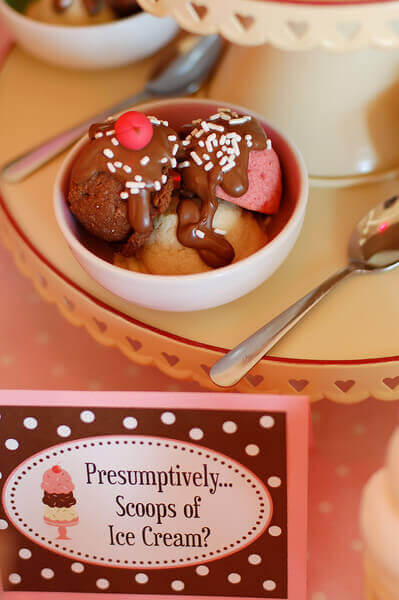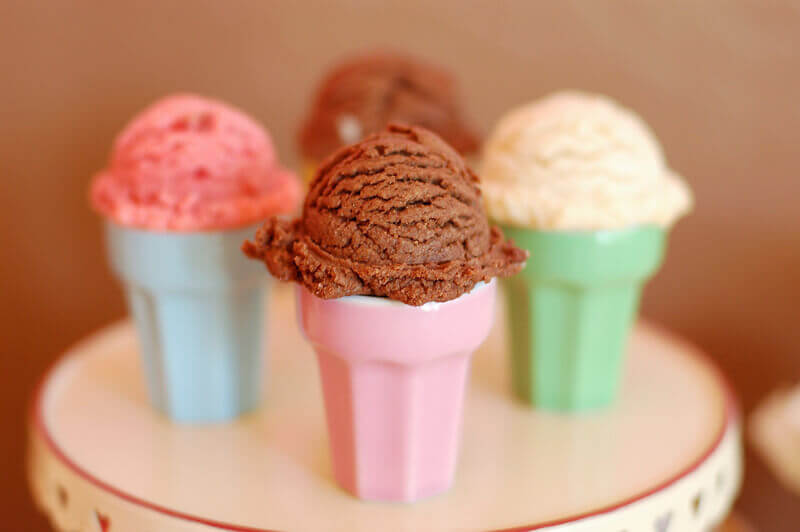 Presumably...Ice Cream Cones? (I should have said "Soft Serve." Ah, hindsight. Since I threw this party together in about three days, I'm not going to be too hard on myself! These were actually meringues made to look like soft serve ice cream cones.
Here's the tutorial
!)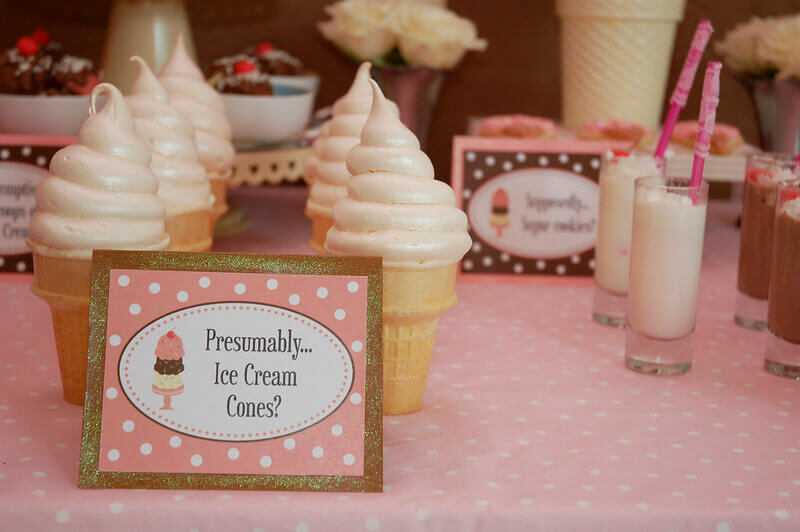 Supposedly...Sugar Cookies? (Ok, so these actually were sugar cookies, but I liked the alliteration!)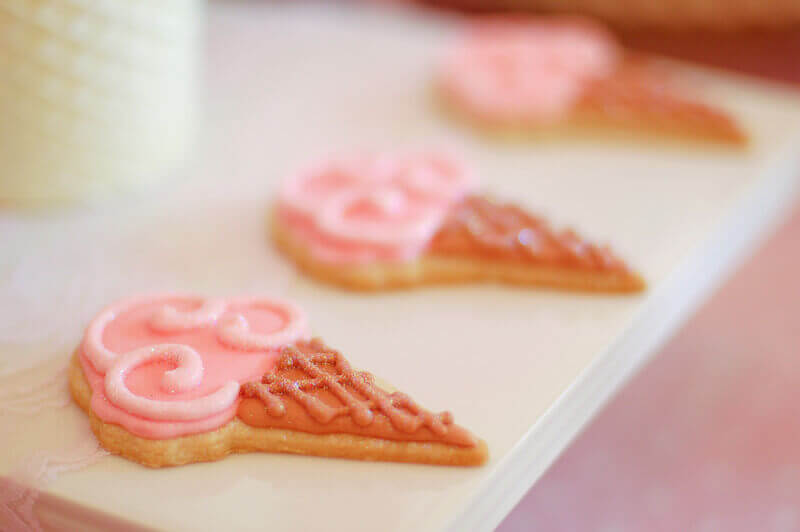 The dessert table was great fun to put together, and the kids loved the sweets (of course!) but for me, a party is all about...well, the party! Come back for all the details about the fun we had in Monday's post!