Printer-friendly version
There aren't many true silhouette artists out there any more. Artist Judith Housel is one of them, and I was lucky enough to have a sitting with her a few weeks ago. She's amazing. She sits her subject in front of her, looks at the profile, and simply snips away with a delicate pair of scissors and a sure hand. Even my wiggly 18 month old presented no challenge to this gifted artist. Just look what she was able to do in just a few minutes: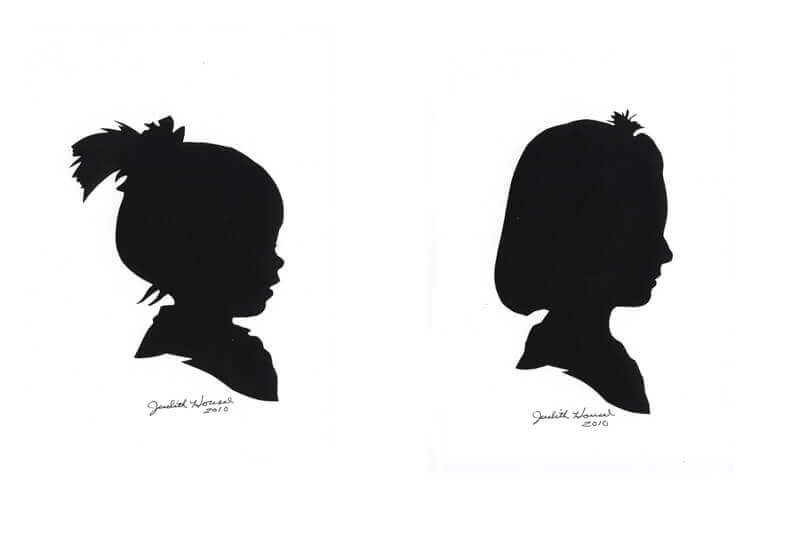 No shadows. No digital work here. Just an amazing artistic gift. And her prices are remarkable--only $12 for the initial silhouette and only $6 for duplicates (all cut at the same time). We ordered a set for ourselves and for each set of grandparents.

My friend Eva (who introduced me to Judith and first told me about her amazing work) had the brilliant idea to scan the images, shrink them down, and put them in photo frame ornaments. I have a collection of photo ornaments on the tree already, starting with a picture from our wedding, and including one of each of the girls from each year of their lives. I was so excited to use these images for this year's ornaments!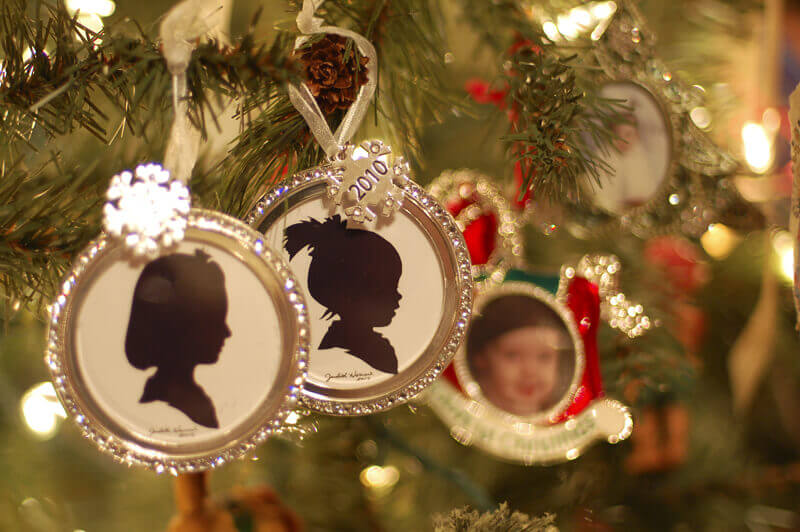 They're so striking, so beautiful on the tree. I just love them!

I can see an entire wedding built around a set of classic silhouettes, and in case you can't find one of these rare people nearby, Judith Housel says she will work from photographs by mail.

Do you remember the great silhouette mugs I found on Etsy and profiled in our homemade hot chocolate favors post? That just scratches the surface! Take that graphic white and black as an elegant color palette, add an accent color, but use the silhouettes of the bride and groom in the decor. As the table cards for everyone at the head table? Printed on velum and wrapping votives and larger candle enclosures? A silhouette of the two of you leaning in for a kiss? How about hiring a silhouette artist to create incredible favors for the guests (the way that some people hire caricaturists)? What an elegant way to incorporate a bit of Victorian elegance, but in a very modern way. You could take the silhouettes and go clean and modern, completely romantic, or even steampunk. So many ideas!