Printer-friendly version
One of my favorite elements from the Sugar Plum Fairy party was the flower hair clip created as a gift for each girl. They had a whimsical, fantastical look to them that was just perfect for the event. I loved the flowers so much, in fact, that I stole one of the extras and have worn it several times myself.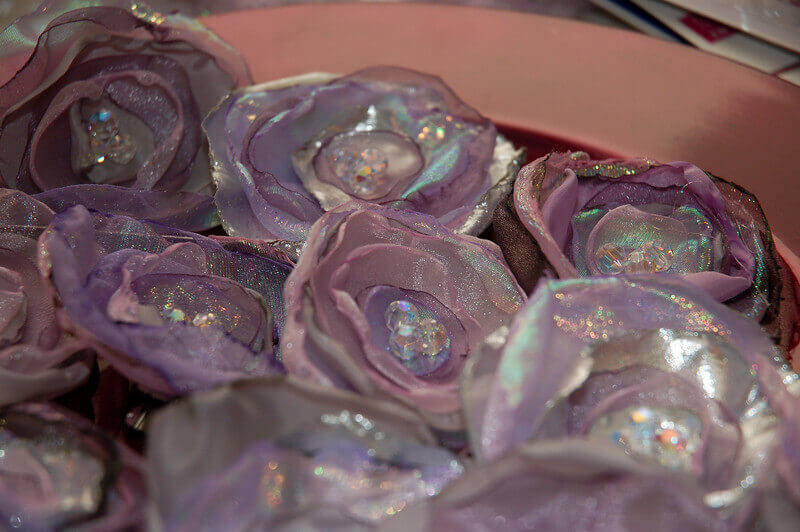 The best part was that they were incredibly easy and inexpensive to make! You just need a little fabric, some hair clips, and a flame.

Materials for Fabric Flowers:
 
synthetic fabric in whatever colors and styles catch your eye. I used 1/8th of a yard each of five different types of complimentary fabrics, some sheer, some opaque.
a candle
scissors
something for the center of the flower. I used Swarovski crystals, but rhinestones, buttons, sequins, anything would work.
needle and thread (or glue, if you prefer)
Instructions for Making Fabric Flowers
First, cut your fabric into circles of varying diameters. Don't worry about being precise, or getting the circle perfect. Really, you can just freehand it and be awfully sloppy about your cutting technique. Put your kindergartner on the task and it will be just fine. It's that easy. I want to make a quick comment about the type of fabric here. You really need to be sure that you get completely synthetic material. No cotton or silk can sneak in there, or the technique won't work. I found a great selection of shiny synthetics in the formal dress section of Joann Fabrics.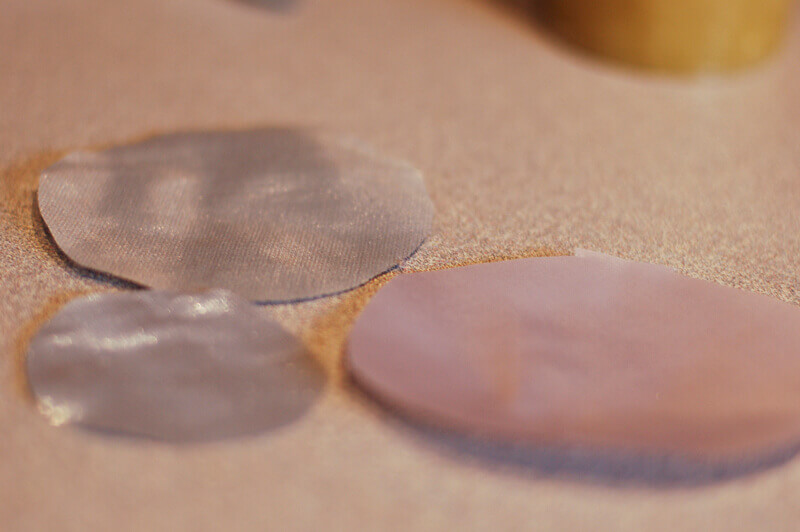 Next, light your candle. Hold the cut edge of your circle close to the flame, and you will see it start to melt and curl. This is what we want! (I had total flashbacks to my 4th grade science fair experiment on flammability of synthetic versus natural fabrics when doing this step.) Melt and curl all the edges, and you'll have not only sealed the edges from fraying, but you'll have a perfectly shaped layer for your flower.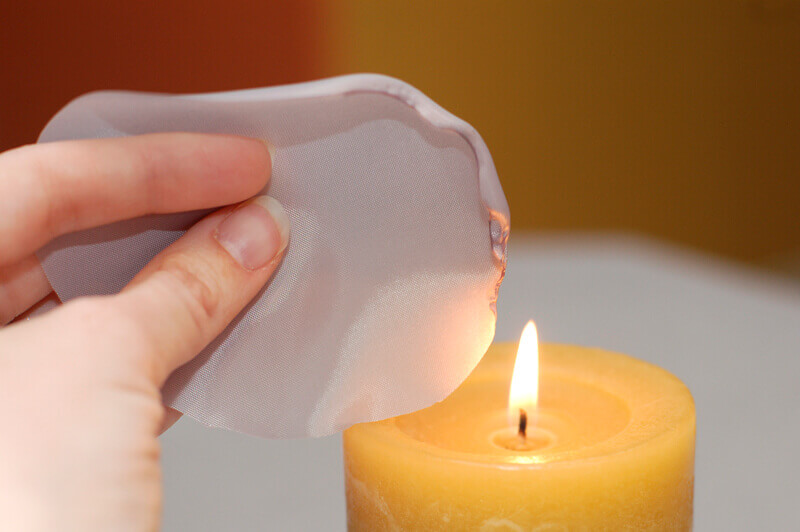 Stack the circles so that you have a nicely layered flower. Again, this is incredibly easy. I put my first-grader in charge of this job. There are no real rules, just stack from biggest to smallest, and you'll have a beautiful flowers.

Use a needle and thread to secure the stack of petals and to sew any center in the flower if you want to. You could also easily use glue to stack the layers together and glue a center in the flower if you want a completely no-sew project.

Glue the completed flower to a headband, a pin, or a hairclip for an easy and gorgeous accessory.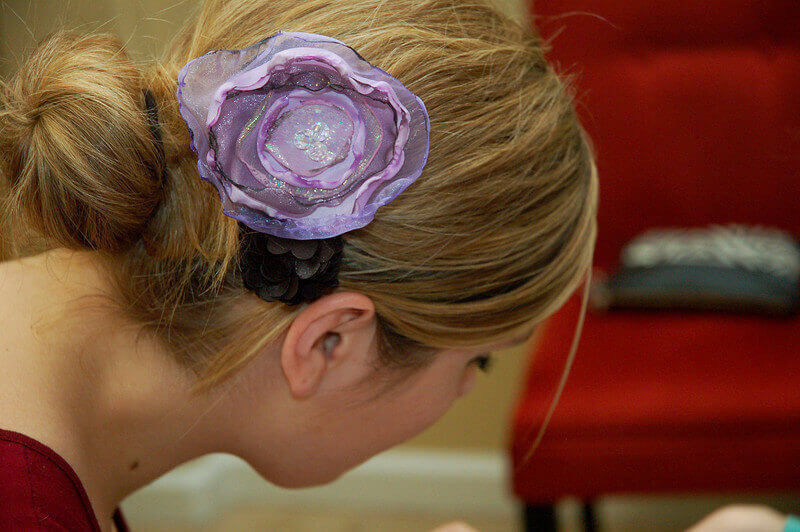 I only spent a little over $6 on the materials to make about 20 of these flowers. They would make spectacular bridesmaids' gifts,flower girl accessories, shoe clips, corsages for the mother of the bride, or even boutonnieres and bridal accessories. (I'm getting inspired now! Just itching to make something with feathers, fabulous Swarovski rhinestones, and flowers in this style. Paired with a visor veil--wow!)