Printer-friendly version
A verdant cave of dappled light, elegant brunch fare, real china, crystal, and beautiful decorative touches.  The Blush tea party was an event straight out of a little girl's fantasy.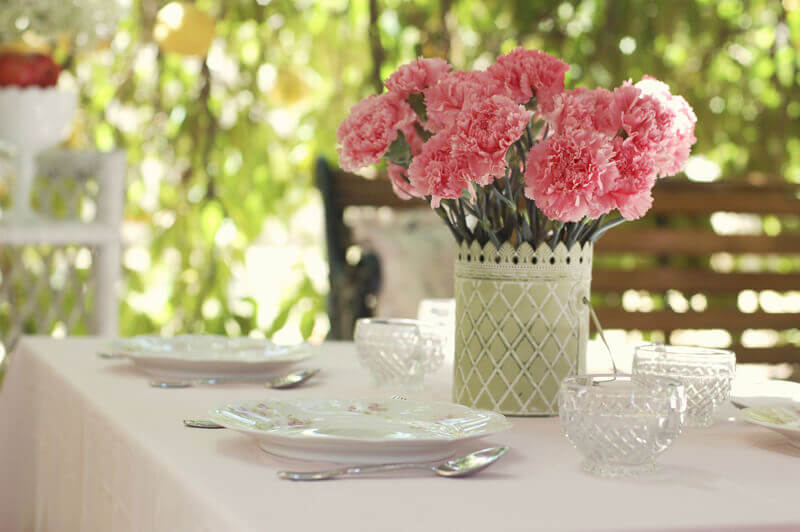 It all started with the gorgeous Blush printable designs by Frog Prince Paperie.  The damask print, the pale pinks and greens, the elegant style, all set the tone for the event.  This party was for both the little children and their mothers, so this elegant, sweet, oh-so-femenine theme was perfect for both age groups.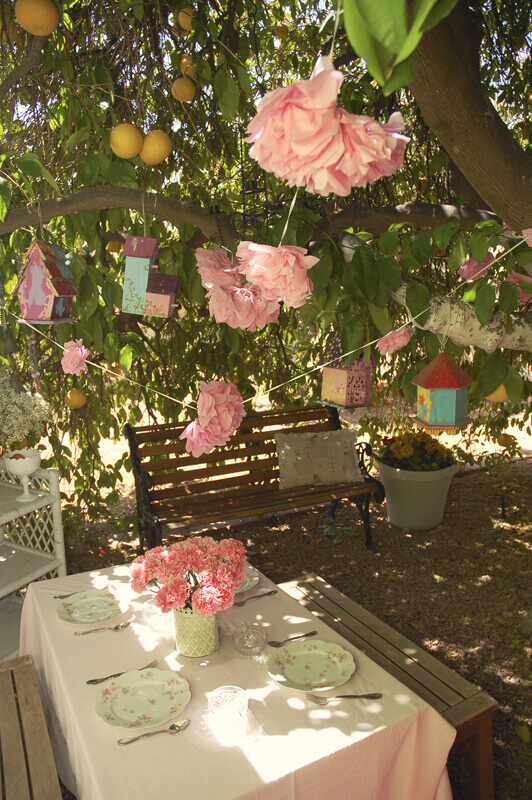 The party was held in a living cave created by the branches and leaves of a great, old grapefruit tree--an enchanted location perfect for keeping the guests safe from the summer sun.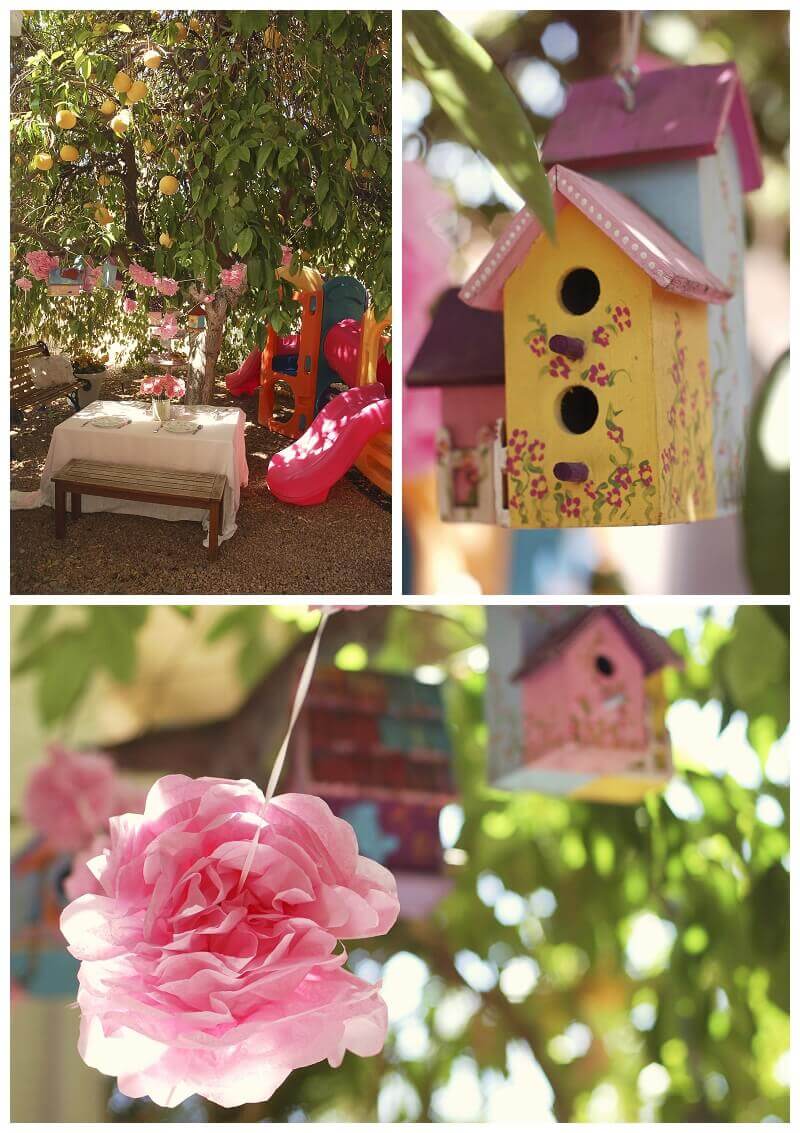 Decor was simple--the natural beauty of the environment, Tissue pom garlands, and birdhouses painted by the children and parents.  
Simple arrangements of carnations and baby's breath were incredibly simple and fast to put together, but looked light, airy, and perfect for our graceful tea party.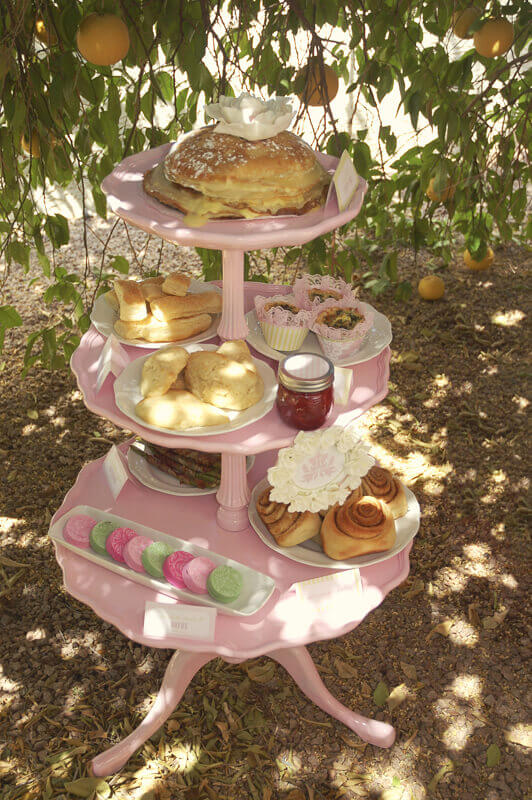 This was a mid-morning event, so though there were sweets, they were the sweets of traditional brunch fare.  Instead of a dessert or buffet table, I found this spectacular, 3-tiered, pie-crusted butler's table on Craigslist.  I knew it must be mine from the moment I saw it.  How could I not want something that looks like a giant cake stand?  (I have a bit of a thing for cake stands.  Or  as my husband might put it, a problem.)  A bit of pale pink spray paint and I had the perfect serving station for our brunch goodies.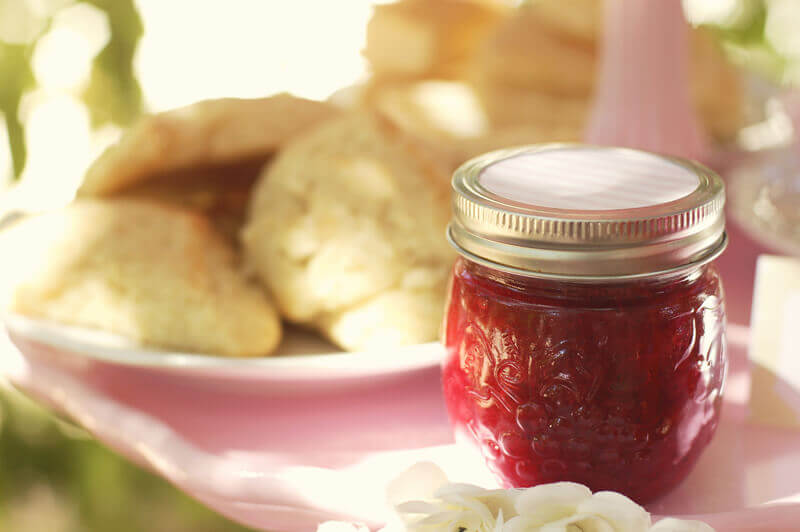 Homemade scones with homemade strawberry freezer jam are a brunch classic, and so simple to make.  To coordinate the jam with the rest of the party, I cut a circle of the printable scrapbook paper that comes with the Blush collection and set it under the screw-ring of the lid.  
Cinnamon rolls were the big hit of the morning with the kids--and who could blame them!  Nearly as big as some of the little guests' heads, and so soft and gooey and delicious that there's no need for icing to cover up the wonderful flavor of the roll.  We used grandma's favorite, tried-and-true recipe. (Because really, no other cinnamon rolls have ever come close to their deliciousness! Why mess with perfection?)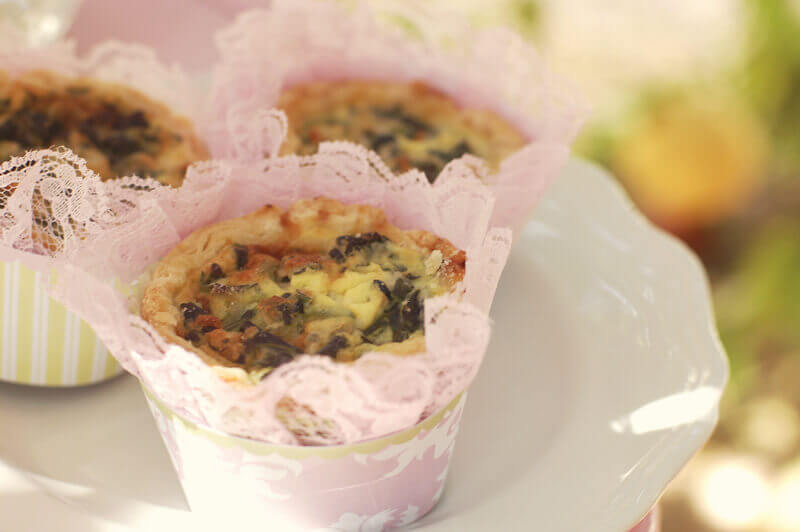 Mini quiches were served in elegant cupcake wrappers, embellished with soft pink lace.  Prosciutto wrapped asparagus provided another savory snack for the guests.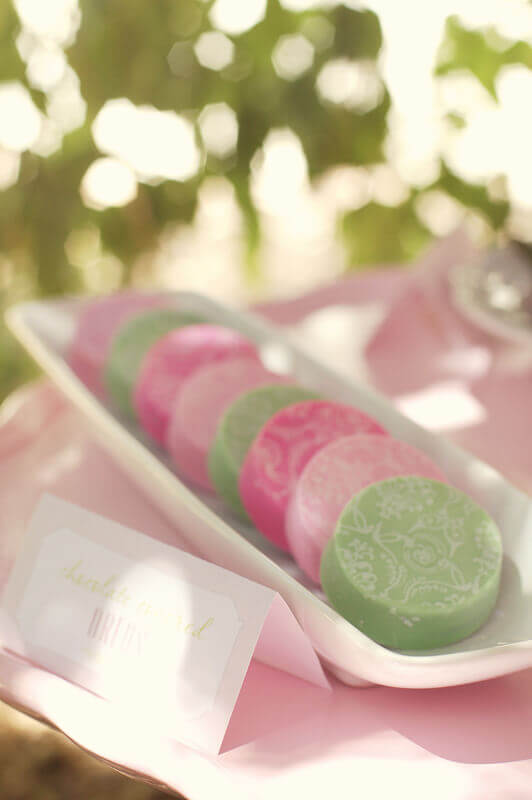 I tried my hand at making chocolate covered oreos for the first time, and was quite pleased with how easy it turns out to be to make such elegant little treats.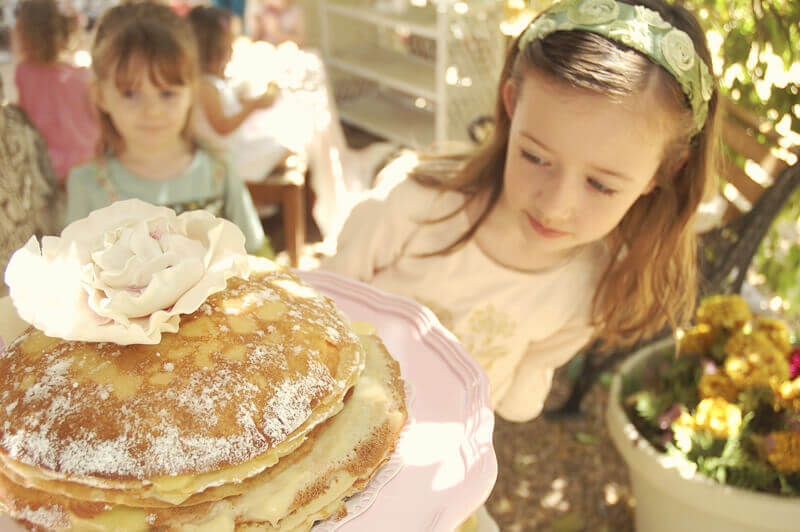 The crowning glory of the food display was a crepe cake embellished with a large gumpaste flower.  Twenty layers of crepes were alternated with homemade lemon curd and homemade vanilla pastry cream fillings--the perfect balance of sweet and tart for this spectacular dish.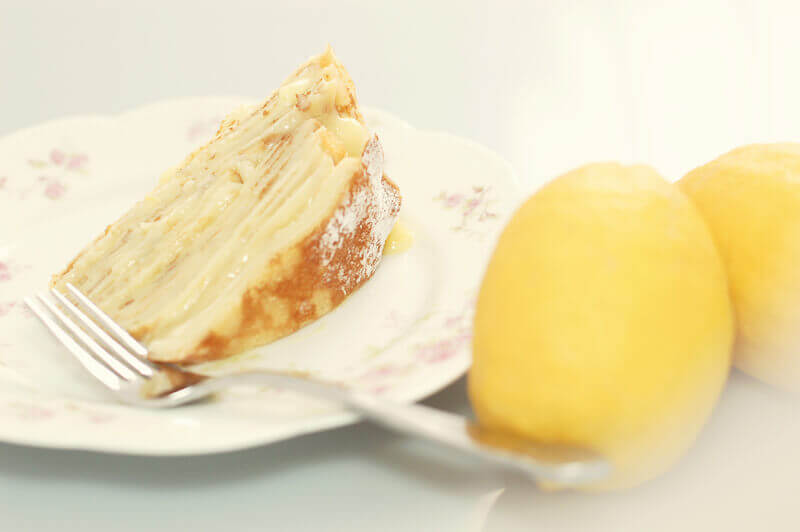 I will say that the crepe cake was a slippery little bugger, and I clearly still need some practice to get them just right!  I'm up for that delectable challenge.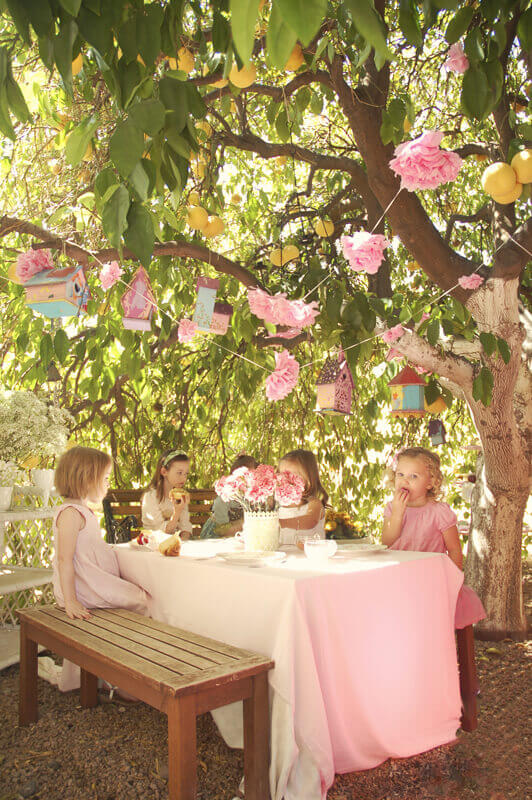 The girls felt oh-so-grown-up sitting at their own table, eating off of fine china and drinking out of crystal punch cups.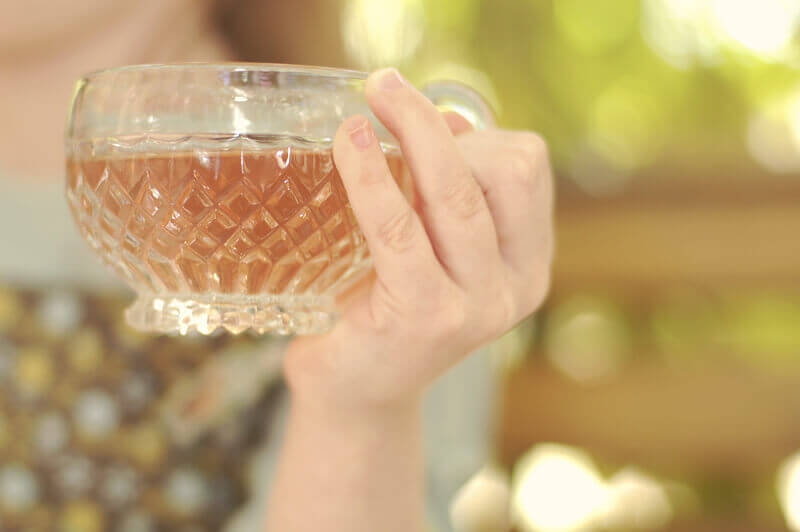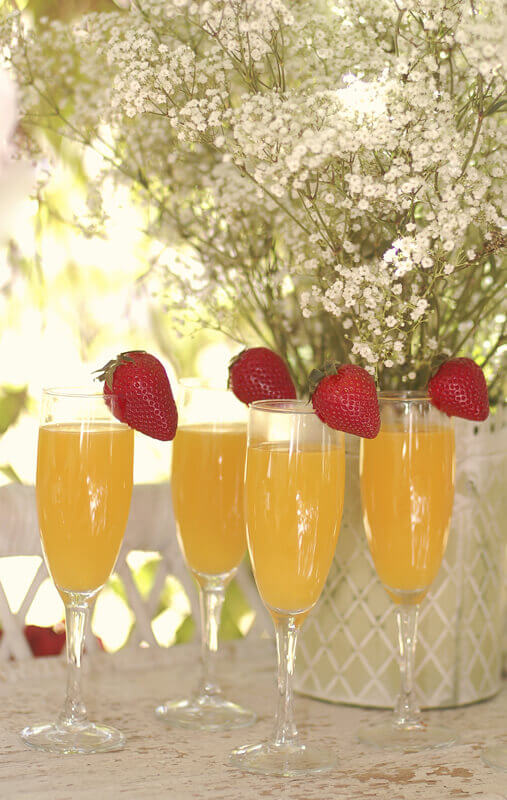 The mothers felt pampered, too, with tangerine mimosas!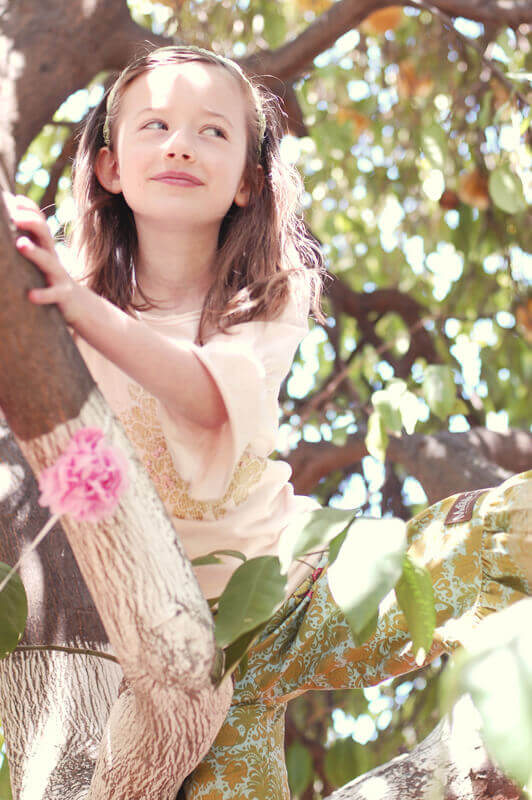 When the meal was done, it was play time.  Climbing trees and scrambling down slides kept the kids happy while the moms relaxed and enjoyed some adult company.
Of course, who can resist spending time with such cute, sweet girls, too!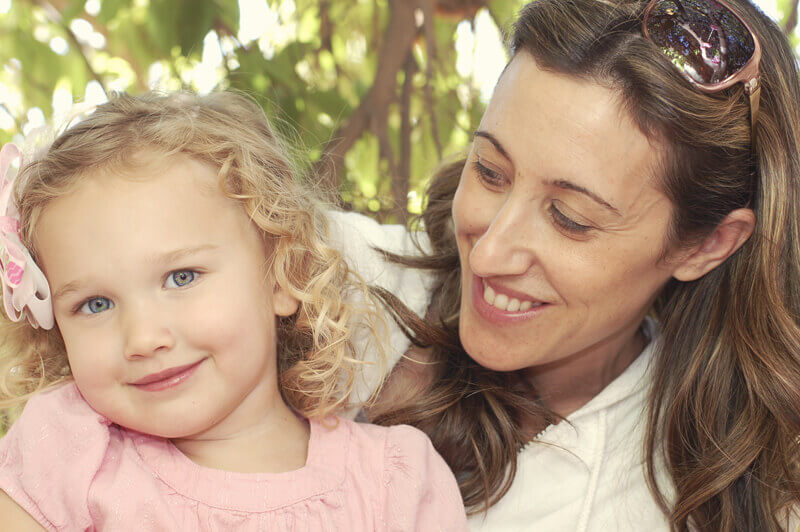 Don't forget to check out the rest of the fabulous parties from the summer issue of Festivities Magazine!