Printer-friendly version
Homemade apple pie from scratch is nothing like the store bought versions.  I'm sharing all my best tips and tricks (the best crust!  What kinds of apples to use!) to make the perfect pie in this apple pie recipe.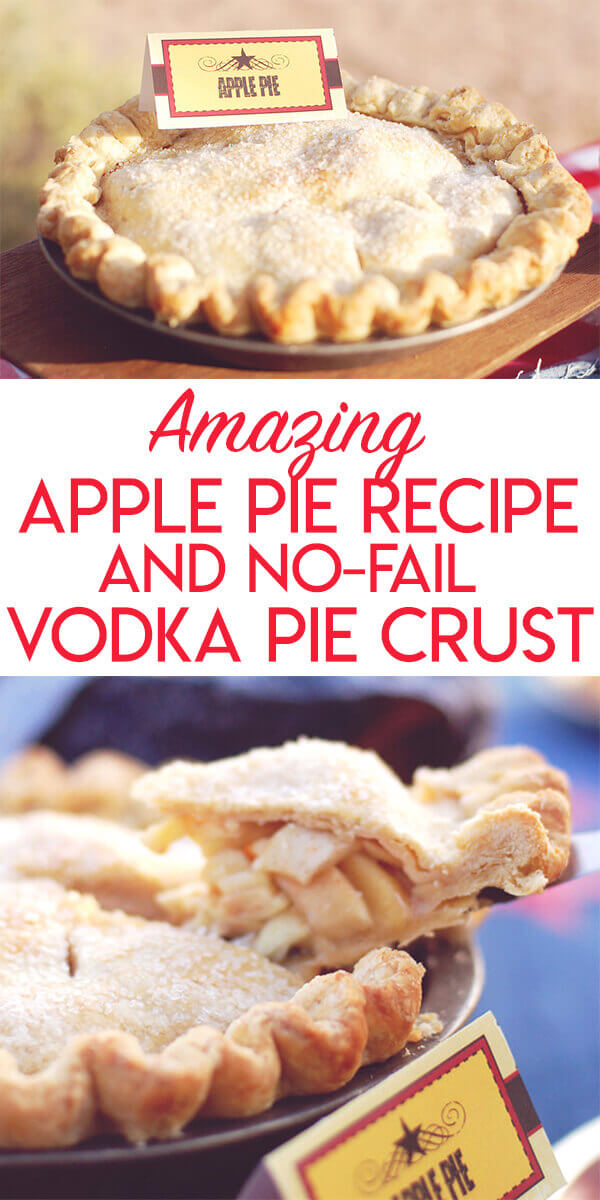 I love pie.  LOVE it.  I request pie for my birthday instead of cake.  And because I grew up with my mom's amazing homemade pies, I'm completely spoiled and a pie snob.  Canned filling?  Blech!  Store bought pie?  Just won't do!  Pies seem intimidating, but they're really not very hard to make, and the difference is absolutely remarkable.  Homemade pies bear almost no resemblance to the gooey, tasteless, slimy messes that pass for most pies. (Told you I'm a pie snob.) . But this, my friends, is an AMAZING apple pie.  It's simple, it's a very basic and classic pie recipe.  No exotic flavors.  Just real fresh apples and homemade pie crust coming together to make the best apple pie you'll ever taste.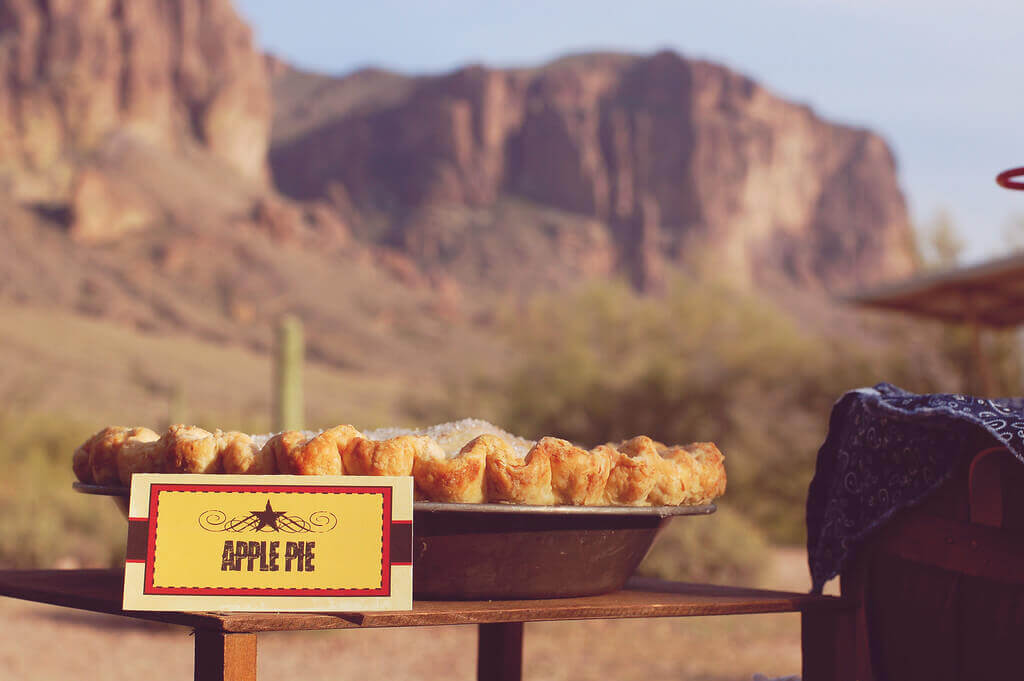 Apple Pie Crust
Are you intimidated by the pie crust?  It does take  some practice.  My first pie crust was utterly inedible, it was so tough!   But I have a simple tip that changed my pie-crust-making life:  vodka.
Yes, vodka.  No, you don't drink it while you're making the pie (though *ahem* that's been known to happen).
Yes, I buy the incredibly cheap giant container of vodka in a plastic bottle.  I use it for cake decorating and the occasional pie crust, so there's no need to buy the good stuff.  Yes, I bought the one called Borg so that if I ever did decide to drink it, I could wake up the next morning with an awful hangover and say, "I was annihilated by the Borg."  Yes, I am that geeky.
Here's the recipe for my No-Fail Vodka Pie Crust.  Whip up a double crust batch (that's the recipe as written in the linked post)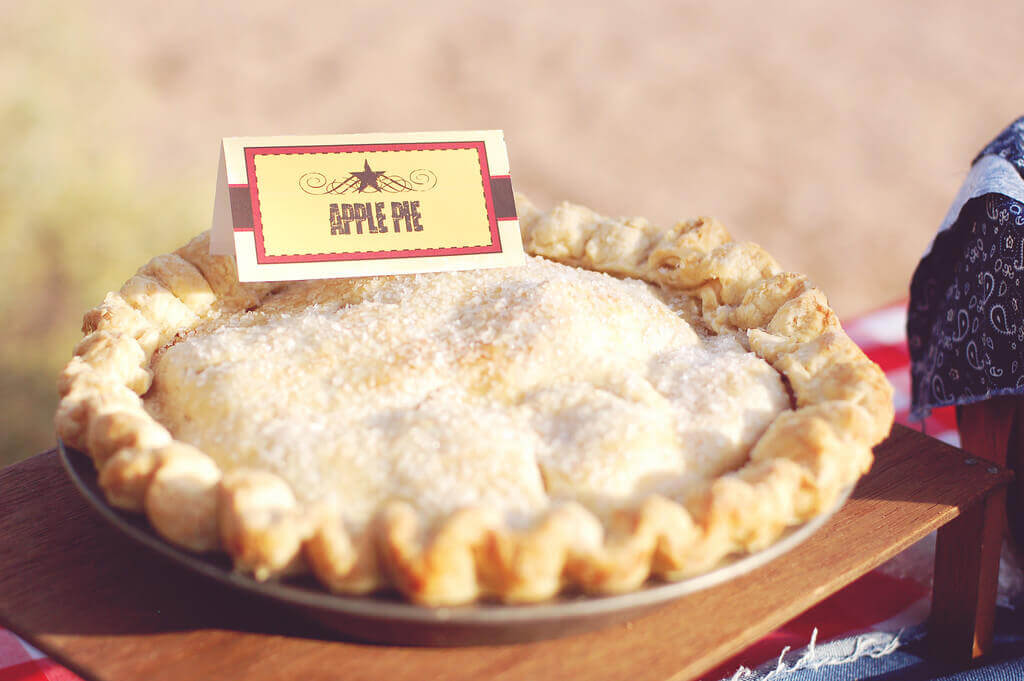 Divide the pie dough in half and roll out on a floured surface.  It will be bigger than you need, but that's ok!  It's better to cut off the extra than to over-roll the dough.
If pie crust is too intimidating for you, buy the pre-made stuff!  That's not what's going to make this apple pie truly amazing.  The apple pie filling is where I'm really a stickler.  Overly sweet, overly processed, utterly slimy and tasteless canned fillings just won't do.  Especially for apple pie.  Get yourself some apples, people!
What are the Best Apples for Pie?
Here's the secret to a truly great apple pie:  use a variety of apples, not just one!   Some apples cook up softer, some stay more firm, some are tart, some are sweet.  It's a subtle thing, but having that mix of flavors and textures makes the mouth happy.
Granny Smith Apples are the classic tart, firm apple to use and keep their shape and a nice bite in the baked apple pie.
Golden delicious cook down to a softer, sweeter consistency.
Gala and Honeycrisp apples are sweeter than Granny Smith, but have a similar firmness. 
Bottom line?  Choose a variety of apples and learn what makes your favorite mix!  
How Many Apples Do You Need for an Apple Pie?
You'll want about three pounds of apples for one pie.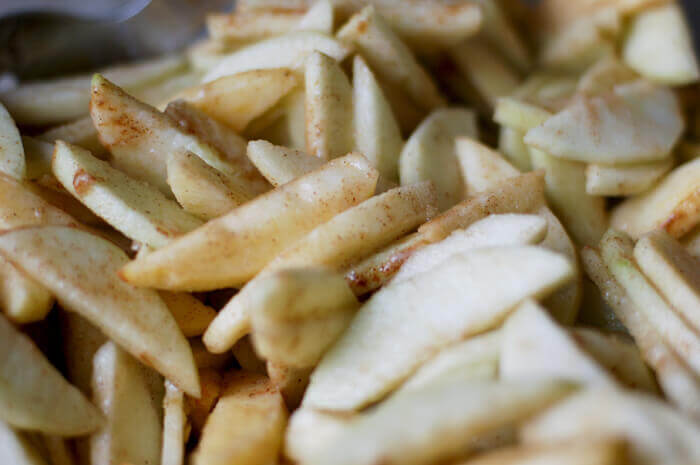 Apple Pie Filling Recipe
about 3 pounds apples, a mixed variety
1 Tablespoon lemon juice
3/4 cup sugar
2 Tablespoons flour
1/2 teaspoon ground cinnamon
1/8 teaspoon freshly grated nutmeg
2 Tablespoons butter
Peel your apples and slice thinly.  I like to use a mandoline to cut perfectly even slices quickly (but be careful of your fingers!).  In a large bowl, toss the apples with the sugar, lemon juice, flour, cinnamon, and nutmeg.  Place in your bottom pie crust.
That's right, heap them in there.  Then chunk up your 2 Tablespoons of cold butter and sprinkle on top of the apples.  Don't worry about being too precise.  This is pie, people.  Homey.
Roll out the rest of the pie dough, and set on top of the pie filling.  Use a knife or a pair of kitchen scissors to cut away the excess dough (don't forget to make those into your cinnamon sugar pie crust cookies!).  Pinch the edges of the top and bottom crust together, creating a nice ruffle to help keep the juices in.  Now pop the unbaked pie into your fridge while you preheat the oven.  Giving the pie crust extra time to chill after being formed will help keep that ruffle standing tall instead of drooping while it bakes.
Preheat the oven to 375 Fahrenheit.  Once the oven is up to temperature, take the pie out of the refrigerator, brush the top with a little bit of water, and sprinkle with sugar.  I like to use larger sugar crystals (available at cake decorating stores) for a little bit of extra crunch and sparkle.  Cut a few slits in the top crust to let the steam escape while the pie bakes.
Bake for approximately 30 minutes, until the top is golden.
Can you Freeze Apple Pie?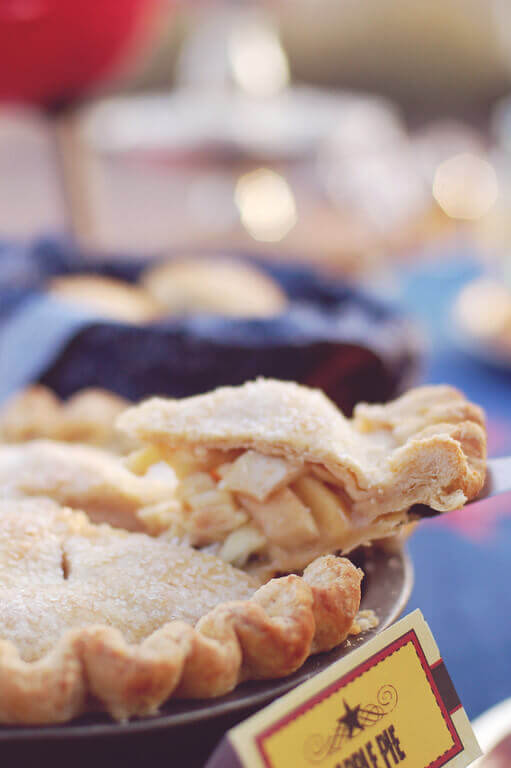 And there you have it.  THAT, my friends, is a pie worth eating. 
Printable Homemade Apple Pie Recipe:
Other Pie Recipes You Might Like:
Other Apple Recipes You Might Like: