Printer-friendly version
When we were planning the fall issue of Festivities magazine, Paula from Frog Prince Paperie threw out the idea of a kid-friendly Halloween party with touches of New Orleans and Mardi Gras style.  Let the Ghoul Times Roll!
What fabulous, fun inspiration!  Can't you just hear the jazz music and taste the pralines looking at that invitation?  I knew I wanted to throw this party.  
Making it kid-friendly was a must, as we have small children, as do many of our friends.  I wanted to take that New Orleans/Voodoo theme and make it fun, unexpected--magical, even.  My solution:  to create a party meant to be seen under regular light and black light.  A party that would look great when the guests would arrive, but would look just as cool but different under UV rays as the sun set.  
Little kids can get easily spooked at Halloween, but by keeping the ghosts at our party cute and smiling, and by creating fun surprises that popped out only in the dark, even our smallest guests were enchanted.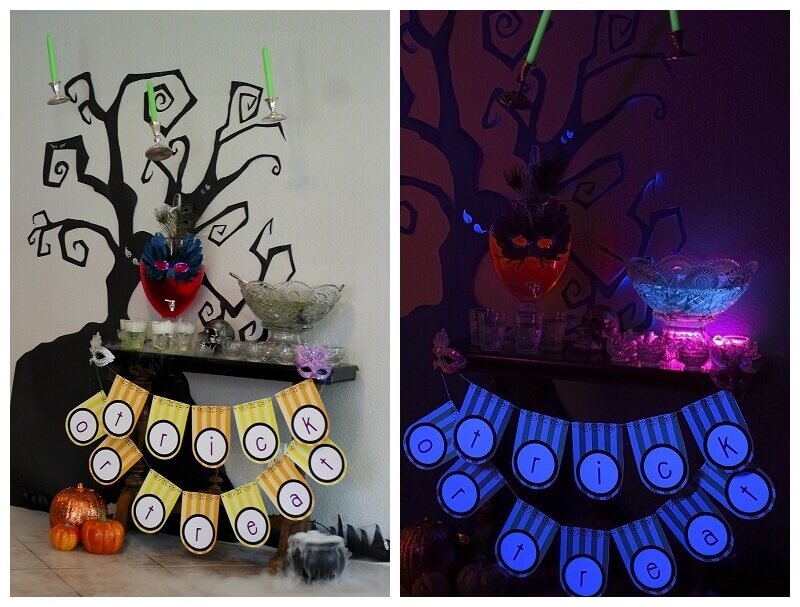 A tree cut out of black paper and taped to the wall made the perfect inexpensive backdrop for the drinks table.  I love the way the paper branches lifted away slightly from the walls.  The back side of the paper was white, so it caught the black light and gave the tree this fabulous, eerie blue back-glow.  
Silver candlesticks were suspented by delicate silver thread, giving the appearance of ghostly specters floating overhead.  When the sun set and the black lights were turned on, the special black-light reactive candles fluoresced a bright green.  I bought many of my black-light reactive supplies from Blacklight.com.  Their prices were great, and their service spectacular.  If you're planning a Halloween party with any glowing elements, I heartily recommend them.
I knew I wanted a chandelier in the decor, and it was the perfect thing to add to the dessert display.  I started with a basic black candle chandelier I bought at Ikea years ago, then added swags of colorful beads to make it look like a chandelier with a Mardi Gras twist.  But the beads were something special--glowing black light reactive bead strands taken from a bead curtain.The black metal of the chandelier disappeared in the dark, but the glowing beads draped over the structure meant that the fixture still looked like a chandelier.  I used that one package of beads to decorate the dessert table, the chandelier, and to make plenty of bead necklaces for our guests to wear at the party.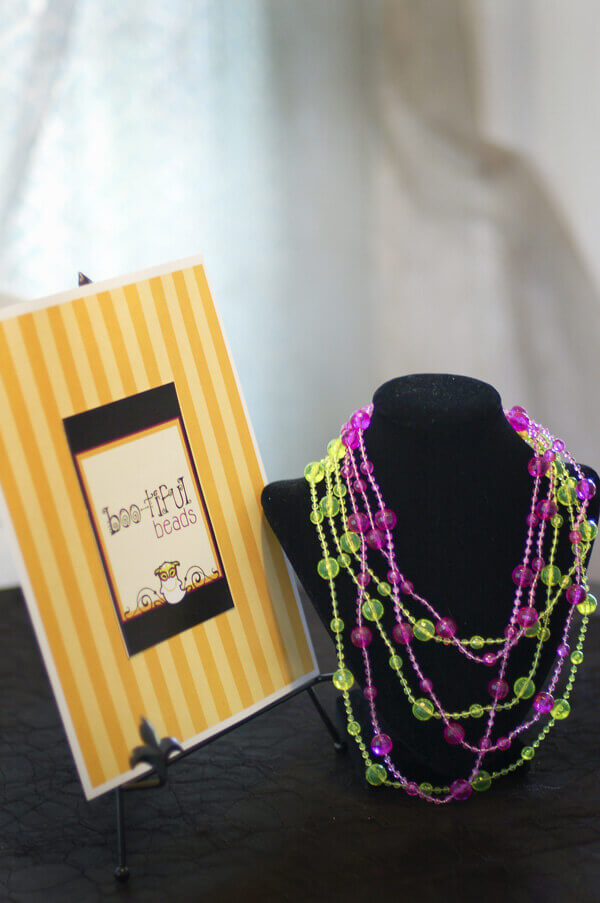 Dry ice made the drinks look spooky in daylight, and secret glowing ingredients made them light up at night.  (Don't worry, I'll reveal all my tips and tricks in upcoming posts!)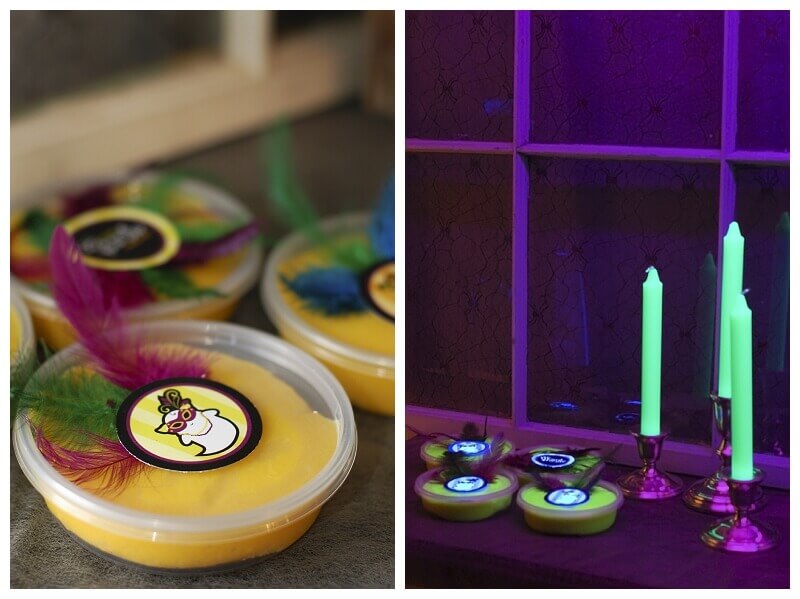 Even the favors (homemade play-dough) glowed under black light!  Want to know how?  The secret is in Festivities magazine!
I knew I wanted to use antique Vaseline glass serving pieces in the dessert table display.  Vaseline glass (also called uranium glass) is a beautiful yellowish green color under regular light, but fluoresces a brilliant and eerie green under black light.  (I will neither confirm nor deny that my desire to acquire a Vaseline glass cake stand was a major motivating factor in the pursuit of this party theme.)  To learn more about Vaseline glass, check out the fabulous article by Meredith Long, curator of Meadow Brook Hall and Manor.  
But I wasn't content to stop there; I wanted the food itself to glow, too!  Sometimes that was easily achieved with the white elements on the printables, as with the mini chocolate bars pictured above.
But most of the items made use of some fun tricks to make glowing elements appear only under black light, like the dripping slime and mystical Voodoo symbols that appeared only under black light in my Cupcakes of the Living Dead.  
Ectoplasmic glowing pudding (cherry cheesecake flavor) in Vaseline glass sherbet glasses.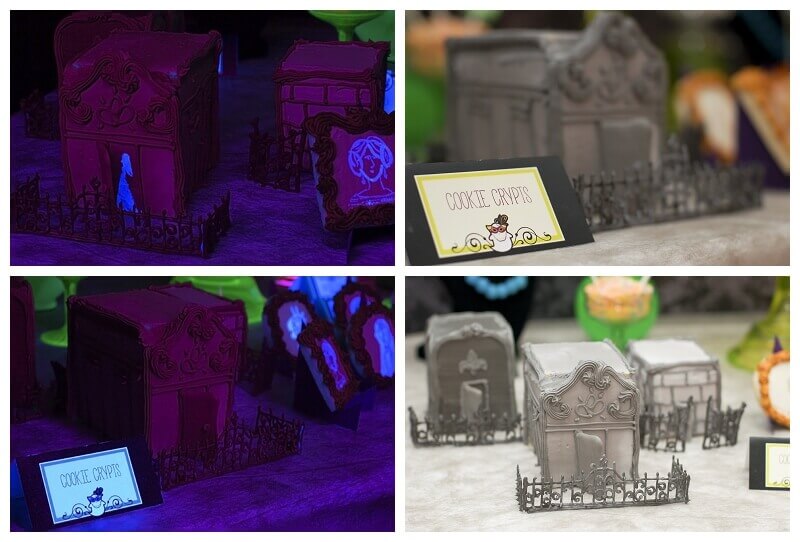 Cookie Crypts.  Faded and chipped icing stone facades and royal icing wrought iron fences made these edible mausoleums look great in the daylight.  But at night, under black light, suddenly you could see ghosts lurking in the doorways.
A haunted Portrait Gallery of sugar cookies was a huge hit with the kids.  Under normal light, gilded icing frames surrounded empty mirrors and painted portraits.  But as soon as the lights were off, ghostly specters appeared!
Not all the treats glowed.  Despite making white cotton candy, it turned out not to be black light reactive.  The edible raspberry sour bead necklaces were delightful on their own, but more impressive on the daylight table.
And the colorful, absolutely spectacular, intricate, amazing skull cake pops were the stars of the table in daylight.  I made everything else at the party, but I cannot make cake pops to save my life.  Luckily, I was delighted to discover that Jennifer from Heavenly Cake Pops lives in the Phoenix area!  Not only was she kind enough to contribute these amazing cake pops at the last moment, but she's also the brilliant inventor of the Easy Roller.  If I had the gift (or patience) for making cake pops, I would own one of these genius devices in a heartbeat.  As it is, I'm just very, very lucky that Jennifer is in my area!
Fun was had by all, in daylight and black light.  What a perfect way to ease my children into the spooky fun of Halloween!