Printer-friendly version
We've already established that I love pie.  Any pie.  On a big pie occasion like Thanksgiving, it's to choose which ones to eat for dessert, and which ones to save for breakfast the next day.  Apple?  Cherry?  Pecan?  Rhubarb?  Pumpkin?  Even cutting little slivers of pie, tough choices have to be made!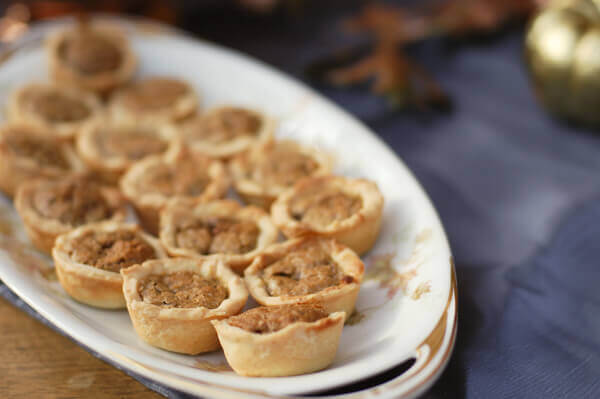 Happily, making pecan tassies (essentially bite-sized pecan pies) is an excellent solution.  I can go for my beloved tart fruit pies, and still have a diminutive serving of that fabulous pecan pie flavor.  There's always room for a single pecan tassie.
Pecan Tassies Recipe
Pecan tassies, like adorable miniature pecan pies, are the perfect bite-sized treat for holiday parties. This recipe has been a family favorite for generations.
Pecan Tassie Dough
1 cup butter
1 8oz package of cream cheese, softened
2 ½ cups flour
½ t salt
Pecan Tassie Filling
1 ½ cups brown sugar
1 cup chopped pecans
2 eggs
2 T butter, melted
1 t vanilla
½ t salt
1)  Preheat oven to 350 degrees Fahrenheit.
2  Prepare dough, by beating together the butter, cream cheese, and salt. Add flour and mix just until incorporated.
3) Line mini muffin pans with dough. Traditionally, this is done by making little balls of dough and pressing them into each mini muffin tin cavity. It's far simpler to get even results by rolling out the dough and using a circular cookie cutter to make circles of dough that can be pushed into each cavity of the pan.  Sometimes I like to use a flower-shaped cookie cutter to make extra-adorable mini pies.
4) Prepare filling by mixing together all ingredients in a bowl.
5) Fill dough-lined muffin tins with the pecan filling. If desired, top each tassie with a pecan half.
6) Bake 20-25 minutes, until the dough is golden and the pecan mixture has set. Let cool and remove from tins.
Yum!  The perfect addition to a Thanksgiving spread.  And, FYI, these freeze really well.