Printer-friendly version
I think the Mayans got it slightly wrong.  No, the world didn't end this week, but I did get buried in an avalanche of gingerbread.  I'm renaming Operation Gingerbread this year Gingerbread-agemmon.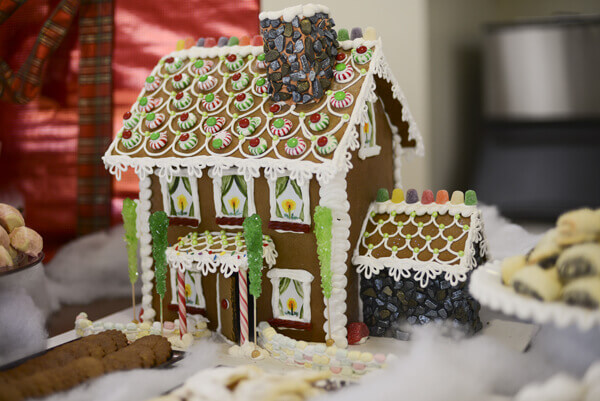 The last of the five gingerbread house decorating parties is this evening, and I'm looking forward to lots of friends, fun, pizza from our WFO, and wine.  
I made this house for the Bracken School of Irish Dancing annual Christmas show.  It was the centerpiece of the Christmas Cookie Bar/refreshment spread after the show.  It was also one of the door prizes for a lucky guest!  It went home with a very happy brother of one of the dancers.
For the Bracken dancers and families, I made poppyseed rugelach, apricot foldovers, white chocolate pistachio cookies, gluten free gingerbread, cranberry pistachio biscotti, snickerdoodle blondies, krumkake, creme de menthe bars, pillowy soft biscotti, fleur de sel caramels, pralines, Russian tea cakes, English toffee, peanut brittle, and homemade crackers (parmesan and rosemary sea salt flavors) to go along with the cheese plate.    Whew.  I loved doing it, but I'm glad it's over!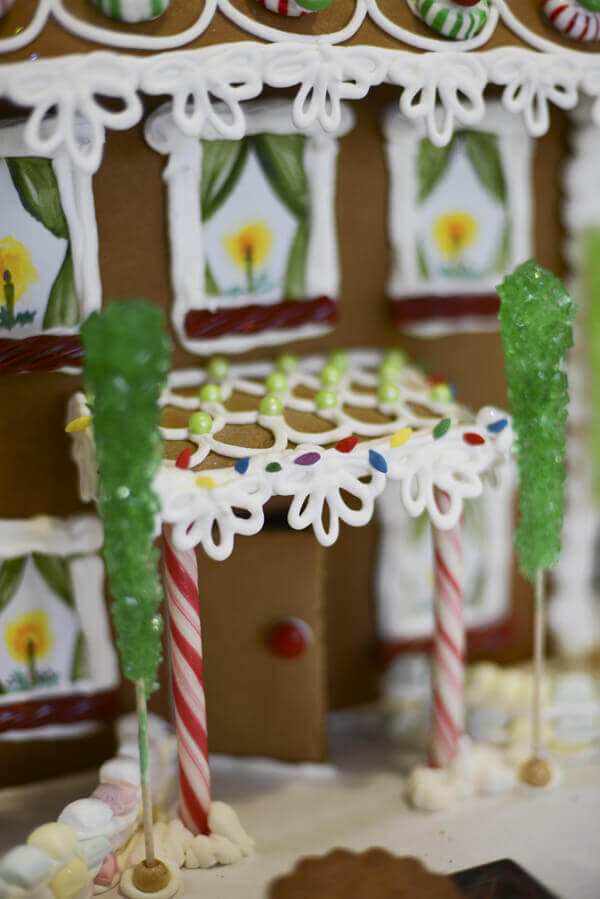 I usually just make lots of blank houses for other people to decorate, so it was especially fun to get to design and build an elaborate house myself this year.  And since we'll have seven gingerbread houses decorated by the girls at their various parties around the house by this evening, I was very glad to give it away.  ;-)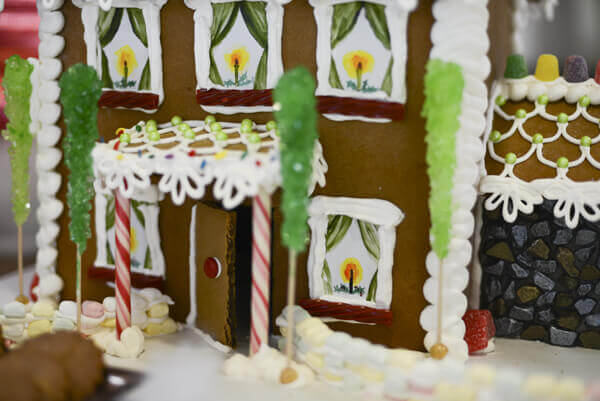 I totally intended the window inlays to go in the window cutouts, but I attached the roof before I remembered to put them in.  Oops.  Next year.  I used Wilton's icing sheets and food coloring to paint the windows.  If I'd remembered to drill a hole in the base, I would have been able to see if the light glows through it!  Another one for next year.  
Thinking about making a real gingerbread house this year?  Check out my new e-book with all of the recipes, tips, techniques you'll need, and five different gingerbread house templates: