Printer-friendly version
Bake up some real gingerbread men this Christmas--but not for eating!  Turn them into rustic Christmas ornaments for your Christmas tree.  They look darling and smell amazing!
I love making gingerbread men ornaments each year with the leftover dough from making gingerbread houses.  We hang them on the Swedish cookie tree my father made.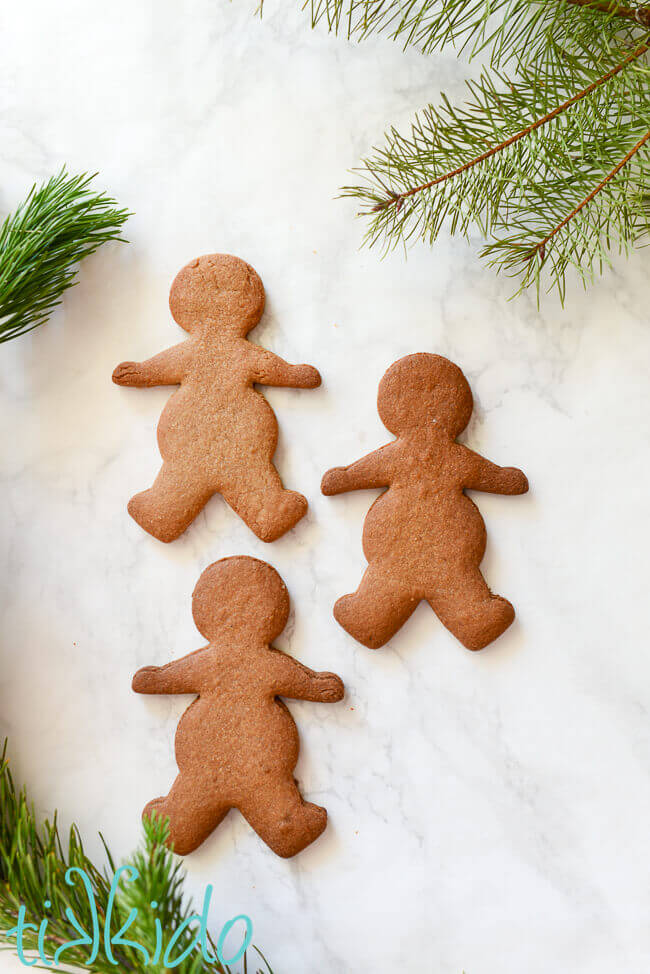 Of course, they're great for just eating, too.  ;-)  But if you hang them on the Christmas tree, they have delightful rustic charm.
They also smell absolutely amazing!
We even hang them from the chandelier (our gingerbread men know how to party).
But turning a gingerbread man cookie into an ornament can be a little trickier than you'd expect.    If you make the hole for the ribbon before you bake, it often closes up as the gingerbread spreads slightly when in the oven.
The simple solution?  A plastic straw.  As soon as those gingerbread men come out of the oven, while they're still soft and piping hot, use a straw to cut a perfect ribbon-sized hole in your gingerbread man.
Sometimes the end of the plastic straw starts to melt a little bit and lose its shape.  If this happens, just snip off the offending tip, and you have a perfectly round hole-cutter once again.
Thread ribbon or string through your cooled cookies.  Decorate, if you'd like.  
Or just hang them up and enjoy the amazing scent and rustic, classic charm of your gingerbread man ornaments.
Thinking about making a real gingerbread house this year?  Check out my new e-book, Gingerbread for Beginners, with all of the recipes, tips, techniques you'll need, and five different gingerbread house templates: