Printer-friendly version
Cranberry pistachio biscotti cookies are the perfect addition to a Christmas cookie tray.  Or just for breakfast any day.  Homemade biscotti is so easy to make, and so delicious, that you'll never be tempted by those coffee shop biscotti again.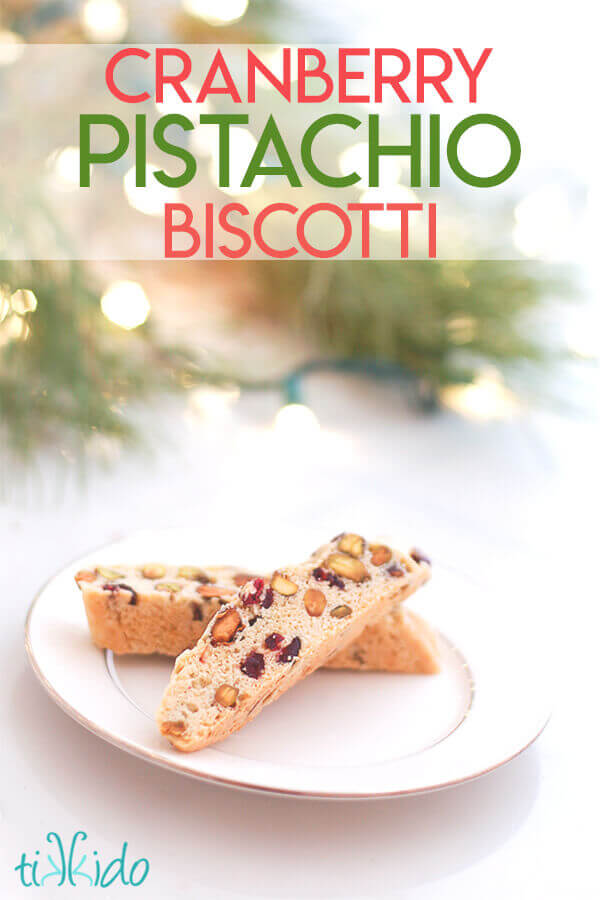 These Italian cookies are crunchy cookies, but not HARD crunchy, like most commercial brands of biscotti.  They have a pleasant bite, they stand up well to dipping in coffee or tea, but they're very pleasant to eat and not too hard at all.
Cranberry Pistachio Biscotti Recipe:
3/4 cup sugar
1/4 cup olive oil
2 eggs, beaten
2 teaspoons vanilla extract
1/2 teaspoon almond extract
1 3/4 cups all purpose flour
1/4 teaspoon salt
1 teaspoon baking powder
1/2 cup dried cranberries
1 cup shelled pistachios
Heat oven to 325 degrees Fahrenheit.
There's no need for an electric mixer or even hand mixer for this recipe--it comes together brilliantly just mixing with a wooden spoon or rubber spatula in a large bowl.
Combine sugar, olive oil, and beaten eggs. Mix until thoroughly blended. Add vanilla and almond extracts, and mix until combined.
In a separate bowl, combine flour, salt, and baking powder. Stir together to create the dry flour mixture.
Mix the wet ingredients and the dry ingredients, creating a wet, sticky dough. Once completely mixed, add the cranberries and pistachio nuts, and mix until distributed evenly through the dough.
Divide dough in half, and shape into two long, flat logs of dough on a sheet of parchment paper.   Wet hands with water to prevent this sticky dough from sticking to your hands when you mold it into a log shape.   Each loaf of dough should be approximately a foot long, and 2-3 inches wide.
Bake for 30 minutes at 325 degrees Fahrenheit in a preheated oven.  Remove from the oven and cool logs for 10 minutes.
In the meantime, reduce oven temperature to 275 degrees.
Use a serrated knife to slice logs in 1" thick slices. Cutting the log at an angle will give you that distinctive biscotti shape. The more severe the angle, the larger your biscotti will be, but the fewer you will have in the end.
Biscotti is a double-baked, dry cookie.   The first bake is to bake the dough, but the second bake is where it gets its crunchy texture.
Arrange the thin slices in a single layer on a parchment lined baking tray. Bake a second time at 275 degrees for 10 minutes. Let cool and enjoy.
These sweet cookies have a long shelf life and keep gorgeously for well over a week, so they're perfect for Christmas cookie trays. 
This sweet treat is the perfect thing to make for the biscotti lover in your life!
Printable Cranberry Pistachio Biscotti Recipe
Want a one page, printable version of this festive cranberry pistachio biscotti recipe?  Click on the image below to download the PDF or print directly from your device.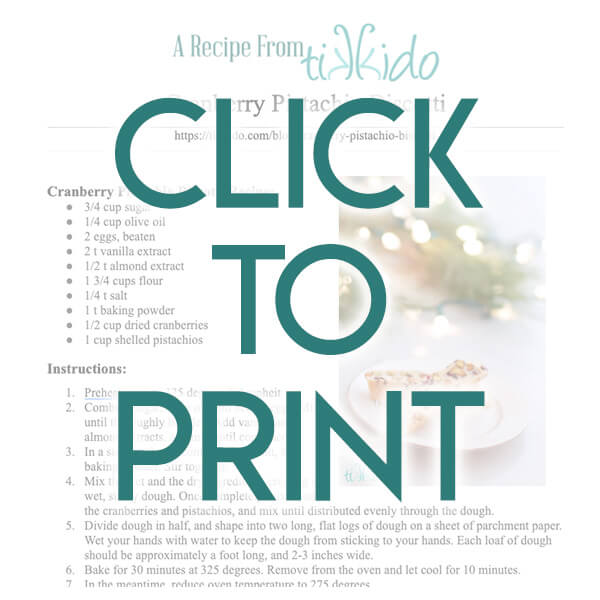 Other Biscotti Recipes You Might Like: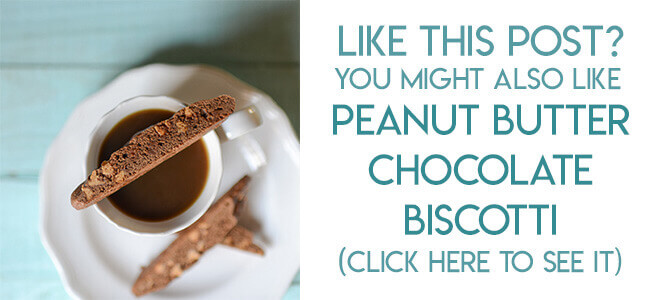 Other Cranberry Recipes You Might Like: