The cookie dough in these chocolate chip cookie dough truffles are made without raw eggs, so they're safe to eat--and full of all that delicious, forbidden cookie dough flavor that is so very tempting.  Edible cookie dough is covered in a chocolate coating to make absolutely amazing truffles.
Full disclosure--I always do eat a bit of the cookie dough when I am making chocolate chip cookies!  It's irresistable, and I know the risks.  But I would never make something that wasn't completely safe for someone else, so making something like these cookie dough truffles requires a few tweaks and extra steps to make sure that the cookie dough is edible in its uncooked state.  Salmonella poisoning is nothing to mess around with!  These taste just like regular cookie dough without the risk.
First, this edible cookie dough recipe doesn't have any raw eggs, the main ingredient that causes food-safety issues when eating cookie dough.  But raw flour can also occasionally cause problems, so to be completely safe, follow this excellent tutorial for treating raw flo [1]ur to kill off any lurking bacteria before starting this recipe.
Chocolate Chip Cookie Dough Truffles Recipe:
1/3 cup butter, softened (75 grams)
1/2 teaspoon salt
1 teaspoon vanilla extract
3 Tablespoons white sugar
1/3 cup brown sugar, packed (66 grams)
3/4 cup treated all purpose flour (96 grams)
Milk or cream to create the right texture (1-3 teaspoons, typically)
Chocolate chips to taste (for the edible cookie dough)
Milk chocolate or chocolate melts to coat the cookie dough truffles
How to Make Cookie Dough Truffles:
Making the edible cookie dough is just like making the dough for any chocolate chip cookies.  Start by creaming the room temperature butter and sugars together.  Add the salt, vanilla, and flour (remember to treat flour first!) and mix well to combine.  It will be a little too dry and crumbly at this stage, so add milk or cream, just a teaspoon at a time, until the dough is the perfect texture to form a soft dough ball.  I used my stand mixer, but you could easily use a hand mixer as well.
I used regular semisweet chocolate chips, but since these are the perfect bite-sized treats, mini chocolate chips are a fantastic option, too.  I would have used mini chips if I'd had any on hand.
I used a cookie scoop to portion out my cookie dough, and cut each scoop in half.  That was the perfect amount to make 1-inch balls of the raw cookie dough.
Any time you make no bake desserts--any time you're handling anything anyone will eat in its current state, and won't be cooked before serving--you should always take extra safety measures and wear food-safe gloves.  The cookie dough balls are rolled by hand, so I always use gloves to avoid giving anyone food poisoning.   
Next, it's time to cover the small balls of cookie dough in chocolate!  You can melt your chocolate in a double boiler (the safest way to do it), or just in the microwave, carefully, like I did.  If you're melting your chocolate in the microwave, only zap it in 15-30 second intervals.  Pull it out when the chocolate disks are still holding their shape, but are starting to look glossy.  Stir the chocolate to melt any lingering lumps of chocolate.
I tried using both a skewer and a fork to dip my cookie dough in the melted chocolate, and preferred the fork.  You can buy special tools for dipping things in chocolate [2], but I don't do it often enough that I've ever bothered getting them myself.  
Dip balls in the melted chocolate, and use a fork (or whatever tool you prefer) to remove the dough ball from the chocolate, allowing as much excess chocolate drip off the bottom as possible before transfering to a cookie sheet lined with parchment paper or wax paper. 
You can use candy coating chocolate melts instead of regular chocolate to cover your truffles, too.  If you do choose to use chocolate melts, my favorite brand is Ghiradelli Melting Wafers [3].  They taste SO much better than the Wilton melts that you can buy in any cake decorating aisle at a craft store, and are well worth tracking down.
Fun Variations on Cookie Dough Truffles:
Use dark chocolate for the coating for those chocolate lovers.
Use white chocolate for a sweet twist!
Add chopped nuts to the edible cookie dough.
Add a little sea salt to the top of each truffle for a burst of salty-sweet flavor.
Use peanut butter chips

[4]

instead of chocolate chips in the recipe.
These delicious chocolate chip cookie dough truffles are the best treats for cookie dough lovers! 
Printable Chocolate Chip Cookie Dough Truffle Recipe:
Want a one page, printable version of this cookie dough truffle recipe?  Click on the image below to download the PDF or print it directly.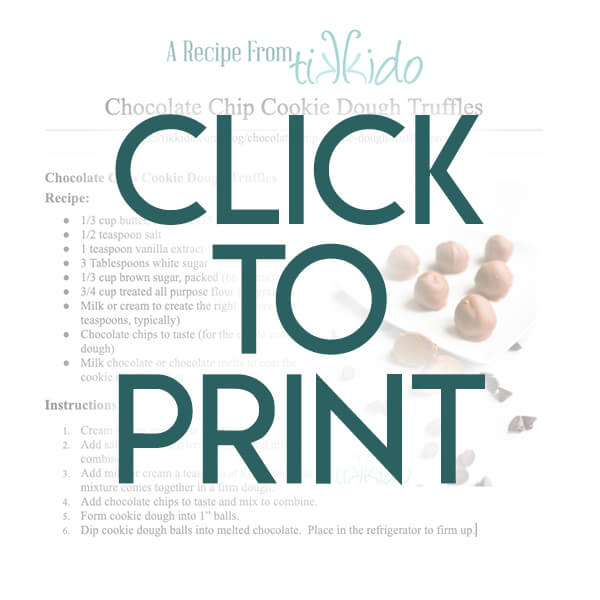 [5]
Other Truffle Recipes from the Taste Creations Blog Hop:
Did you know that May 2nd is National Truffle Day?  Be sure to check out these other amazing truffle recipes from my blogger friends in the Taste Creations Blog Hop.
Our Good Life: Easy Chocolate Truffles [6]
Bread and Sweets: Coconut White Chocolate Truffles [7]
Mom Home Guide: Dark Chocolate Peanut Butter Cup Truffles [8]
Other Truffle Recipes You Might Like: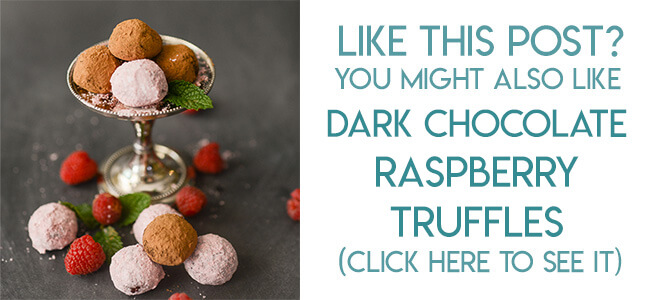 [9]
Other Cookie Dough Recipes You Might Like: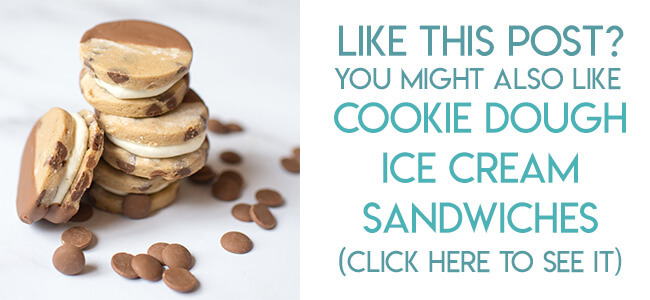 [10]