Printer-friendly version
Chocolate raspberry truffles are a decadent, romantic, luxurious dessert--but also incredibly easy to make.  This recipe for chocolate raspberry truffles has only a few basic ingredients but the flavor is spectacular; it's the perfect easy chocolate to make for your sweetheart this Valentine's day.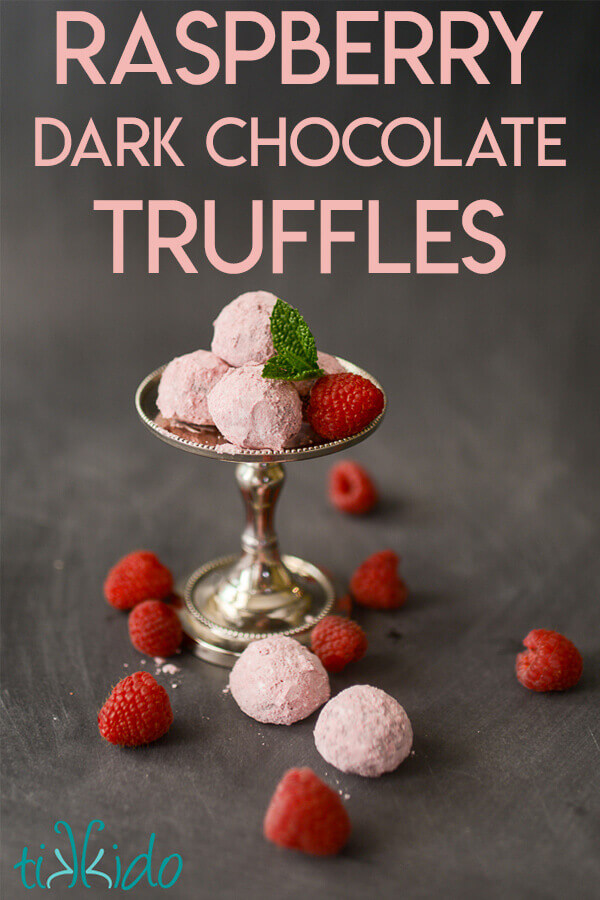 Welcome to this month's Taste Creations Blog Hop, where we will be sharing recipes using dark chocolate this month!  Mmmm.  The only hard part about this challenge was deciding what to make!  I've never made classic truffles before, so I decided to tackle this classic confection.  And not just any dark chocolate truffles, but raspberry dark chocolate truffles made with real raspberries and freeze dried raspberries for extra fabulous berry flavor.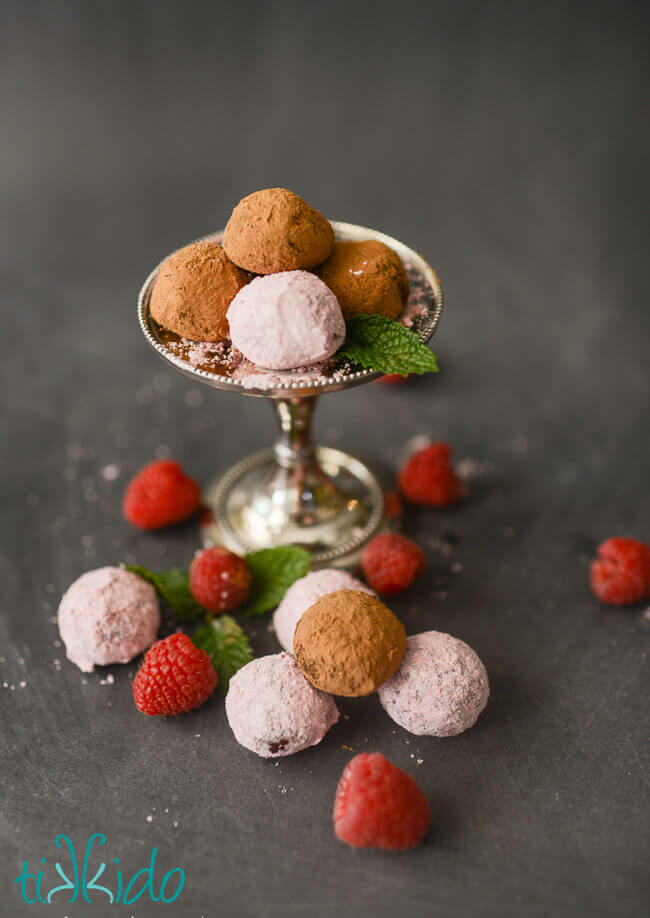 Tackle is perhaps too strong a word, because making fabulous, real truffles is actually really, really easy.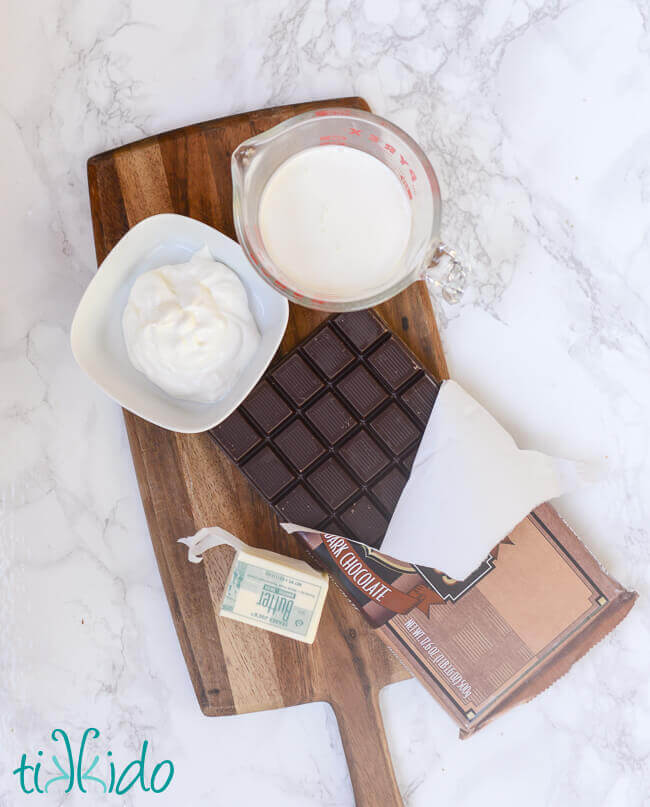 I asked my Pastry Chef (and microbiologist--she really knows the science of sweets!) mother for a good basic truffle recipe, and she sent me a recipe from Gretchen's Bakery.  Let me tell you, I have a new internet crush on Gretchen.  She's a CIA (Culinary Institute of America) trained professional pastry chef who makes the most fabulous video tutorials for making all sorts of fabulous sweets and treats.   The truffle recipe from Gretchen's Bakery is incredibly versatile, and I decided to make a raspberry chocolate variation for my truffle experiment.  (I used to have Gretchen's basic recipe linked here, but it looks as though she's removed it from her website since she switched to entirely vegan baking.)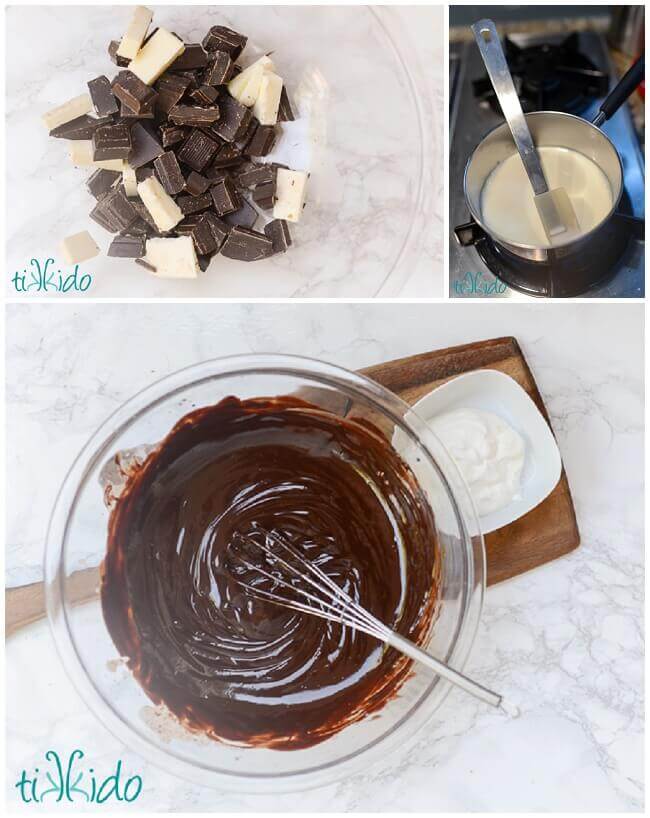 Dark Chocolate Truffle Recipe:
1 pound good couverture chocolate (I used Trader Joe's great big dark chocolate bar)
3/4 cup whipping cream
6 Tablespoons unsalted butter
6 Tablespoons sour cream (can substitute crème fraiche or plain yogurt)
Chop up the butter and dark chocolate into small pieces, and put in a large mixing bowl.  Bring the cream to a boil, pour over the chocolate and butter, and whisk until the mixture is all melted and creamy and magnificent (technical term, I'm pretty sure).
Whisk in the sour cream.  Gretchen says that you can omit this ingredient entirely if you want to, but that it really adds something special to the truffles.  After tasting the truffles, I agree!  Add the sour cream!  The texture of the finished truffle is absolutely amazing and positively silken.
Chocolate Raspberry Truffles Recipe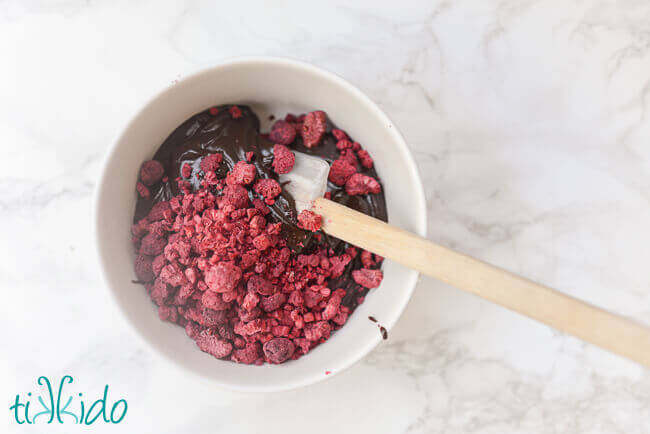 To turn my basic truffles into raspberry truffles, I used my favorite secret ingredient:  freeze dried fruit.  I buy my freeze dried raspberries and other fruits from Honeyville, because I have a store just a few miles away and my girls LOVE freeze dried fruit, so I buy it in bulk.  But you can get it in smaller quantities from Trader Joe's and other retailers.
I crushed the whole raspberries into smaller chunks, so the flavor would distribute nicely through the chocolate ganache.  I used one cup of semi-crushed freeze dried raspberries for the whole batch of dark chocolate raspberry truffles.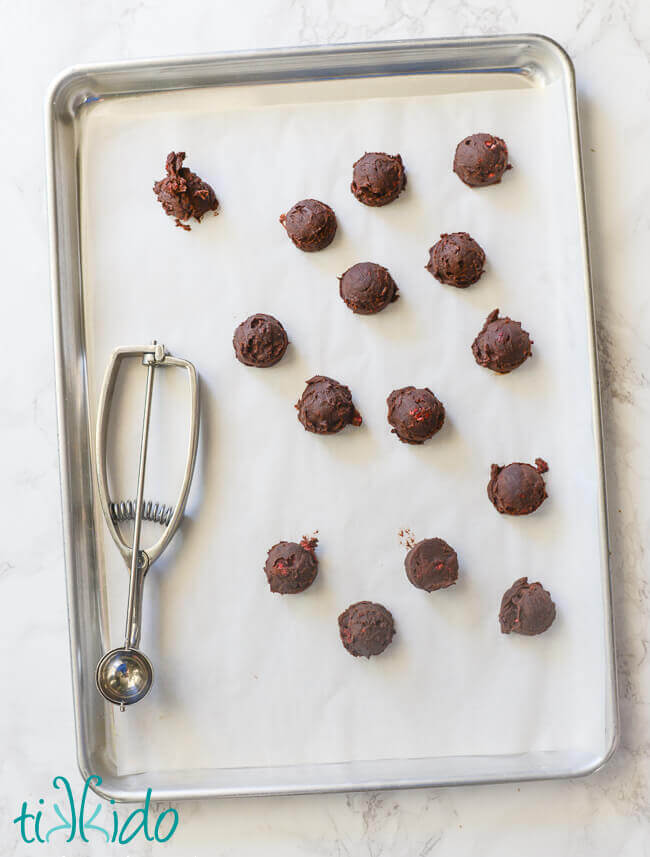 Let the ganache set up, then use a small cookie dough scoop (these are rich!  You want them to be small!) to make evenly portioned truffles.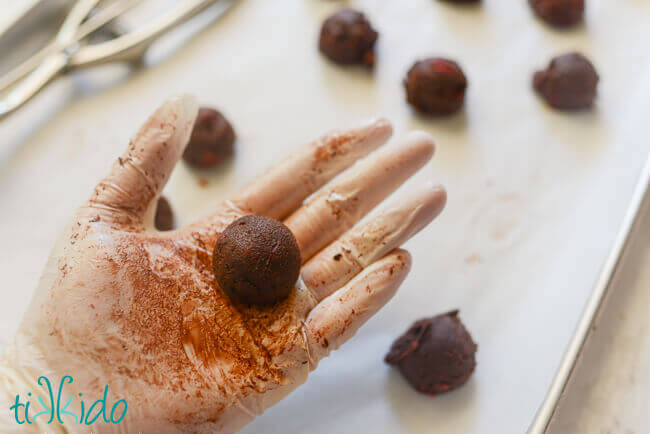 Don a pair of disposable food service gloves (you should always use gloves when making ready-to-eat stuff, aka stuff that isn't going to be cooked after you touch it) and roll the scoops of ganache into nice, round truffles.  This is also an awfully messy task--another reason it's great to have food service gloves in your stash of baking equipment.  They're also nice to have around when you're dying your hair.  Why do those boxes of dye only include one pair of gloves, anyway?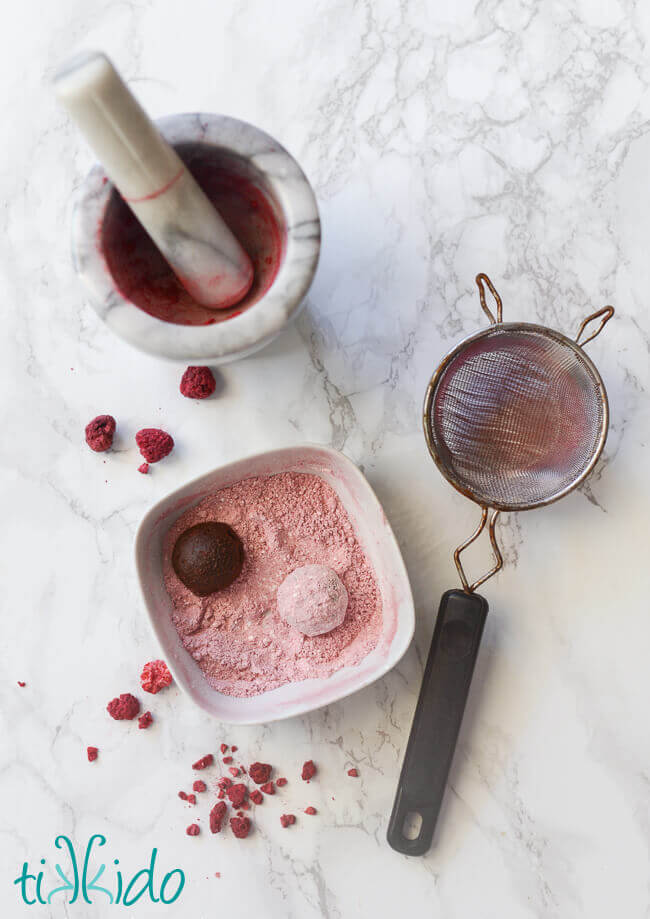 You can dip the rolled truffles in tempered chocolate or candy melts (if you don't want to bother with tempering), or you can roll the truffles in chopped nuts, cocoa powder, coconut flakes, powdered sugar, etc.  
Raspberry Powdered Sugar Coating for Chocolate Raspberry Truffles:
I decided to give my truffles an extra boost of delicious raspberry flavor by grinding some of the freeze dried raspberries into a powder in my mortar and pestle (Same technique I used for making raspberry meringues).  The seeds don't grind up easily, so I used a fine mesh strainer to get rid of those, just leaving the intensely flavorful, fabulous powdered raspberry.  
I mixed equal parts raspberry powder and powdered sugar to make my truffle coating.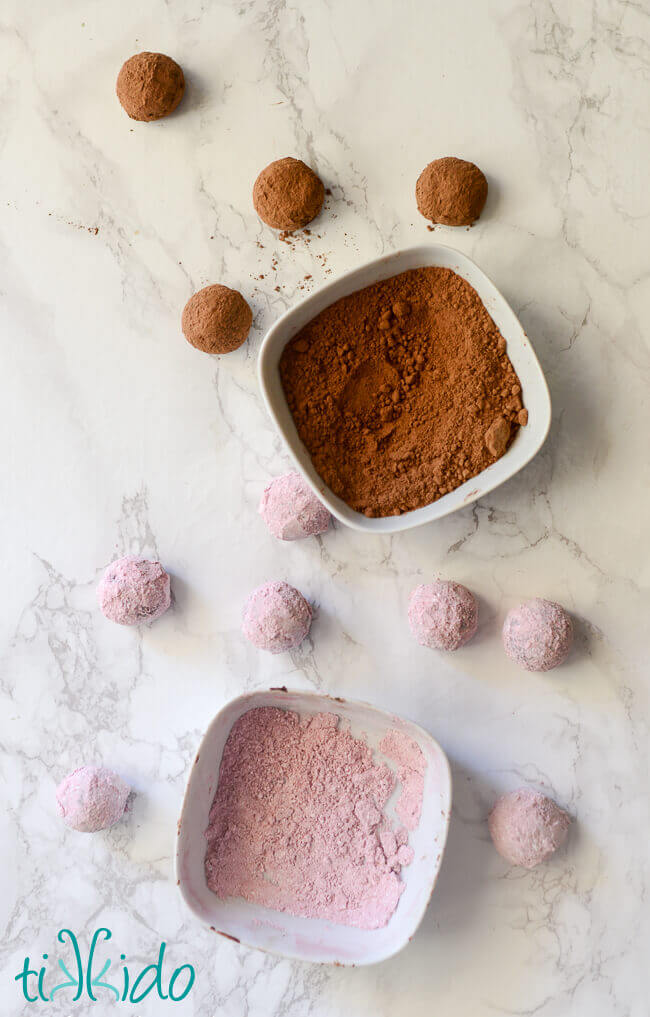 Some were coated in classic cocoa powder, too.  But my favorites were the raspberry-dusted ones.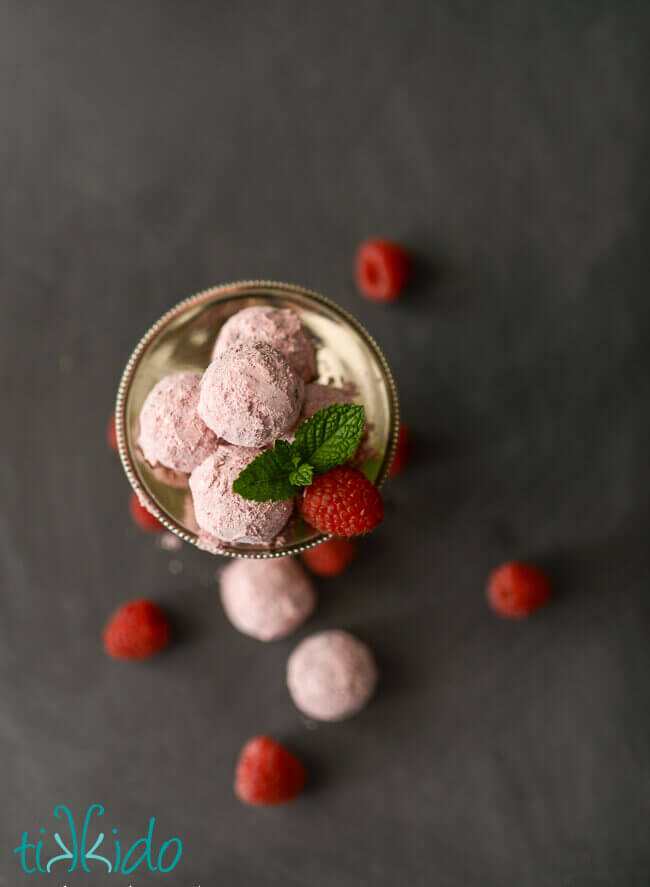 That extra burst of raspberry flavor on the exterior, and then that bite into the silky-smooth chocolate, with tiny pockets of raspberry inside...  SO GOOD.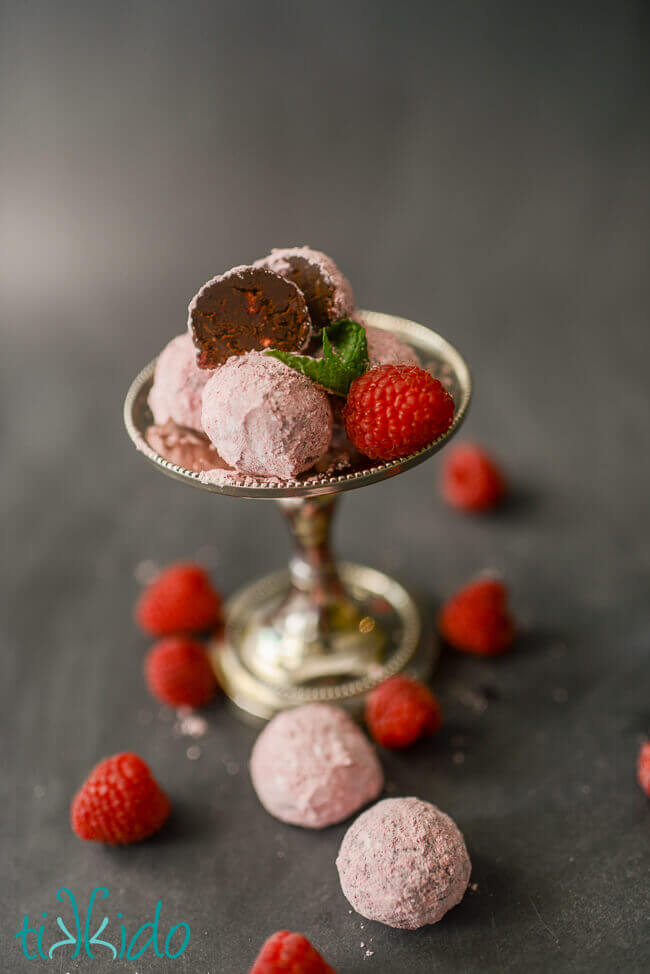 There's a cross-section, so you can see that there are the tiny chunks of raspberry inside.  They're not crunchy, since they re-hydrate in the chocolate ganache.  They're just vibrant and full of fruit flavor without making the truffles watery.  Freeze dried fruit FTW again!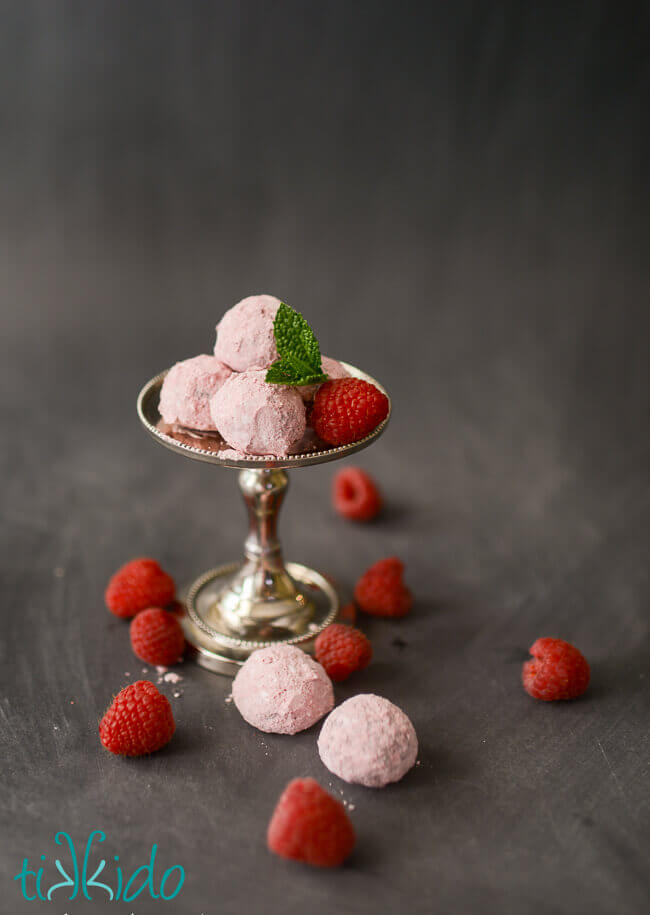 Have you ever made truffles?  What's your favorite truffle flavor?
One Page, Printable Version of the Chocolate Raspberry Truffles Recipe:
And be sure to check out the rest of the fabulous dark chocolate creations from my friends in the Taste Creations Blog Hop!  
An Italian in my Kitchen:  Dark Chocolate Granola Bars
Our Good Life:  Dark Chocolate After Dinner Bars
Mom Home Guide: Dark Chocolate Strawberry Fondue
Other Candy Recipes You Might Like: