Printer-friendly version
Are you looking for the perfect Christmas fudge recipe?  You're in luck--I have 20 of them!  Any of these fudge recipes would be a fabulous addition to any goodie tray this holiday season.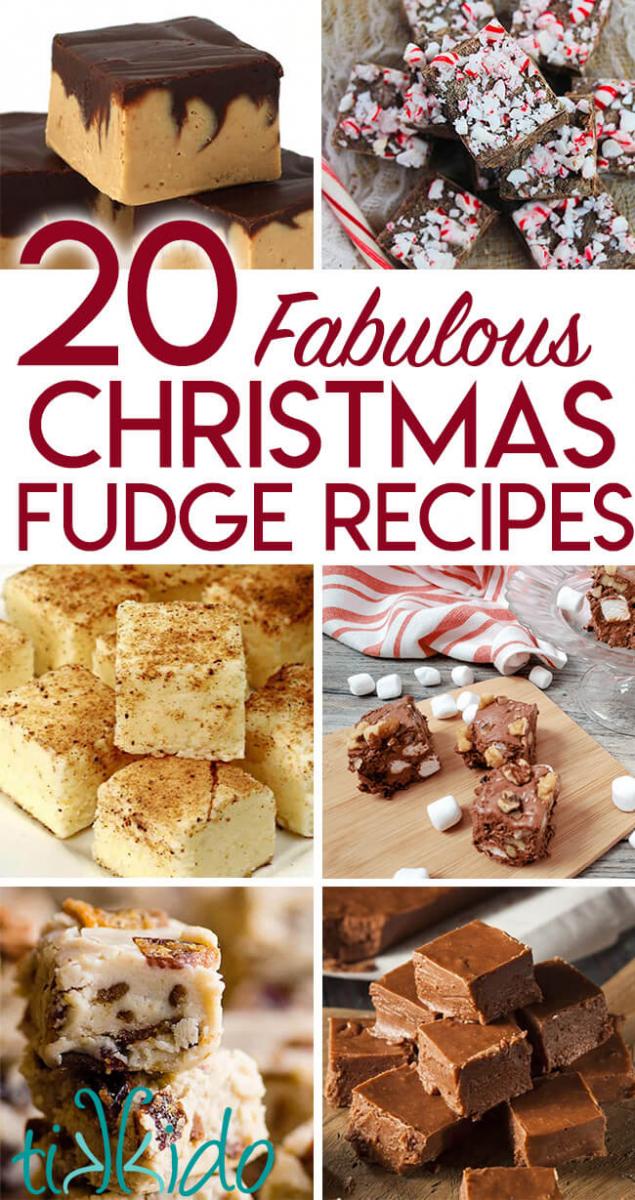 I love including homemade candies like fudge on my Christmas cookie trays.  In this collection, you'll find traditional fudge recipes, easy no-fail fudge recipes, and everything in between.  One thing I know for certain: you'll find the perfect fudge to tempt your sweet tooth in the recipes below.
Christmas Fudge Recipes
Fudge makes wonderful homemade gifts, or a delicious addition to a tray of Christmas cookies.  Try one of these amazing fudge recipes this Christmas baking season.
1. Chocolate Peanut Butter Fudge
A layer of creamy chocolate ganache gets swirled into the top layer of peanut butter fudge to make this amazing, beautiful chocolate peanut butter fudge.
2. Maple Bacon Fudge
Where are my bacon lovers?  If you love surprising sweet and salty treats, this Maple Bacon Fudge is for you!
3. Old Fashioned Fudge with Marshmallows and Walnuts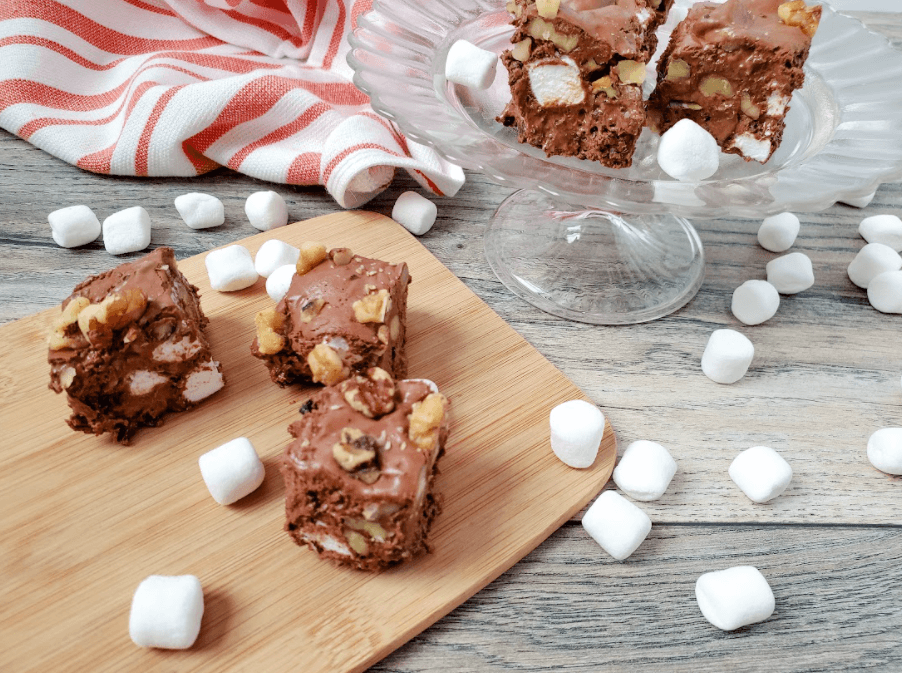 This rocky road fudge uses marshmallow fluff AND mini marshmallows to make this decadent dessert.  You can make it on the stovetop, or even in the microwave with a microwave-safe bowl.
4. Easy Peanut Butter Fudge Recipe
This creamy peanut butter fudge is made with just three ingredients:  a can of frosting, peanut butter, and peanut butter chips.  This may be the easiest fudge recipe ever!
5. White Chocolate Candy Cane Fudge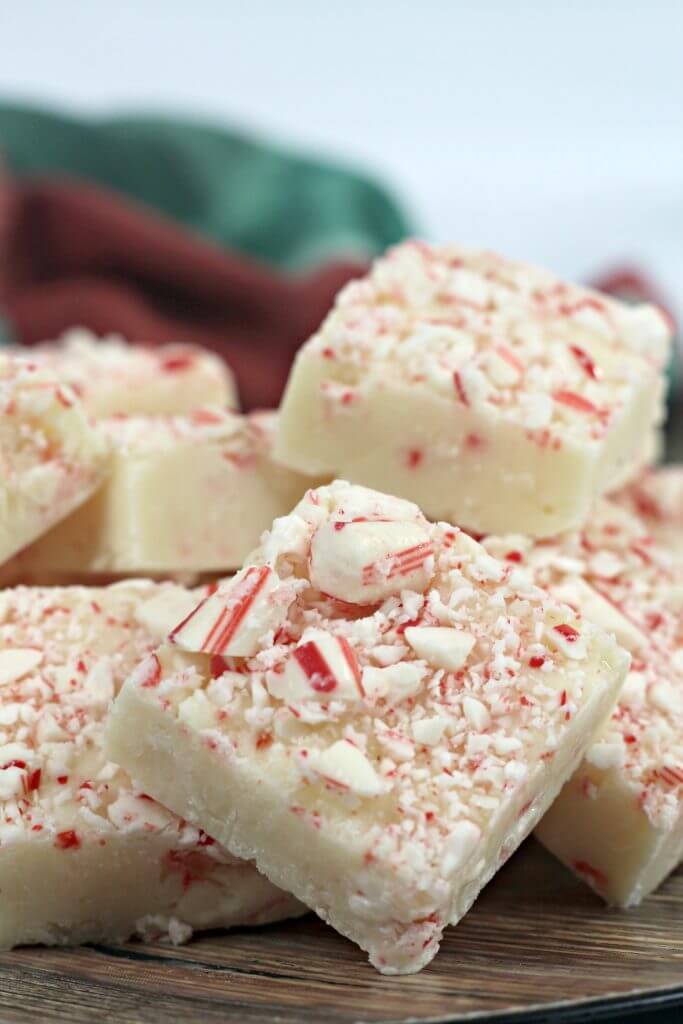 This White Chocolate Candy Cane fudge is made with white chocolate chips, sweetened condensed milk, and crushed candy canes.  That's it.  This is a great recipe just as it is, but if you want to amp up the mint flavor, you could add peppermint extract to the mix.
6. Easy Instant Pot Fudge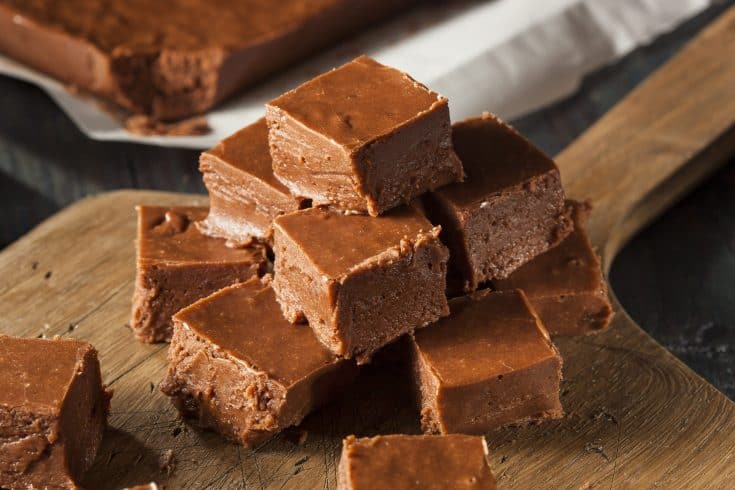 Did you know that you can use the Instant Pot to make classic chocolate fudge?  Neither did I!  I love foolproof recipes, and this technique doesn't even require a candy thermometer.
7. Penuche Fudge Recipe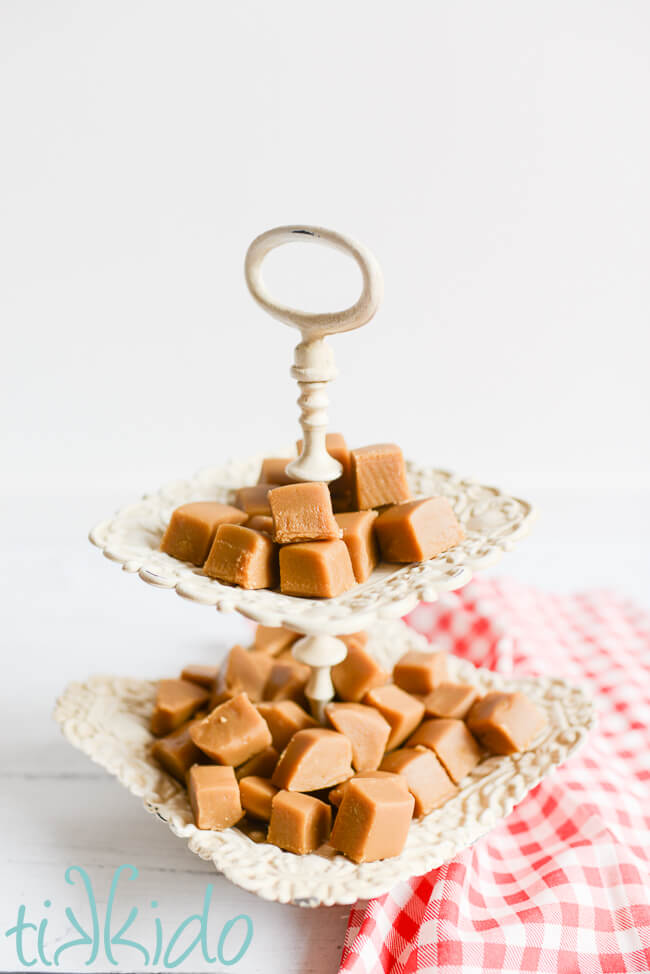 Penuche fudge has that classic fudge texture, and is made with traditional fudge techniques, but instead of chocolate, it's caramely, and flavored with brown sugar and vanilla.  It tastes a lot like a praline, but creamier.  This is my favorite fudge of all time!
8. Easy Microwave Pumpkin Fudge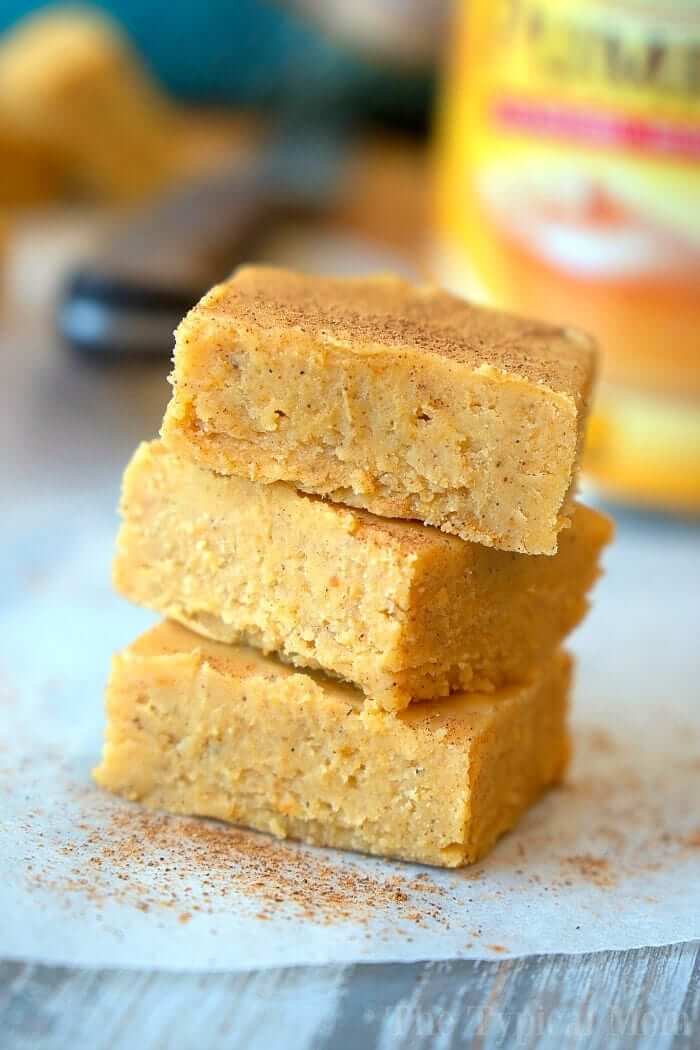 Pumpkin everything is great all through the Christmas season, and I love this easy fudge recipe that uses actual pumpkin, not just pumpkin spice.  Pumpkin fudge is the perfect holiday treat.
9. Dark Chocolate Andes Mint Fudge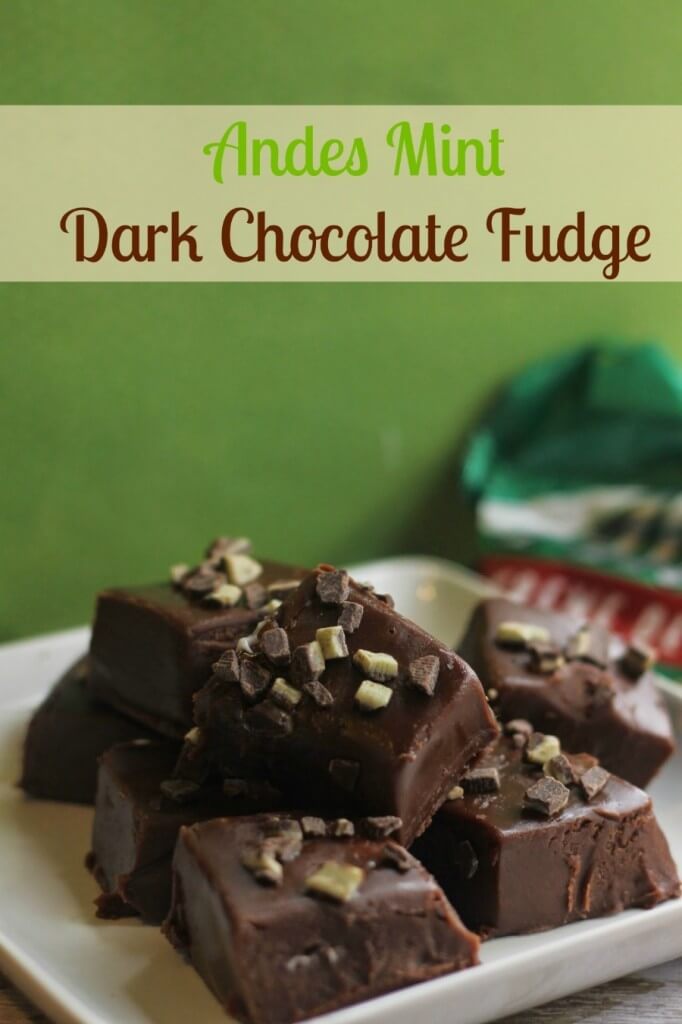 This six ingredient fudge recipe makes a big batch--a 9x13 prepared pan!  I like to use silicone pans to make my homemade fudge (it makes it SO easy), but this recipe makes a bigger batch of fudge than my square baking pan will handle.  You can easily get this Dark Chocolate and Mint Fudge out of the pan if you line it with waxed paper or parchment paper, though.
10. Microwave Chocolate Peppermint Fudge
This Chocolate Peppermint Fudge has an intense chocolate layer made with semi-sweet chocolate chips on the bottom, and a white chocolate layer sprinkled with crushed peppermints on top.  It's pretty much everything you could want in a piece of festive fudge.
11. White Chocolate Oreo Fudge
Do you love cookies and cream?  Then you're going to love this White Chocolate Oreo Fudge! Simple ingredients like powdered sugar and cream cheese get mixed, then white chocolate melted in a double boiler is added, and the mixture turns into this magical fudge.
12. Caramel Eggnog Fudge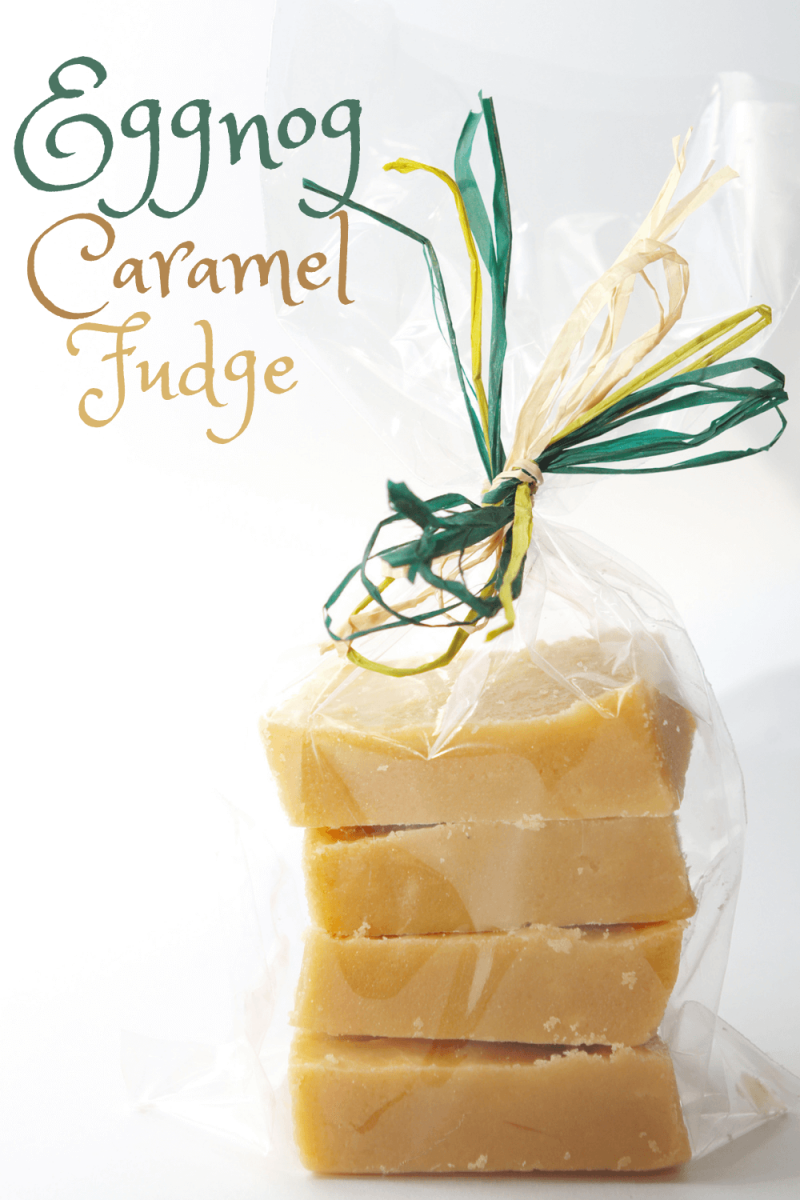 I love caramel.  I love eggnog.  So of course I love everything about this Christmas Caramel Eggnog Fudge recipe!  This delicious treat is made with marshmallow creme, which makes this a very easy, reliable recipe and makes a very creamy fudge. 
13. Eggnog Fudge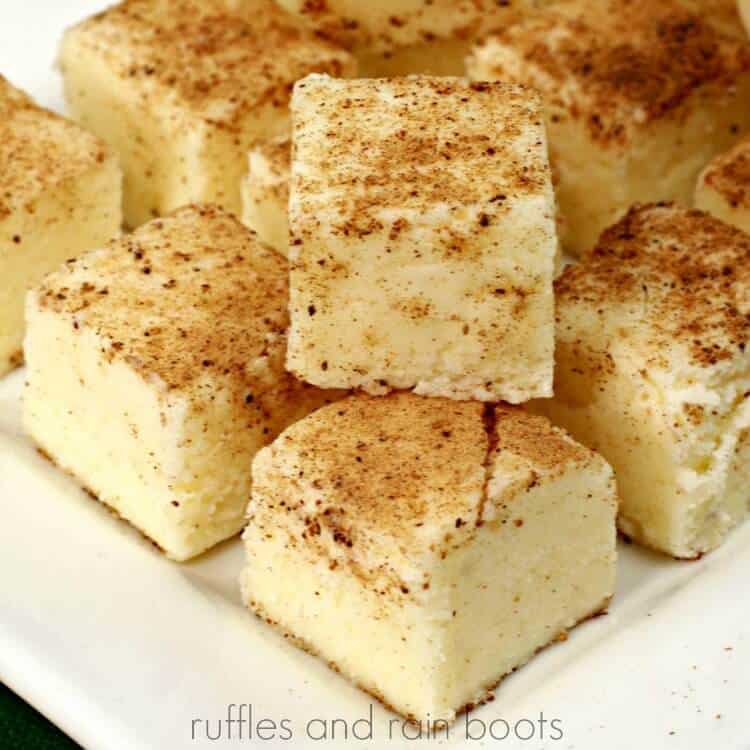 But maybe you just want Eggnog fudge?  Ruffles and Rainboots has you covered!  Don't skip the sprinkling of nutmeg and cinnamon on top.
14. Double Chocolate and Sea Salt Fudge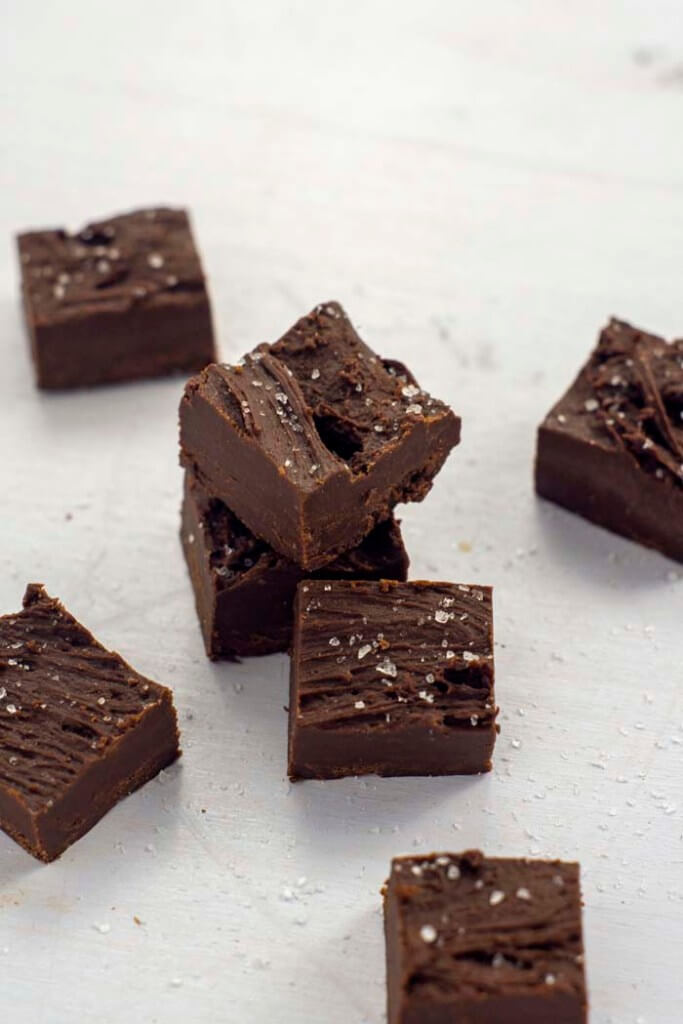 So many fudge recipes are for a person with a serious sweet tooth, but this Double Chocolate Sea Salt fudge elevates the basic fudge recipe to something more complex and refined.  Dark chocolate chips and semi-sweet chocolate chips give the fudge its intense chocolate flavor, and the coarse sea salt sprinkled on top of the fudge adds a delightful contrast to the bittersweet chocolate candy.
15. Old Fashioned Fudge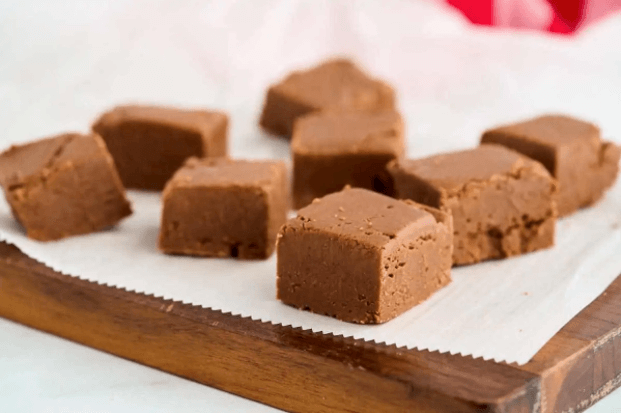 This really is the classic, basic fudge recipe.  It uses traditional fudge techniques (and no marshmallow cream or sweetened condensed milk), so it's a little more complicated to make than some of the other recipes on this list.  But it is absolutely worth the effort to make.  Christmas time wouldn't be the same without it in our house.
16. Small Batch Creamy Lemon Fudge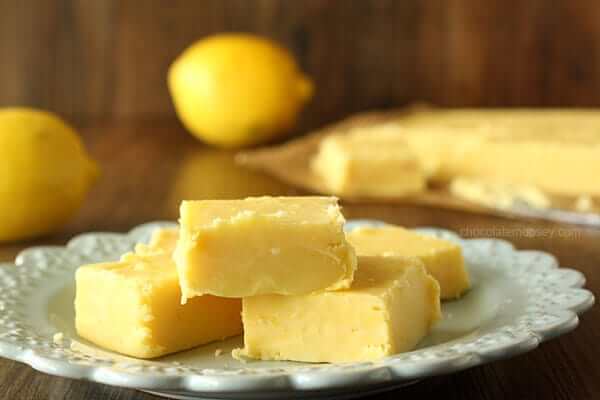 Love lemon?  Try this lemon fudge recipe!  The color is from food coloring, but the flavor is from fresh lemon zest.  To boost the lemon flavor even more, try replacing the vanilla extract with lemon extract.  If you REALLY love lemon, try mixing in some freeze dried lemon powder at the end, and sprinkling a little on top of the fudge.  Can you tell that I love lemon and keep thinking of ways to add even more lemon flavor to an already amazing recipe?  Lemons are in season this time of year, so this is actually a perfect fudge to make at Christmastime.
17. Peanut Butter Cup Fudge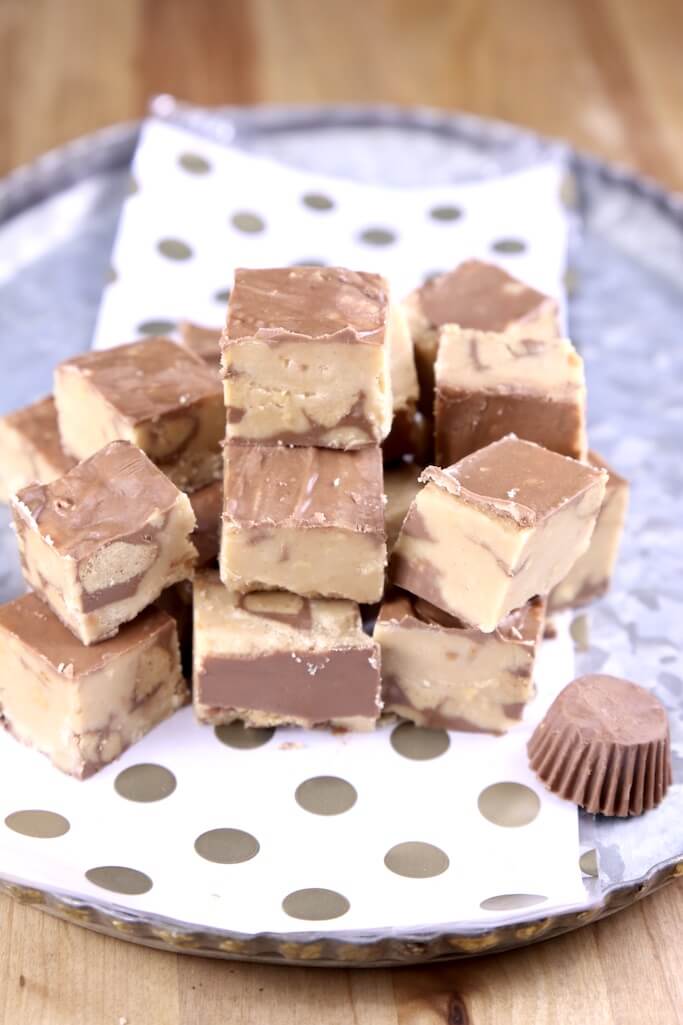 Do you love Reese's Peanut Butter Cups?  Then you'll love this Peanut Butter Cup fudge.  Peanut butter fudge is stuffed with Reese's Miniatures, and then spread with a thin layer of melted chocolate.  YUM.
18. Bailey's Irish Cream Fudge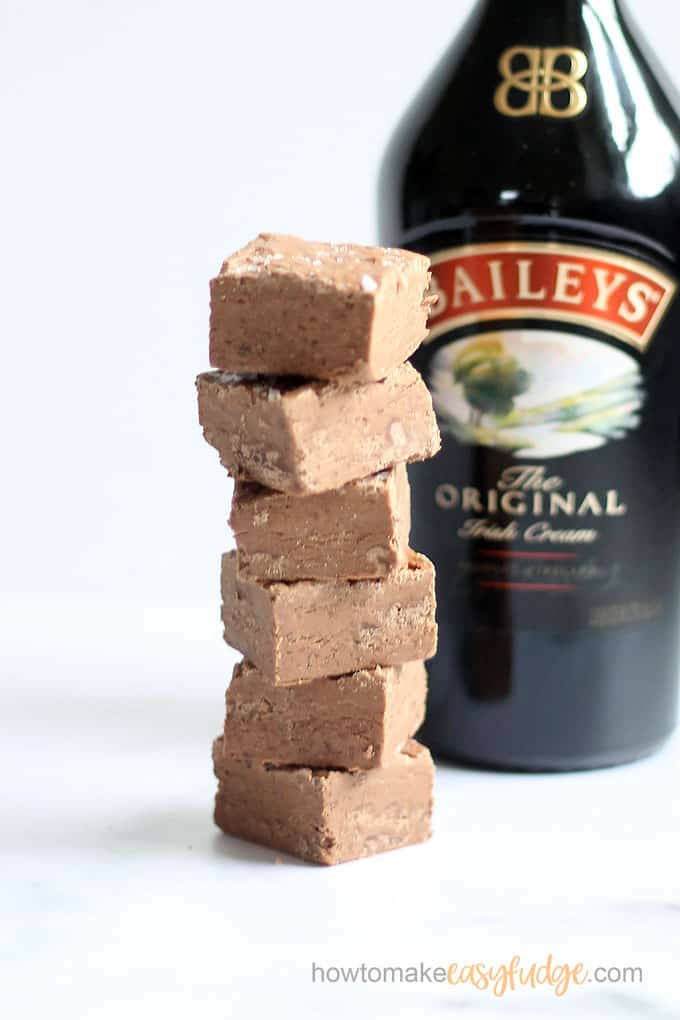 Boozy fudge?  Yes, please!  Especially if it's this Baileys Irish Cream Fudge.  Now that's what I call holiday cheer.
19. Lazy Slow Cooker Peanut Butter Fudge
If you want an easy peanut butter fudge recipe, look no further!  This is a Slow Cooker Peanut Butter Fudge recipe!!  Yes, fudge made in a crock pot!
20. Sugar Cookie Fudge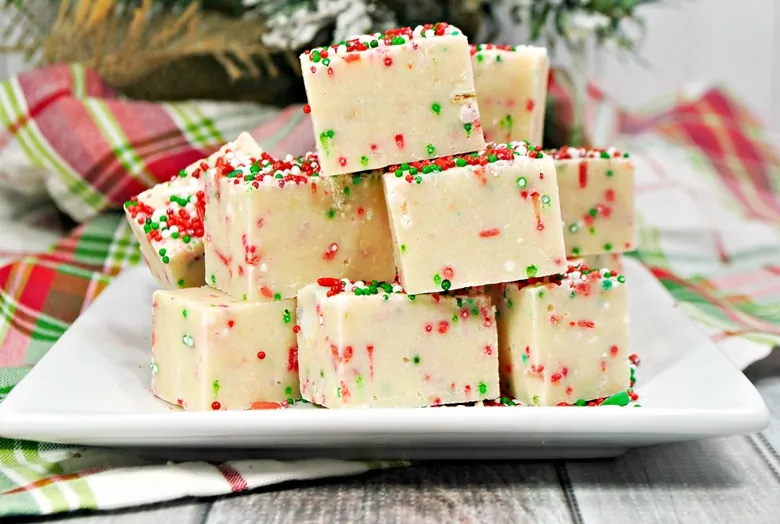 This Sugar Cookie Fudge is actually made with sugar cookie mix, so it really does taste like delicious sugar cookies!  Add some Christmas sprinkles and you have the best Sugar Cookie Christmas Fudge ever.
No matter what delicious fudge recipe you make, your Christmas dessert table will be more sweet for having made it.  What do you think is the best fudge recipe ever?  What's your family tradition?
Other Candy Recipe Roundups You Might Like: