Printer-friendly version
Make one of these amazing apple appetizers for your next fall get-together.  I love finding new apple recipes in the fall, when my neighbors have hundreds of apples and graciously share their bounty.  And since I love entertaining, I curated this collection of 20 delicious apple appetizer recipes.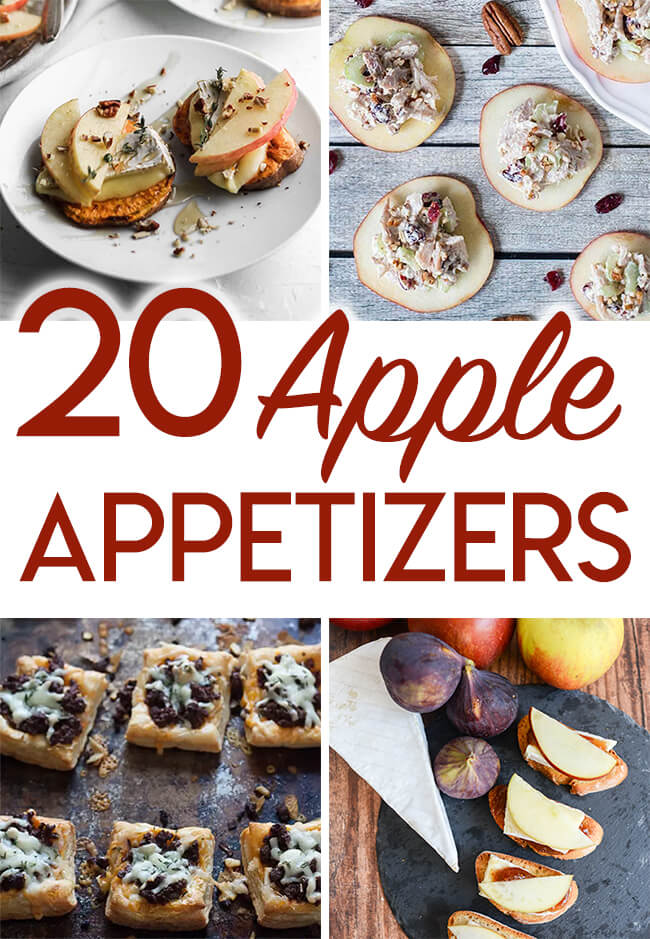 Apple Appetizer Recipes:
Brie, Fig, and Apple Crostini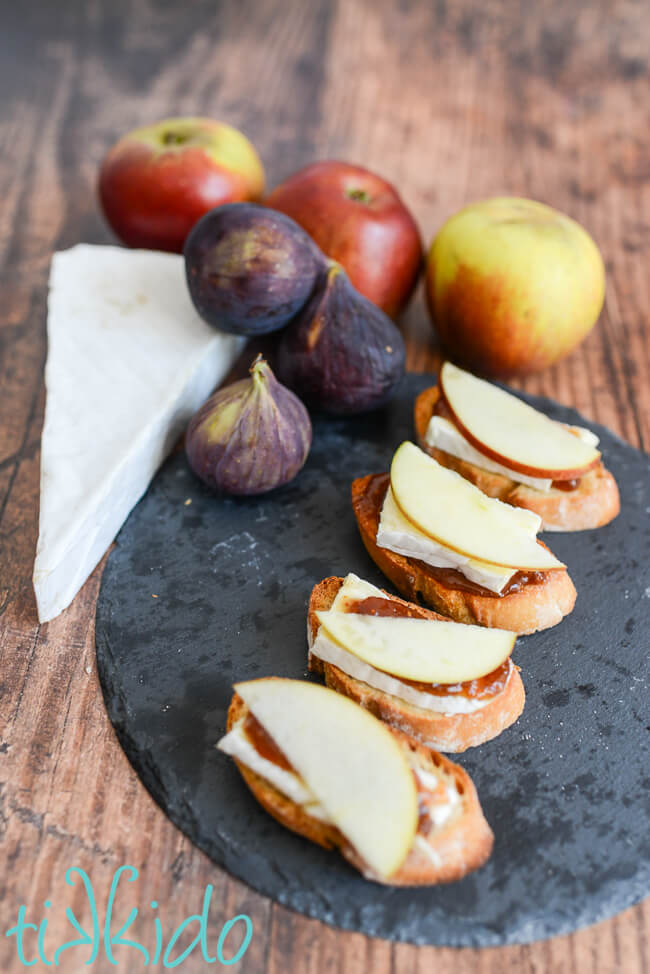 The creamy cheese contrasts with the crisp apples, and the brightness of the tart apple plays with the sweet flavors of the fig spread and brie in this Brie, Fig, and Apple Crostini recipe from Tikkido (that's me!).  
Cheesy Chorizo Apple Thyme Tarts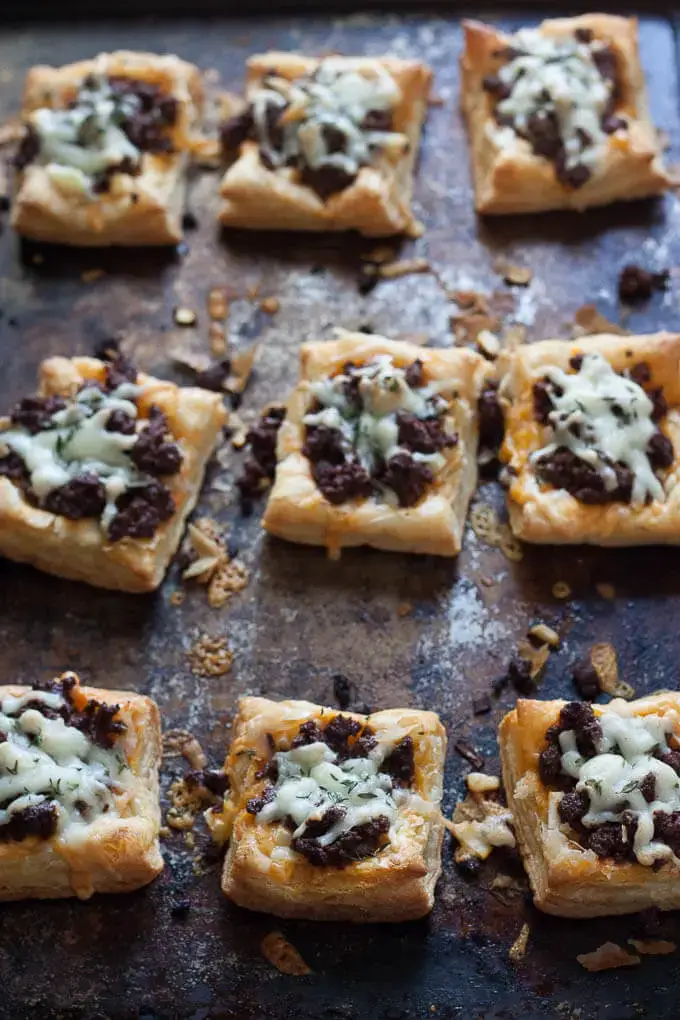 Puff pastry is brilliant for making easy, elegant appetizers, like these Cheese, Chorizo, Apple, and Thyme Tarts from Midwexican.  The salty, spiced chorizo balances with the sweet and crisp apple to make a delicious fall appetizer.
Cheesy Apple & Bacon Phyllo Cup
Crisp, pre-made filo (or phyllo) cups can be found in the freezer section (near the filo dough and puff pastry), and they make delicious, beautiful appetizers like these a breeze to make.  These Cheesy Apple and Bacon Phyllo cups from Foxes Love Lemons are a brilliant example!  The pre-made filo cups are filled with a mixture of bacon, goat cheese, gouda, and apples, and baked to golden perfection.  
Cranberry Chicken Salad on Apple Slices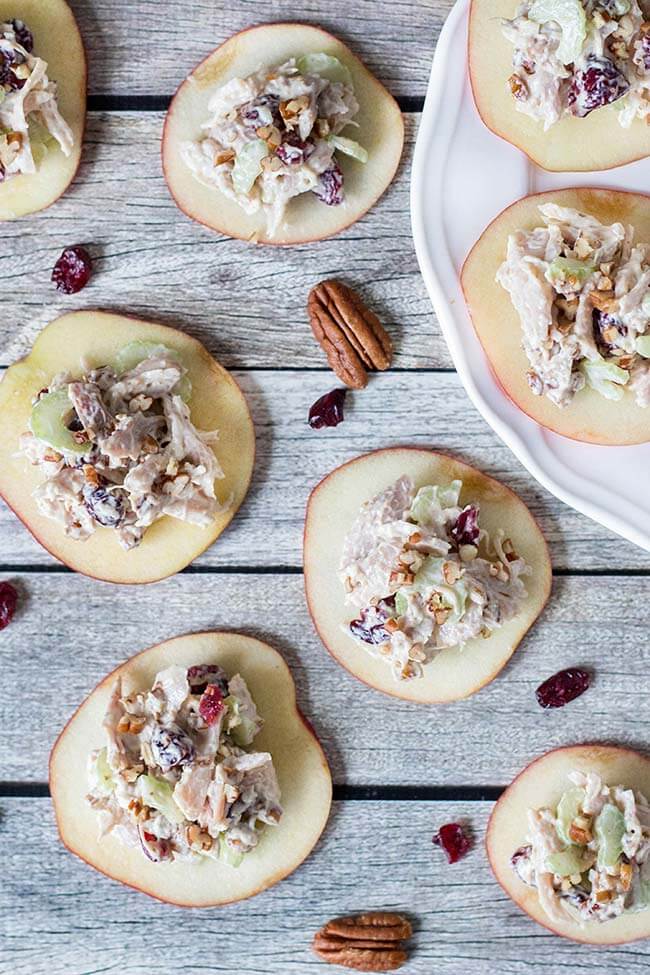 Apples make a delicious, edible serving plate for these bite-sized cranberry chicken salad appetizers from Yummy Addiction.  What a refreshing, easy, make-ahead apple appetizer.
Smoked Prosciutto Wrapped Apple Bites
Culinary Ginger's recipe for Prosciutto Wrapped Apple Appetizers uses sweet apple slices, parmesan cheese, smoked prosciutto (called speck), and fresh basil to make these amazing fall nibbles.  Honey is brushed on top before broiling, really playing with an amazing sweet-and-salty flavor profile. 
Caramel Apple Cheese Ball
Did you think that caramel apples were exclusively a sweet treat?  Plating Pixels shows us the savory side with this Caramel Apple Cheese Ball recipe.  Cream cheese, sharp cheddar, brightly flavored granny smith apples, and caramel are combined to make this sweet-and-savory variation on a classic cheese ball appetizer.  This easy appetizer can be made the day ahead of the party, and it's best served at room temperature, making this the perfect fall appetizer.
Apple and Brie Sweet Potato Crostini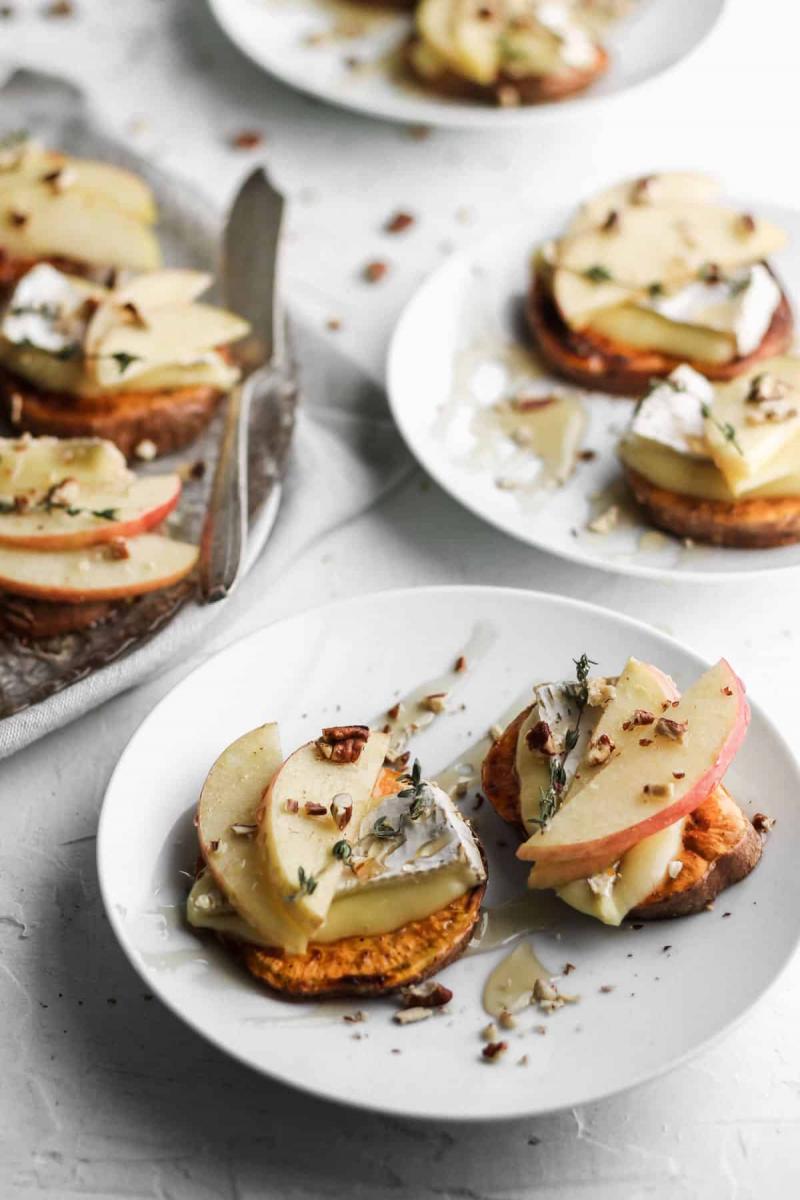 Here's another fun way to think beyond cheese and crackers or bread as a base for appetizers.  These Apple and Brie Sweet Potato Crostini from Your Homemade Healthy use roasted sweet potato slices instead of the traditional bread.  What a tasty, clever way to add even more seasonal flavor to these beautiful fall appetizers.
Baked Brie with Apples and Honey
This Baked Brie with Honey And Apples appetizer from Temecula Blogs is great for feeding a crowd.  Creamy brie is topped with bite-sized chunks of apples and honey, wrapped in filo, and baked.  You could use tart Granny Smith apples, or a sweeter apple like a Honeycrisp.  Either would be delicious, so choose your favorite apple, bake up this easy appetizer and dig in!
Caramelized Onion & Cheddar Crostinis with Prosciutto Wrapped Apples
The Creative Bite has an amazing recipe for Caramelized Onion & Cheddar Crostinis with Prosciutto Wrapped Apples.  This appetizer recipe features an amazing blend of sweet and savory, warm and cool, soft and crisp.  This apple crostini is an elegant addition to any appetizer platter.
Apples on Horseback Apple Appetizers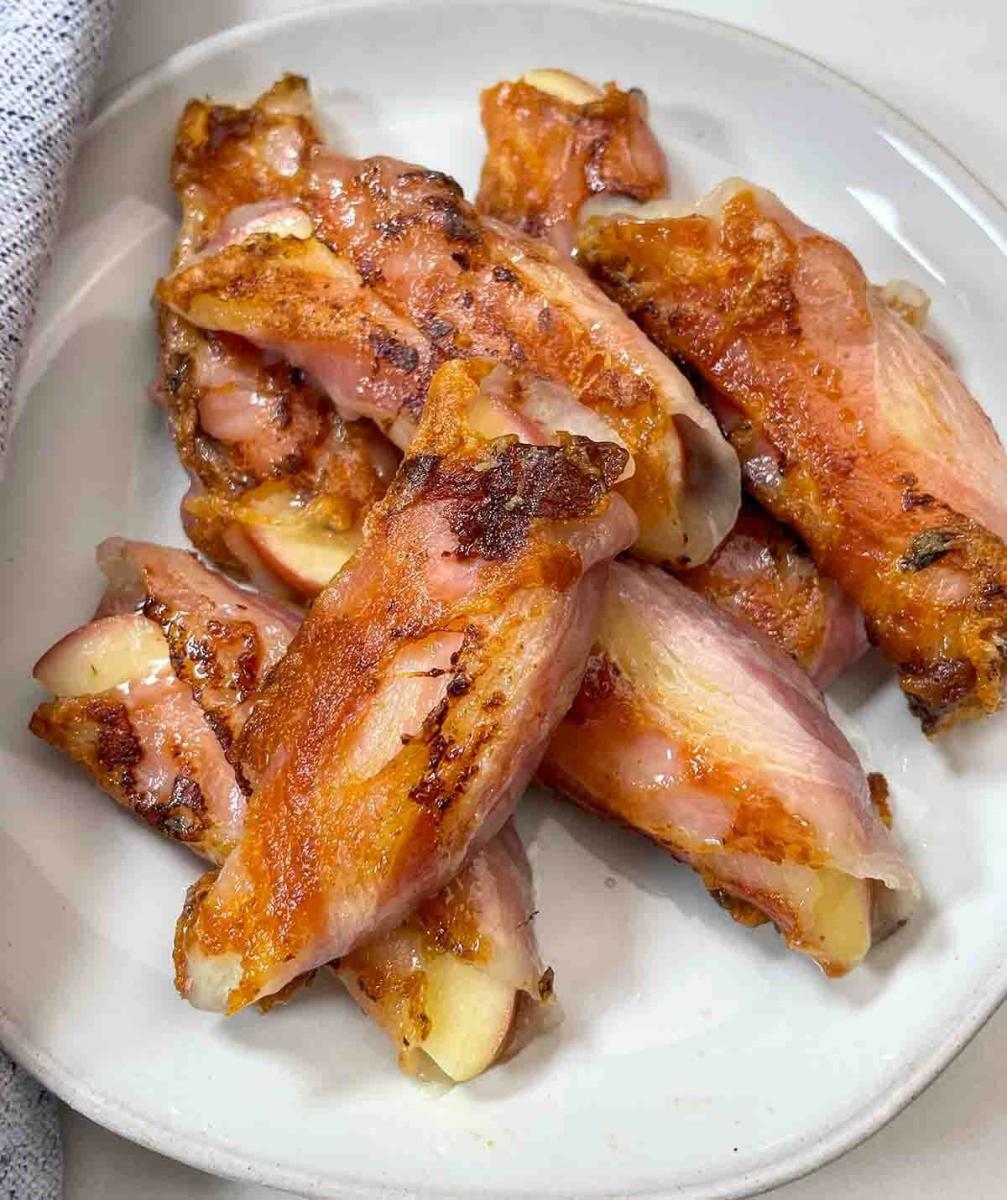 Apples on Horseback are a funny name for a fantastic apple appetizer!  Midwestern Home Life's recipe is made with Pink Lady apple wedges, cheddar cheese, and pancetta, and is easy to cook on the stovetop.  I'd love to be at any party where these are served!
Crispy Apple Chips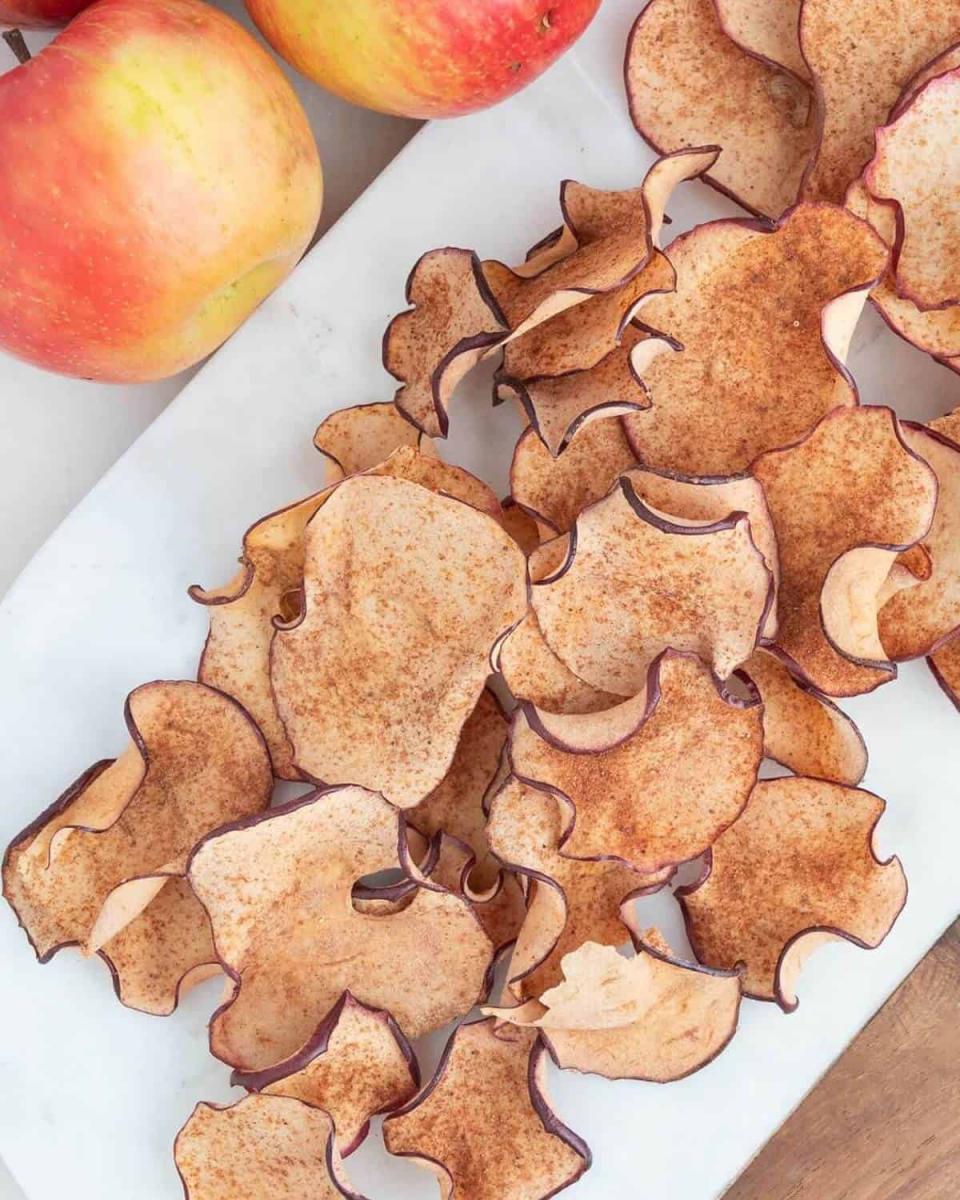 I love this classic, easy crunchy apple chips recipe from Plant Based on a Budget.  No fancy equipment necessary--these apple chips are made by baking thin slices of apples on a baking sheet in your oven! I like crunchy apple chips best when they're made with a sweet tart apple like a Jazz apple or Envy apple.  What appetizer spread would be complete without a bowl of chips, and these apple chips are the perfect healthy fall variety you can make yourself.
Polenta Bites With Apple And Gorgonzola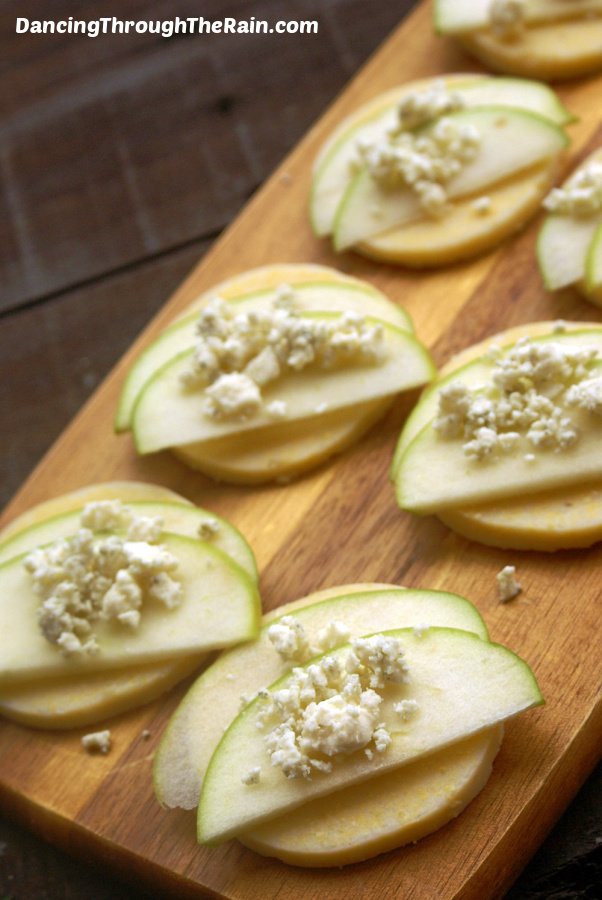 There's no cooking involved at all to make these elegant Polenta, Gorgonzola, and Apple appetizers from Dancing Through the Rain.  Thin slices of crisp, sweet apples pair beautifully with gorgonzola and other "stinky cheese."  And they're arranged on a slice of delicious pre-made polenta.  You could griddle the polenta slices to brown them up a bit, but they're also absolutely delicious without any cooking, too.  This apple appetizer is best served at room temperature, which makes it perfect for parties.
Easy Raw Apple Appetizers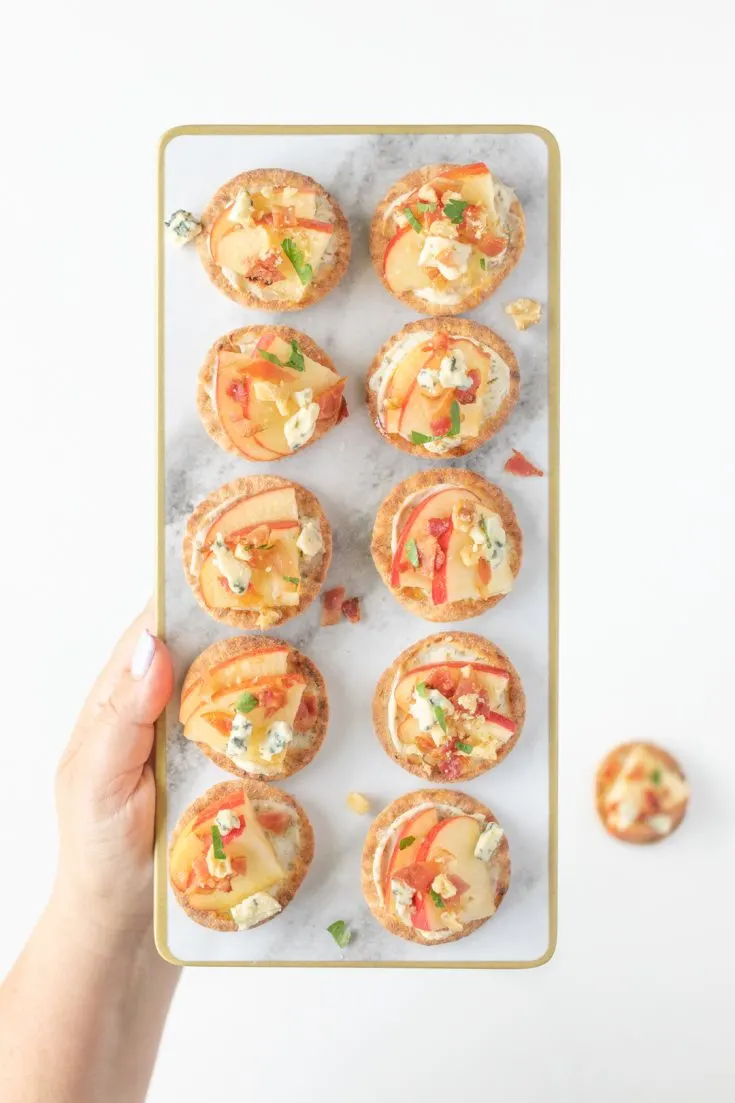 These easy raw apple appetizers from Cutefetti use creamy cheese, apple slices, crumbles of blue cheese, honey, bacon, and fresh herbs.  All of these tasty toppings are served on miniature toasted pita breads.  These apple appetizers look so elegant, but are incredibly fast and easy to whip up for entertaining friends this fall.
Cranberry and Apple Baked Brie
This Cranberry and Apple Baked Brie from Sugar and Soul is simpler than many baked brie recipes because it's not baked in puff pastry or any sort of bread coating.  Instead, the brie is topped with brown sugar and baked on its own, then covered with a sweet and tart apple cranberry compote for serving.  This apple appetizer would be especially good for Thanksgiving or Christmas celebrations, when both apples and cranberries are in season and at their best.  I love the elegant presentation in the cast iron skillet the brie was cooked in--beautiful and with less clean-up!
Bacon Bleu Cheese & Apple Flatbread
This recipe for Bacon, Blue Cheese, and Apple Flatbread from The Creative Bite uses cream cheese spread on store-bought flat bread to hold the other delicious ingredients in place.  The sweet, crisp apple slices added after baking provide fabulous contrast to the other savory toppings.  Sliced into pieces, this makes an amazing appetizer recipe.
Crockpot Apple Butter Meatballs with Bourbon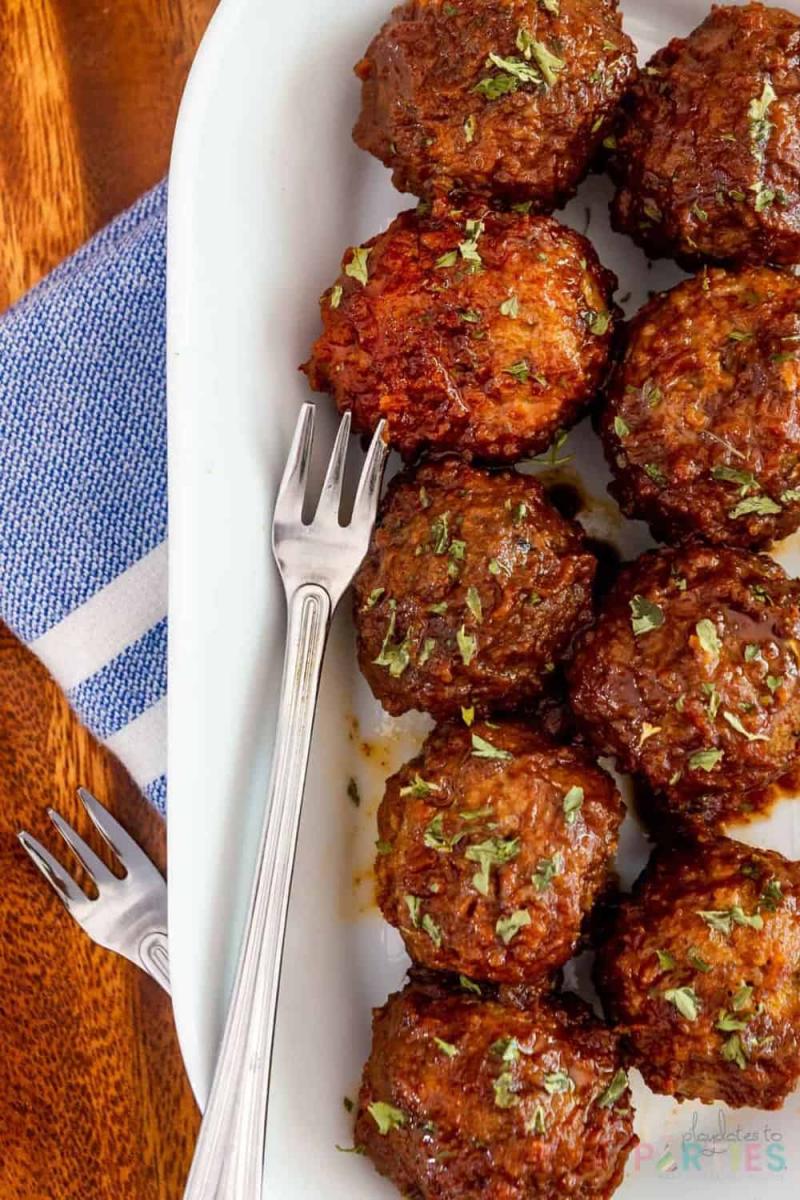 Meatballs are a party and potluck staple, and these Crockpot Apple Butter Meatballs with Bourbon from Playdates to Parties have a perfect fall twist on the classic appetizer.  
Pork, Apple and Veggie Sausage Rolls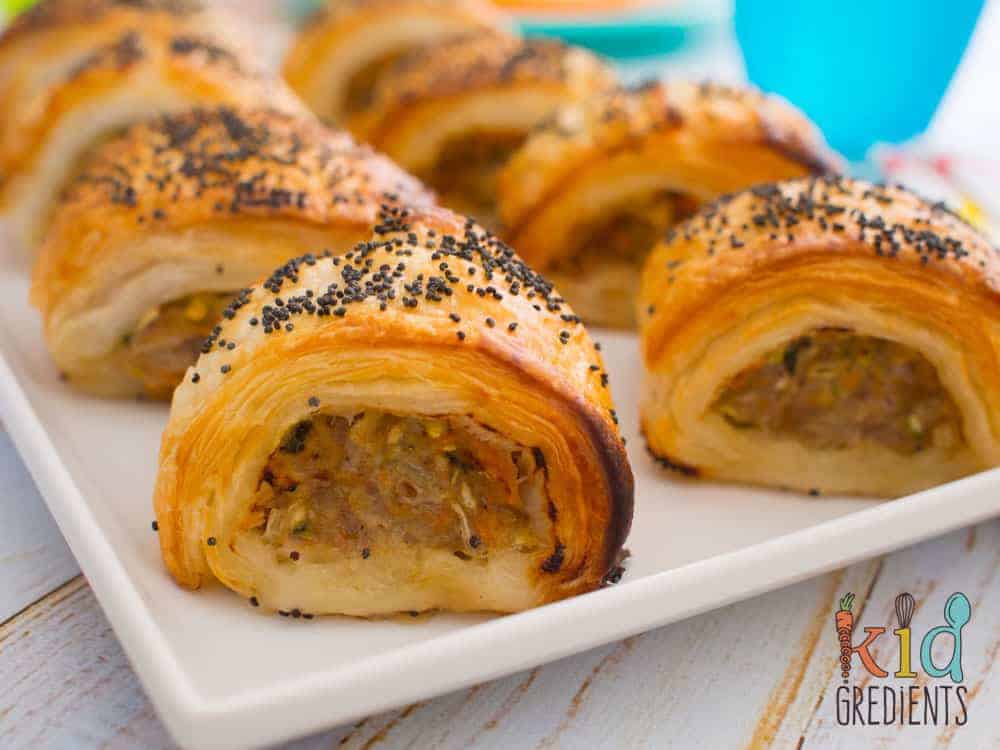 Have you ever had a sausage roll?  These bite-sized version, made with apples and pork, and wrapped in puff pastry, are the perfect party appetizer.  It's hearty, delicious finger-food from Kidgredients.
Apple Bacon Jam Crostini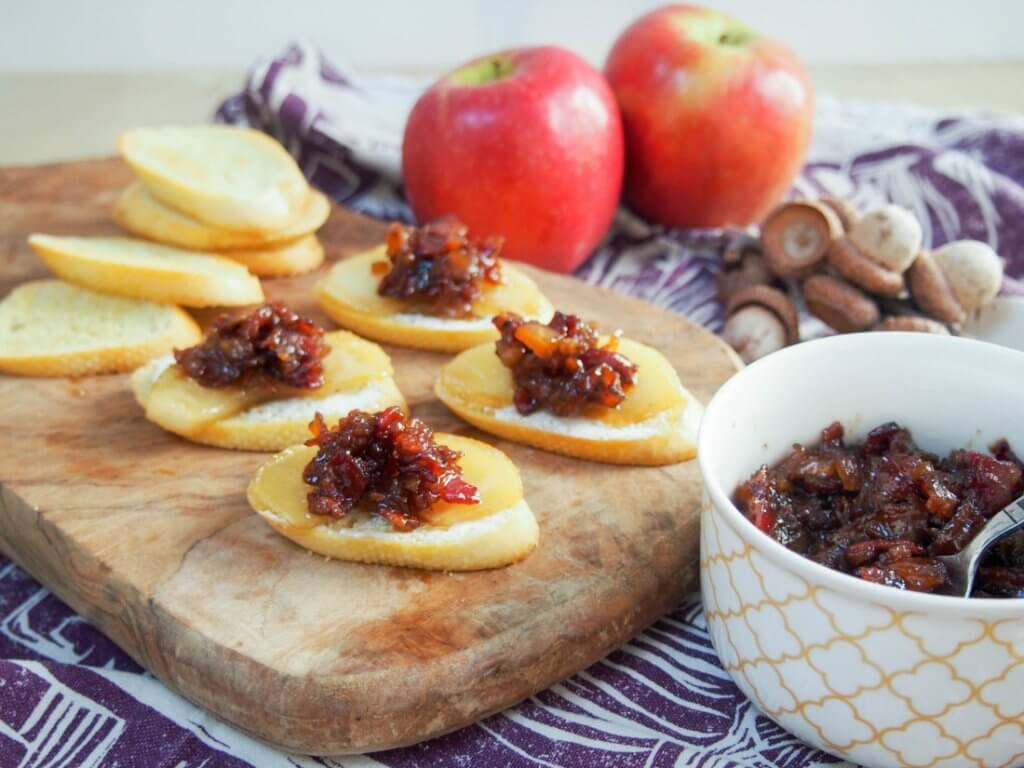 This Apple Bacon Jam Crostini recipe from Caroline's Cooking Full of amazing flavor, but the best part?  The apple bacon jam can be made ahead of time, so this apple appetizer comes together extremely easily and quickly.  Ok, maybe the BEST part is the flavor, but the easy and fast part is really nice, too.
Fig, Apple, and Goat Cheese Flat Bread with Arugula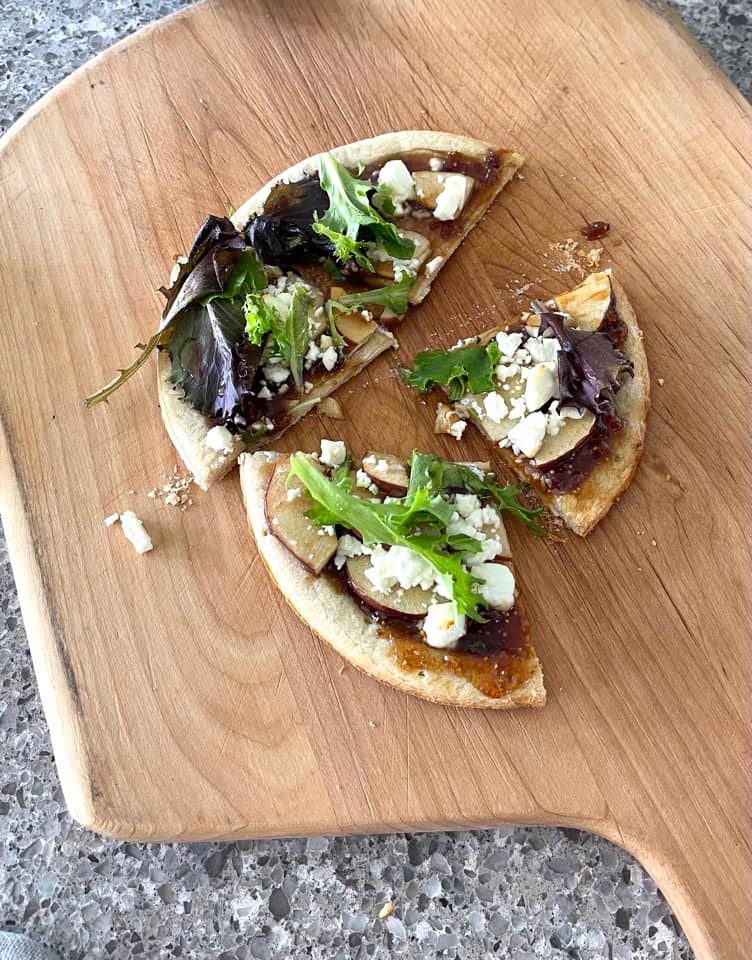 This fig, apple, goat cheese, and arugula flatbread from Our Good Life is fast and easy to throw together.  Slice it into wedges, and you have a perfect party appetizer!
Cheesy Apple Bites Easy Appetizer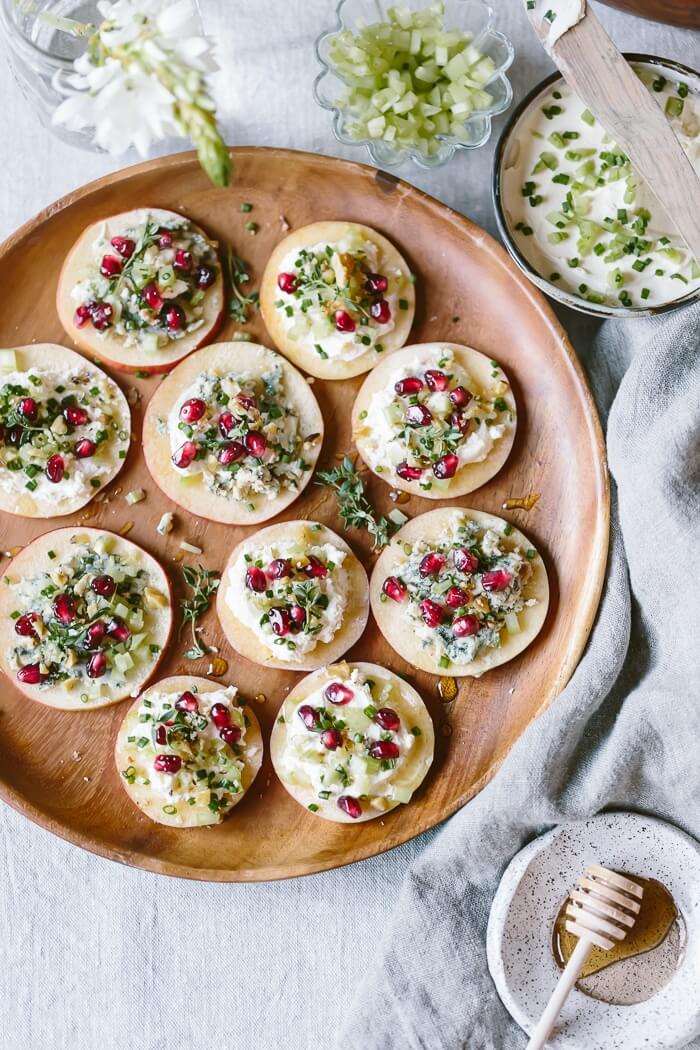 Apple slices are used instead of crackers to hold the toppings in these beautiful autumnal appetizers from Foolproof Living.  Slices of apples are topped with your favorite cheese, sprinkled with herbs and pomegranate seeds, and drizzled with honey.  It's a sweet and savory apple appetizer that is fast, easy, and absolutely stunning.
Are you inspired yet?  I know I am!  If you love throwing a party and finger foods as much as I do, be sure to check out my Snacks and Appetizers board on pinterest for these ideas and many more!