Printer-friendly version
Looking for an easy fall appetizer?  Brie, Apple, and Fig Crostini is fast and easy to make, great at room temperature (perfect for parties!), and full of seasonal fall flavors.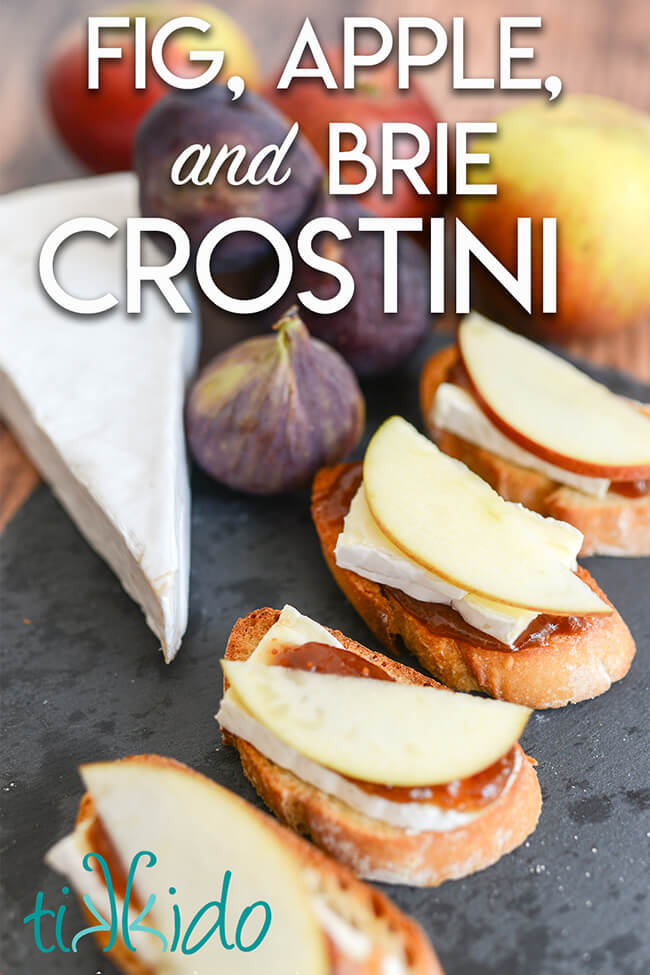 You can get apples and figs any time of year, of course, but right now, it's the end of the fig season and we're in the middle of apple season.  It's the perfect time of year to make one of my favorite appetizers:  Crostini topped with brie, fig jam, and apples.
Apples are the theme for this month's Taste Creations Blog Hop!  Be sure to scroll down to the bottom of the post and see the other AMAZING apple recipes from my fellow bloggers.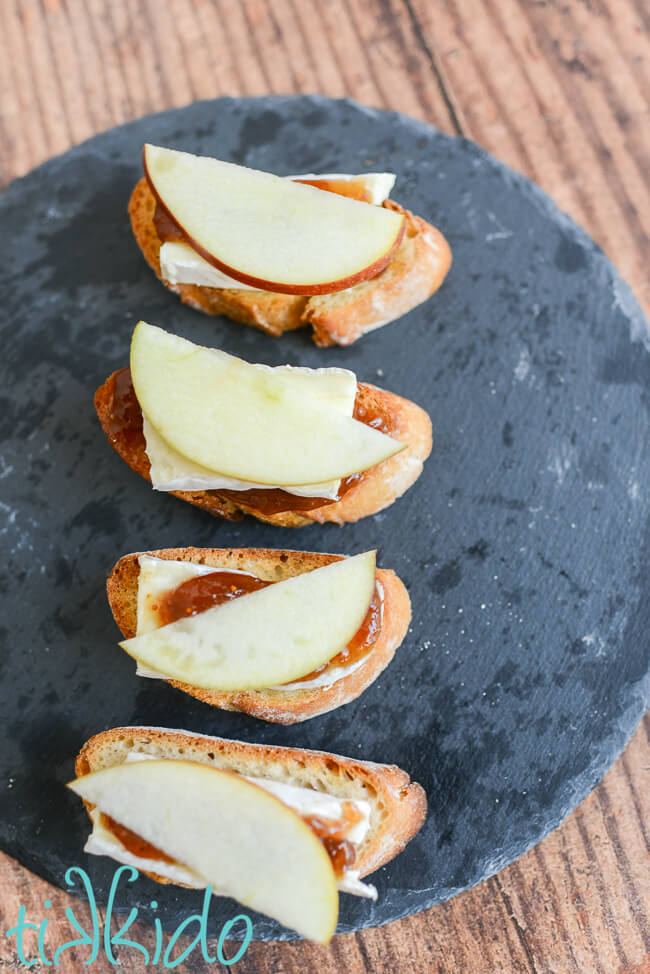 Toasted slices of baguette are topped with creamy brie cheese, sweet fig jam, and thin slices of tart, crisp apples.  The combination of textures and flavors is absolutely incredible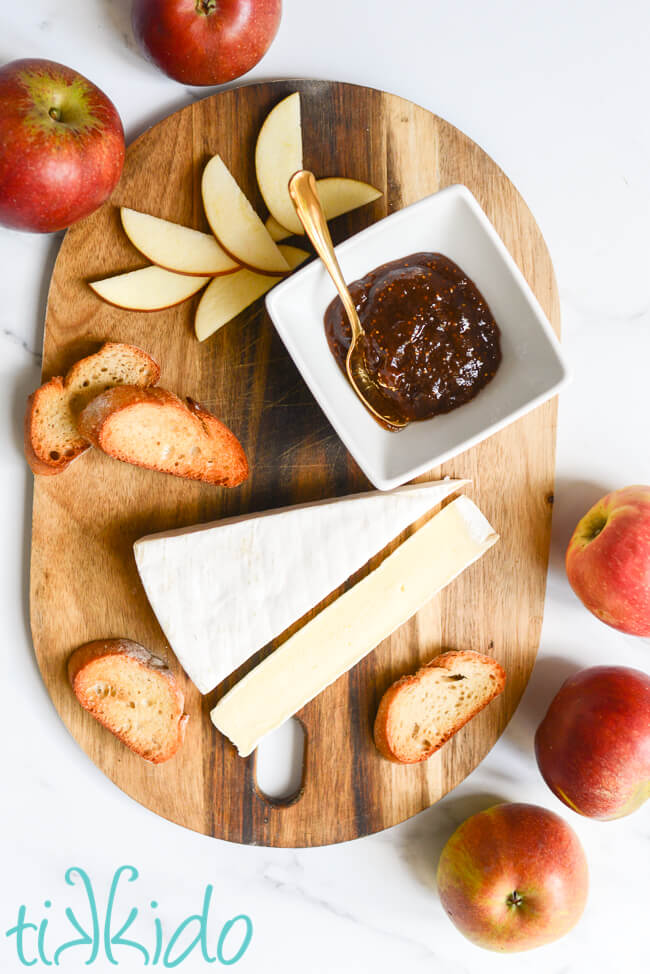 Ingredients for Fig, Apple, and Brie Crostini:
1 loaf of thin bread (I used a baguette), sliced
olive oil
brie
apples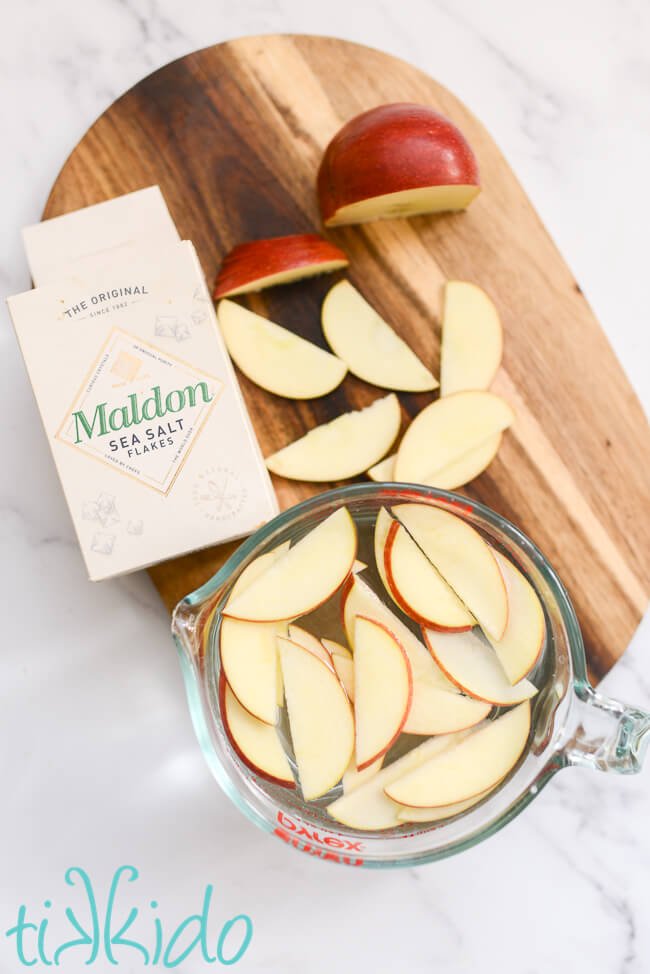 How to Keep Apples from Browning
The first step in making this crostini is slicing the apples (I use the easy, safer pastry chef method), but raw apples tend to brown and look unappetizing after a while, and this crostini recipe uses raw apples. I haven't had luck using lemon juice or vinegar in the past to keep my apples looking fresh, so I did some research and found this excellent experiment and article from Serious Eats.  They also had found using lemon juice and vinegar to be unsatisfactory, but had a brilliant, easy solution to the problem:  salt.
Simply mix 1 teaspoon of salt per two cups of water, and stir to dissolve.  Let your apples slices soak in the brine for 10 minutes.  The salt flavor is very mild, but you can rinse it off to remove any saltiness, and the apples will still stay fresh-looking and unbrowned!  This method is an absolute game-changer for me!  I'm never going to be afraid to put apples on a fruit platter again.
How to Make Crostini
Crostini literally translates to "little crusts" in Italian, and refer to an appetizer made with small pieces of toasted bread with various toppings.  The size (and type) of the bread is the main difference between crostini and bruschetta.  Bruschetta is a toasted slice of larger bread, like an Italian sourdough loaf, and it may or may not have toppings.  Crostini always has toppings, and is appetizer-sized, without having to cut the finished product into pieces.  I made a bruschetta version of this recipe and have a picture toward the end of the post so you'll be able to see the difference.
Toasting Bread for Crostini
Slice baguette into 1/2 inch slices.  Cut the loaf of bread on an angle if you want slightly larger pieces.
Place pieces of bread on a baking sheet.  Spray or brush lightly with olive oil (I use this olive oil sprayer to get a nice, even, light coating of my favorite olive oil).
Place in a 350 degree Fahrenheit oven for about five minutes, until the bread toasts and turns golden brown at the edges.
You can make the toasted crostini bases several hours ahead of time--and honestly, it's not bad the next day, either!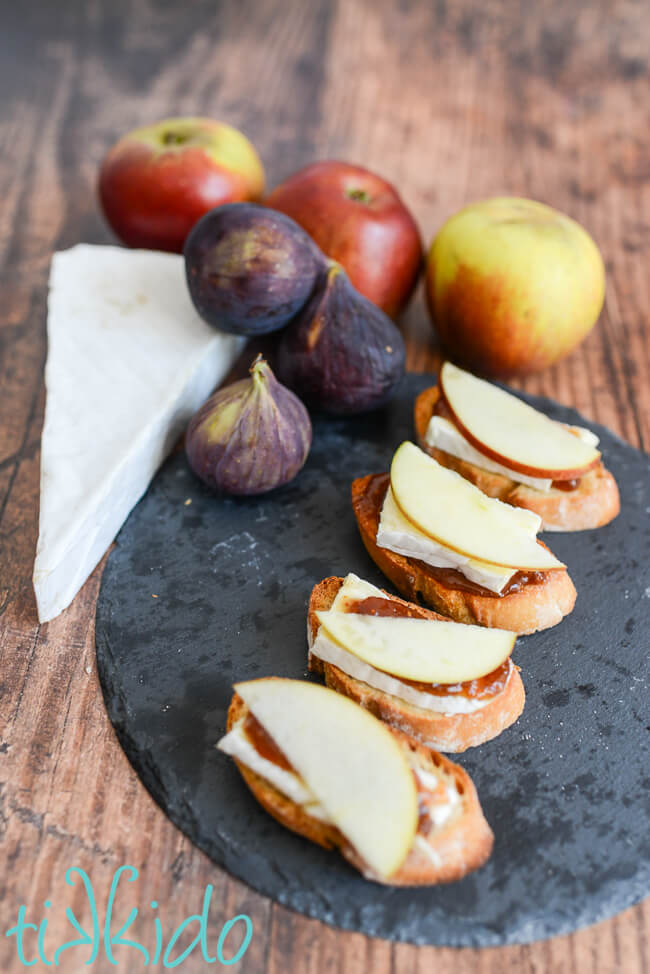 Topping the Brie, Apple, and Fig Crostini
Assembling the crostini is just as easy as it looks.  Cut thin slices of brie to size, add a dollop of fig jam (this is the brand I used, but Trader Joe's also has a magnificent fig spread), and top with a thin slice of crisp apple.  I tried both brie first then jam, and jam first, and both were just as easy to eat.  There wasn't a benefit from doing it one way or another, but visually, I liked the brie, then fig jam, then apple slice, since it provided more color contrast.  In terms of potential for mess, it was about the same.  Don't use too much jam--if you're going to make a mess, that's what it's going to be.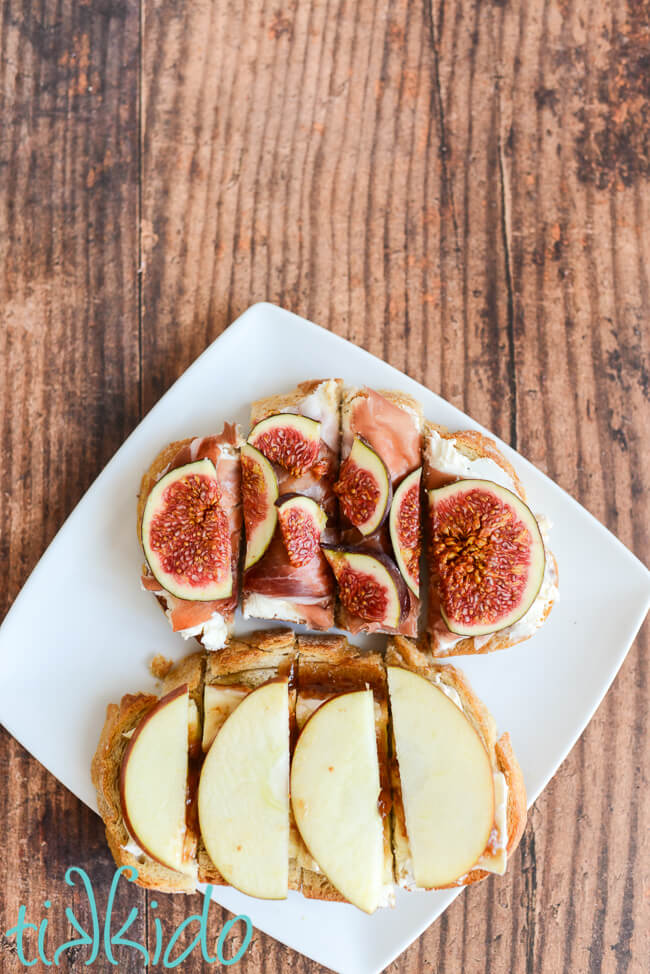 Here's that photo of the bruschetta version of this recipe, as promised above.  I used a loaf of Italian sourdough bread to make these bruschetta.  The one on the top of the plate is one of my other favorites: fig, prosciutto, and mascarpone bruschetta.  Whichever way you make this appetizer, it's absolutely delicious!
Be sure to check out the other amazing apple recipes from my fellow bloggers in the Taste Creations Blog Hop this month.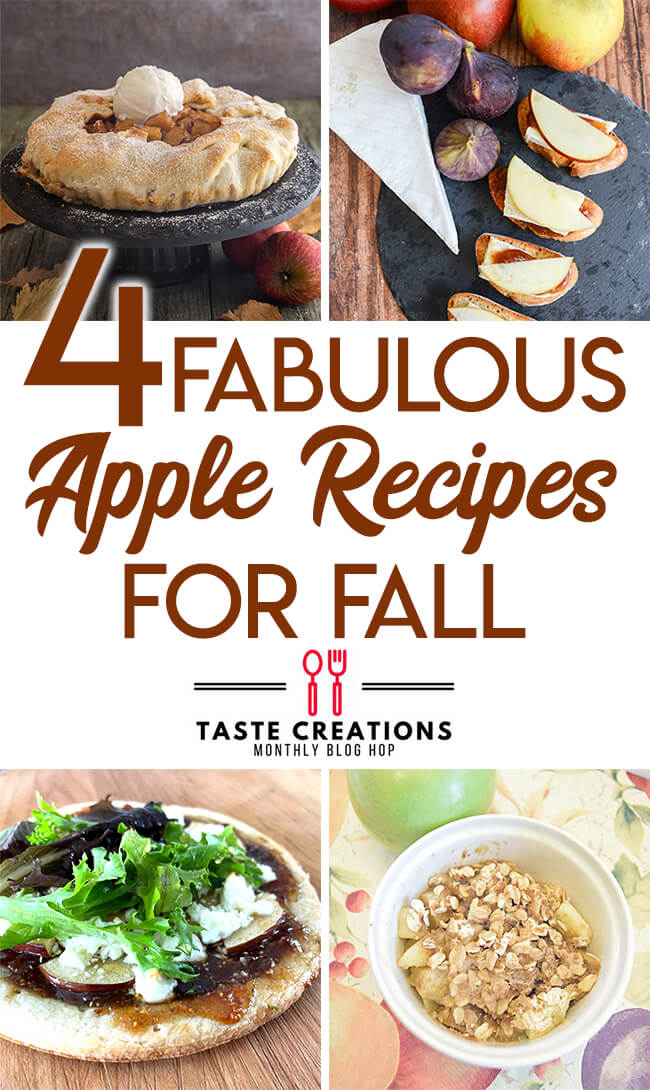 Fall Apple Recipes from the Taste Creations Blog Hop
Our Good Life: Goat Cheese, Fig and Apple Flatbread
An Italian in my Kitchen: Caramel Apple Galette
Mom Home Guide: Easy Apple Crisp for One
Other Apple Recipes You Might Like: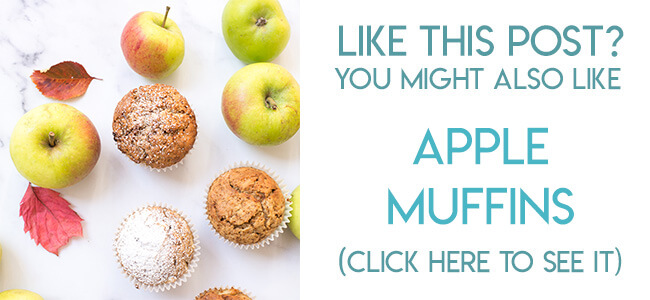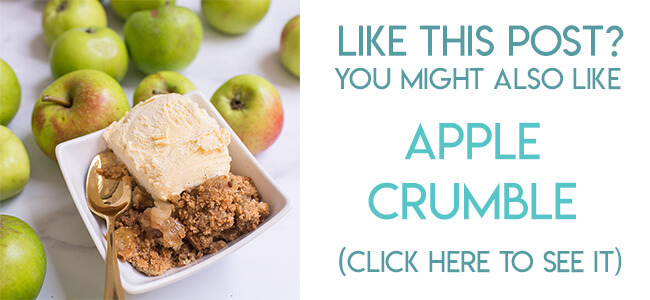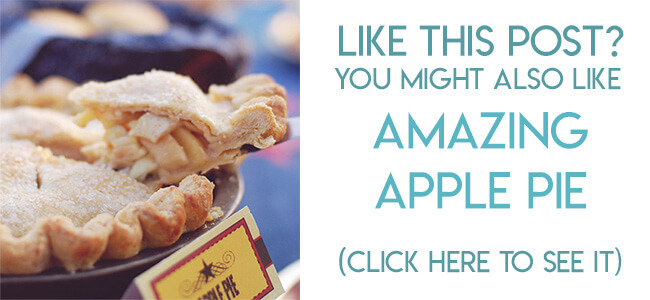 Other Crostini and Bruschetta Recipes You Might Like: