Printer-friendly version
Make giant, buttery soft pretzels just like Auntie Anne's with this recipe.  The best part?  It's made with a bread machine, so this pretzel recipe is perfect even for people who are intimidated by yeast breads.
If you haven't had Auntie Anne's pretzels, a staple in malls and airports, they are absolutely addictive.  Giant, pillowy soft, but not at all dry, more tender than your classic soft pretzel, sweeter than your average pretzel, and brushed with butter after baking.  They are exceptionally delicious. 
I decided to make an Auntie Anne's copycat recipe this month for the Taste Creations Blog Hop.  Our theme this month is Snacks!  These soft pretzels are perfect for game day, after school snacks, or any time you want the magic of homemade pretzels.
The actual Auntie Anne's pretzel recipe is, of course, a secret.  But my family has an amazing Amish bread recipe that I've always thought tastes just like an Auntie Anne's pretzel, especially when we grill the bread.   Then I read that the actual Anne grew up in Amish country, and I knew I was on the right track.  My family's longtime favorite Amish bread recipe, + pretzel techniques + butter = the perfect Auntie Anne's pretzel made at home.
Auntie Anne's Pretzel Recipe Made in a Bread Machine
The ingredients list is divided into two parts:  ingredients for the dough, and ingredients for shaping and topping the pretzels.
Ingredients for the Homemade Soft Pretzel Dough
9 ounces of water
4 Tablespoons vegetable oil
3 Tablespoons sugar
1 teaspoon salt
3 1/2 cups of bread flour (You can substitute All Purpose flour if you don't have bread flour)
1 1/2 teaspoons active dry yeast
This is a bread machine soft pretzel recipe, so I'm going to start with those directions.  I will have instructions later for making the dough with a mixer later, too, in case you don't have a bread maker.
Add liquid ingredients into the bread machine pan first.  Then add in all of the dry ingredients.  Select the dough cycle on your bread machine, hit the button, and let the bread machine do all the work.  It mixes, it kneads, it heats the ingredients perfectly, and it raises the dough for you.  Once the dough is done, all you have to do is shape the dough into a pretzel shape, add the toppings you want, and bake.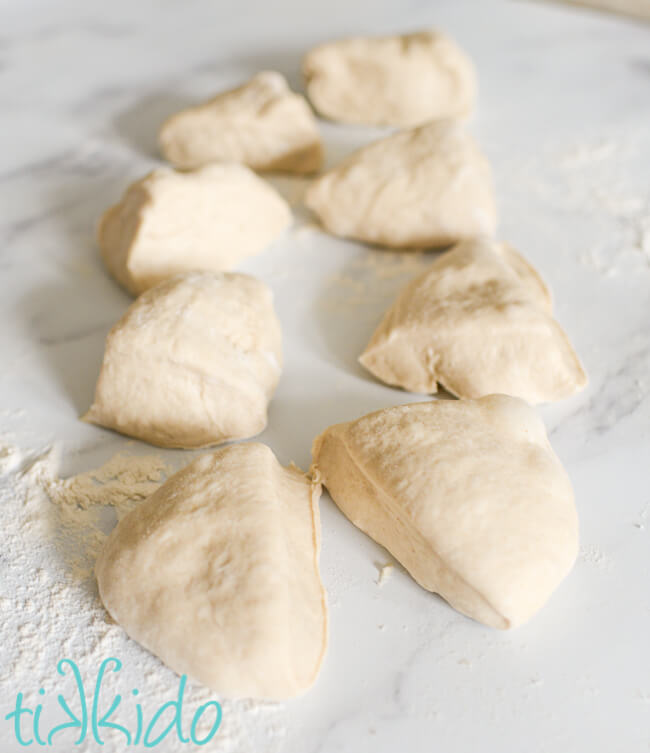 Turn out dough on a floured surface or a surface sprayed with nonstick spray.  This is a somewhat sticky dough, so you'll need something to keep the dough from sticking to your work surface.
Divide the soft pretzel dough into equal portions.  This recipe makes 4 large, Auntie Anne sized pretzels, or 8 smaller ones about the size of your hand.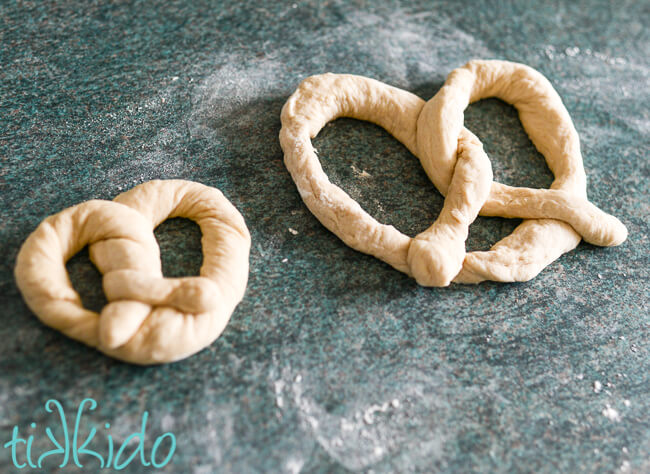 Shape each dough ball into a classic pretzel shape by first rolling the dough into a long rope (about 36" long for the large pretzels).  Auntie Anne's official YouTube channel has a great tutorial for the official technique!  In that video, it's clear that they're using a nice, rested dough.  If 
I found it best to roll out my dough on a very lightly floured countertop.  Too much flour and the dough was difficult to roll into a thin rope.  Too little and it started sticking to the counter too much.  When my rope started sticking too much, I knew it was time to rub just a tiny bit of flour on my work surface.
Pretzel Bath and Topping Ingredients
3 cups of hot (but not boiling) water
1/3 cup baking soda
melted butter
pretzel salt or other toppings, like cinnamon sugar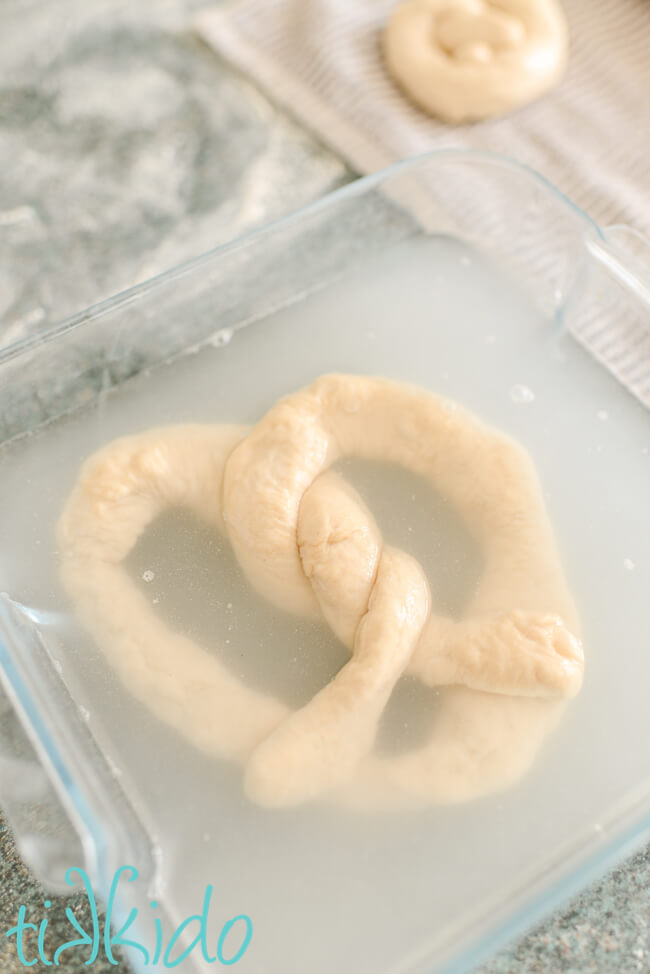 Some of the distinctive color and flavor of Auntie Anne's pretzels comes from a quick dip in a baking soda water bath.  Mix 3 cups of hot water (not boiling, but quite hot) with the baking soda and stir to dissolve.  I used a square, non-reactive Pyrex baking dish for my baking soda mixture. 
Classic soft pretzels are made with lye in the water bath.  Lye is a very strong alkaline, and gives pretzels that distinctive, slightly bitter flavor to the crust.  I decided not to use lye in this recipe for several reasons.  First, because Auntie Anne's pretzels don't have that bitter flavor to the crust.  Second, because lye is dangerous to have around.  Third, because Auntie Anne's own bake-at-home kit just provides regular baking soda, not baked baking soda (which turns sodium bicarbonate, aka baking soda, into sodium carbonate, a stronger alkaline salt).   Baked baking soda will give you that more traditional soft pretzel flavor, too, but that's not quite what we were after for this recipe.
Set the dipped pretzels on a clean kitchen towel or paper towel to soak up excess moisture from the baking soda solution, then transfer to a prepared baking sheet.  Don't let it sit for long on the towel!  It will stick.  Just a brief rest, then on to the pan.  To prepare the baking tray, you can grease it, or line it with a silicone baking mat or parchment paper.  If you're using parchment paper, it's very important not to skip the step of resting the pretzel briefly on the towel to remove excess moisture.  If there's too much moisture on the bottom of the pretzel, it can make even parchment paper stick!  I learned that one the hard way.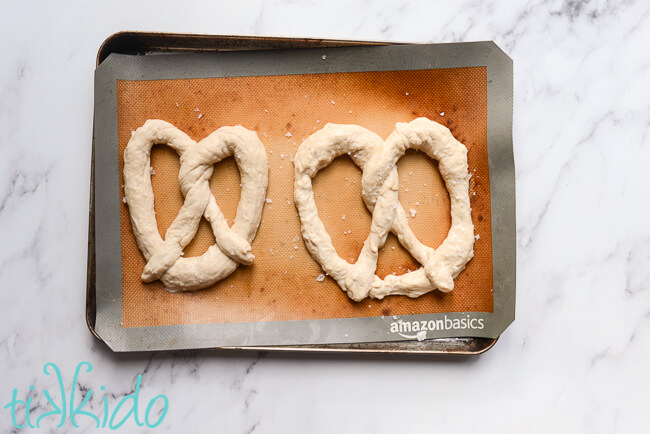 Sprinkle the unbaked soft pretzels with coarse salt.  Pretzel salt is the classic, of course, and what Auntie Anne's uses for their regular salted pretzels.
Pretzel Salt Substitutes
If you don't have pretzel salt on hand, any coarse salt will work.  Use sea salt flakes (like I did) or even Kosher salt.
Bake the homemade soft pretzels at 425 degrees Fahrenheit (218 Celsius) for 7-10 minutes, until they're a golden brown color.
You'll also want a few tablespoons of melted butter to complete the Auntie Anne's pretzel recipe magic.  
Use a pastry brush to top the pretzels with melted butter after they come out of the oven.  I like to use a silicone pastry brush like this one.  The holes in the wider, center bristles carry a lot more liquid than just a brush with regular bristles.
How to Make Cinnamon Sugar Pretzels
If you want to make Auntie Anne's cinnamon sugar pretzels, dip pretzel in the baking soda mixture as above, but don't sprinkle the pretzels with salt before baking.  Instead, bake the pretzels plain, coat in butter when they come out of the oven, and sprinkle generously with cinnamon sugar.  These taste a lot like cinnamon rolls, and are amazing when eaten still warm from the oven.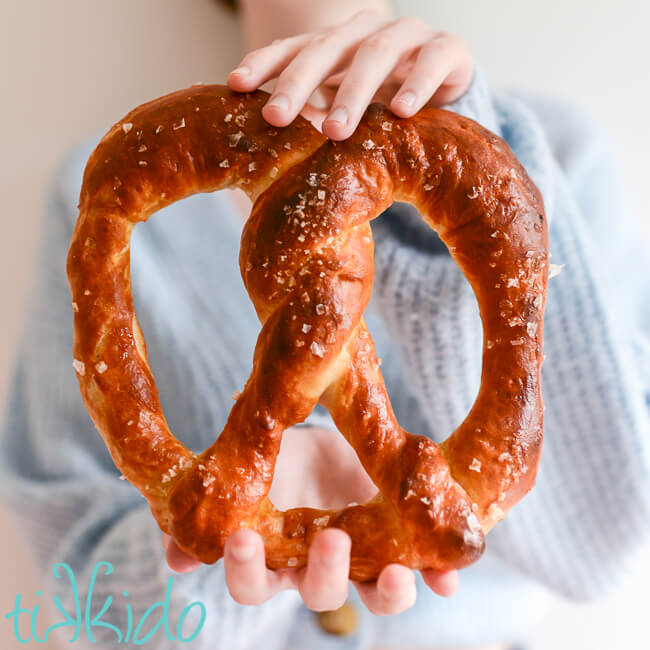 This is a great recipe for first time bread bakers, because it lets the bread machine do a lot of the work for you.  But if you want to make the dough in an electric mixer, I have instructions for that, too!
Auntie Anne's Copycat Pretzel Dough Made in a Stand Mixer:
Mix warm water, sugar, and yeast together.  Let sit for 5 minutes to let the yeast bloom.
Add the yeast mixture and all of the other ingredients together in the bowl of an electric mixture.  Use the paddle attachment at first to combine the ingredients.
Switch to a dough hook and machine knead for about 15 minutes.  Dough will be rather wet and sticky, but that's fine.
Place the bread dough into an oiled crockery bowl.  It's important that you use a greased bowl so that the dough won't stick to the sides of the bowl.

It's helps the dough to rise if you warm the crock by filling it with hot tap water while the dough kneads.  When ready to use, dump out the warm water, dry the bowl, coat with oil, and put in the dough, turning it over to coat all sides of the dough with oil.

Cover with plastic wrap and a dry kitchen towel and set in a warm place to let the dough rise until doubled, about one hour.

If you're not ready to bake at that time, you can punch the dough down and let it rise again.  The second rise will be faster.  You can do this a couple times before running out of gas.
Printable Auntie Anne's Pretzel Recipe Made with a Bread Maker
Want a one page, printable version of this Auntie Anne's copycat pretzel recipe?  Click on the image below to print directly or save to your device.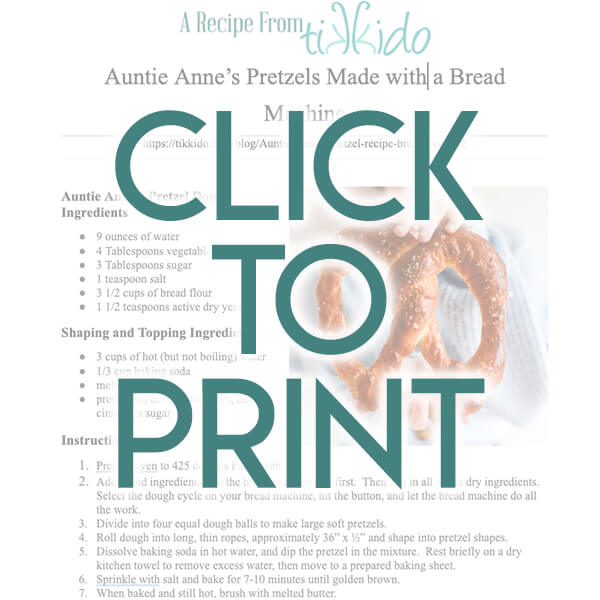 Other Snack Recipes from the Taste Creations Blog Hop
Be sure to check out the other delicious snack recipes from my fellow bloggers in the Taste Creations Blog hop!  Snack time can't come soon enough.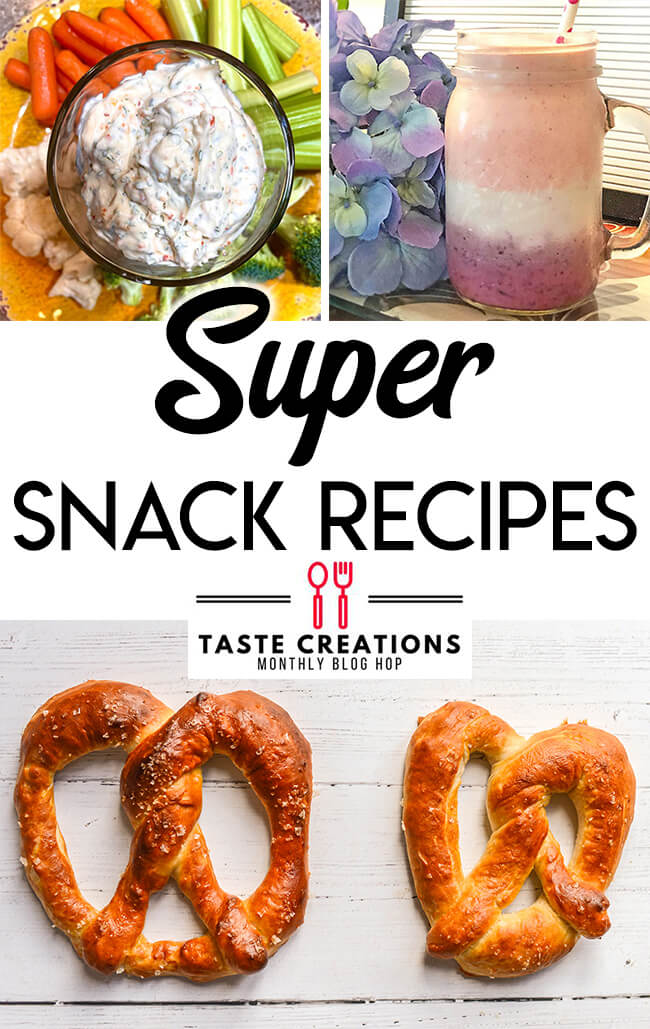 Super snacks you'll love from my blogger friends!
Other Pretzel Recipes You Might Like: