Printer-friendly version
American buttercream frosting is the classic birthday cake icing. With just a few simple ingredients, you can make an amazing homemade frosting great for cakes, cupcakes, and cookies.
This recipe is for your basic vanilla buttercream frosting. It's definitely a sweet frosting--sweeter and heavier, but less rich than Italian meringue buttercream, Swiss meringue buttercream, or French buttercream. It's also by far the easiest recipe of the four common types of buttercream, and makes a delicious, fluffy frosting perfect for a layer cake or cupcake.  Definitely the best buttercream for beginners!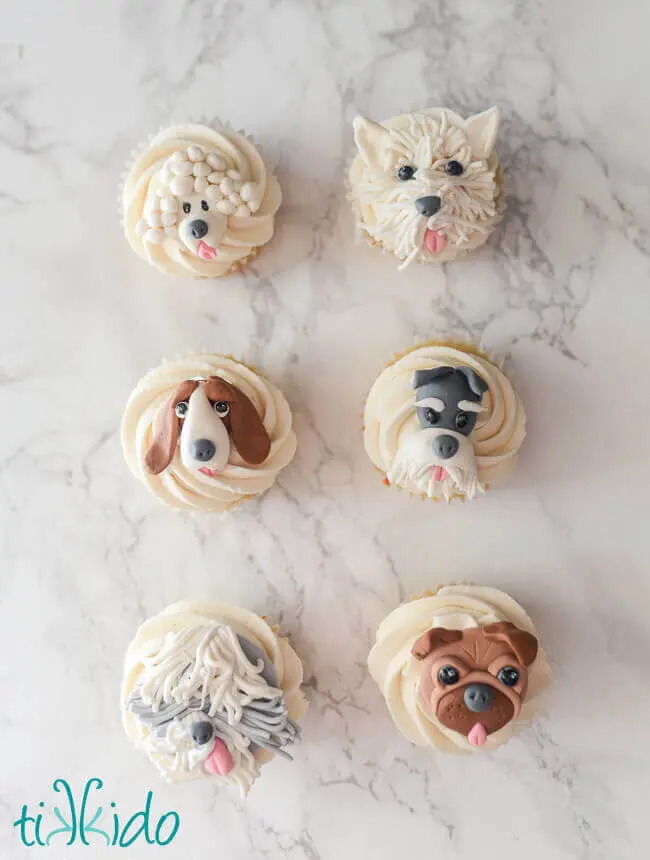 Some cute inspiration for you:  these vanilla cupcakes (pupcakes!) were topped with a swirl of classic American buttercream, then topped with the gum paste dog cupcake toppers.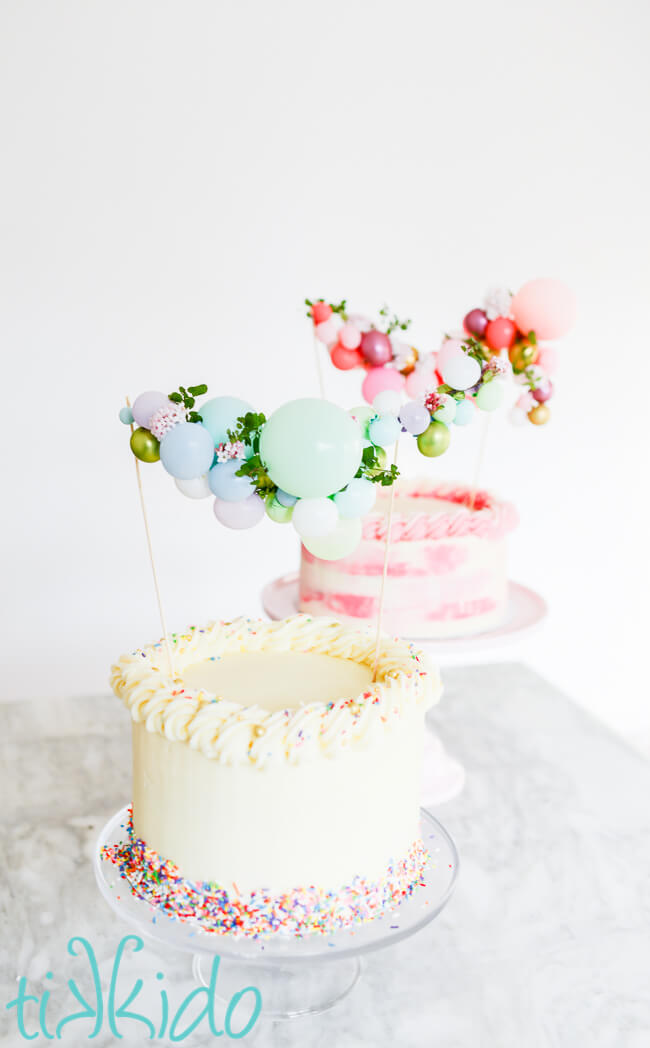 You can also use American buttercream for frosting cakes, like the ones above, or even on a fancier cake, like a wedding cake.  This easy American buttercream frosting recipe is a simple recipe, and once you realize how little effort it takes to make, and how much better it is than cans of pre-made frosting from the grocery store, you'll never go back.
How to Make American Buttercream Frosting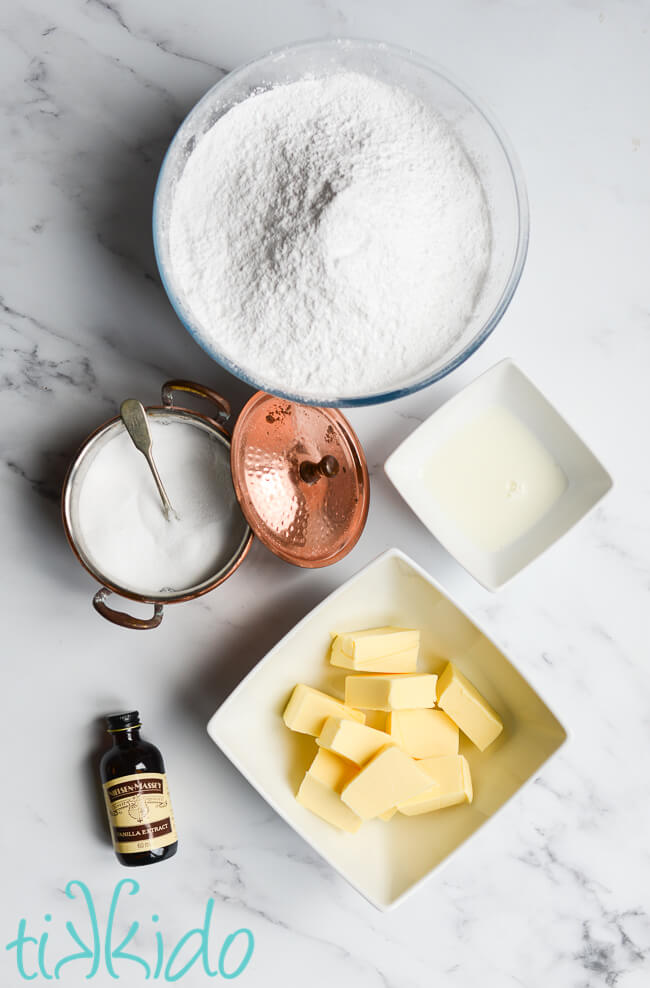 American Buttercream Frosting Ingredients:
2 pounds powdered sugar (also called icing sugar or confectioner's sugar)
2 sticks (that's 1 cup) of butter, softened
pinch of salt
2 teaspoons vanilla extract
milk to thin to the preferred consistency (you can also use heavy cream)
It is very important that you use room temperature butter to make this recipe.  Using either hard, cold butter or melted butter will make it impossible to know when you've reached the right consistency of the frosting.  Many recipes call for unsalted butter, but honestly, I just use whatever I have in the fridge (typically salted butter), and it is always delicious.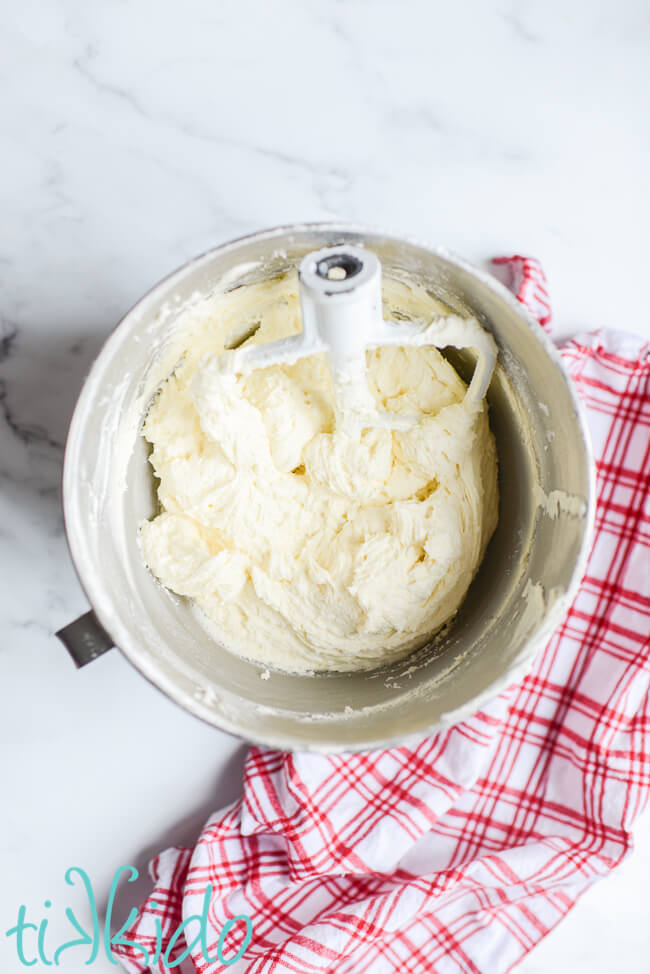 Method for Making this Vanilla American Buttercream Recipe
Place the softened butter in the bowl of a stand mixer (you can also use a large bowl and an electric hand mixer).  Add the salt, vanilla, powdered sugar, and about one Tablespoon of milk.
Use the paddle attachment for your mixer.  I love my beater blade--a paddle with rubber spatulas attached that scrapes the sides of the bowl for me as it mixes!
Cover your mixer with a clean, damp kitchen towel to prevent powdered sugar from flying from your mixer bowl before it gets incorporated into the butter.  This old-fashioned technique works much better for keeping things clean than using the shield that comes with the mixer.
Mix on a low speed until the powdered sugar gets mixed with the butter and liquids.  It will still look lumpy at this stage.
Add a tablespoon of cream or milk at a time, and beat on medium-high speed after each addition, until the frosting is the perfect fluffy consistency for your needs.  How much milk you'll need to add will depend on how stiff you need your frosting to be, and other factors like the humidity in your area.  Just keep adding liquid slowly until it's right for your purpose.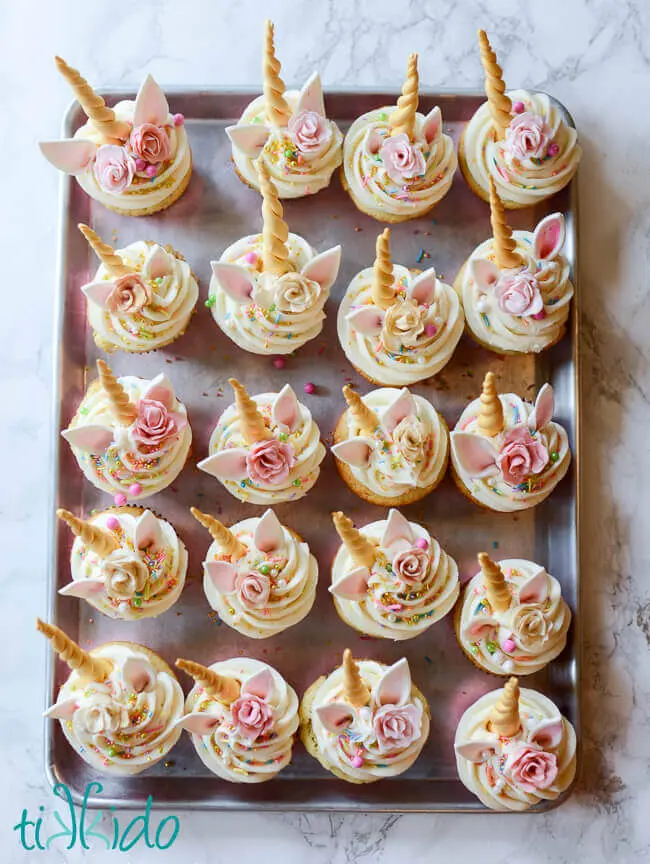 Shortening Instead of Butter in American Buttercream
If you love the flavor and texture of grocery store birthday cake, the secret is to make your icing with high ratio shortening instead of butter. High-ratio shortening is a type of vegetable shortening formulated with extra emulsifiers specifically to be able to retain a higher percentage of water (when compared to regular vegetable shortening, like Crisco). Sweetex is a common commercial high-ratio shortening brand liked by bakers. If making this recipe with either Crisco or high ratio shortening, use one cup of shortening instead of the one cup of butter. 
My personal preference is for an all butter buttercream (just because of the flavor), but there are good reasons to make American buttercream frosting with high-ratio shortening, instead, including:
You need a vegan frosting recipe (You can use plant-based milks or even water to thin the icing in this case)
You need a pure white buttercream (American buttercream made with butter will always have a slightly warmer, off-white tint.  Use clear imitation vanilla flavoring in this case, too.)
The cake will be out in hot weather (Shortening has a higher melting point than butter, so will endure hot weather better)
You just love the flavor and texture of grocery store cake and frosting! (Absolutely NO SHAME from me. We all like what we like!)
Coloring American Buttercream Icing
It's easy to add color to Vanilla buttercream recipes for all sorts of bright and fun applications.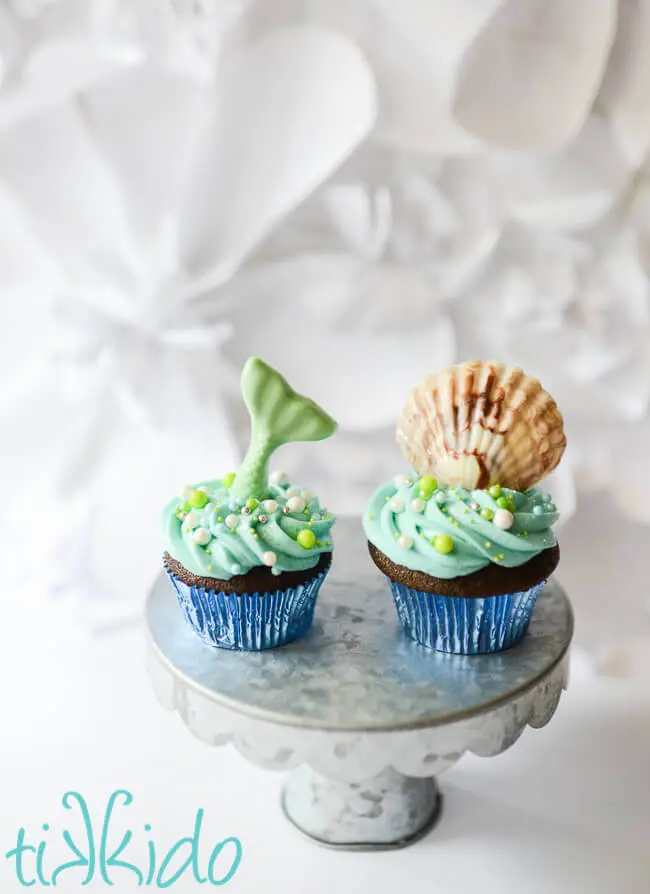 I like to use gel food coloring (Americolor is my favorite brand).  Gel colors are intense, so you don't need much to add gorgeous color to classic buttercream.  They're less messy than the older-style pots of paste food coloring (though those offer excellent color, too).  There are even powdered food colors!  The only type I wouldn't recommend is the liquid kind available at most grocery stores, just because adding that much liquid can mess with the texture of your icing quickly.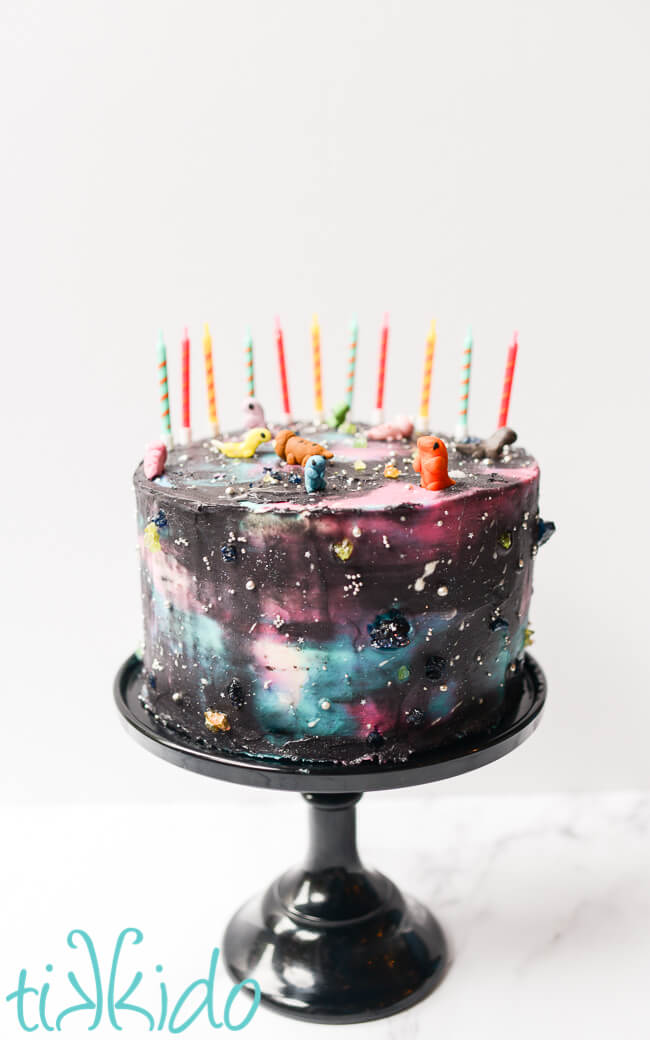 You can get really deep and intense colors with gel colors without messing with the texture of the homemade buttercream (even black!).  My youngest daughter requested a Space Dinosaur birthday cake and made the gum paste dinosaurs herself.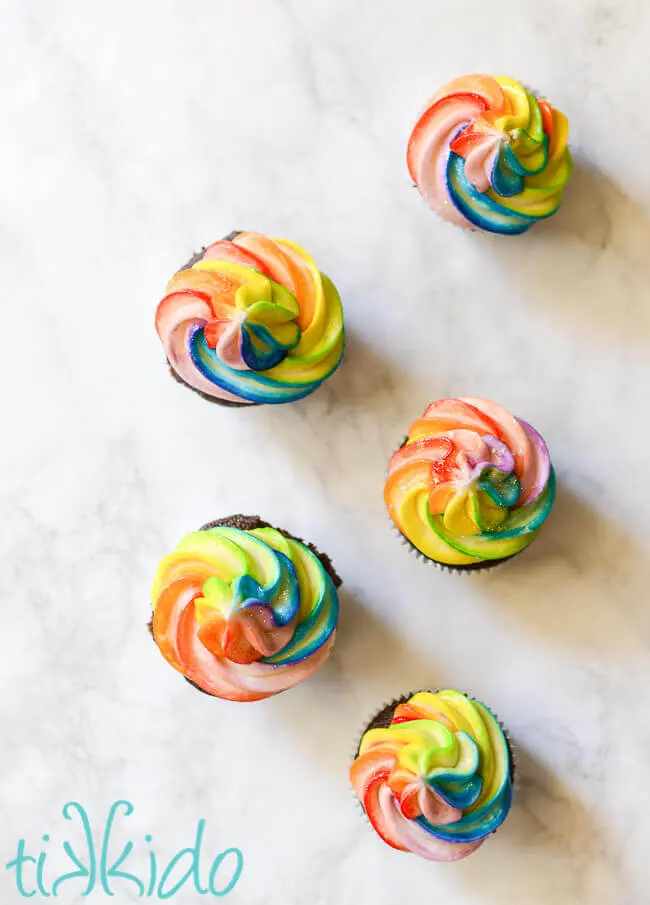 You can even make rainbows on this basic frosting!  Get the tutorial for rainbow buttercream icing here.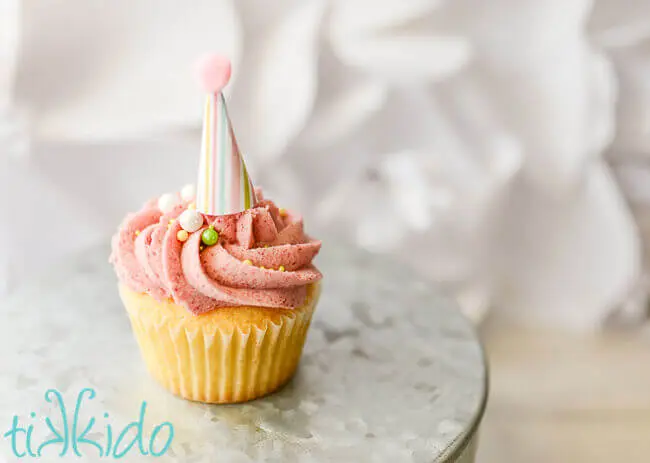 If you prefer natural colors, try using freeze dried fruit powders, like in my raspberry buttercream frosting recipe.  It adds amazing flavor and beautiful natural color.
Other American Buttercream Frosting Recipes
I've developed and shared many delicious variations on this classic frosting over the years, including:
It's a very easy recipe to adapt to any flavor profile you want!
Printable American Buttercream Recipe
Want a one page, printable version of this vanilla frosting recipe?  Click on the image below to print directly or download the PDF to your device.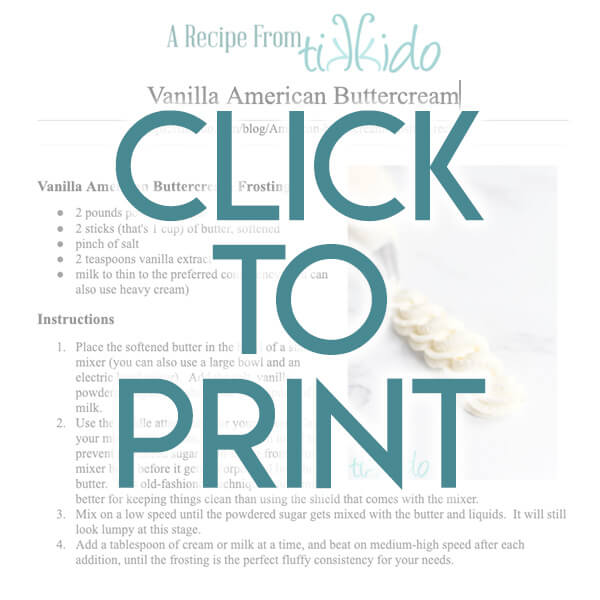 Cake Recipes to Go With these American Buttercream Recipes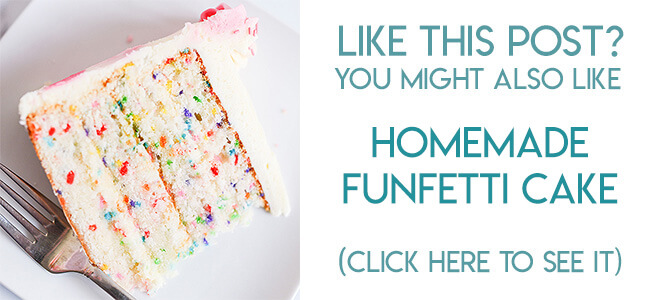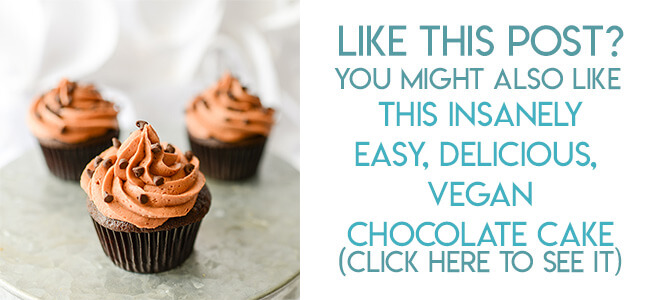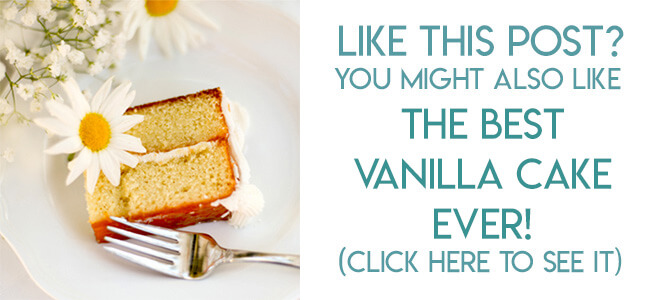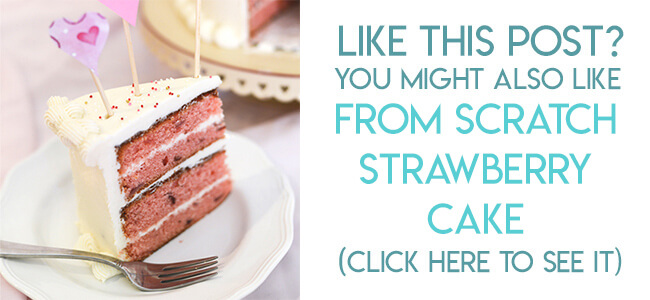 Other Icing Recipes You Might Like: