Printer-friendly version
This is the best funfetti cake recipe around!  It's a delicious, from scratch, homemade white cake filled with a rainbow of colorful sprinkles.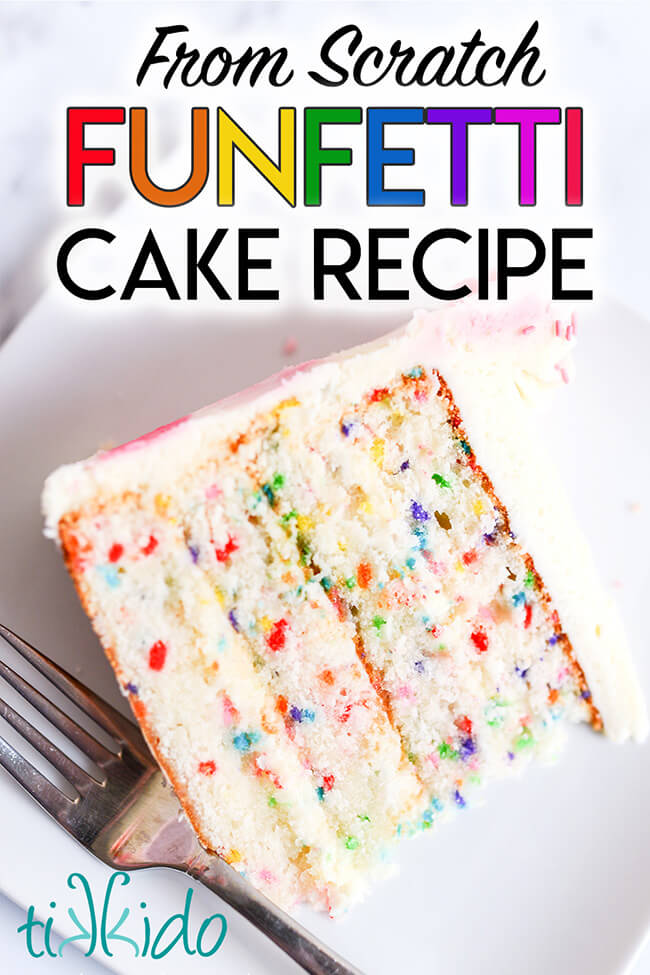 There's nothing wrong with funfetti cake mix, but I really love homemade cakes!   To develop this fabulous homemade confetti cake I first needed to create a great white cake recipe.  I decided to adapt my favorite vanilla cake recipe (a buttery yellow color) to make a homemade white cake, and add sprinkles.  It worked brilliantly!  (And now I have a great white cake recipe if I leave out the rainbow jimmies, too.)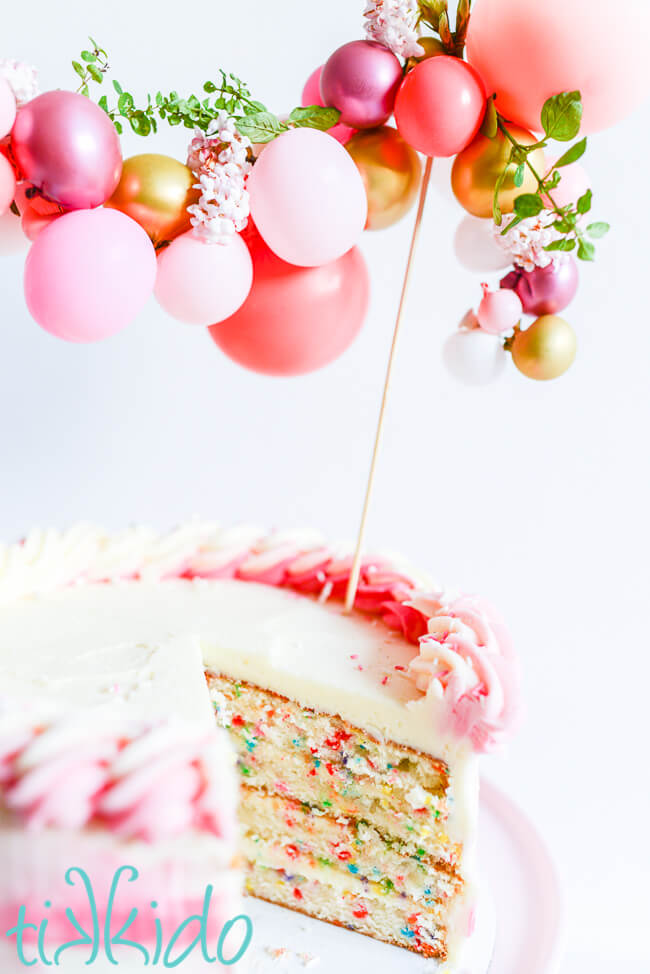 Nothing says "party!" like a funfetti layer cake, does it?  It just looks so festive and fun. It's such a classic birthday cake, but you could use specific colors of sprinkles to customize the look for any event.  A graduation cake in school colors, perhaps?  Pink and purple sprinkles in a unicorn cake?  When you're making a sprinkle cake from scratch, you can think beyond the classic rainbow color palette.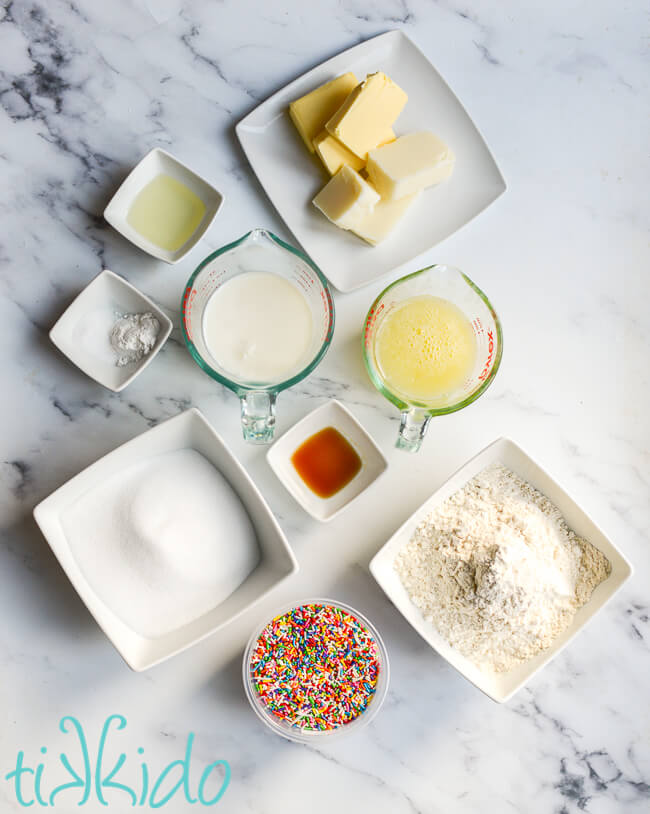 Homemade Funfetti Cake Ingredients:
1/2 cup butter
1/2 cup shortening (like Crisco)
2 cups sugar
3/4 cup egg whites
1 Tablespoon vegetable oil
1 teaspoon vanilla extract (you can substitute clear artificial vanilla flavoring)
1 Tablespoon of white vinegar PLUS enough milk to bring the total volume to 1 cup
2 3/4 cups flour (I used all purpose flour, but you could also use cake flour)
2 1/4 teaspoon baking powder
3/4 teaspoon salt
3/4 cup sprinkles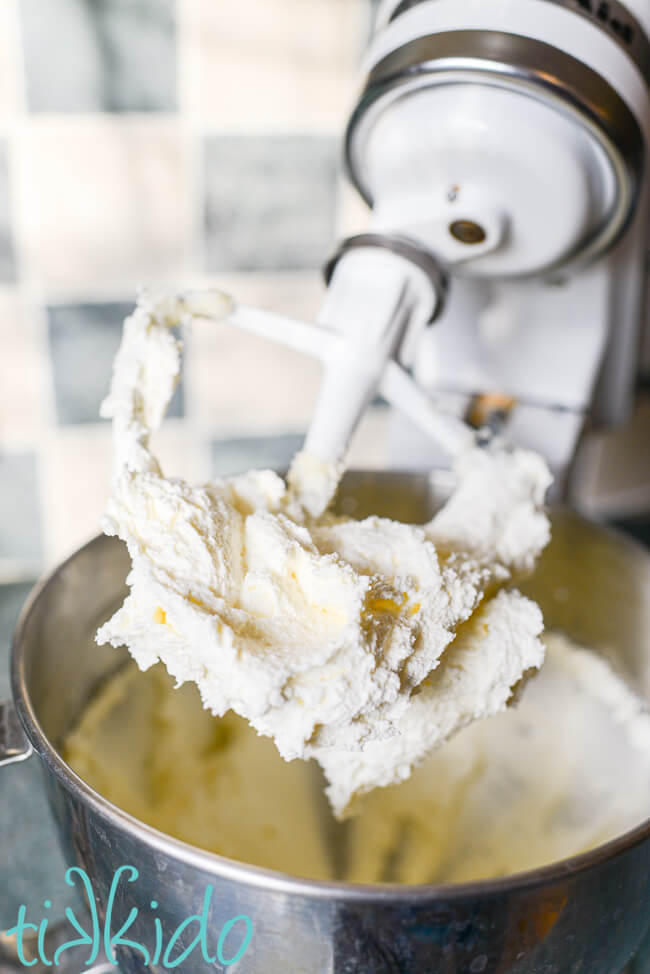 In the bowl of a stand mixer or in a large bowl with a hand mixer, cream the room temperature butter, vegetable shortening, and sugar together.  I used a mix of butter and shortening in this recipe to balance the delicious flavor that real butter adds to a cake recipe, with the white color that plain Crisco lends.  I needed to eliminate as much of the colored ingredients without sacrificing texture or taste.  A 50/50 mix of butter and shortening worked nicely to make a base that wasn't too yellow.  Don't use butter-flavored Crisco, which is dyed a yellow color; use classic white shortening in this recipe.
I used egg whites instead of whole eggs in this recipe to remove the yellow color that eggs add to a cake.  The fat from the missing egg yolks was replaced with a light vegetable oil.  
Add 1/3 of the egg whites at a time (a quarter cup at a time), beating well after each addition.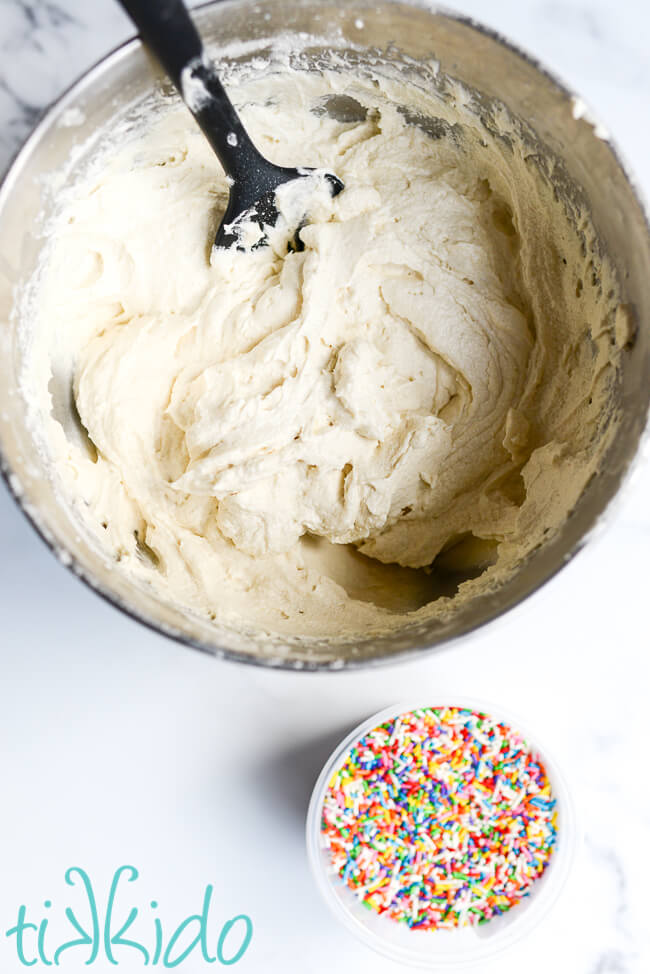 In a separate bowl, combine the dry ingredients.  Add the dry ingredients and the wet ingredients (the cup of milk, vinegar, and the vanilla), alternating between the flour mixture and the liquids and mixing between each addition.  This cake recipe makes a nice, thick cake batter, perfect for keeping the sprinkles nicely suspended in the cake layers as it bakes.
Once the white cake batter is made, it's time to add the sprinkles.  And that means it's time for a very serious sprinkles discussion.
What are the Best Sprinkles for a Funfetti Cake?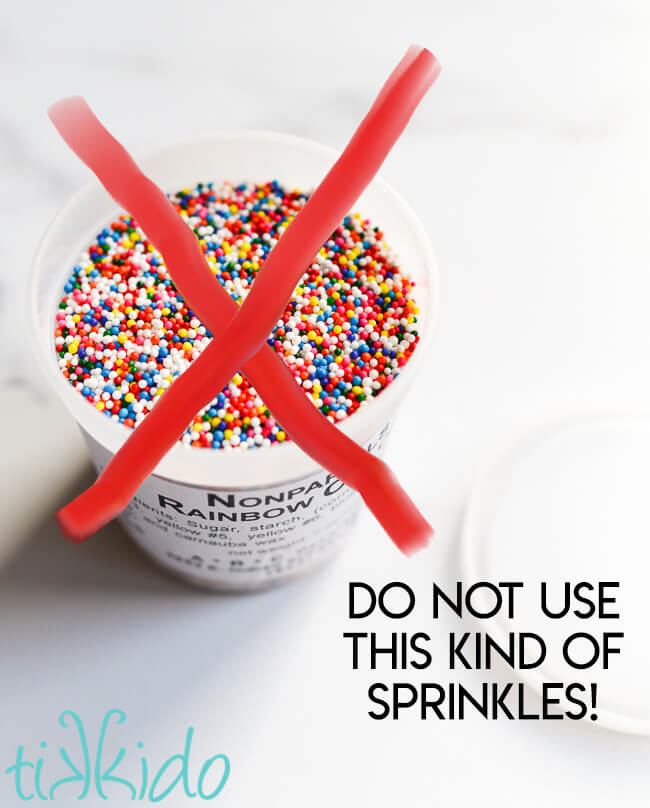 The biggest takeaway I have to share is that you should NOT USE NONPAREILS!  Those are the little balls in the picture above.  They look like they'd add the perfect little dots of color, but NO.  They are tiny candies coated in food coloring, and as soon as you add them to the batter, the food coloring will start coming off and they will turn your nice cake batter a bilious grey-green mud color.  It is not pretty.  It is not appetizing.  These are not the sprinkles you're looking for.  Learned that one the hard way.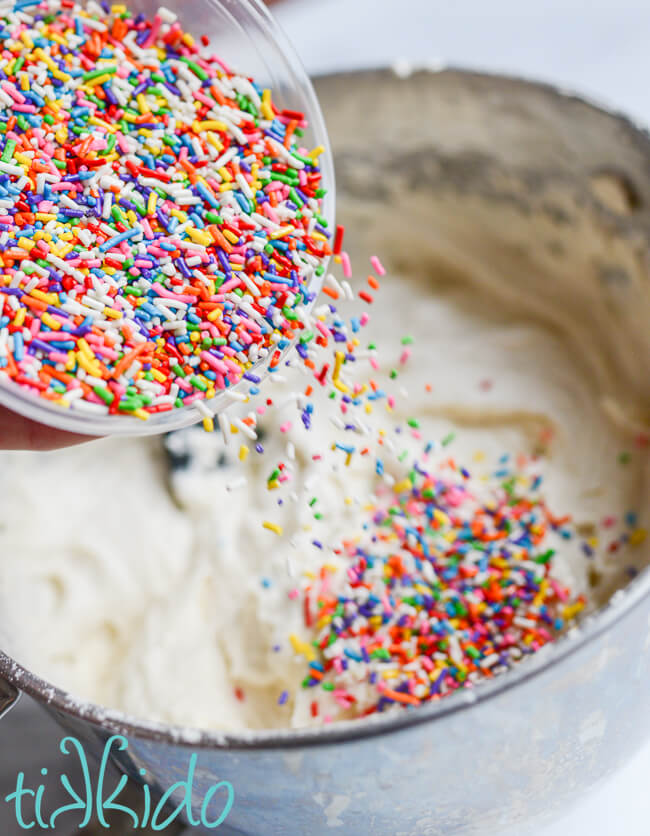 You want these sprinkles, the long, skinny kind sometimes called jimmies.  This type of sprinkle is made with the food coloring incorporated through the entire sprinkle, not just on the outside, and when the cake bakes, it makes delightful little bursts of color.  These are the sprinkles you need.
Fold 3/4 of a cup to a cup of rainbow sprinkles into your batter.  That's a good starting measurement, but sprinkles are a thing you can measure with your heart.  You think you want more sprinkles?  Add them!  Add plenty of sprinkles! There is no wrong when it comes to sprinkles.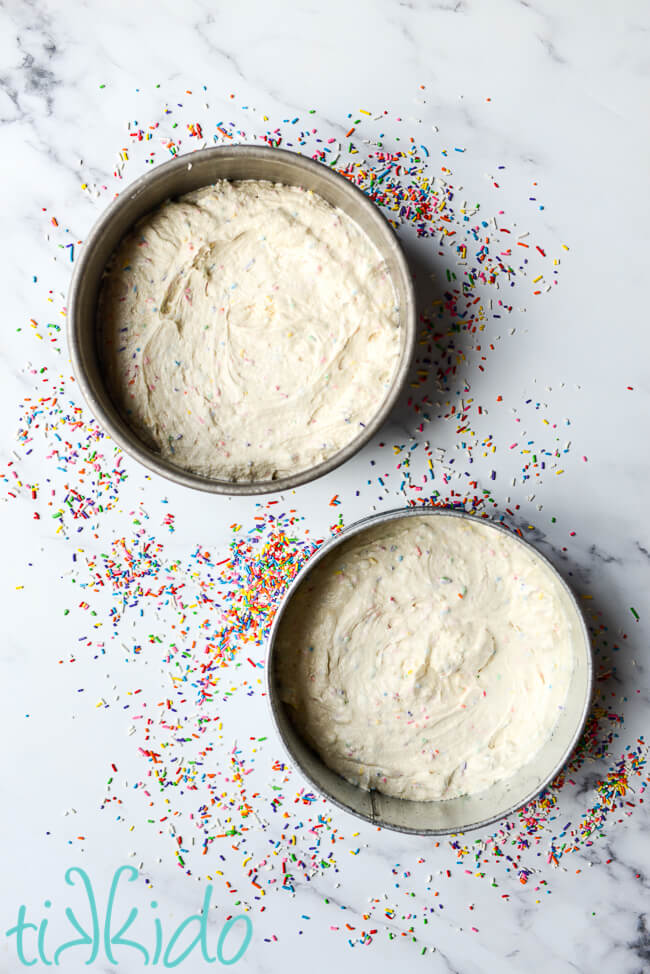 Divide the funfetti cake batter between two 8" round prepared cake pans.  I like to prepare my cake pans by cutting a circle of parchment paper or waxed paper to line the bottom of the pan.  After the cake bakes, you can run a knife around the sides of the cake pan, and the cake will pop right out.  (Remember to peel off the parchment circle before assembling or serving the cake, of course!) You can also use the classic method of buttering and flouring the cake pans.  I always use the parchment paper technique, though.  Easier, faster, and less messy.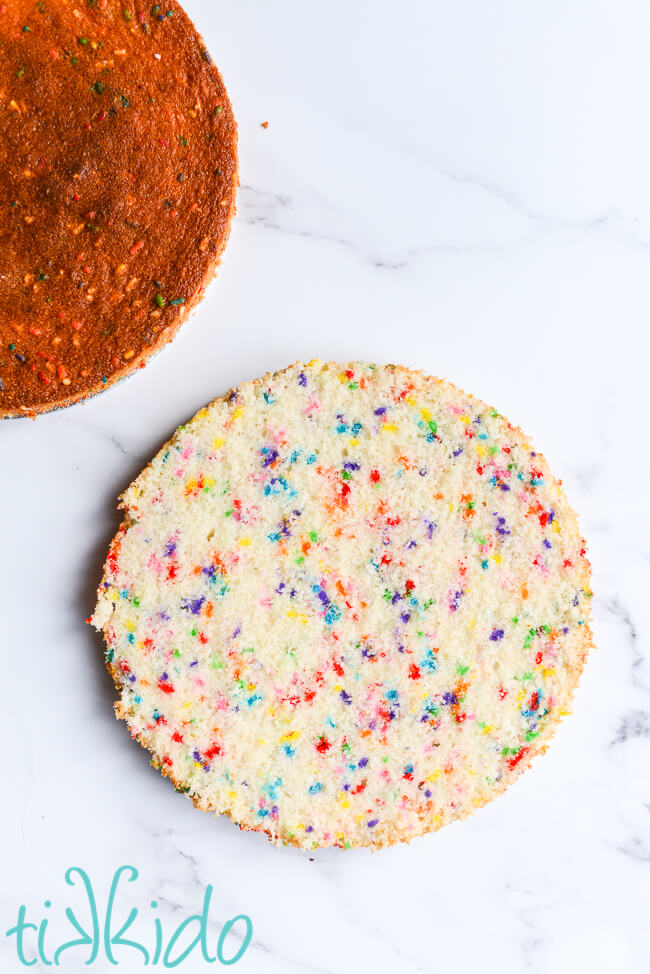 Bake at 350 degrees Fahrenheit for approximately 30-35 minutes, until the top of the cake is a golden brown color and a test skewer comes out of the center of the cake clean.
Let cool on a wire rack for 10 minutes, then remove the cake from the pans and let cool completely before torting the layers and filling with vanilla buttercream.  Look how bright and beautiful the cake is when you cut it to make a funfetti layer cake!
I filled my homemade funfetti cake with vanilla buttercream frosting, but you could use any flavor or color you want, of course.  I think this cake would look especially fun and fabulous using this technique for making a rainbow frosting filling between the layers of the cake, for example.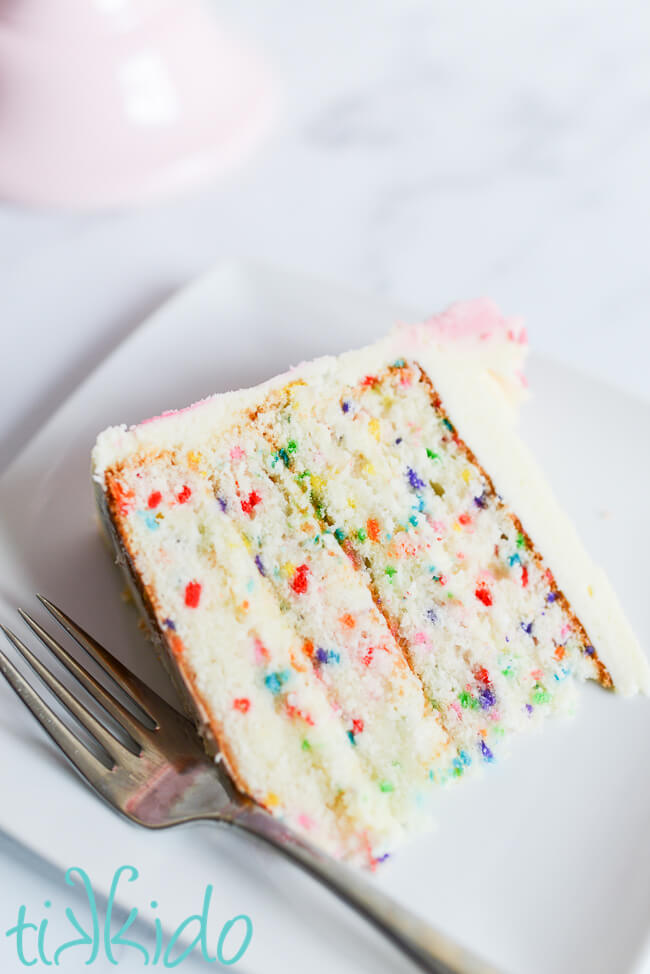 Use a cake soak when assembling the cake to add extra flavor and ensure that the cake stays fabulously moist.  No dry cake here!
So what do you think--are you ready to ditch the box mix and make an amazing funfetti cake from scratch? 
Printable Version of the Best Funfetti Cake Recipe
Want a one page, printable PDF version of this recipe?  Click on the image below to print directly or download it to your device.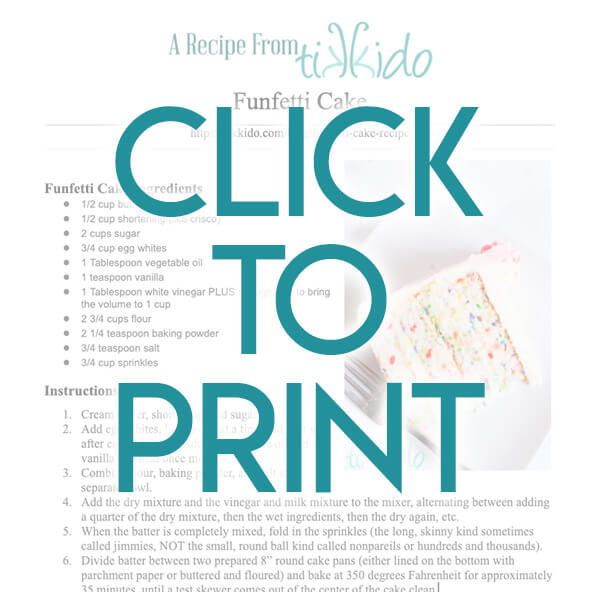 Other Sprinkles Recipes You Might Like: