Printer-friendly version
This post has been compensated by Collective Bias, Inc. and its advertiser. All opinions are mine alone. This post was sponsored by Starbucks as part of an Influencer Activation. I received compensation and complimentary products to facilitate my review 
What could possibly be more delightful than brunch?  Great friends, pastries, bacon...and of course, coffee.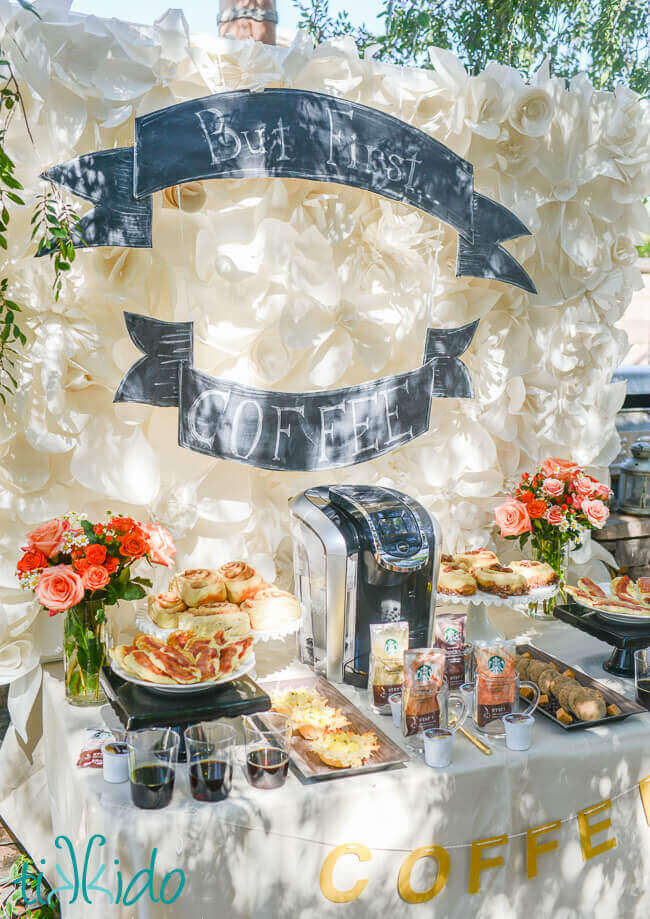 All my friends have different tastes and love different things, so a breakfast buffet and my incredibly versatile Keurig kept all of my friends happy.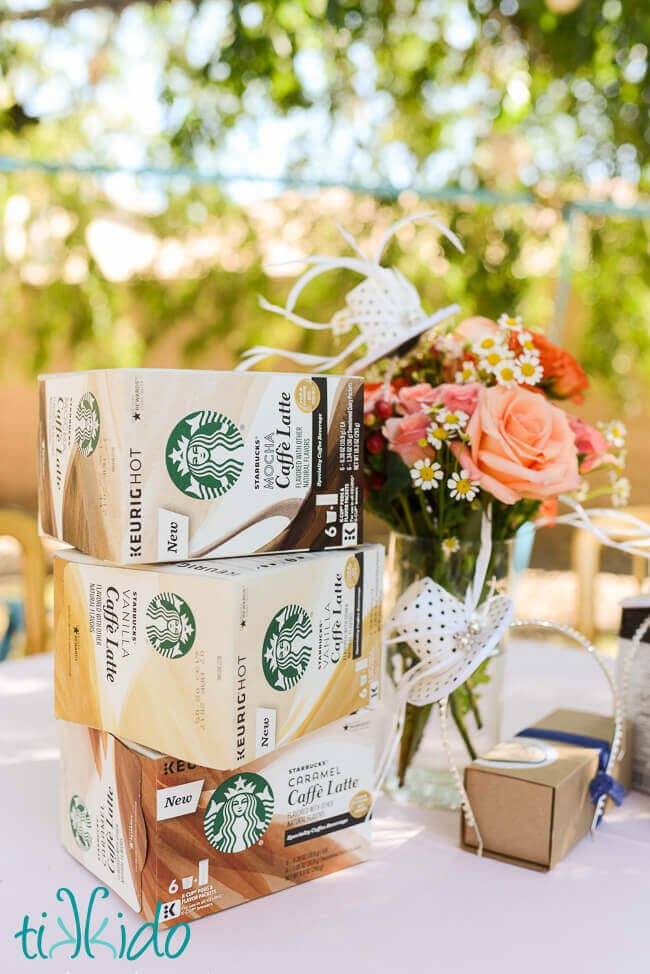 Made from milk and absolutely no artificial flavors, they come in three classic Starbucks® flavors all year round (caramel, mocha, and vanilla) and right now, they have two fabulous seasonal flavors ( Peppermint Mocha and everyone's fall favorite, Pumpkin Spice).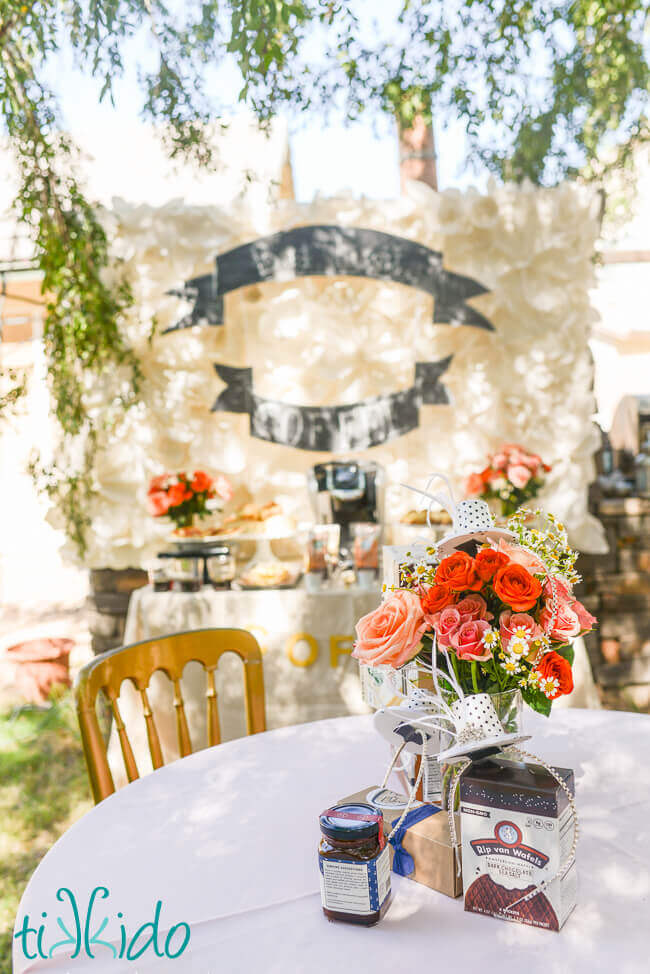 It's finally gorgeous weather here in Phoenix again, so my friends and I enjoyed a glorious morning of great food, great coffee, and great company.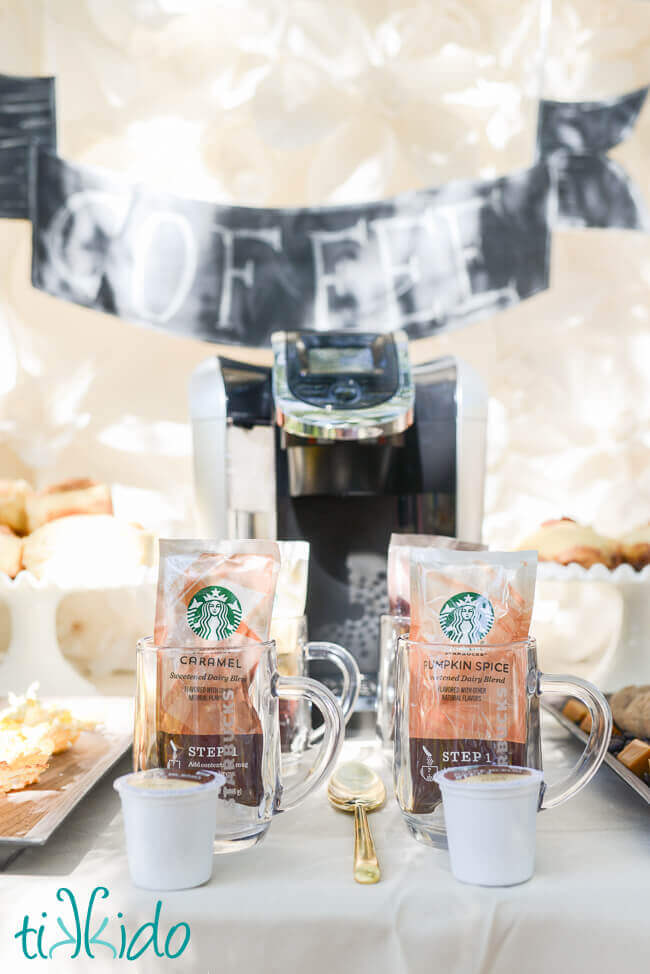 I always grab the Caramel flavor first--Pumpkin Spice lovers, that means there's more for you!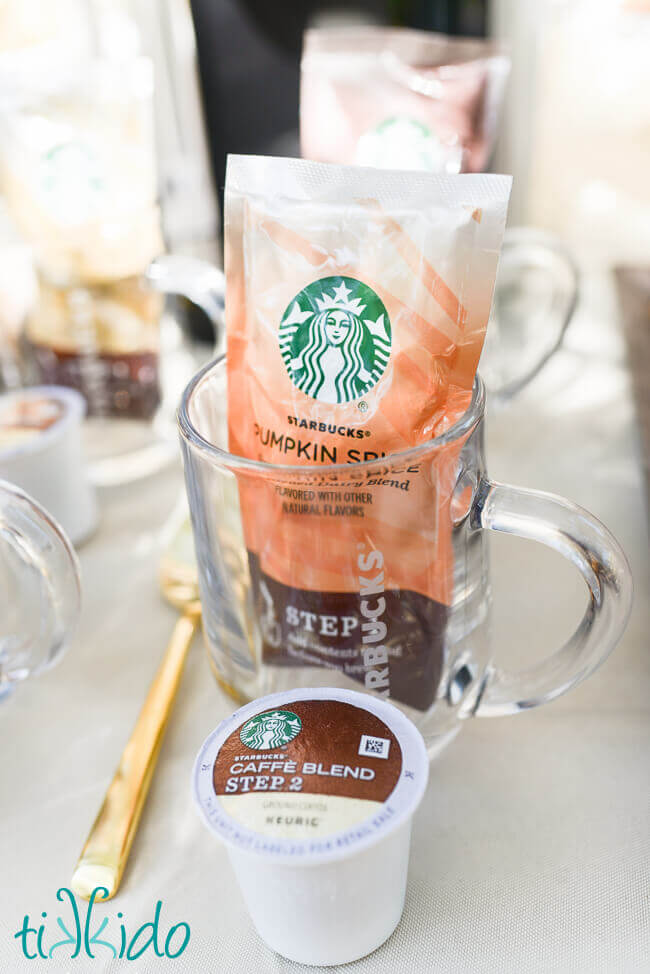 The Starbucks® Caffe Latte K-Cup® pods were incredibly easy to use.  My husband is the coffee maker (and most enthusiastic drinker) in the house, so I usually just stand back and let him take care of the coffee creation, but man, this was easy.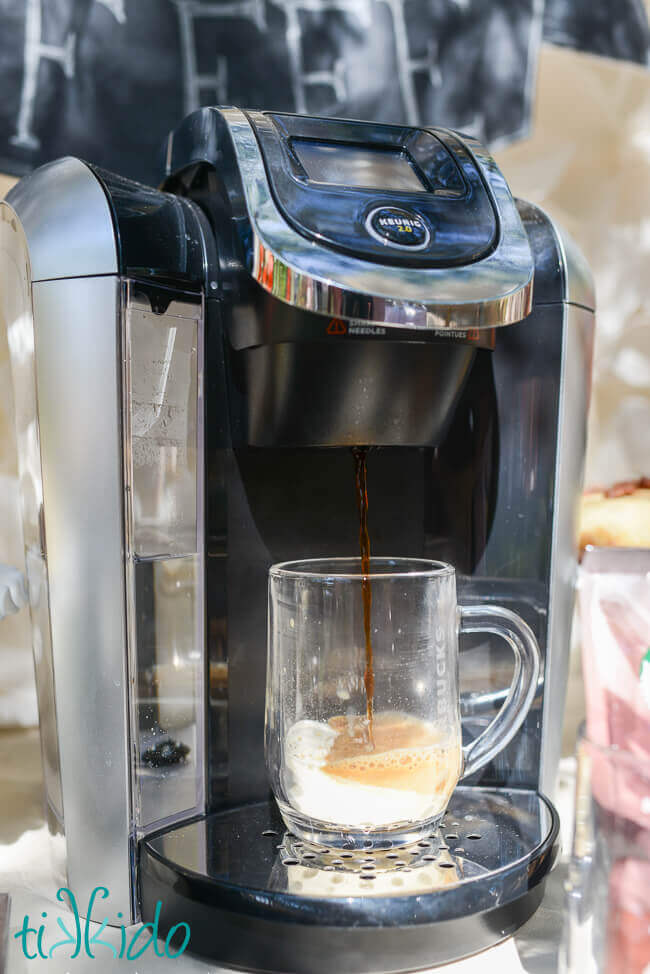 Pour the packet in the mug, pop the K-Cup® in the machine, and push a button.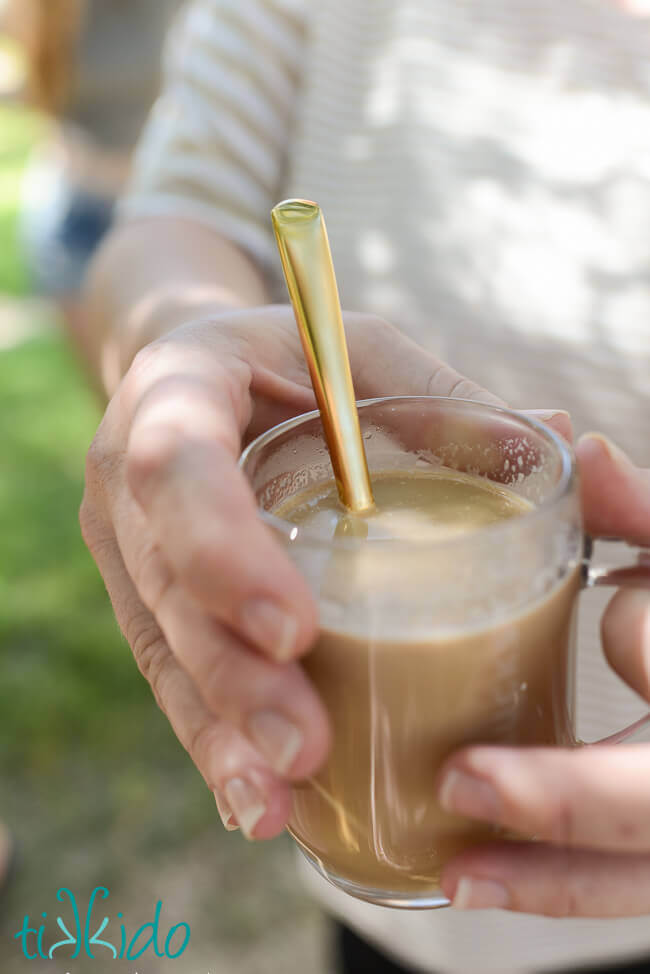 Stir, and you have yourself a cup of caramel heaven.
Want to see what I created out of the empty K-Cup® pods for the party?  
Recycled Keurig K-Cup® Pod Fancy Hat Fascinator Tutorial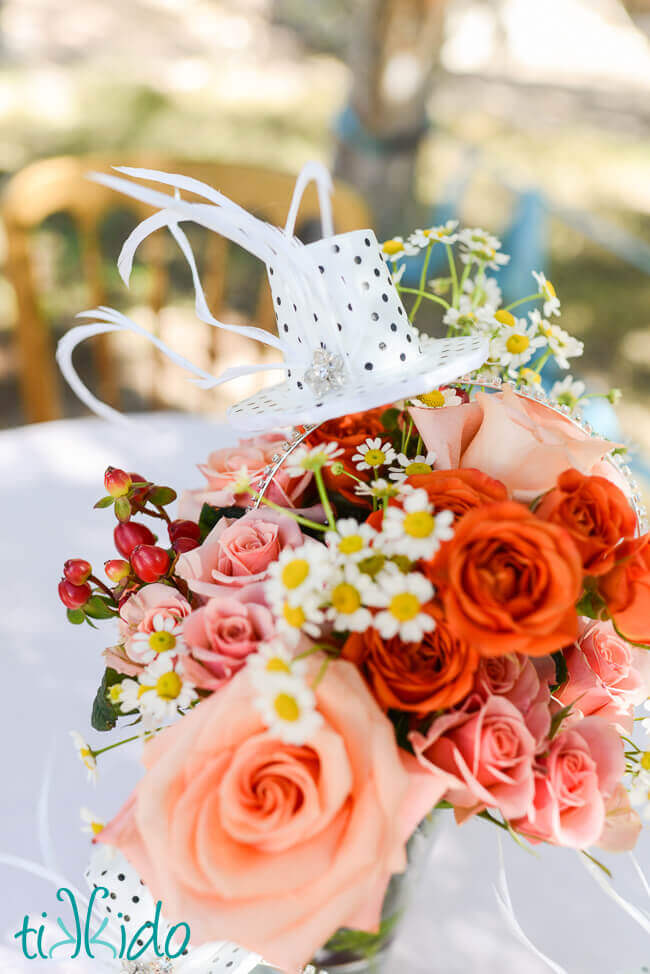 Every time I see those empty K-Cup® pods, I think they're clearly just begging to be turned into fabulous little hats.  And all the best parties have great hats, after all!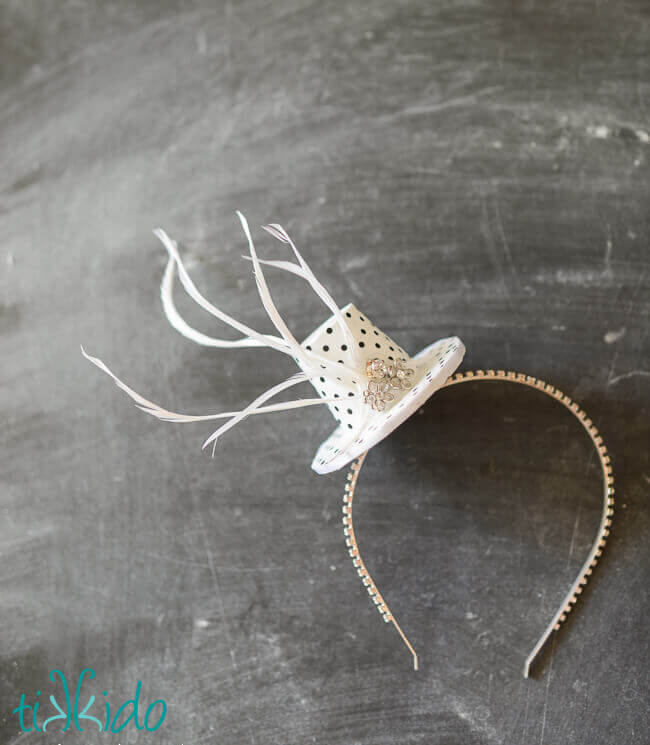 It's surprisingly easy to make this dandy little fascinator, too.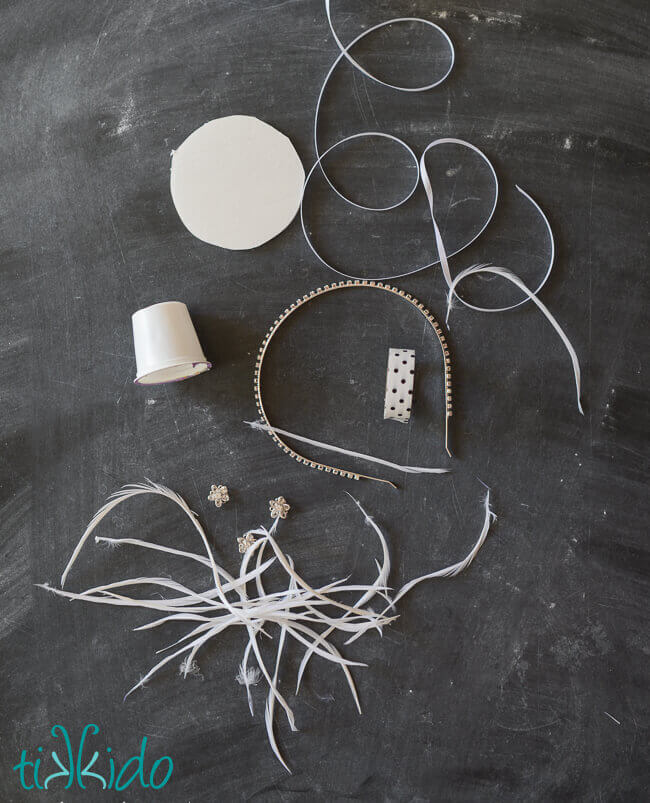 Materials to Make a Recycled K-Cup® Fascinator Hats:
headband
empty and clean K-Cup®
washi tape
foam core
1/8" ribbon
craft feathers
rhinestones or other embellishments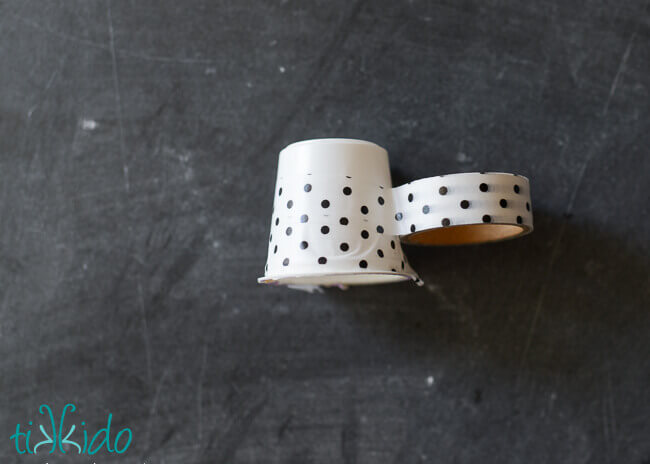 My frist step was to decorate the clean, empty K-Cup®.  I used washi tape, but you could easily use pretty scrapbook paper, or paints, too.  The slightly tapered angle of the K-Cup® means that the washi tape angles down as you wrap it around, so choose a pattern with that in mind.  These polka dots were pretty easy to align, but the striped tape I first tried looked pretty awful.  Also, be forgiving of yourself.  This is a fun, quirky, party hat, and every craft has a back.  The back doesn't have to be pretty!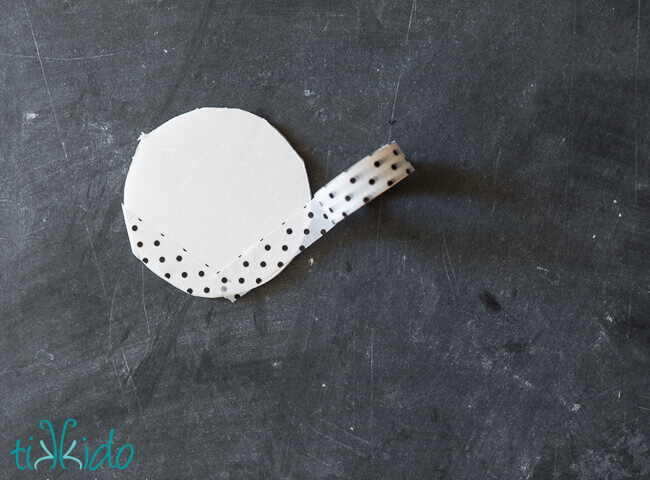 Cut a circle of foam core slightly larger than the diameter of the opening of the K-Cup® to create the brim of the hat.  Cover the perimeter of the circle with more washi tape, and glue a band of ribbon around the edge of the circle to hide any rough edges.
Glue the K-Cup® to the round circle base, and embellish with craft feathers, rhinestones (like I used), or inexpensive silk flowers, and attach to the headband.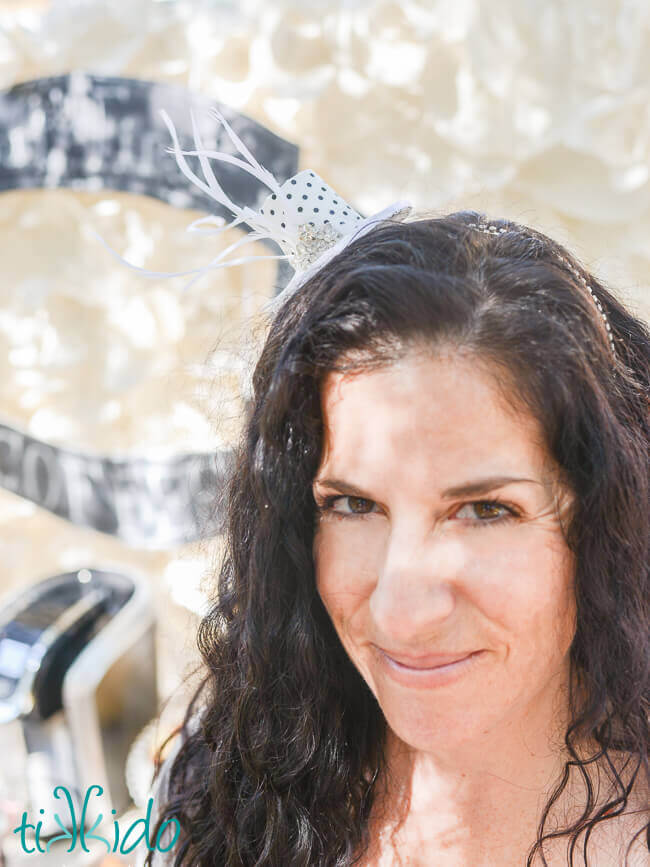 Then wear that party hat with pride!  I dare you to try to have a bad time when you're wearing a fabulous, frilly, feathered hat like this.  You can't.  It imbues joy.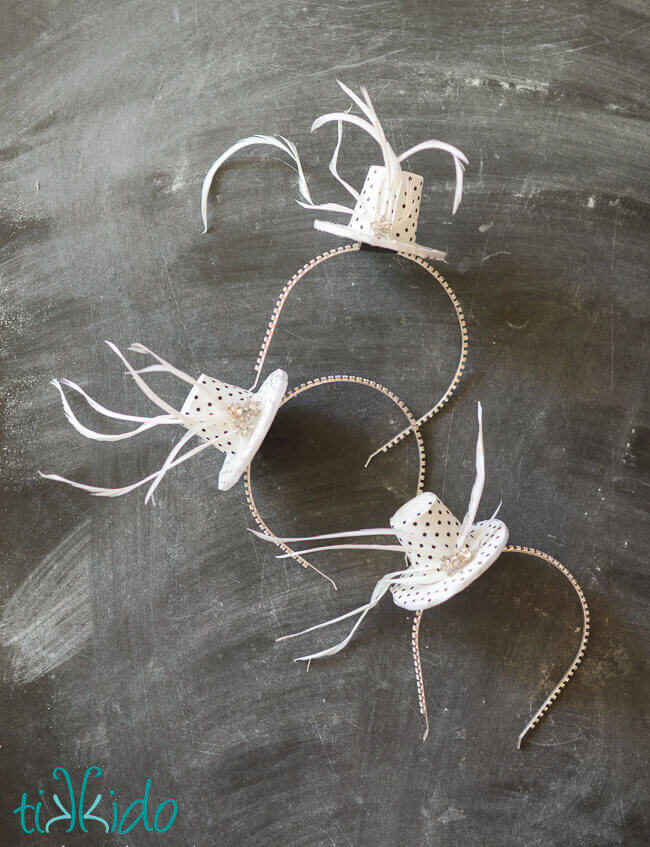 Know what else imbues me with joy?  Really delicious food.  
But First...Coffee Brunch Menu and Decor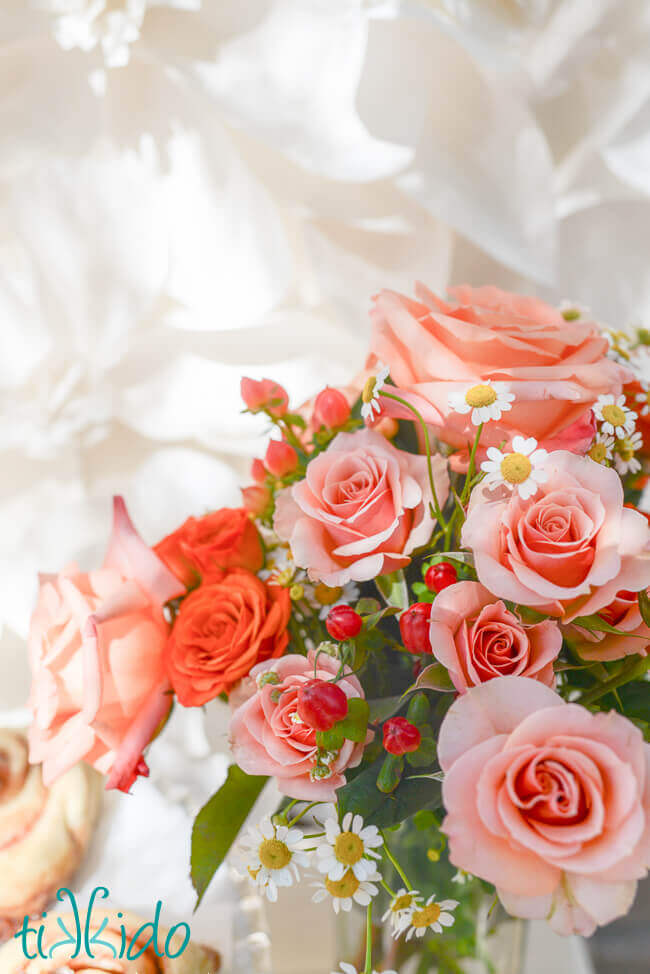 I picked up some bargain roses ($4 per bundle!) at my local grocery store, and bought a few sprigs of coffee beans from a local florist to add to my floral arrangements.  Coffee Beans!  I know!  They're the berry looking things in the flowers. How perfect was that for the party?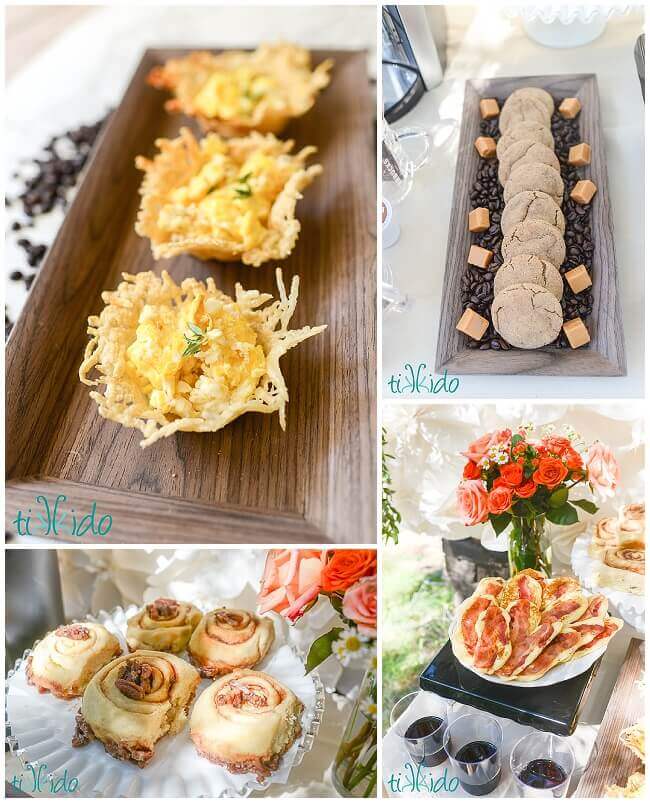 I made my homemade cinnamon rolls and sticky pecan rolls.  I simply can't pass up an opportunity like a brunch and NOT make them.  I love them way too much.
I also made brown-sugar candied bacon, bacon pancake dippers, and scrambled eggs in edible Parmesan frico cups.
I was also inspired by the caramel lattes (told you I love those) to create a new cookie recipe, Caramel Latte Cookies.  I love it when an idea for a recipe tastes as good as I hope it will when I get the idea!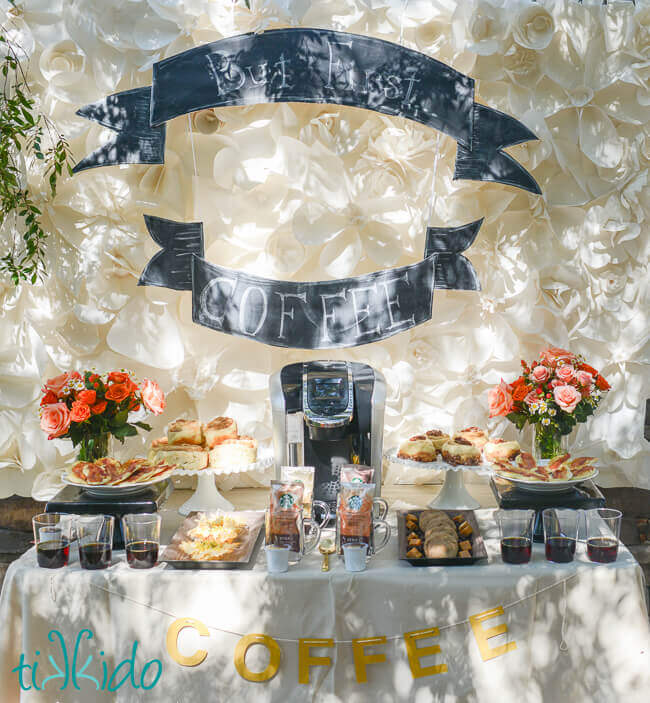 The paper flower backdrop was actually recycled from a baby shower years ago (here's a tutorial on how to make it for yourself, for about $15), and it actually usually lives in our bedroom, as a large scale piece of wall art.   I added the But First...Coffee chalkboard ribbon banner to it for this party (it's easily removable), and will have a tutorial for making it on the blog in a few days.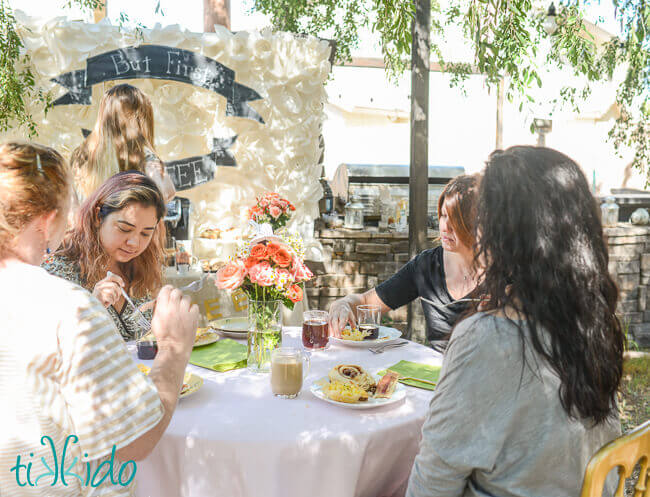 Friends+Food = the perfect morning, as far as I'm concerned.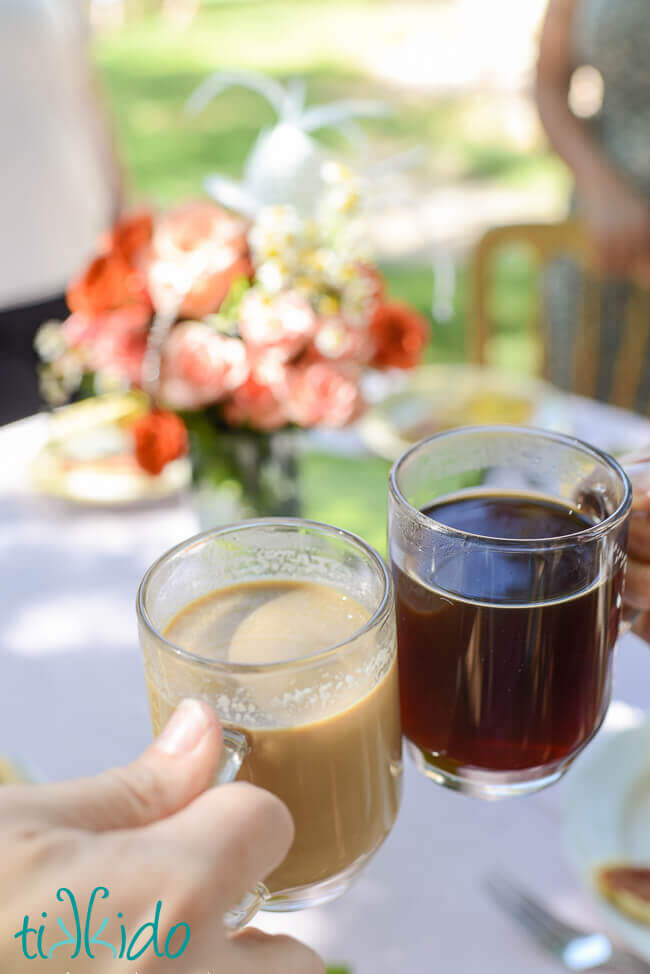 Cheers to my AWESOME friends!  Thanks so much for making my life so much better in so many ways.
Keurig, K-Cup®, Keurig Hot, and the K logo are trademarks of Keurig Green Mountain, Inc., used with permission.