Printer-friendly version
While I'm a big fan of sweet/salty combinations usually, I like my bacon to be pure salty goodness.   I even carefully segregate my breakfast plate so the bacon doesn't get in the maple syrup.  But this recipe, made for me by my friend Jill, has made me a convert.
Baked Brown Sugar Bacon
bacon, 1 pound
approximately one cup brown sugar
ground black pepper, to taste
Since I was making this for the Christmas Cabin, I brought everything I needed with me.  I like baking my bacon on a grate, which lets all the excess fat drop down to the bottom of the pan.  I also knew that a rental cabin wasn't likely to have such equipment.  So I brought my own.  The bacon was in the cooler for the car trip, of course, but everything else I needed was neatly wrapped up in an easy to pack bundle.  Man, I love the BIG caterer's size roll of cling wrap I buy now (get your own here)!  Totally worth the space it takes up in the kitchen, and so much more useful than the smaller, regular grocery store size containers.  It's not the extra length that's nice (though it is nice); it's the extra width that makes all the difference.
Preheat the oven to 350 degrees Fahrenheit, and arrange the slices of raw bacon on the grate.  I cut my slices in half, but that's entirely a personal preference.  It was my attempt to eat slightly less bacon.  It didn't work.
Sprinkle the bacon with brown sugar and give a generous grind of black pepper.  Bake for 10 minutes, then pull the bacon out, and give it another sprinkling of brown sugar.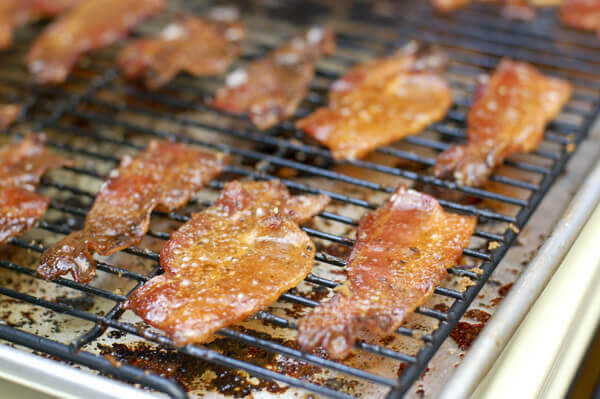 Keep sprinkling with another layer of brown sugar every 10 minutes or so, until the bacon is the texture you prefer.  I like mine crispy, and that usually takes about 30 minutes, sometimes a bit more.  It really depends on the thickness of your bacon, though, and over the last few years I think bacon manufacturers have been slicing their bacon thinner and thinner.  Thick cut now is what used to be regular cut, it seems.  So WATCH THE BACON CLOSELY!
If you have any leftover, I think it would be spectacular crumbled up and on a salad.  We've never had any left over, however, so this remains entirely theoretical at this point.  Maybe someday!  Maybe.