Printer-friendly version
Our FROZEN Easter egg hunt wouldn't have been complete without an appearance from the rock trolls somewhere.  As I was considering what sugar cookies to make for the party, it occurred to me that the Easter egg cookie cutter looked a lot like the rock trolls when they're in camouflage mode.  Rounded, oval, with mossy backs.  And just like that, an idea for incredibly easy rock troll cookies was born!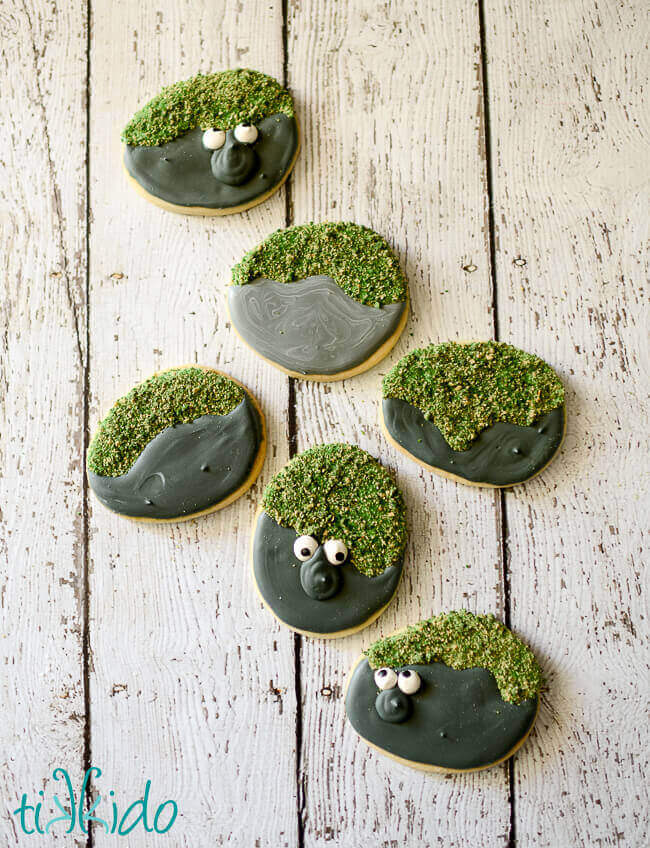 I just love how these guys turned out!  And even better, I love how incredibly easy they were to make!
How To Make Rock Troll Sugar Cookies: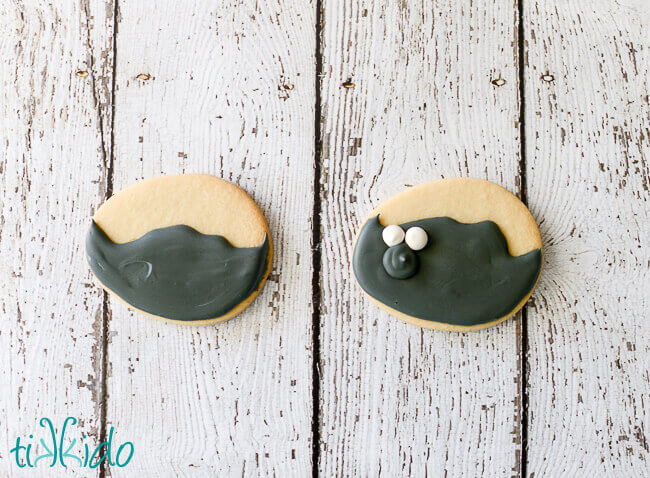 Start by baking some Easter egg shaped cookies.  I linked the cookie cutter I used and my favorite sugar cookie recipe in the list above.  
Make a batch of royal icing  and color some grey using a bit of black gel food coloring.
Flood part of the egg-shaped cookie with the grey icing.  Make a nice  wobbly line, so it looks organic and natural.  No precision needed for this cookie!
I made some cookies with eyes and noses, and some without.  If you're adding eyes and noses, let the icing dry for at least 30 minuets before adding the dollops of icing for the eyes and nose, so they won't just melt into the base layer of icing.
Let this icing dry for several hours before moving on to the next step.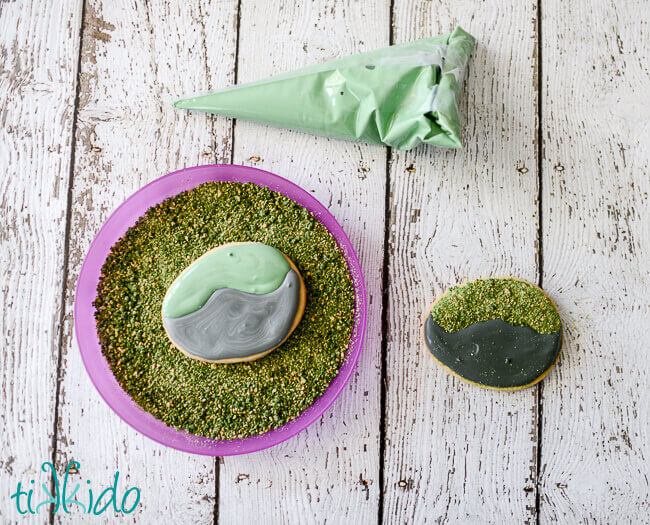 Now it's time for the moss!  I used this awesome edible moss tutorial from Mike at Semi Sweet Designs.  Basically, it's just graham cracker crumbs and food coloring, but to learn all the tips to make the moss perfect, go check out the full tutorial.  It has fabulous information, and some seriously cute spring cookie pictures, too!
Tint some royal icing green (in case any icing shows through your moss), and while it's still wet and fresh, coat the wet icing with your edible moss crumbs.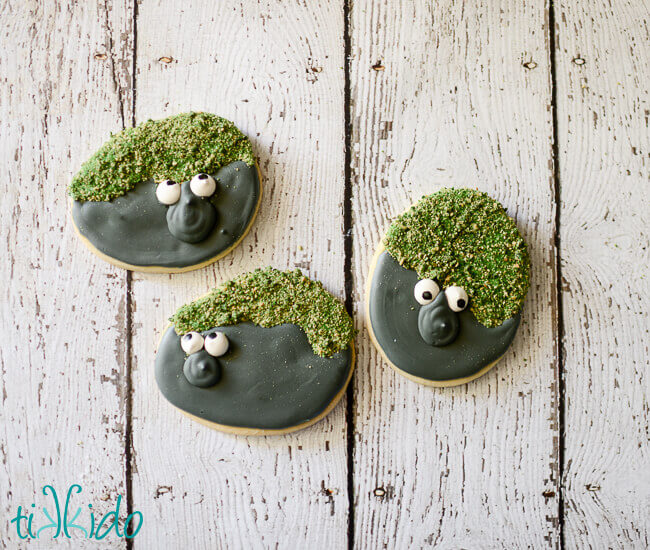 If you've added eyes and noses, use black food coloring to draw pupils on the eyes, and you're done!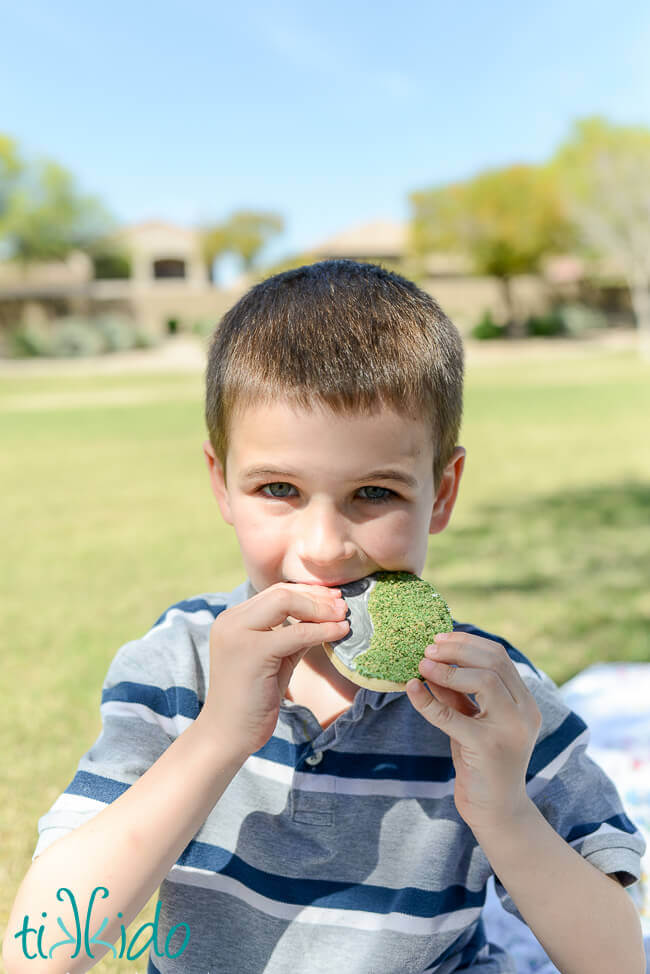 The kids loved the cookies at our FROZEN Easter party!  Even the kids with two wiggly teeth were willing to risk biting the cookies.  ;-)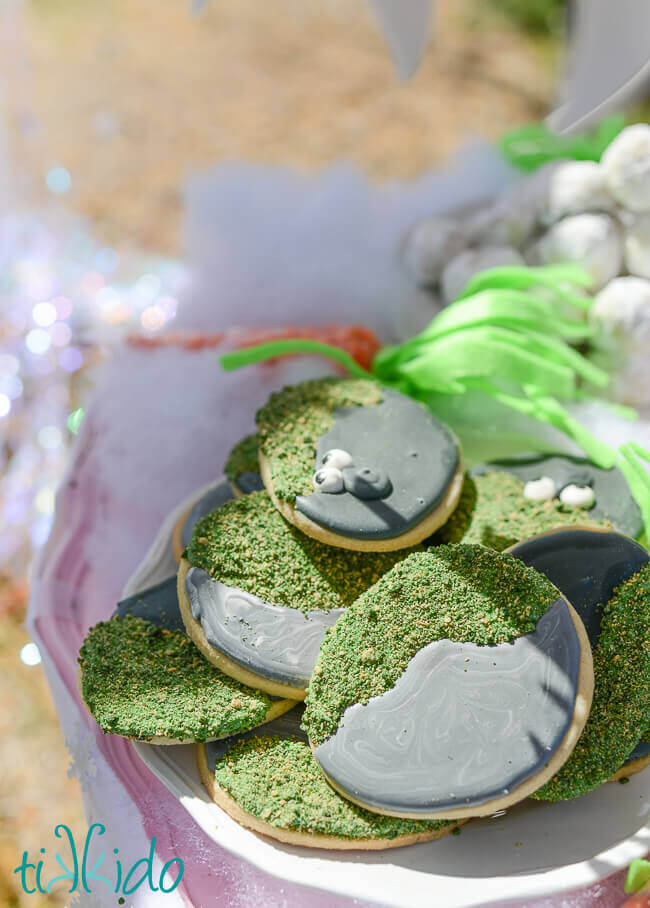 I think this basic technique would be great for any kind of woodland or camping party cookie, too.