Printer-friendly version
Royal Icing is the best frosting for gingerbread houses and decorated sugar cookies because it hardens.  Today I'm sharing my favorite royal icing recipe--the one my family has used for decades, and the one I used on Food Network's Holiday Gingerbread Showdown.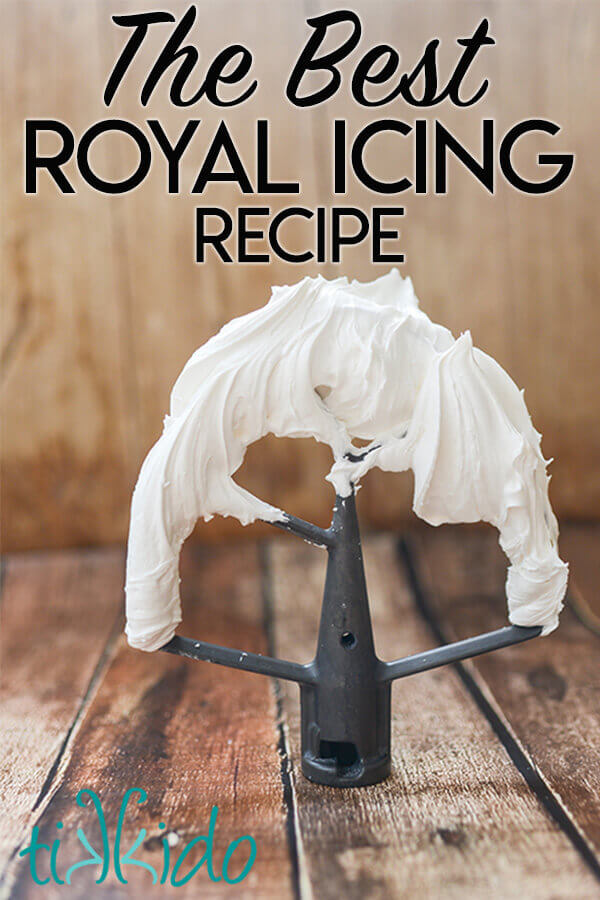 In fact, I'm going to share three different versions of my royal icing recipe:  one made with meringue powder, one made with regular egg whites, and one made with powdered egg whites.  That way, you'll be able to make royal icing, no matter which ingredients are easiest to find in your area.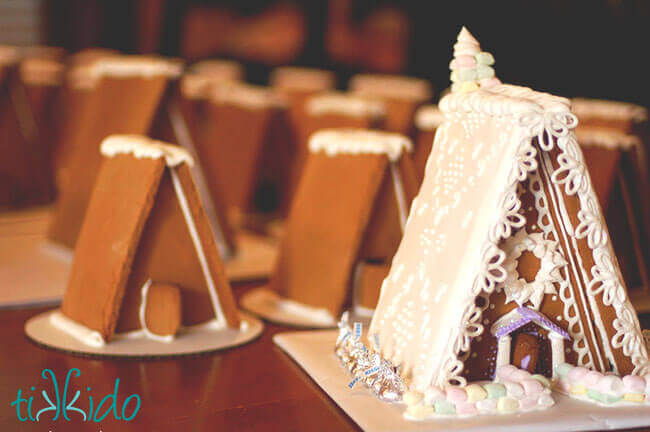 Royal icing is the delicious, edible glue that holds gingerbread houses together.  And it makes really pretty decorations for the houses, too.
And, of course, it's great for decorating gorgeous sugar cookies.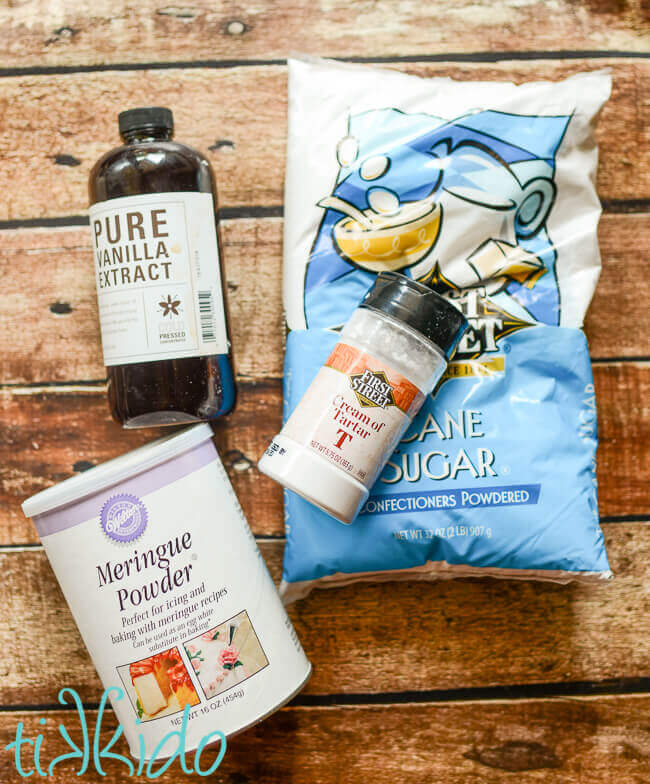 Easy Royal Icing Made with Meringue Powder: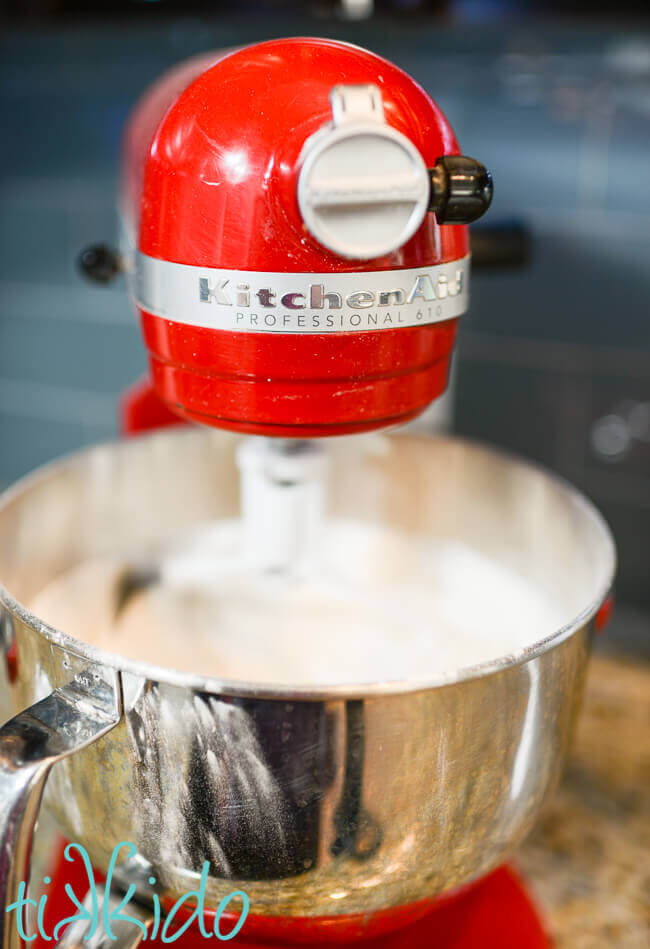 Combine dry ingredients together.  Add the wet ingredients, and mix to combine.  As soon as all of the ingredients are wet, turn the mixer to high and beat for several minutes until the royal icing is stiff and fluffy.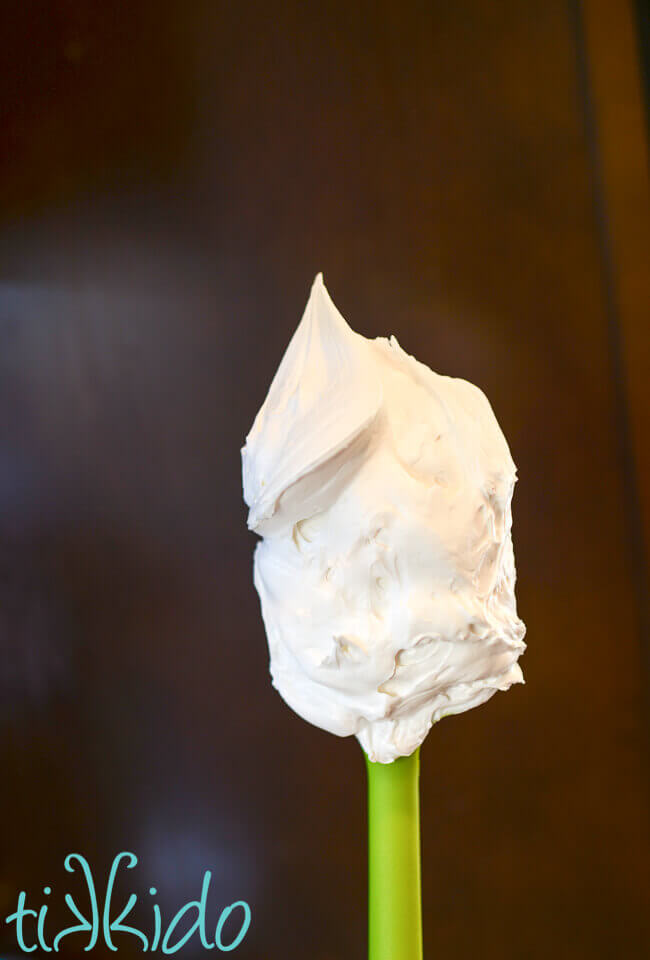 You can always thin the icing with water if you need it to be thinner, so I always mix my royal icing to be very stiff at first.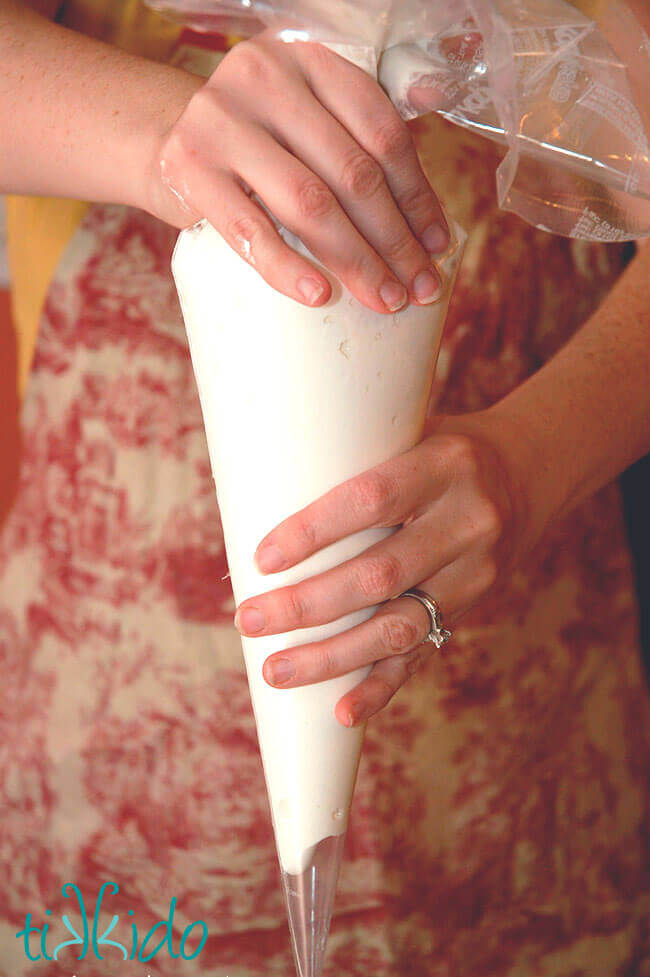 Royal Icing Recipe With Egg Whites (Royal Icing Recipe Without Meringue Powder)
The classic recipe for royal icing--the recipe we used for years before meringue powder made it so much easier--calls for using egg whites.  
1 bag (two pounds) of powdered sugar
6 egg whites
1/2 teaspoon cream of tartar
1 teaspoon vanilla
pinch salt
This traditional royal icing recipe just uses egg whites instead of the meringue powder and water.  Mix it up in exactly the same way.
I find this version of royal icing to take longer to beat to stiff peaks, but it does get there!  Keep mixing!  
Important:  be sure you don't get the smallest DROP of egg yolks in the icing, or it will not set!  Break your eggs in a separate bowl, so if you do accidentally break a yolk, you can just throw out the eggs, not all of the icing ingredients.  If you break a yolk, you must discard everything in that bowl (make an omlette or something)--DO NOT attempt to use it in the icing, even if you think you've gotten all the yolk out!  The fat in the egg yolks will prevent the icing from setting properly, and your project will fail.
Royal Icing Recipe with Powdered Egg Whites
A few months ago I moved to England from the US, and meringue powder is much harder to find here.  Fortunately, powdered egg whites are easily available, and work just as well.  Just look for a brand that is 100% egg whites, with absolutely no other additives.
1 bag (two pounds) of powdered sugar
24 grams powdered egg whites
1/2 teaspoon cream of tartar
1 teaspoon vanilla
pinch salt
168 ml of water
Again, the technique to mix the icing is the same.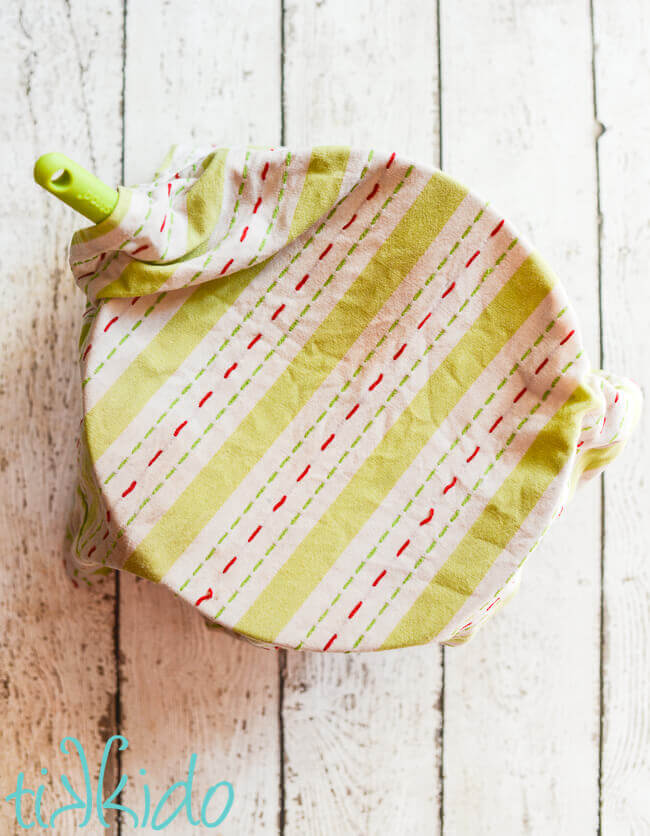 How to Store Royal Icing
Be sure to cover your royal icing with a clean, damp kitchen towel as you're working to keep the icing from crusting over.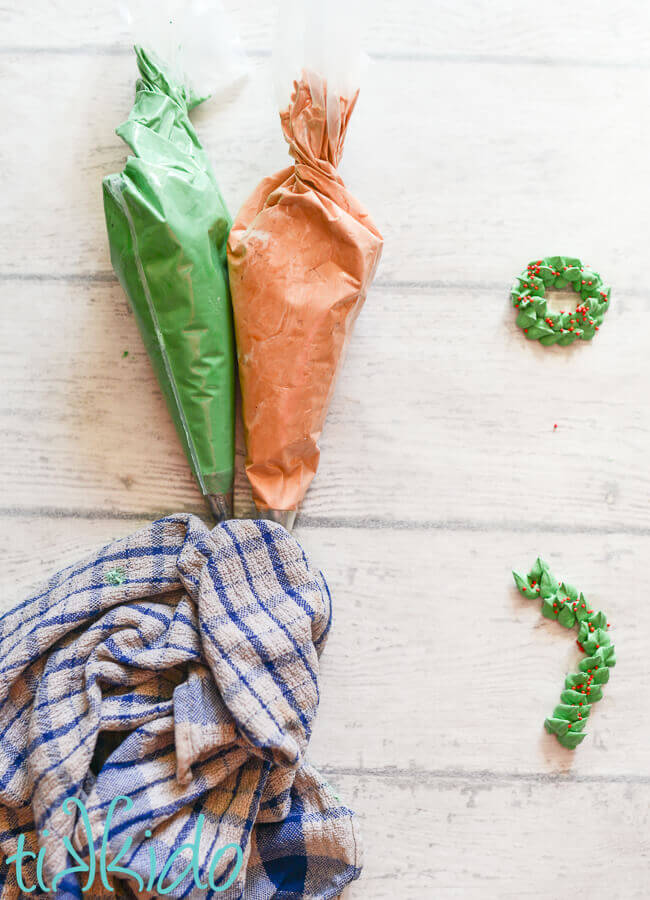 Even the tips of your icing bags need to be kept covered with a damp cloth or the icing exposed to the air at the end of the tip will harden and clog the tip.  
You can store royal icing overnight, or for several days.  Keep the leftover royal icing in an airtight container (like tupperware) in the refrigerator.  It will easily last for several days, BUT it will get less stiff and even start to separate over time.  Don't worry if that happens--the royal icing is still usable.  Let the container come to room temperature, then put the icing back in your mixer and re-whip it back to the original consistency.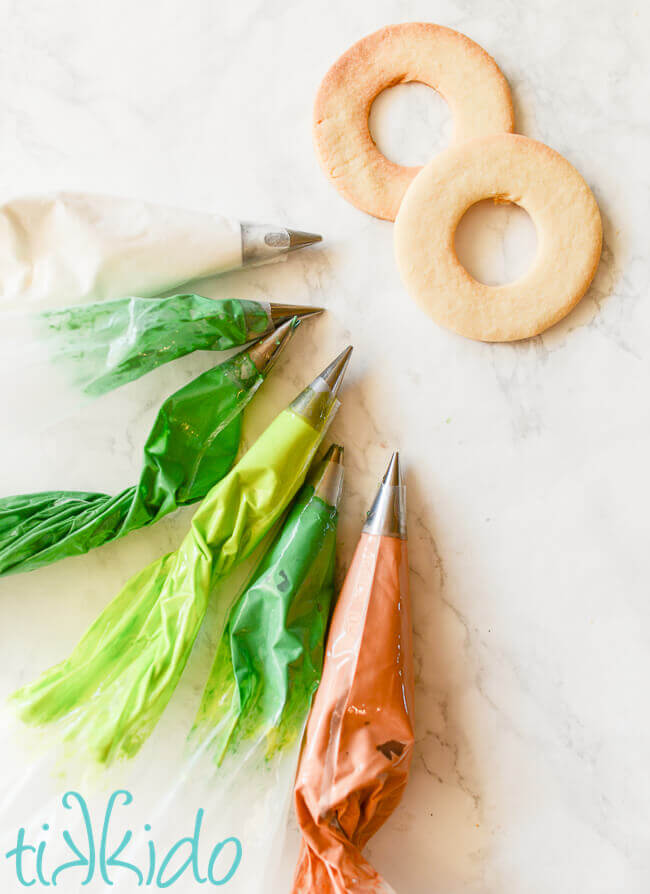 How to Store Dried Royal Icing Decorations:
You can make royal icing decorations for cakes or cookies, let them dry, and store them for years!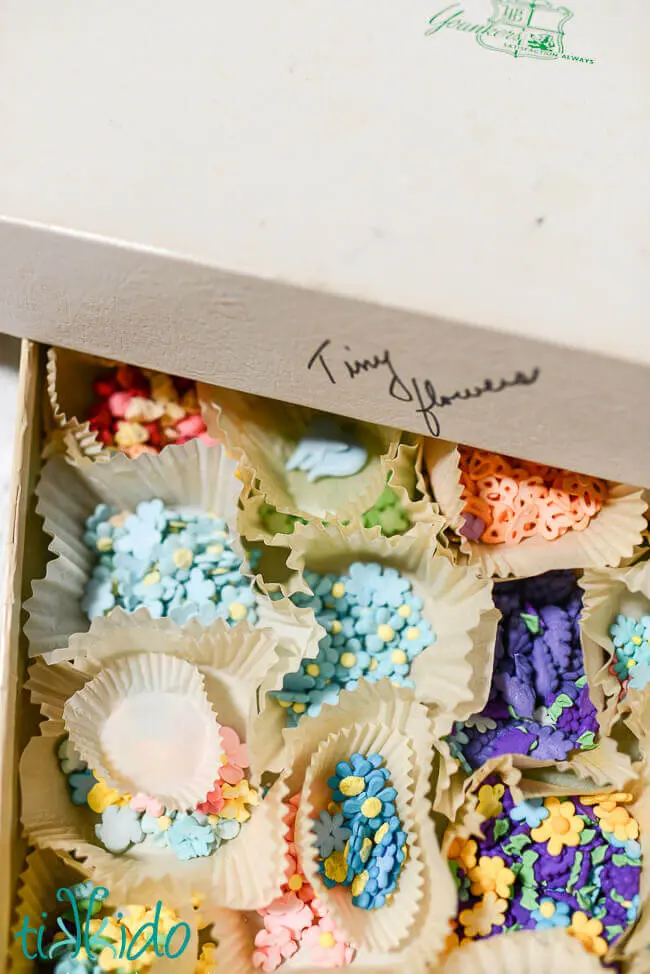 These are tiny royal icing decorations that my grandmother made back in the 1970s.  This is a current photo.  Yes, they're still good!  Not that I'm recommending waiting 40 years to use any royal icing decorations you might make, but you can absolutely make royal icing decorations long in advance of when you want to use them.  (You can see more of my grandmother's royal icing decorations and her Victorian sugar eggs in this post.)
Let the royal icing dry completely before packaging them up to be used in the future. 
How Long Does it Take Royal Icing to Dry?
For small decorations like tiny flowers, overnight is probably good.  I'd let the pieces dry for a full day, just to be safe. 
The humidity where you live can affect how long it takes royal icing to dry considerably.  When I lived in Arizona, it dry noticably faster than when I lived in Florida, for example.  In humid environments, it can take a couple days for larger royal icing pieces to dry completely.  This is only critical if you're making a large royal icing transfer or making decorations to store for later.  Even in humid environments, the icing will hold a gingerbread house together well and be dry enough to feel dry to the touch overnight.  (Just don't poke the icing too hard for about a day!)
Keep the royal icing decorations in a dry, dark place (light can affect the food coloring--especially reds and pinks).
Eggless Royal Icing Recipe:
I've also recently posted a recipe for a vegan royal icing!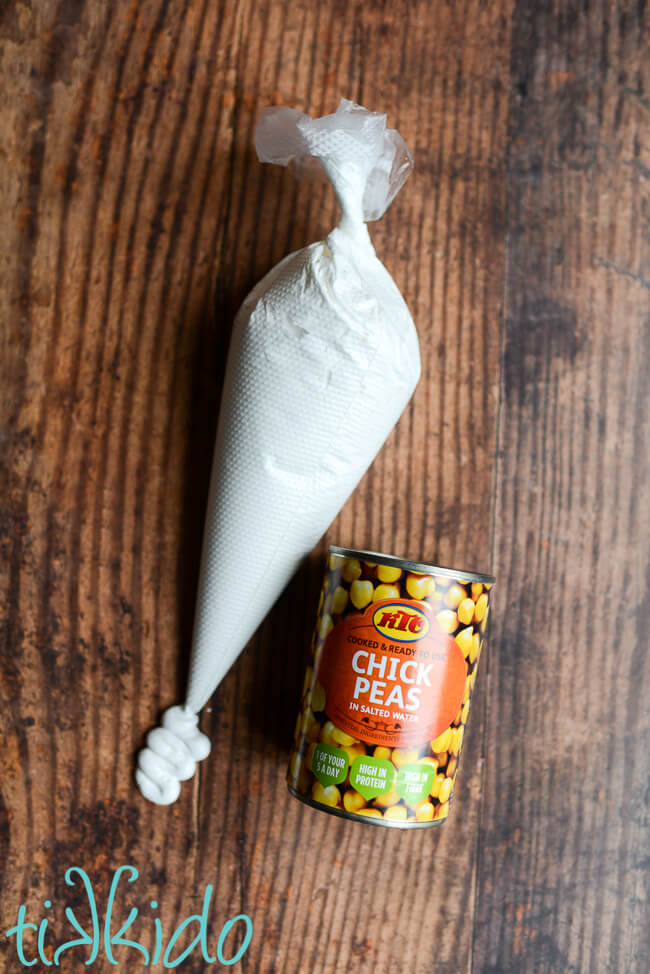 This recipe uses aquafaba (the liquid in a can of chickpeas) instead of egg whites.  Head over to the vegan royal icing post for a video tutorial, the recipe, and all the details on how to make it.
Decorated Sugar Cookie Tutorials You Might Like:
Other Ways to Use Royal Icing You Might Like: