Printer-friendly version
I love seeing the new season of craft supplies hit the stores.  And I really don't care if I start to see Halloween stuff in August, when it's still 115 degrees outside.  Crafters need time to come up with ideas and make cool stuff!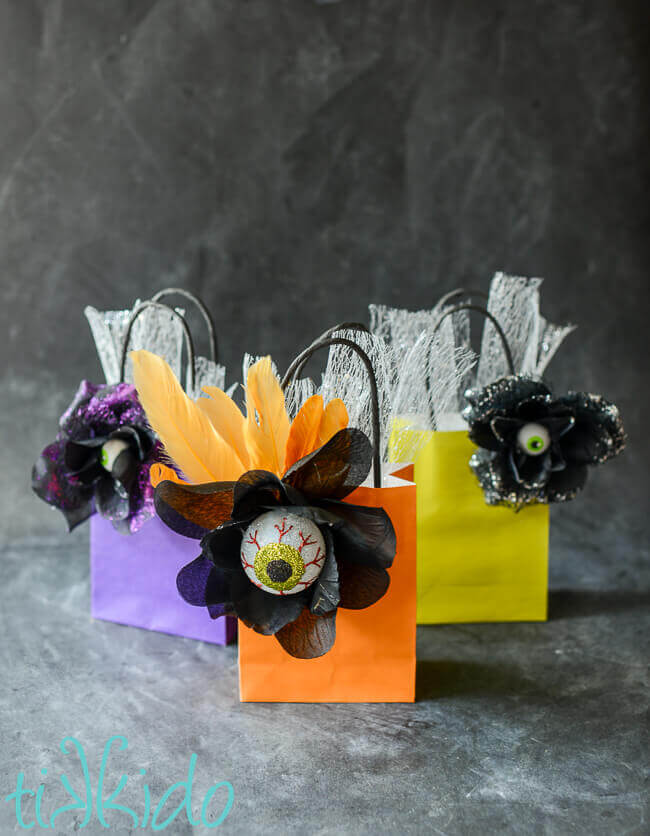 Those thoughtful, homemade gifts?  They're not made at the last minute, people.  So even if you object to holiday decorations coming out early in other stores, let's give craft stores a break.
And yeah, it's a little early to start Halloween content here on the blog, but once the inspiration starts flowing, I just can't keep it to myself!  So I'm kicking it off with these eyeball-embellished Halloween favor bags.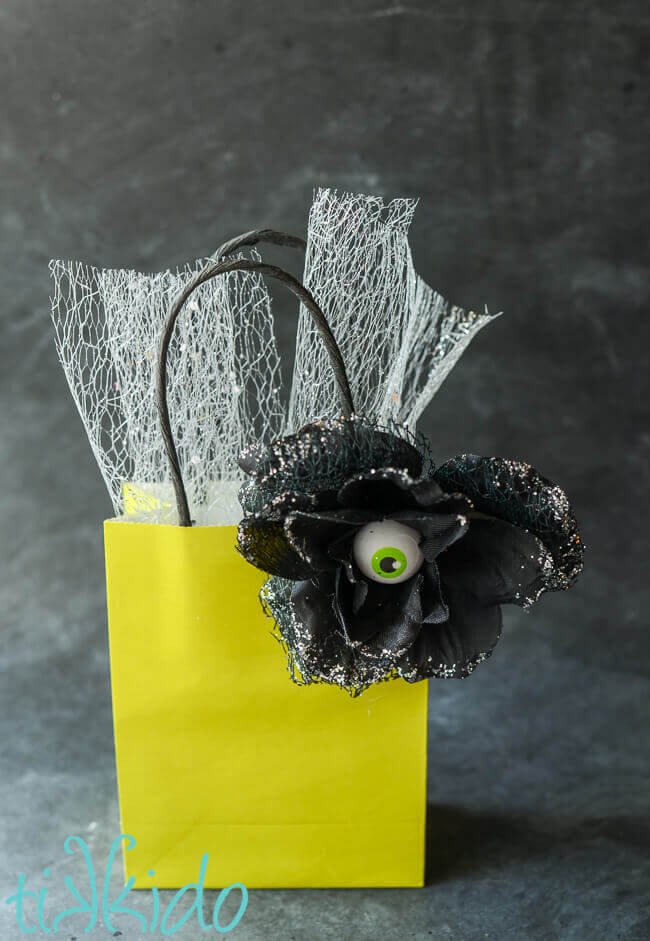 I'm going to give dollar stores my holiday-appropriate-time-waiver, too, because I came up with this idea when I was in the 99 Cent Only Store, and found most of the materials to make this craft.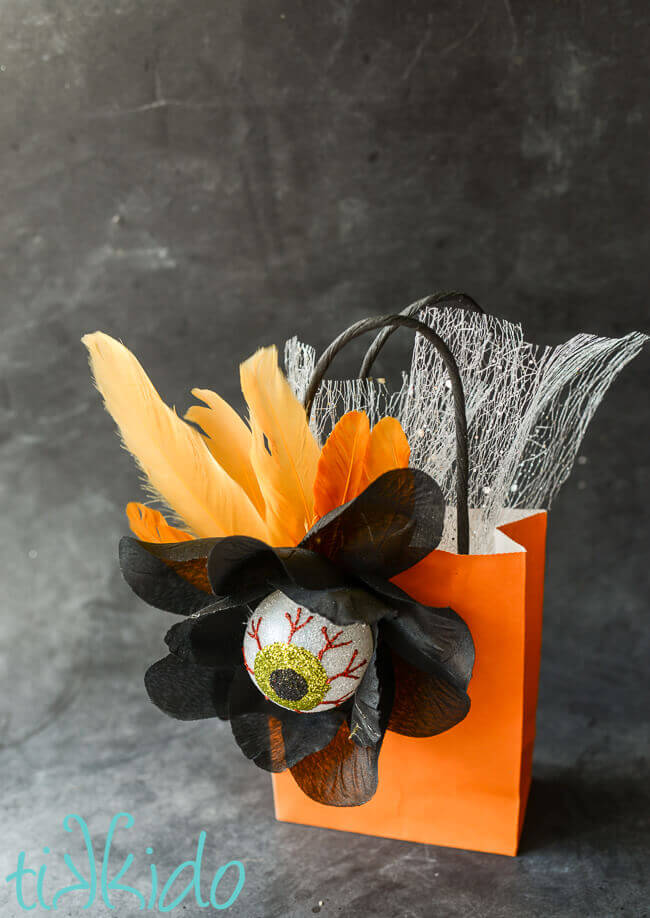 Like the black silk flowers and that awesome sparkly, spiderwebby tulle--both from the dollar store.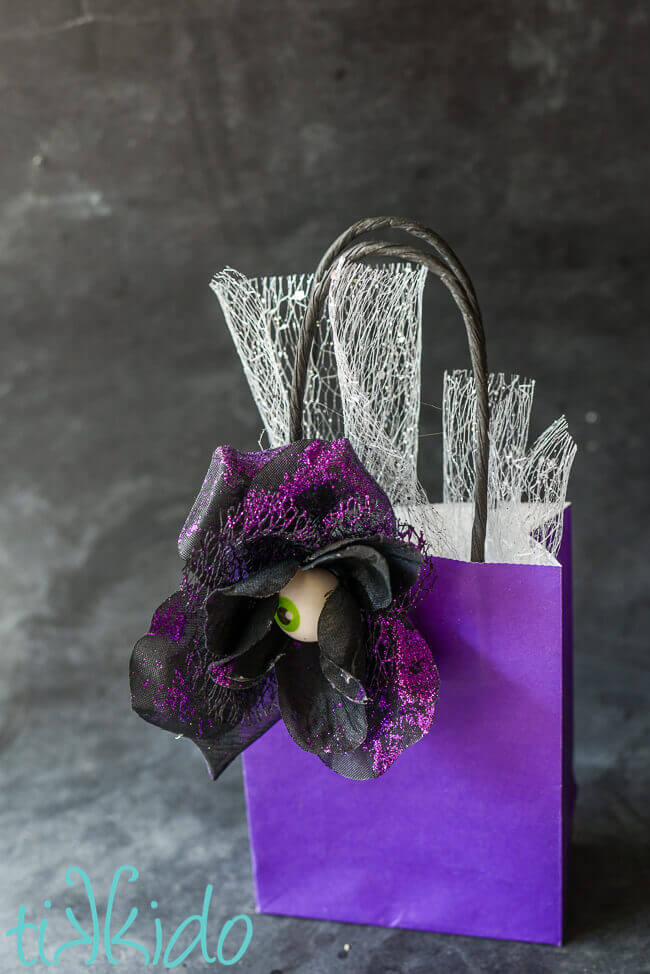 Silk flowers can be expensive, but I love tearing them apart and using them in craft projects, so I LOVE that I can get them for so little money.  (This post is not sponsored, in case you were wondering--I'm just speaking from the heart about my love of cheap craft supplies).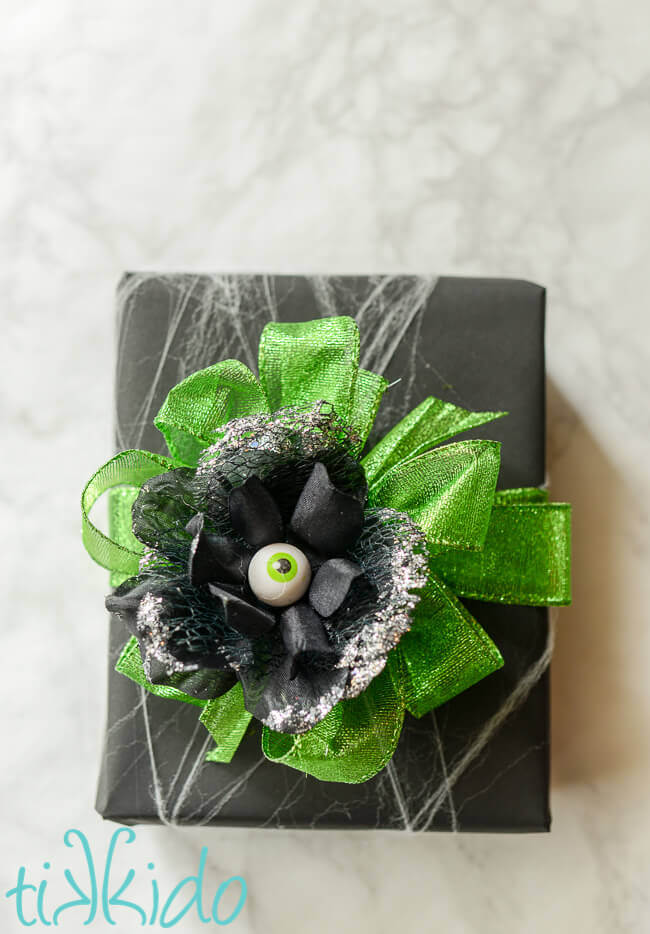 I wish I knew someone whose birthday was around Halloween and LOVES Halloween, so I could wrap their birthday gift like this!  The bags strike me more as favor bags, but this is worthy of a full-up gift.
I made a quick video to show you how I made these bags:
Ready for all the details, including more pictures, and where I bought everything?  Head to page two.
[pagebreak]
Halloween Eyeball Flower Favor Packaging Tutorial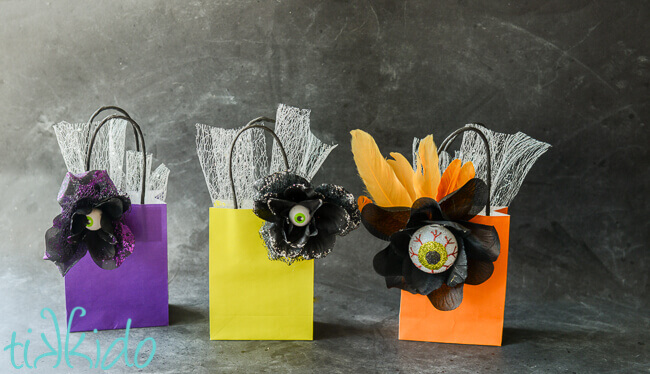 These Halloween eyeball gift bags are small, favor-sized bags, but you could definitely adapt this craft for any size gift bag.  
Materials for Halloween Eyeball Gift Bags:
inexpensive black silk flowers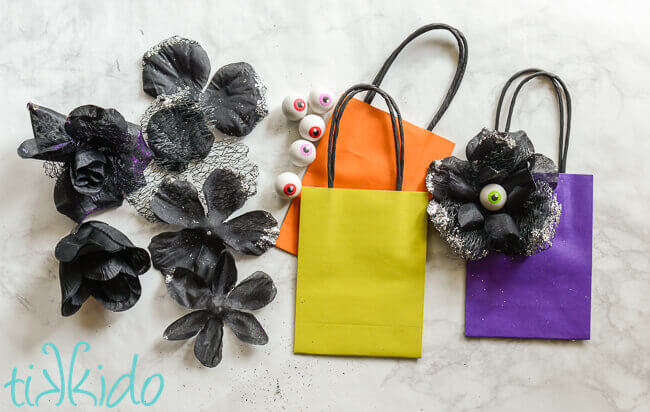 As I mentioned earlier, I found great artificial black roses at my local dollar store.  I also saw some at Michaels, and they weren't too expensive, but it was more than the dollar store version.
Pull apart each artificial rose.  There are plastic bits holding the rose in a more closed shape; discard those.  Glue the rose petals to the gift bag, and then glue the eyeball in the center.
I bought these eyeball erasers at the 99 Cent Only store, and was initially worried that I'd think they were a little too small compared to the flowers I bought, but I ended up thinking they were absolutely perfect in the end.  I liked the smaller eyes better than the larger ones I bought.  I found these very similar ones on Amazon, if you can't find the ones I used at your local dollar store.
The favor-sized gift bags came from Michaels, and are a seasonal item.  I can't find a link to the product on their website, but these available from Amazon are very similar.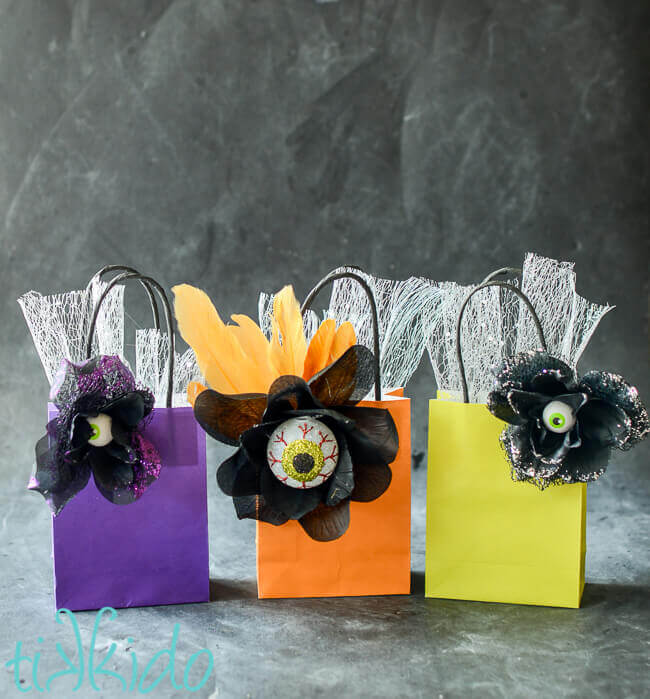 I do want to mention that these bags, when empty, are top-heavy.  They need something with a little weight to keep the bags upright and on display.  I used some chocolates, and that was plenty of weight to stabilize the bags, but if your favor is something very lightweight, you might need to add a stone or something with more heft to keep the favor bags looking their best.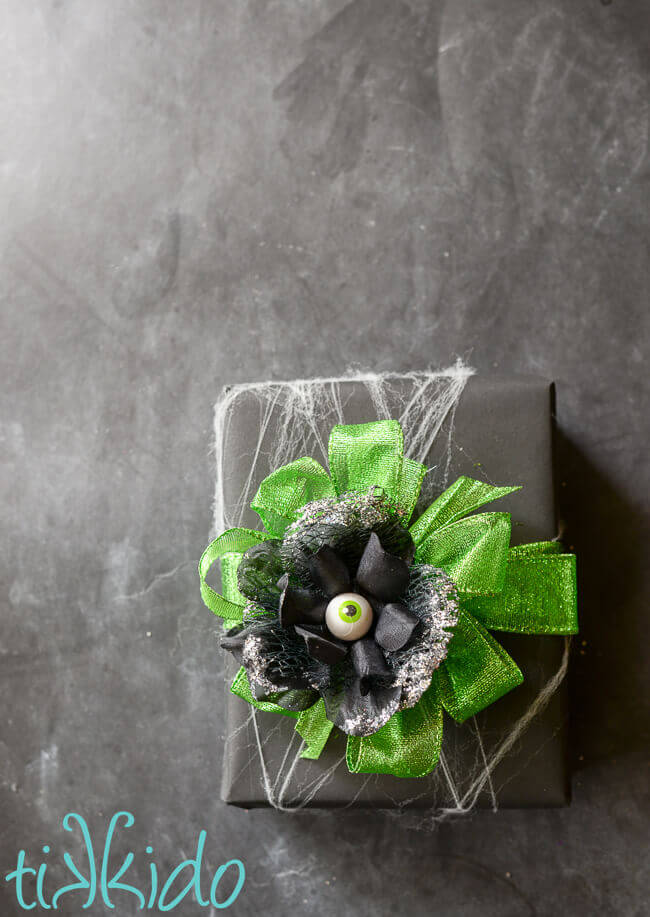 I found this black, matte, chalkboard style gift wrapping paper in the dollar section at Michaels recently.  I stretched a little bit of fake cobweb material over the plain black paper (it's taped on the back), and topped with a basic ribbon bow and one of my eyeball roses.