Printer-friendly version
This month's theme in the Make it Happen Blog Hop is BOOKS!  I love to read, and challenged myself to read at least 12 books this month.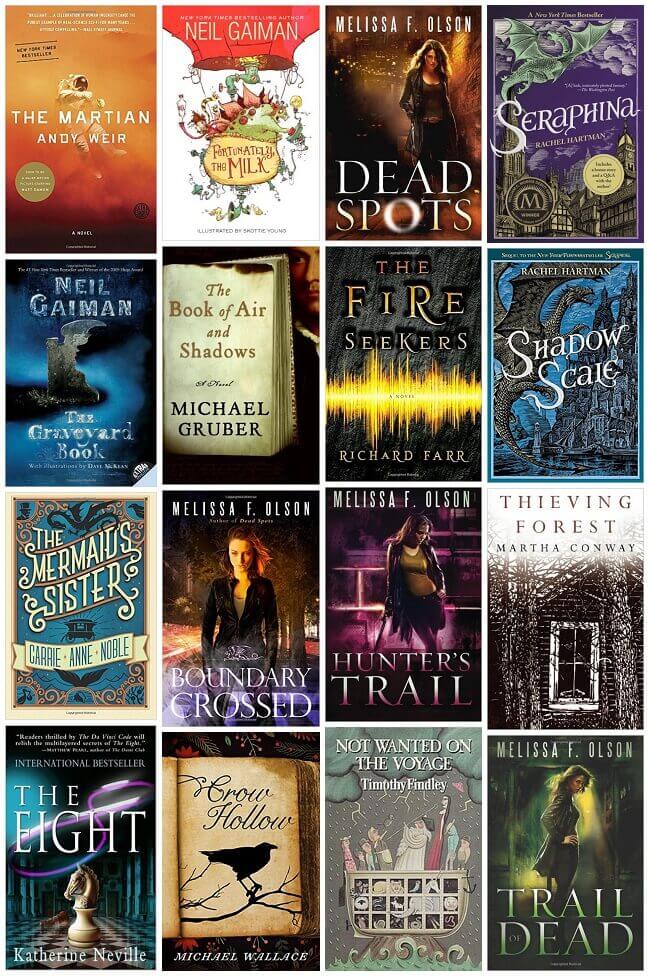 I adore reading, and it's always been my gift.  I was a very early reader (was reading at a college level by age 4), and I'm a fast reader (whole-to-part).  Being able to read 12 (or more) books in a month was not the challenge--but making sure I allowed myself the time to sit down and read was.  It can be too easy to put myself at the very bottom of the to-do list, so this challenge was as much about self-care and prioritization as it was about reading, for me!
There's definitely a mix of stuff in here, and I make no claims about the Literature-with-a-capital-L value of what I read.  I LOVE reading, and read pretty much everything.  No nonfiction in the mix this month, though.  I'll have to remedy that next month.  But YA lit, sci-fi, fantasy, historical fiction, thrillers, I love it all!  No judgment from me about what you're reading.  Ever.  
My goal was 12 books, but when I added in the books I read to my girls, the actual total came to 16.  So without further ado, my July reading list.

The Eight, by Katherine Neville.  I've loved this book for years, since it was first recommended to me by my friend Cynthia in high school.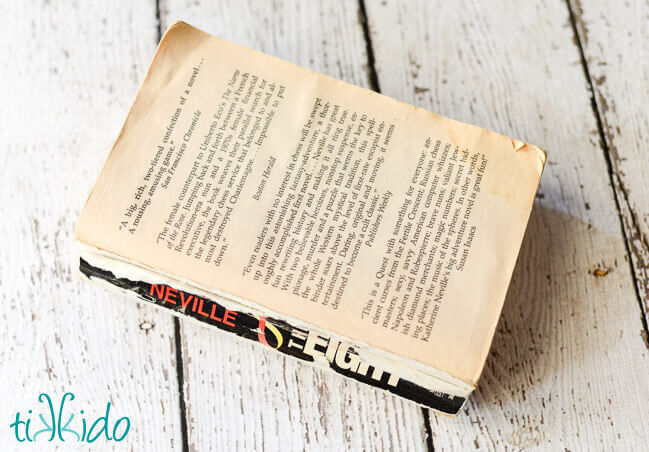 Look at my copy of the book.  That is one seriously used, read, and loved book.  I honestly have no clue how many times I've read it, and it's one of those books I've read so many times that I can open it up to any page at random and start reading from there.  The Eight is an archaeological and historical thriller (I tend to love those!) set in revolutionary France and in 1970s Algeria and New York City, and it has a strong, clever, female central character.  
Fortunately, the Milk, by Neil Gaiman.  This is one of the books that I read to my daughters this month, and it's utterly delightful (as is everything Neil Gaiman writes).  This is a short, whimsical bedtime story that makes me want to invent magnificent tall tales for my children.  A delight.
The Graveyard Book, by Neil Gaiman.  This is another of the books I read to my daughters, a Newberry award winning children's novel from Neil Gaiman.  It's spooky and creepy and quirky without being scary--absolutely perfect for my horror/zombie/ghost loving 6 year old, but even the 11 year old loved the story so much that she made sure to be around for bedtime stories every night.  I actually ended up reading this book twice this month, because I didn't want to wait for bedtime the next night to get the next installment of the story.  ;-)
The Martian, by Andy Weir.  LOVED this book.  Love love LOVED.  I loved the science, I loved how beautifully it was written, and I really loved the actual laugh-out-loud humor.  I kind of don't want to see the movie they're making of this book, because it's so perfect just as it is in my mind.  This is definitely going to become a book that I read over and over again.

The Fire Seekers, by Richard Farr.  This was a free Amazon First book (you get a free e-book each month if you're an Amazon Prime member, which I already am for the unlimited photo backup and free shipping and streaming video).  This was an archaeological thriller, which generally enjoy.  And the book was entertaining enough, though the language was rather stilted and the ending left me a little unsatisfied (and hanging).  It was a good read for a free book!
Seraphina, by Rachel Hartman.  I love fantasy--have since I was little, and never grew out of it.  Seraphina is a well written, thoughtful, interesting fantasy with a nice twist on standard dragon lore and stories.  I really enjoyed this book, and bought the sequel, Shadow Scale, the moment I finished Sereaphina.
Shadow Scale by Rachel Hartman.  On the whole, I liked Seraphina better, but Shadow Scale didn't disappoint.  A thoroughly enjoyable fantasy novel.
The Mermaid's Sister, by Carrie Anne Noble.  Another free Amazon First book.  It started off with tremendous promise, but the twist at the end just didn't do it for me, and the revelation I'd spent the whole book waiting for was...amazingly anticlimatic.  Eh, it was good for a free book.

Crow Hollow, by Michael Wallace.   I don't remember if this was an Amazon First free book, or if Thieving Forest was.  One of them was, and one of them was suggested as something else I'd like by the Amazon algorithim, and was only 99 cents or something (worth the risk).  I liked the historical aspects, the settings, and the characters.  But you don't HAVE to have the main characters hook up EVERY time.  Didn't quite work for me.
Not Wanted on the Voyage, by Timothy Findley.  Possibly my favorite book of all time.  I LOVE this book!  It's out of print, and can be hard to find, but it is so worth the search.  At its core, it's a retelling of the Noah's Ark story, but it is so much more.  Beautifully written, elegantly considered, audaciously imaginative, incredibly thoughtful.  I can't say enough good things about this book.  There's a reason I read it again and again and again.  
Thieving Forest, by Martha Conway.  I know I read this, but honestly, I can barely remember it just a couple weeks later.  Guess that tells you something.
The Book of Air and Shadows, by Michael Gruber.  Another archaeological thriller, but this one is about rare books and manuscripts.  Oooh, tickle this English and Anthropology double-major's heart, won't you?  I also adored the wandering, Life and Opinions of Tristram Shandy, Gentleman style of storytelling.

Boundary Crossed, by Melissa F. Olson.  This was another Amazon First free book.  Honestly, based on the cover art, it doesn't look like something I'd buy not knowing anything about the author.  It's a pretty standard urban fantasy, with a world in which vampires, werewolves, and witches live in a hidden sub-culture.  But it does have an interesting twist, the concept of a 4th class of magical being, a Null--a person who naturally cancels out any magic in her area.  I liked it enough that I looked for more books by the author as soon as I'd finished the book.
Dead Spots,  by Melissa F. Olson.  The sequel to Boundary Crossed isn't available until fall, however, so I instead read a related but separate trilogy of books set in the same world.  Definitely an enjoyable series of books.
Hunter's Trail,  by Melissa F. Olson.  This is actually book 3 in the series.  I got the images in the wrong order--doh!
Trail of Dead,  by Melissa F. Olson.  Book 2 in the series.  
What did you read this month?  I love getting book recommendations!
Be sure to check out the rest of the Make it Happen Challenge: Books Blog Hop bloggers did for their reading challenges!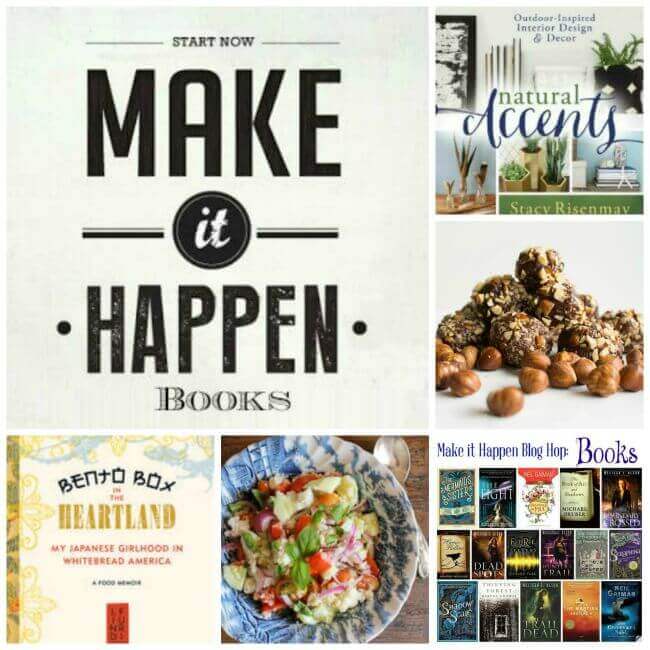 Lauren Caris Cooks:  Lauren made truffles using a German cookbook!
Lauren Kim  Reviewed Stacy Risenmay's new book, Natural Accents.
A Good Life  Read Bento Box in the Heartland and cooked Japanese!