Printer-friendly version
It's almost time for back to school for most of the country!  (And actually, my girls are already back in school; it's a modified year-round schedule.)  Are you doing anything special for your kids' teachers?  How about some sugar cookies to start the year off on a sweet note?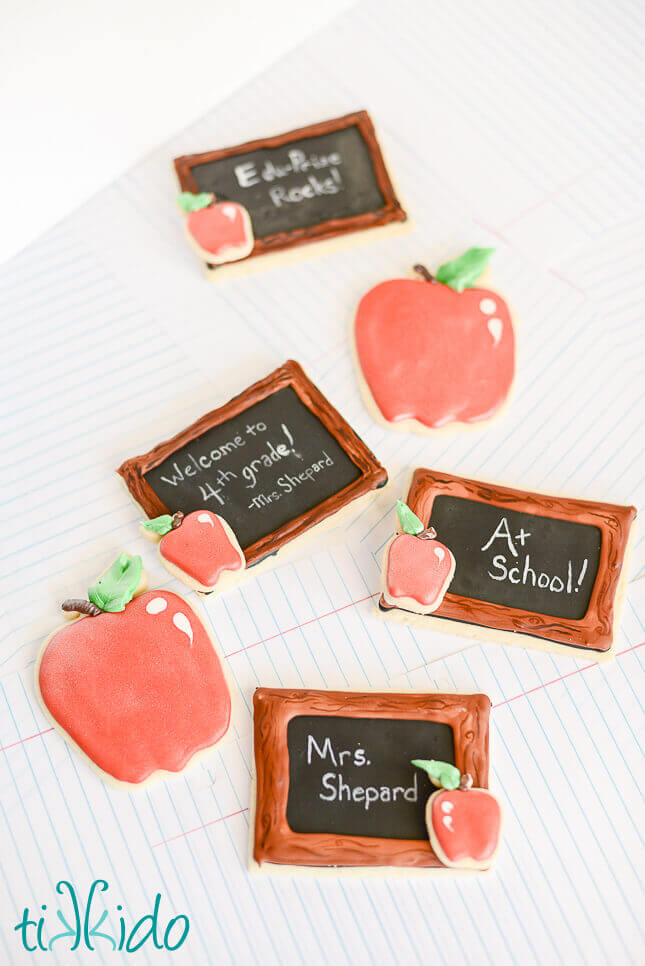 Chalkboard cookies are incredibly easy to make--they're just rectangles, after all!  And they look super cute with little apple cookies layered on top, too.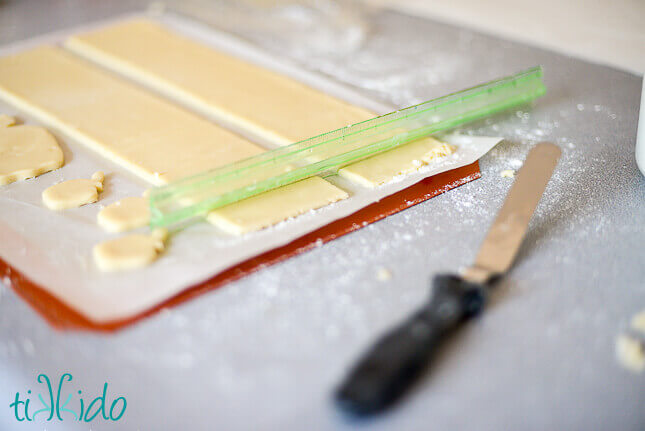 Start by whipping up a batch of sugar cookie dough (here's my very favorite ultimate sugar cookie recipe, including tips and tricks and techniques.)  Roll out the dough, and cut into rectangles.  I used a ruler to create perfectly straight lines and cut my rectangle shapes.  You can make them absolutely any size, though.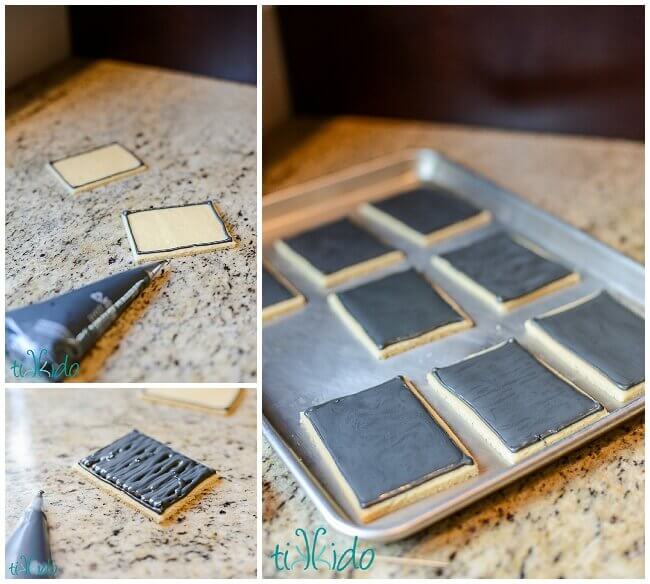 Bake the cookies.  When completely cool, whip up a batch of royal icing, and mix up a nice dark grey color by mixing in some Americolor Super Black gel food coloring.  The icing will dry darker than it looks when it's wet, so don't worry about making the icing completely black.  Flood the cookies with a layer of grey icing.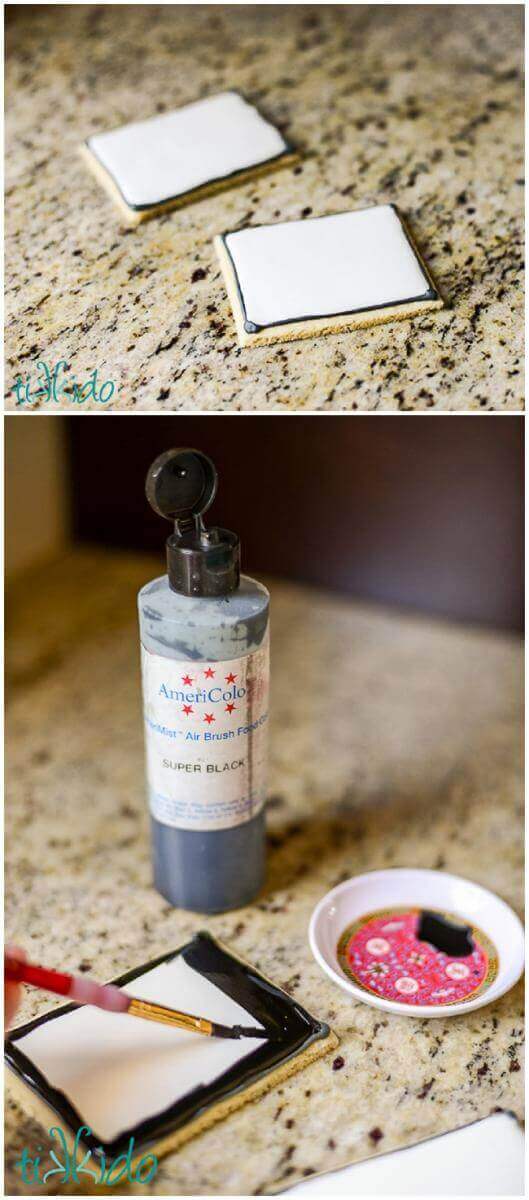 Alternately, you can flood the cookie with a layer of white icing, and after it has dried, you can paint it with Super Black Americolor air brush food coloring (it's nice and thin and perfect for painting).  One bottle will last you forever.  I'll probably be passing it on to my descendants, in fact.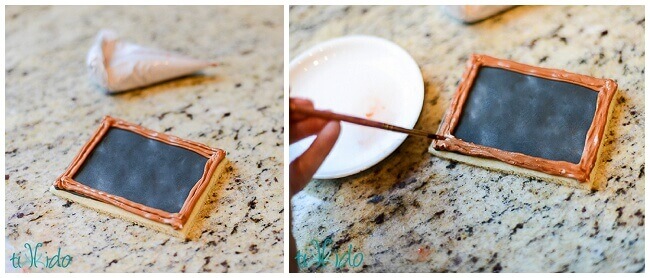 Whichever technique you use for creating the basic black chalkboard, let it dry completely.  
You could use a standard flooding consistency of icing and technique to make the wooden frame, but I wanted a more rustic look, so I decided to use a thicker brown icing.  I piped the frame icing on the blackboard cookie base, and then used a brush dipped in a bit of vodka to paint it down and create a rough wood texture.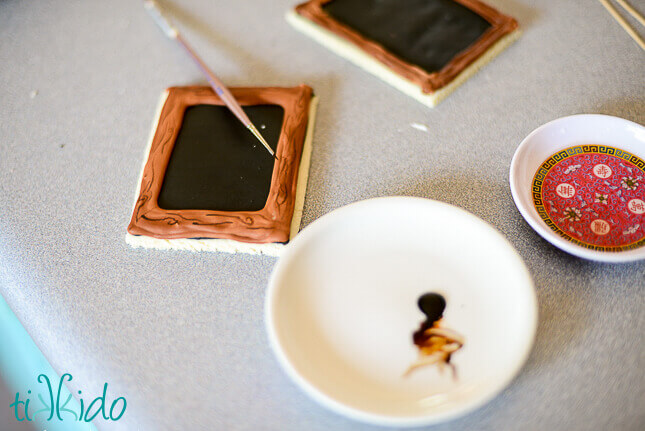 Once the brown wooden frame had dried, I painted on a few swirls and lines of wood graining with a bit of brown gel food coloring thinned with a bit of vodka.  (Why vodka instead of water?  Because it evaporates more quickly, and there's less chance that you'll accidently get the cookie too soggy and have unexpected and unfortunate things happen to the work you've already done.)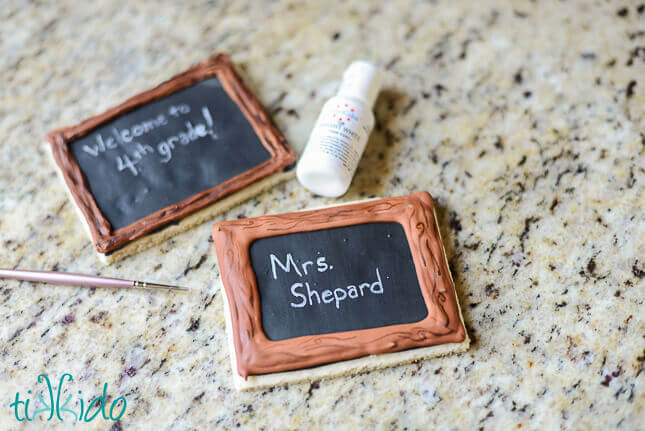 I painted on some messages with a paintbrush and Americolor white gel food coloring (not thinned, this time).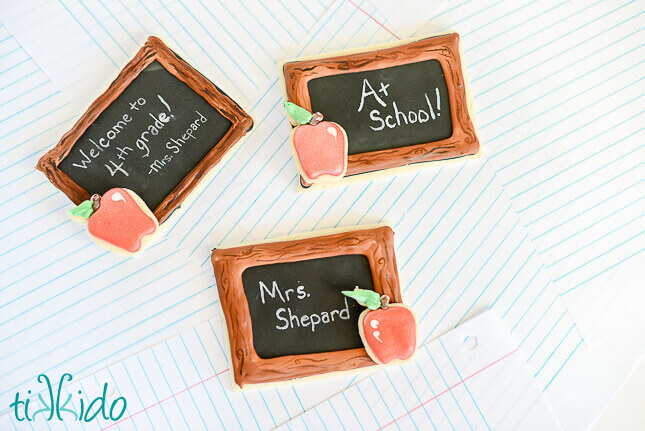 The chalkboard were cute on their own, but were even more awesome with some miniature apple cookies added!  (These chalkboard cookies also make super cute Anne of Green Gables cookies.)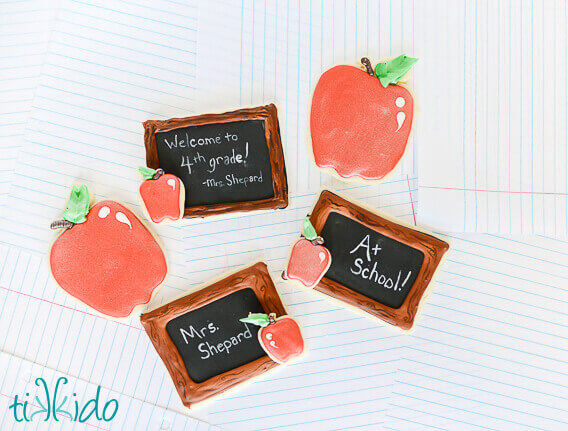 I never seem to want the summer to end, but these back to school cookies do certainly help make the transition more fun.