Printer-friendly version
This August, I was delighted to have the opportunity to create a baby shower to welcome a new little girl into the world. When the hostess told me that the theme was The Secret Garden, I was utterly delighted. That Frances Hodgson Burnett novel had been one of my very favorites when I was young. Turns out, the theme wasn't actually a reference to that children's book, but I still used it loosely as my inspiration to create a magical scene of a garden that felt almost like something from another world.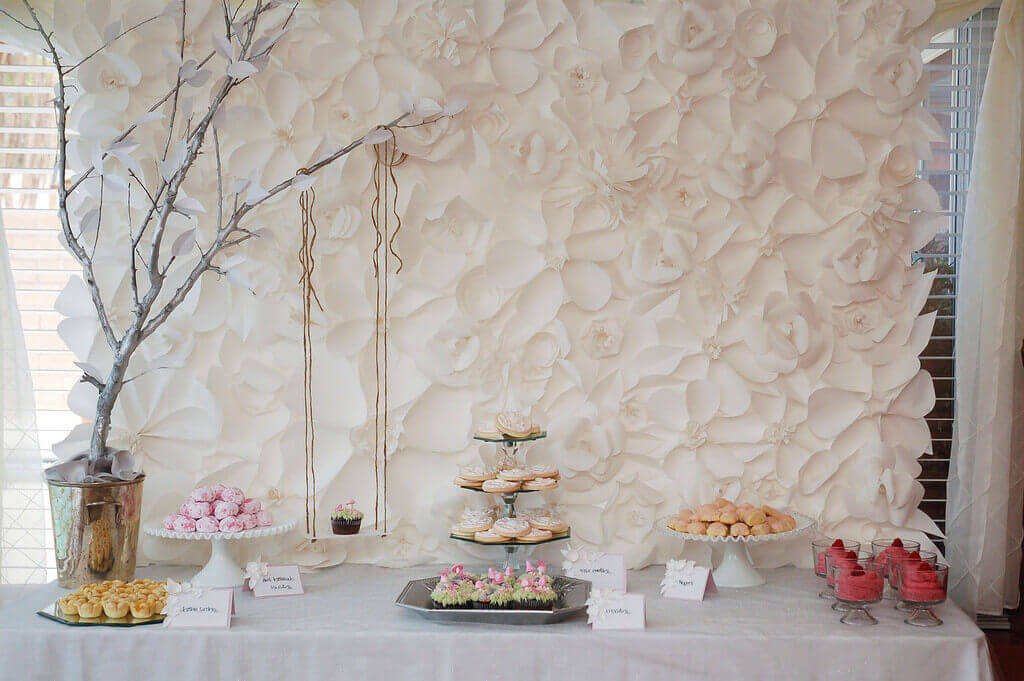 I immediately thought of the Chanel 2009 runway show, and knew what I wanted to do for my backdrop. A garden wall of paper flowers, all white. I wanted to play with texture, with light and shadow, more than color for this party. If you want to make it for yourself (and for under $20!),
head over to the tutorial
.
I wanted pink to be the predominant color of the desserts (it was a shower for a little girl, after all!)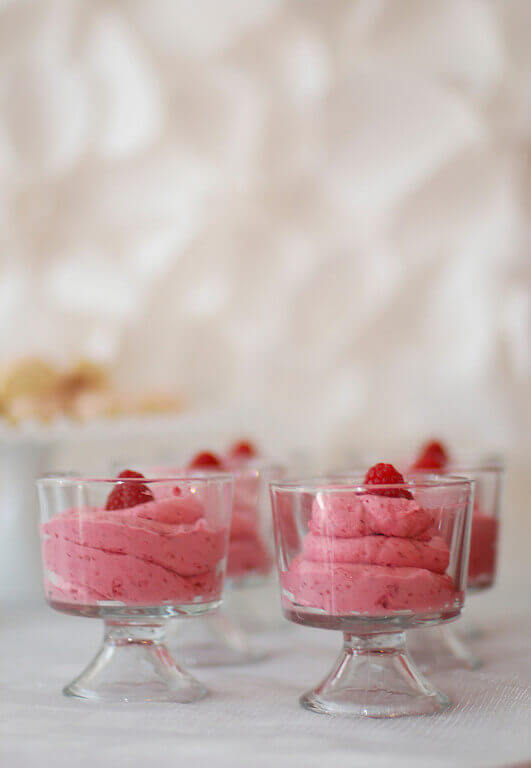 Raspberry mousse is a delicious, delightfully pink dessert. And any excuse to use my mini trifle dishes is a good one!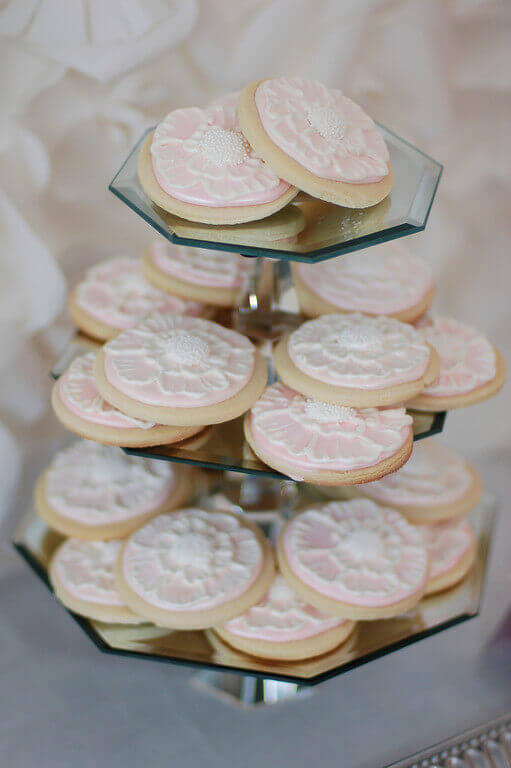 The brush-embroidery cookies were so easy to make, and looked so amazing (if I do say so myself!)! I also love how my mirrored cake stands came out, and I can't wait to share the tutorial for those as well. They added just the right sparkle and flash to the display.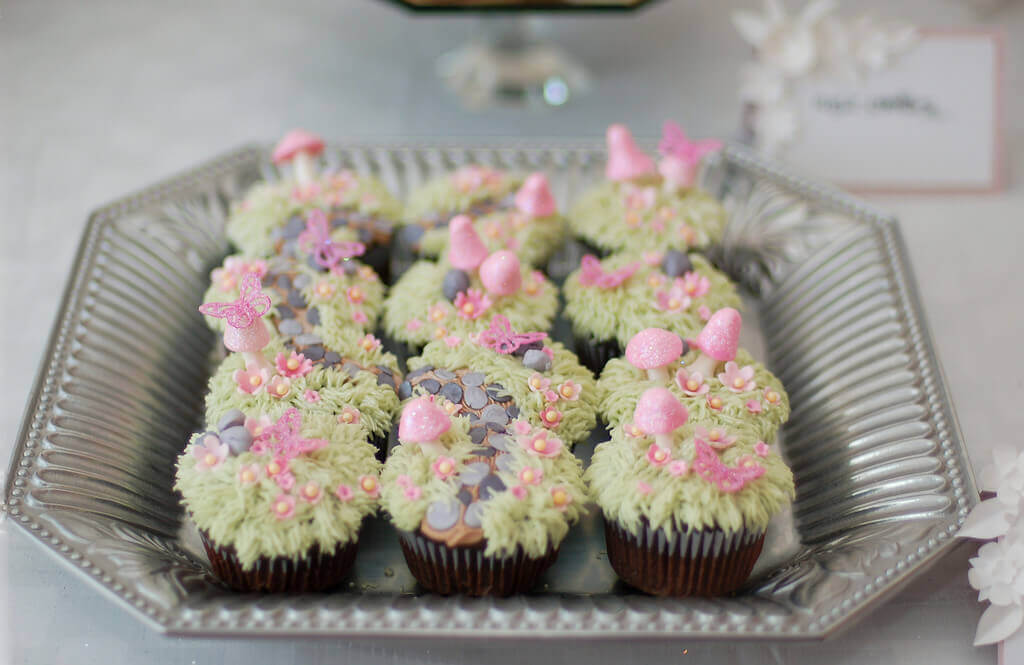 The cupcakes were inspired by
Zalita of Cupcake D'Lights
. Her cupcakes always astound me, and are so amazingly creative and detailed. Head over to her Flickr stream for some serious beauty and inspiration.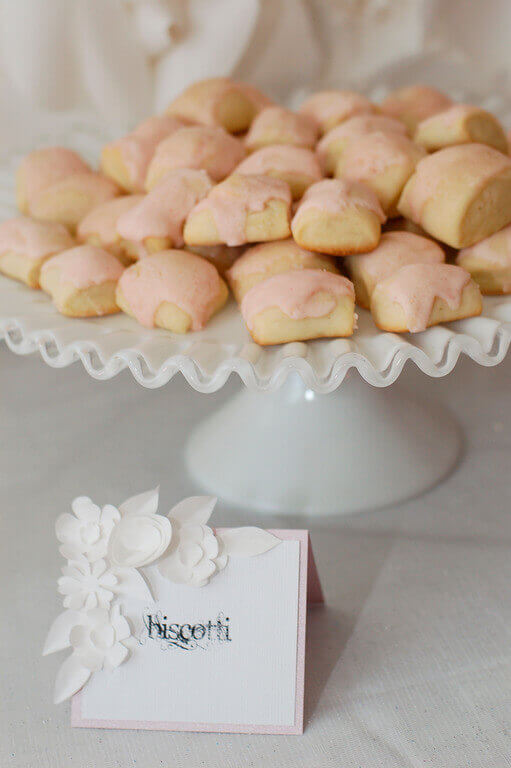 When thinking about pink confections, I remembered these biscotti. Pink pillows of deliciousness with a light vanilla and anise flavor. The subtle sweetness of this traditional Italian recipe is absolutely addictive. Good thing the recipe made a huge batch--plenty of cookies for me to taste test. You know, for quality control. Many thanks to the Zappanti family for sharing their family recipe with me for this party!
I carried the paper flowers theme through the table tents as well, using simple paper punches to create a miniature version of the backdrops. Wouldn't these make absolutely stunning place cards for a wedding?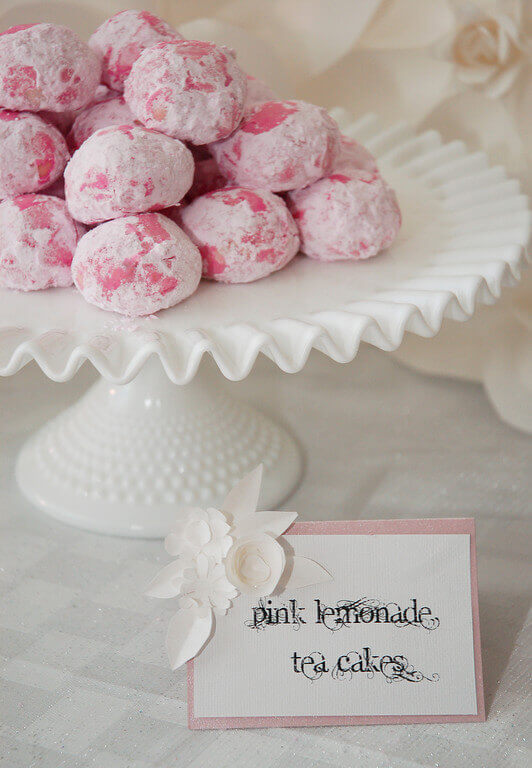 Pink Lemonade Tea Cakes were a fun and successful experiment. I created the recipe as a riff on Russian Tea Cakes/Mexican Wedding Cakes. All that buttery, tender goodness with a bright citrus flavor and pretty pink color. Want to learn how to make them for yourself? Here's a
tutorial and the recipe
!
The
lemon tartlets
weren't pink, I know, but the flower shape and lemon flavor made them irresistible for the party.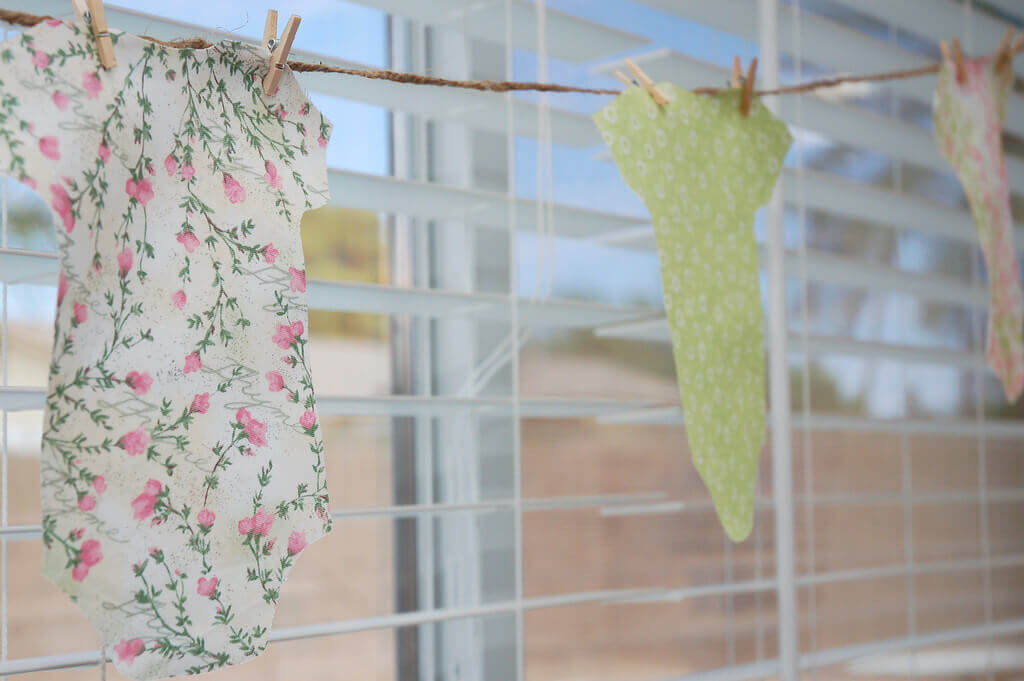 This was a baby shower, after all, so I created this simple, but utterly adorable onesie bunting.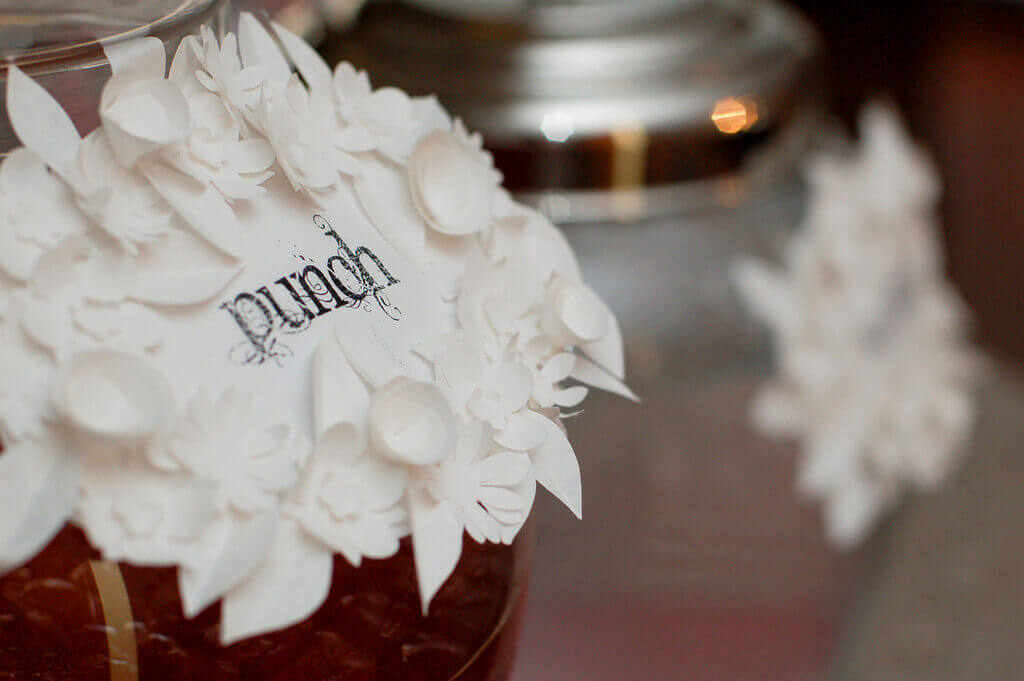 The beverages had white-on-white textural floral signs, too.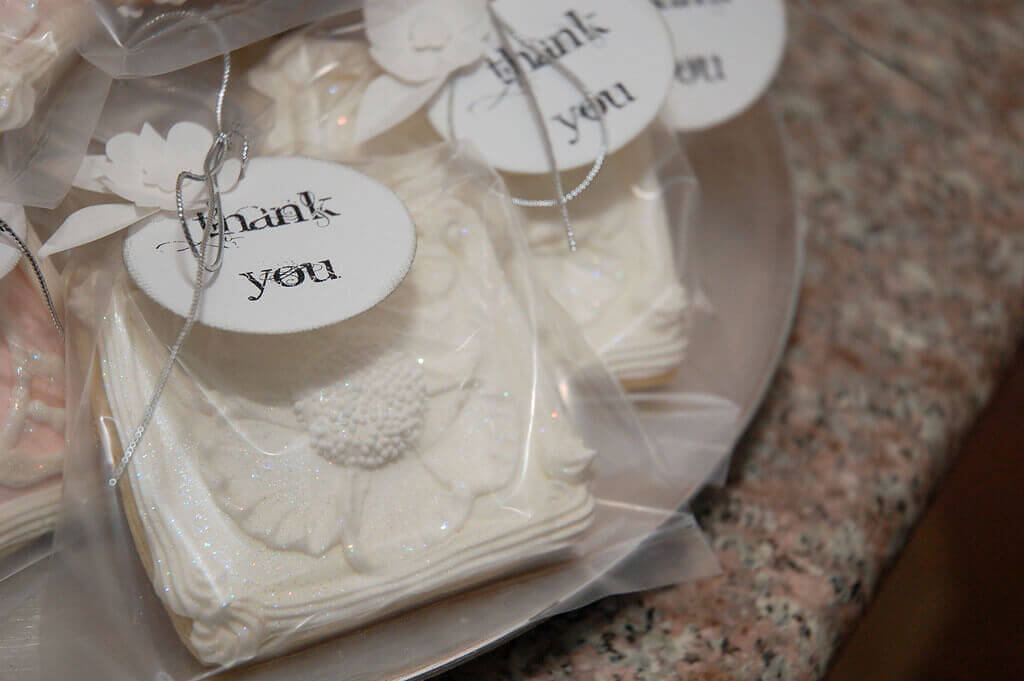 As did the simple thank-you tags. It's amazing how much elegance and dimension one little paper flower can add to a package!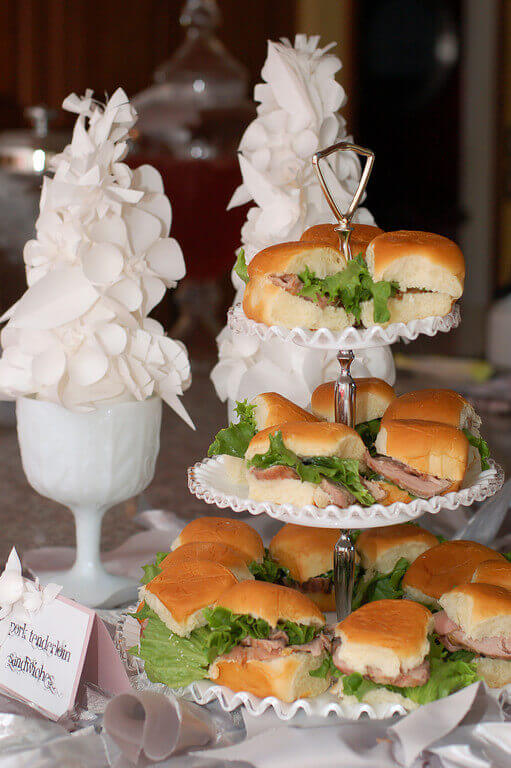 Savory snacks included pork tenderloin mini sandwiches with a horseradish mustard spread.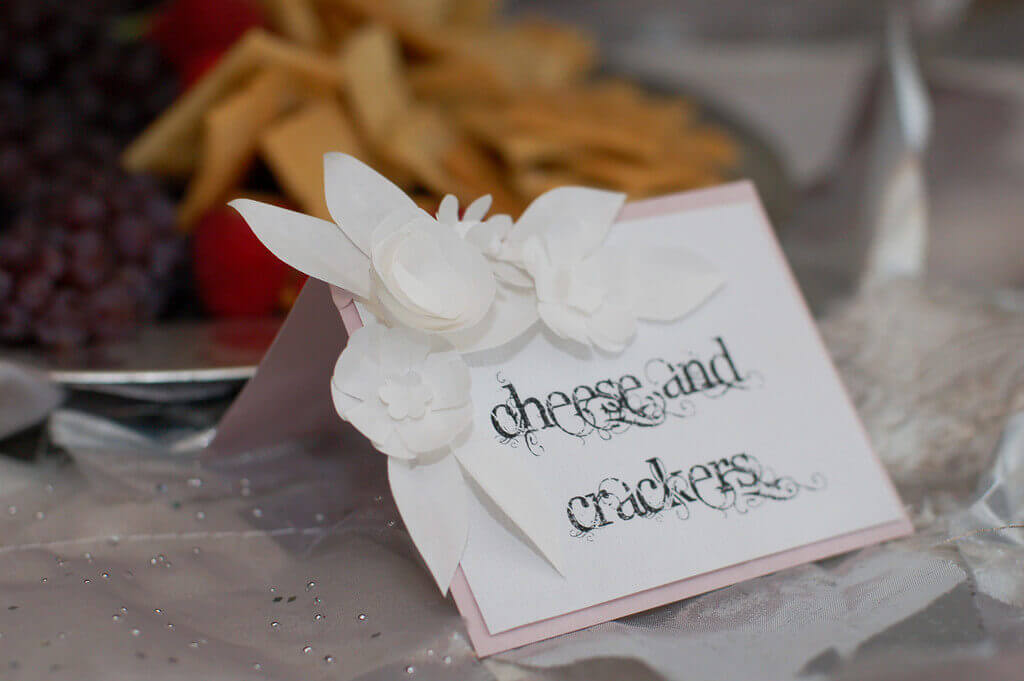 Cheese and crackers are so much more special when the crackers are
homemade rosemary sea salt crackers
, and the plate is garnished with adorable miniature champagne grapes and raspberries.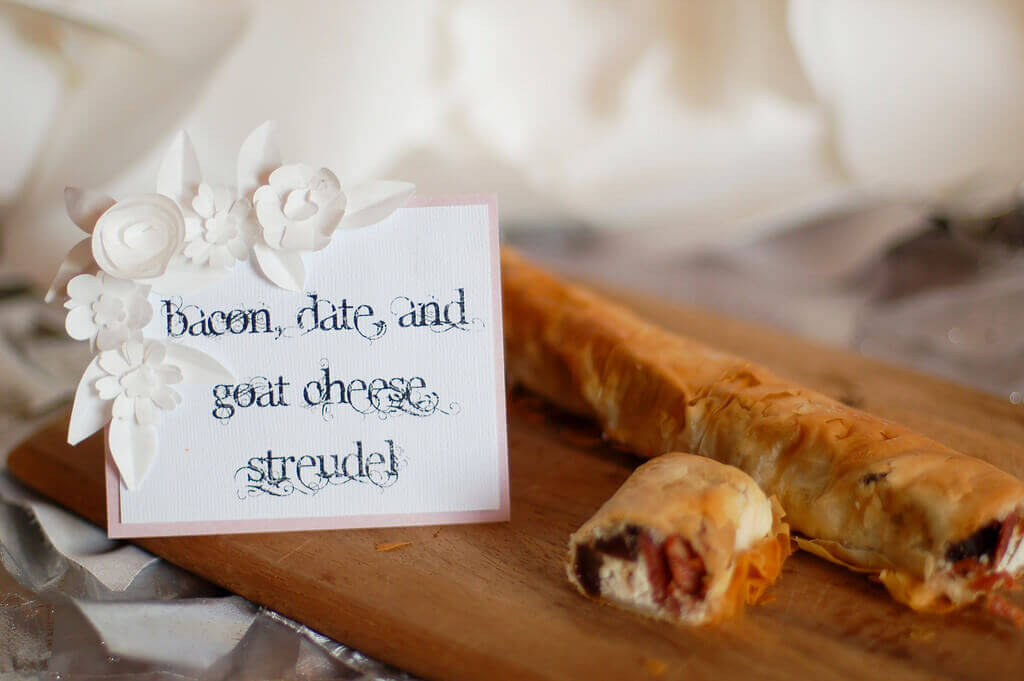 The bacon, date, and goat cheese streudel was a huge hit, and was so simple! It's a great make-ahead appetizer.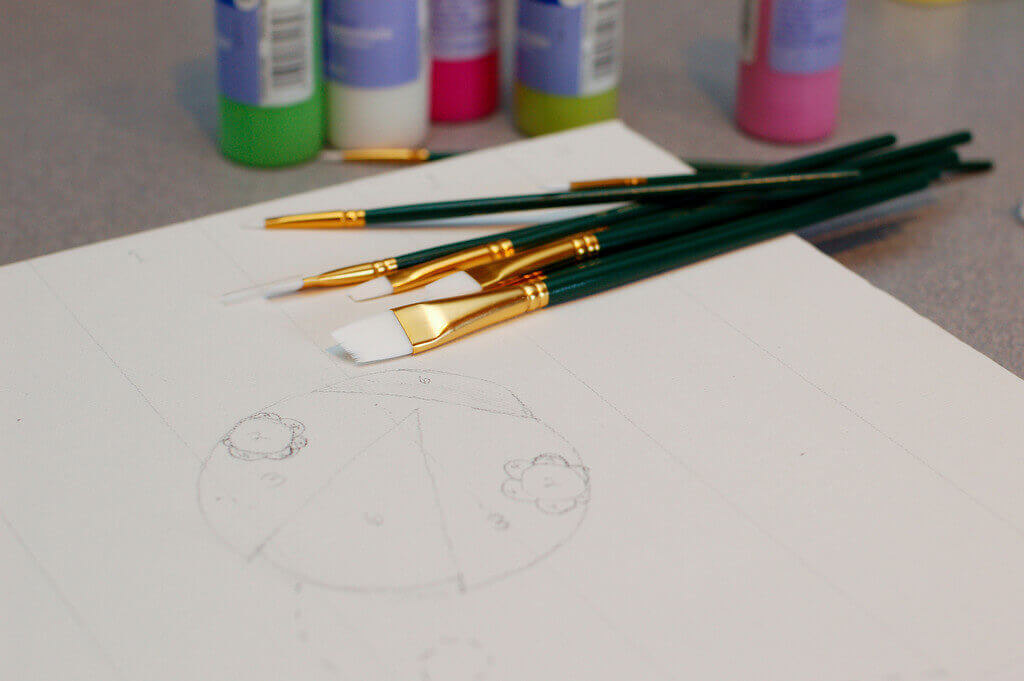 For an activity, I came up with the idea of making custom paint-by numbers canvases. The design was inspired by the bedding the mother-to-be had registered for. Each guest at the party could paint a piece of the picture using the easy color-coded canvas and paints.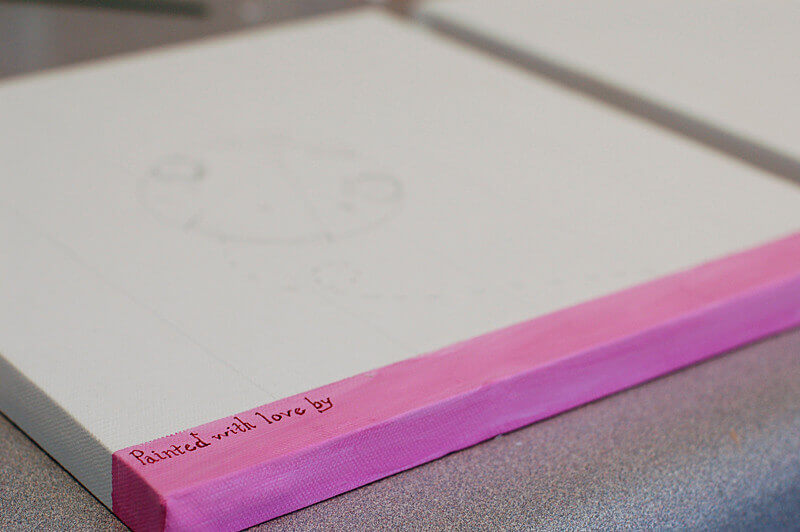 And after adding their contributions to the artwork, the guests signed the canvas. An activity, a gift for the parents, nursery decor, and a loving memento of the people who came to celebrate the new baby, all rolled into one!
I'll be starting the series of how-tos for this party tomorrow, so be sure to come back for lots of great info!
And I have to note that this post marks the one year anniversary of my blog. What a marvelous adventure this has been so far. Thank you so much to all my readers for your comments, support, and friendship. Here's to many more years to come!