Printer-friendly version
Is there anything better than mini lemon tarts?  Tiny, bite-sized tartlets filled with lemon curd can't be beat for flavor, but I do know a way to make them even more amazing: by making the mini lemon tarts look like adorable little flowers.
How cute are those little lemon beauties?  I do have a thing for cute food.  And miniature things of all sorts.  And lemon.  
Materials and Ingredients for Making Mini Lemon Tartlets:
Start by whipping up a batch of your favorite sugar cookies.   I've posted my favorite No Fail Sugar Cookies recipe here.  Use a small flower shaped cookie cutter to cut out the dough.   The size of the cutter doesn't matter all that much; if it's bigger than the one I used, the walls of your tartlet crusts will just be a little taller.  It just needs to be larger in diameter than the bottom circle of the mini muffin tin.  The cutter I used actually came from a Wilton gum paste rose cutter set.
Push the flower shaped cookie dough into the cavities of a nonstick mini muffin tin.  Now here's the secret to getting the perfect mini tartlet shape:  put the entire loaded muffin tin in the freezer.  I like to do this step ahead of time (even days ahead of time), because you want the dough to freeze solid.  If you're doing this all in one day, give the unbaked cookies at least 45 minutes in the freezer.
Preheat the oven to 350 degrees, and put the muffin tin in the oven straight from the freezer.  By baking the cookies from a frozen state, they'll keep their shape absolutely perfectly.  No puffing out in strange ways or shapes.
Bake for 10-12 minutes, or until the edges of the cookies turn a light golden brown color.  Let cool in the muffin tin, and then pop them out.  Those nonstick tins are awesome for this purpose, and a silicone mini muffin tin would probably work even better.  But if you have some old mini muffin tins without the nonstick coating around, those totally work, too.  Just grease the tin before putting the cookie dough flowers in.
Fill the mini tartlet shells with whatever sounds delicious to you.  Lemon curd, or a vanilla cream (topped with a raspberry?), or a cheesecake filling, or Nutella, or...  you get the idea.  
They were the stars of Mary's High Tea Birthday Party!  The itty, bitty, lemony, delicious stars.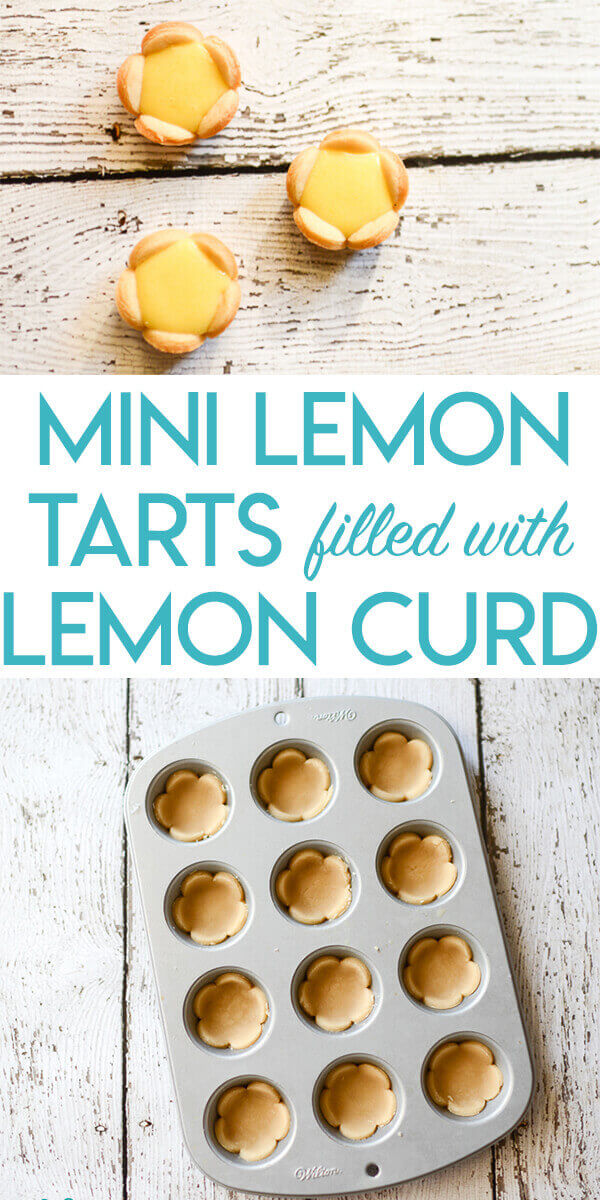 Other Lemon Recipes You Might Like: