Printer-friendly version
I like chocolate, don't get me wrong, but the way to my heart is with caramel.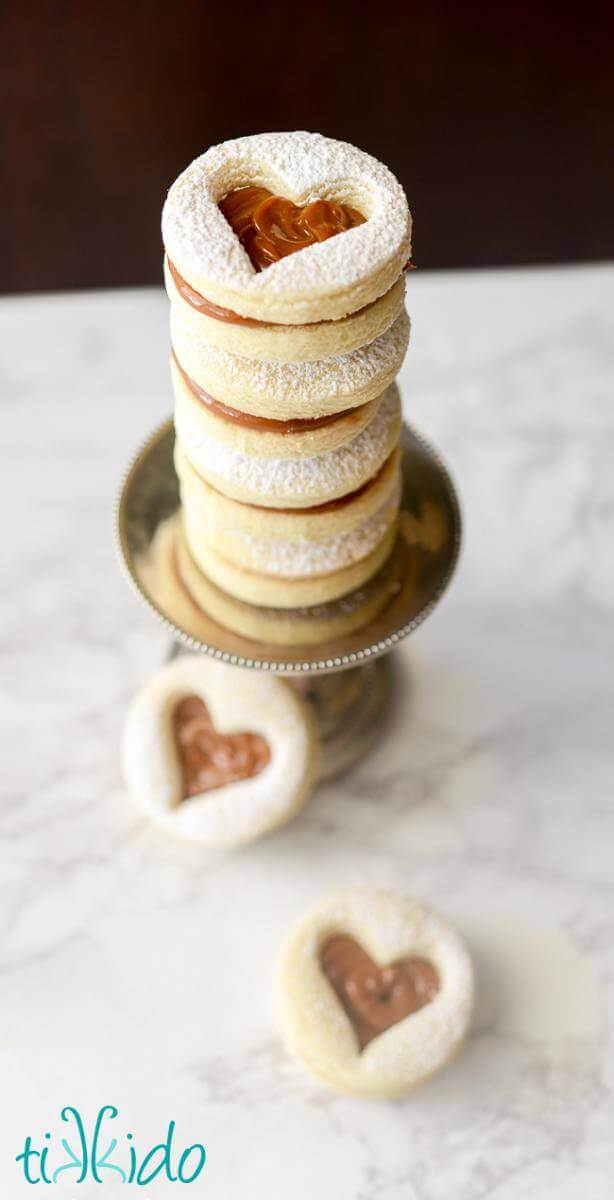 I've wanted to make south American alfajores cookies for a long time.  They're a delicate, biscuit like cookie sandwiched with a layer of creamy, delicious dulce de leche (sort of a caramel).  I decided that Valentine's Day was a great excuse to make a batch of these delectable caramel treats, and got baking.  We're in phase three of a multi-year kitchen renovation project, so our kitchen is kind of torn up right now, but let me tell you, these cookies are worth the effort, even in the midst of kitchen construction chaos.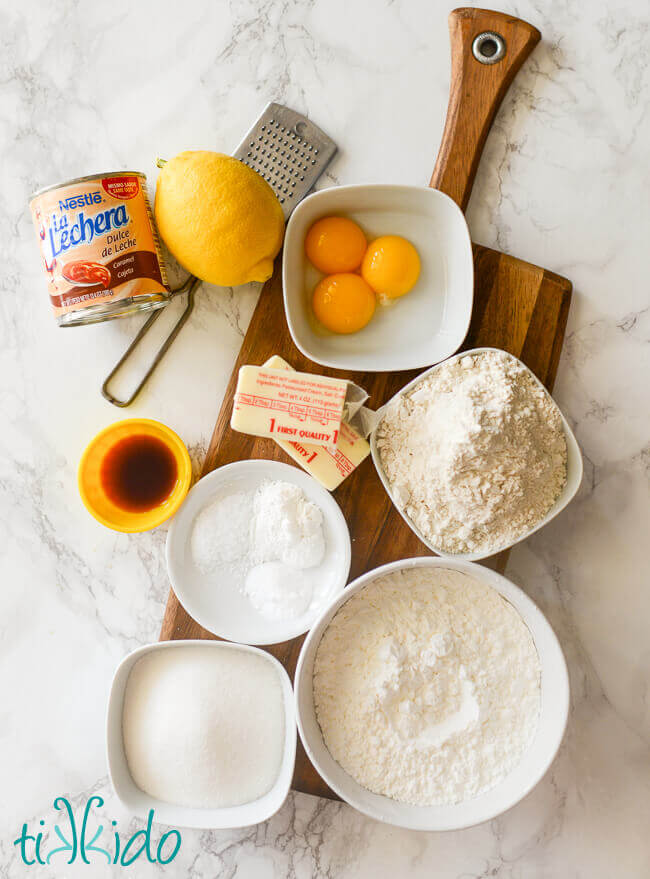 Alfajores Dulce De Leche Sandwich Cookies Recipe:
1 1/2 cups flour (200g)
2 1/8 cups cornstarch (300g)
2 teaspoons baking powder
1/2 teaspoon baking soda
1 teaspoon salt
14 Tablespoons butter (200g), softened
3/4 cup (150g) sugar
grated lemon zest
3 large egg yolks
2 teaspoons vanilla
one can dulce de leche, for filling the cookies.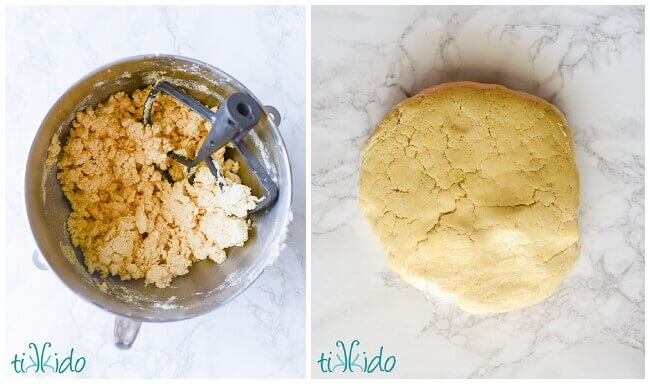 I used the wonderful recipe from Pretty. Simple. Sweet. to make my alfajores, with only one small tweak: adding a bit of salt to the dough.  Maybe that's not absolutely traditional, but I think it makes a huge difference in how delicious baked goods are.
Cream the butter and the sugar together, then add egg yolks and vanilla, and beat until well combined.
Sift together the dry ingredients, and add to the previous mixture, stirring just until combined.
My dough was too dry to come together properly (maybe my egg yolks weren't large enough?  Maybe my flour was extra dry here in Phoenix?  Who knows.).  I simply added water, one tablespoon at a time, until the dough came together.  It still looked a bit crumbly in the bowl, but when pressed together, it formed a nice, rollable dough.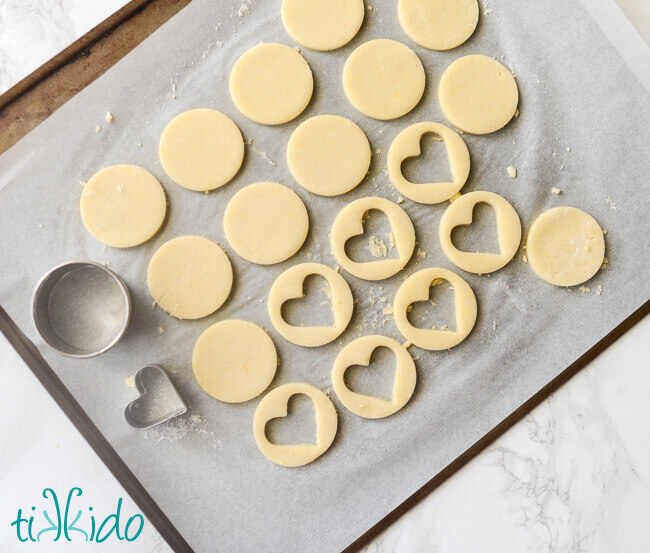 The recipe I used counseled chilling the dough twice--once before rolling it out, and once after cutting out the shapes.  Instead, I used my favorite Ultimate Sugar Cookie technique:  I rolled out the nice, soft, pliable dough on parchment paper, cut out the shapes, and then froze the cut out cookies solid (I left them in the freezer for a couple hours).  I find this so much easier than rolling out chilled dough, and the cookies bake spectacularly straight from the freezer.  It helps them hold their shape, and it allows me to fit in the different parts of my baking project where I can fit them in during a day or week.
Bake the cookies at 350 degrees for 8-10 minutes.  My cookies needed the full 10 minutes since I was baking them straight from the freezer.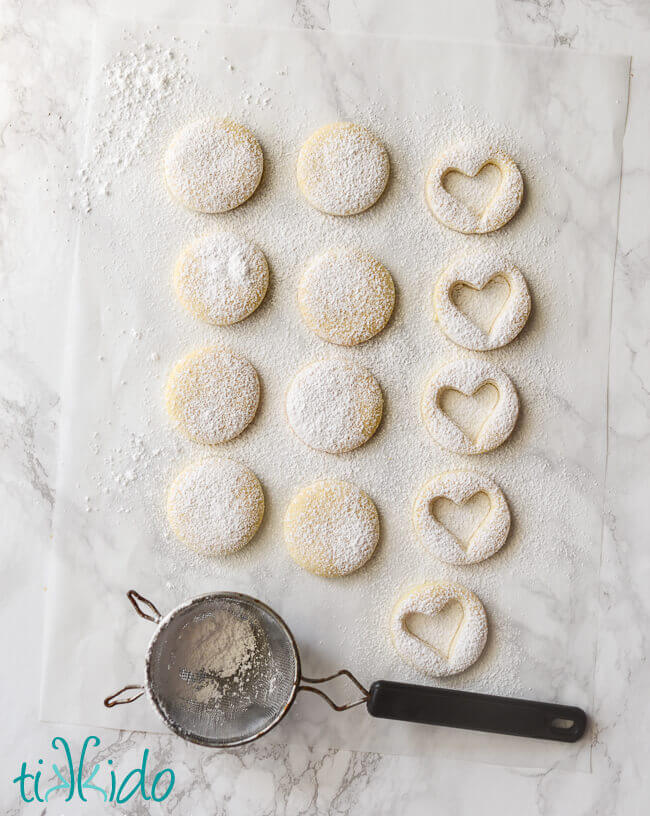 Once the cookies have cooled, dust with powdered sugar.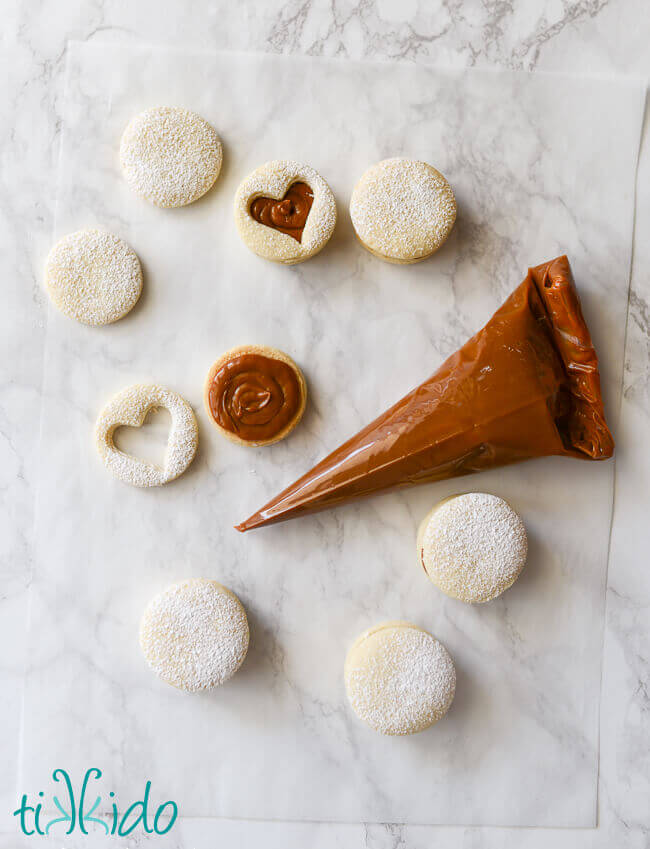 And fill with that amazingly delicious, caramel-like substance, dulce de leche (I just buy mine at the grocery store rather than making it myself out of sweetened condensed milk).  You could spread the dulce de leche with a knife, but the cookies really are delicate and the filling very thick and sticky, and I found it much easier to apply a nice, even coat of the caramel by putting it in a disposable pastry bag.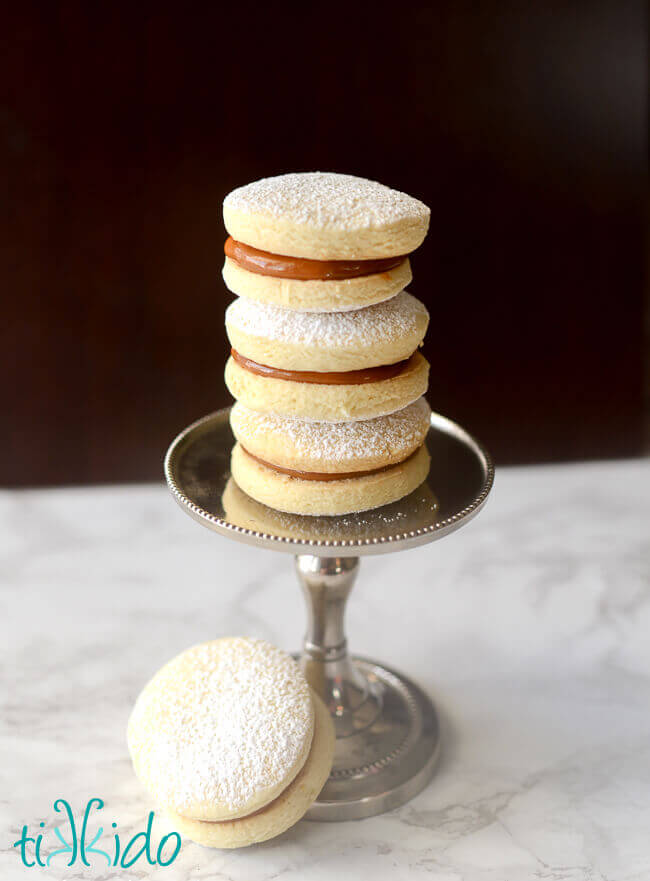 Just look at those beauties!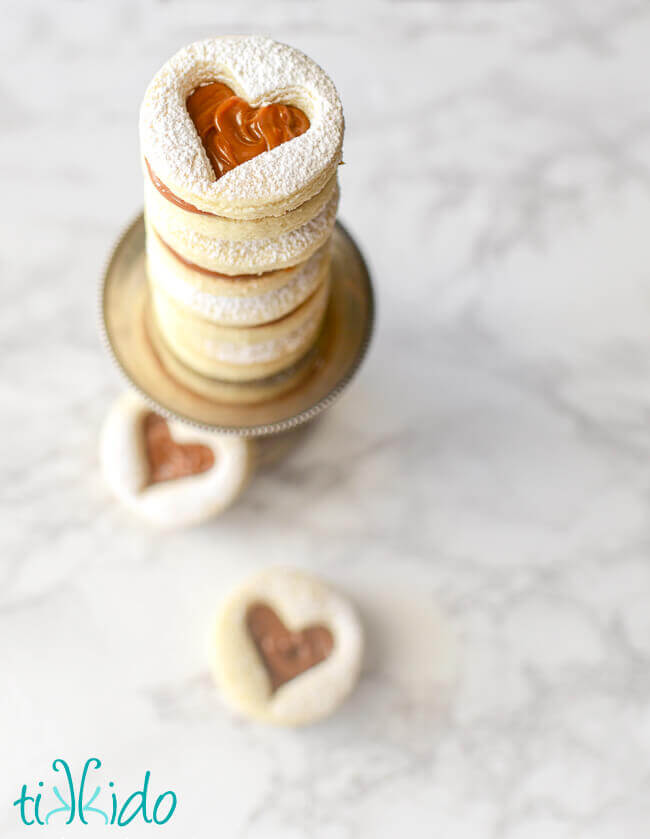 The heart cutouts aren't traditional at all, but I thought they'd be a fun touch for Valentine's day.  And an accurate visual representation of how much I LOVE these cookies.  It's a good thing this makes a large batch of cookies, so my husband will have a chance of getting some of them on Sunday.  
Want a printable, one page PDF version of this recipe?  Here you go:  Alfajores Dulce De Leche Sandwich Cookies Printable Recipe