Printer-friendly version
I had three egg whites left over after making alfajores dulce de leche cookies last week, and I immediately thought of making meringues.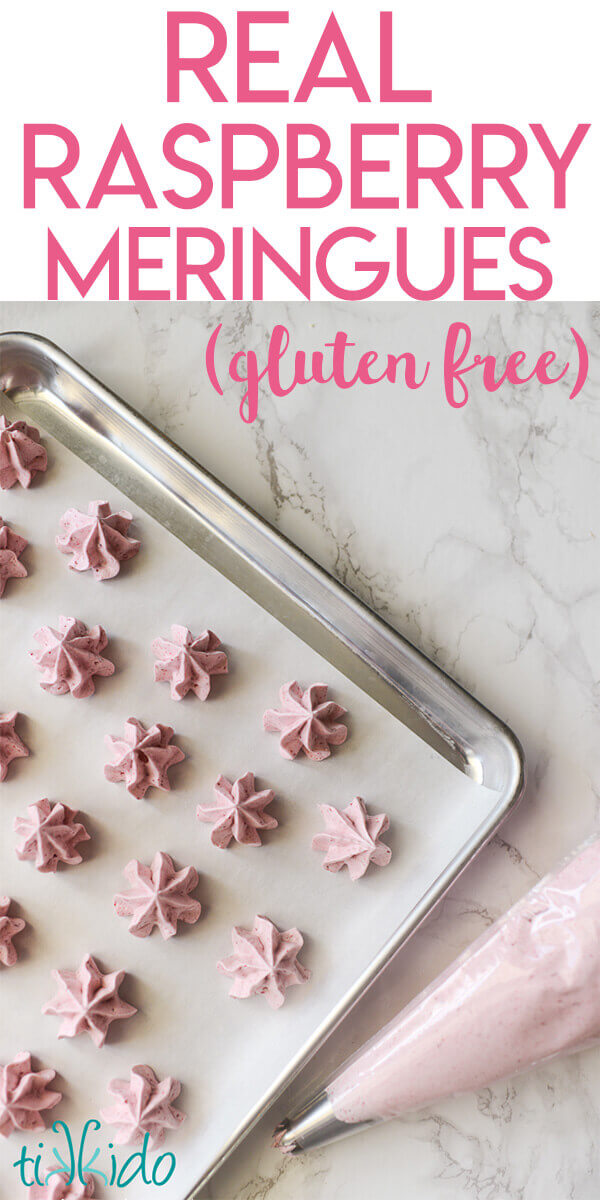 They're quick, easy, and the girls love having them in their lunches.  But I thought it would be fun to try making a flavored meringue this time--raspberry, in honor of Valentine's day.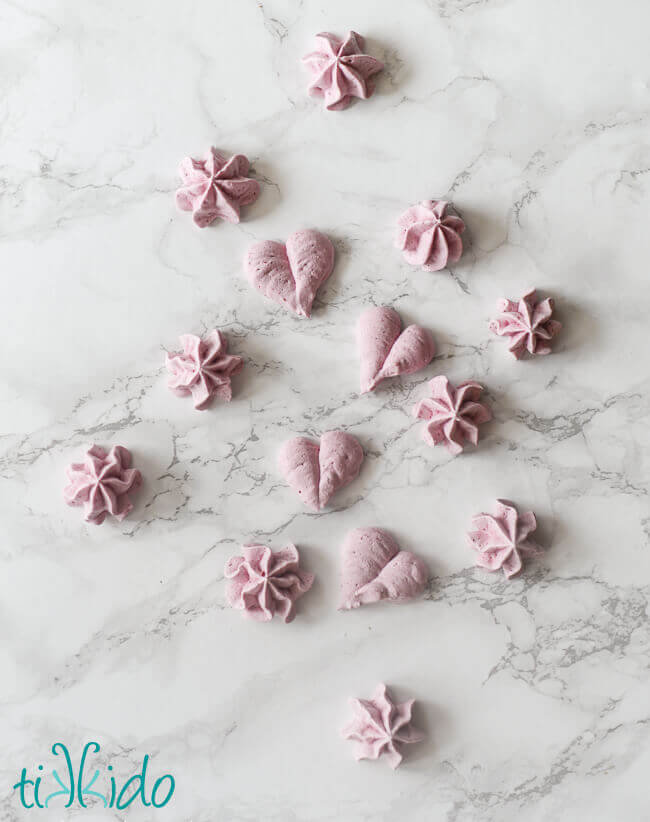 Light and sweet and crunchy, perfectly pink, and full of intense raspberry flavor, this experiment was a success!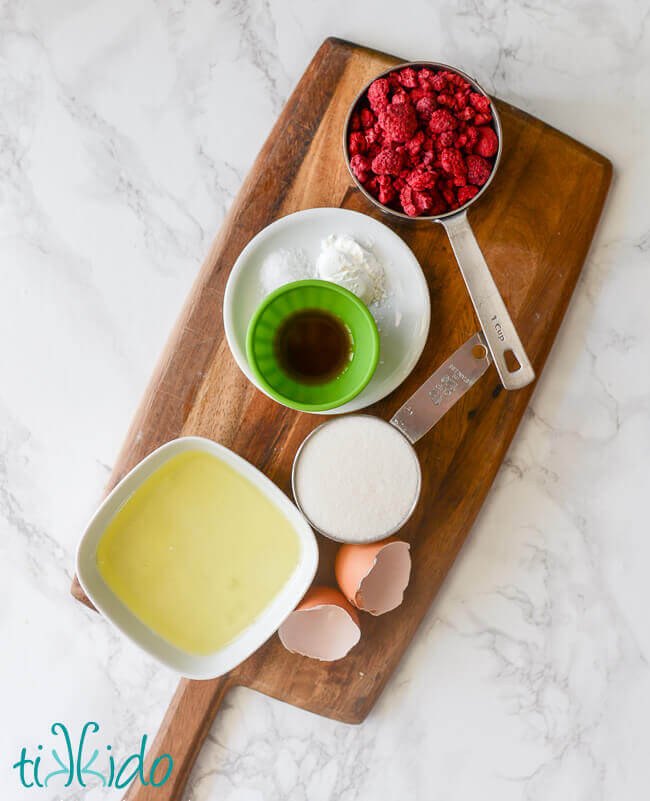 Raspberry Meringues Recipe
egg whites from three eggs
1/4 teaspoon salt
1/2 cup sugar
1 teaspoon cornstarch
1/2 teaspoon vanilla
1/2 teaspoon vinegar
1 1/2 cups freeze dried raspberries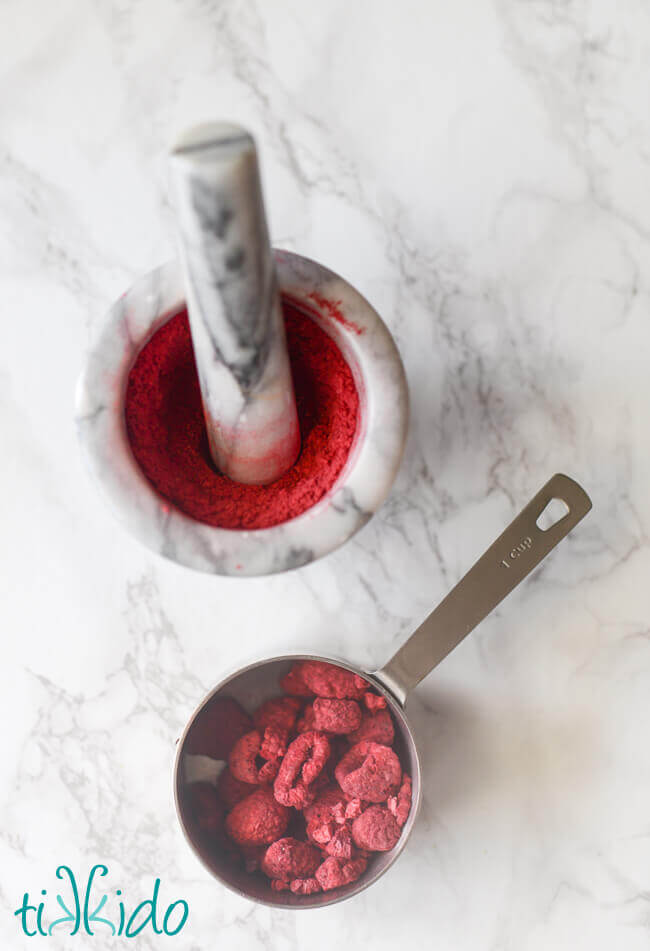 The key to this recipe is the use of freeze dried raspberries.  I feared that fresh raspberries would have so much moisture content that it would completely throw off my tried and true meringue recipe, but I had a large can of freeze dried raspberries from Honeyville.  I absolutely LOVE baking with freeze dried fruits.  They add such an intense punch of flavor without making the food (cake, muffin, scone, whatever) soggy.  
I could have used the whole freeze dried raspberries, but I wanted to get a nice, even pink color, so I used a mortar and pestle to grind the raspberries into a fine powder.  It only took a few seconds; the freeze dried raspberries pulverize really easily and quickly.  There were still some raspberry seeds left in my pulverized raspberry powder, and I think next time, I'd use a fine mesh strainer to remove those.  They added some extra crunch I wasn't quite expecting to my meringues.  Still delicious, but next time I'll take that extra step to remove the seeds.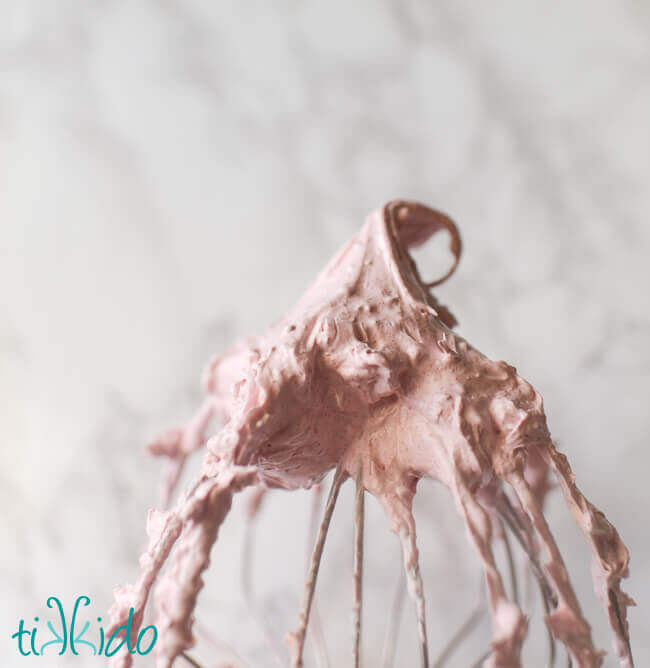 In a perfectly clean mixer, use a whisk attachment to whip the egg whites until they turn into fluffy foam.  Add sugar, a little at a time, and beat.  Add the vinegar and vanilla and beat until the mixture makes firm, shiny peaks.  Mix in the raspberry powder.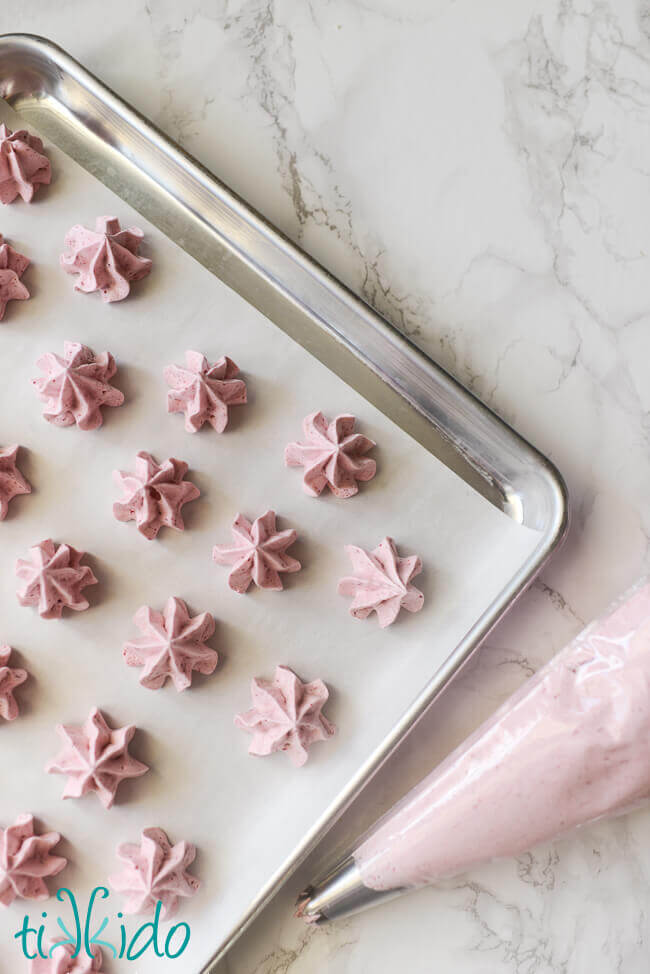 Pipe shapes on a baking sheet lined with parchment paper.  I used a large star tip for most of my raspberry meringues.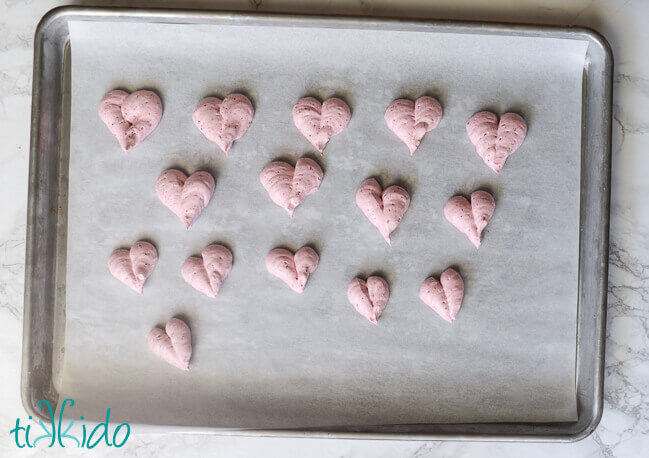 I decided to make a few heart shapes, too, for Valentine's day.  Those looked way better made with a regular round tip instead of my large star tip.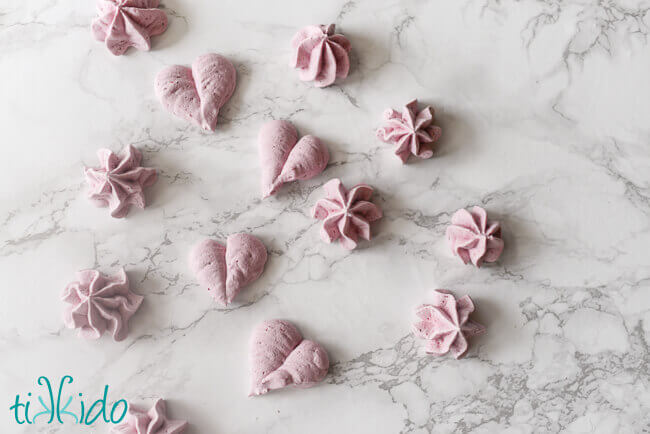 Bake at 200 degrees Fahrenheit for 1 hour and 30 minutes.  Turn off the oven, but don't open the door!  Let the oven cool down completely before removing the meringues.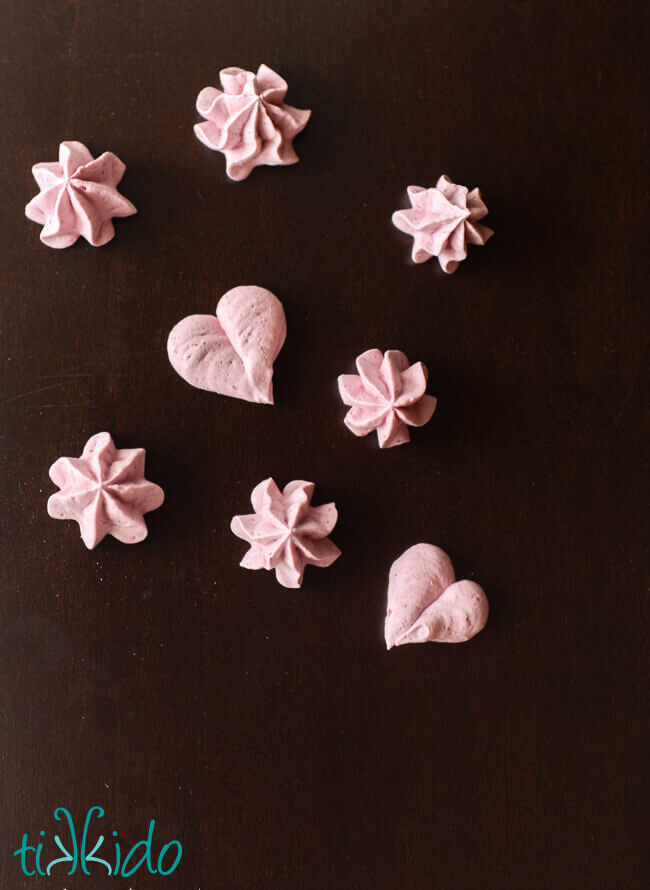 These treats are naturally gluten free, and are light and crunchy and delicious.  And the fruit flavor is really magnificent and delicious!  I dislike most artificial fruit flavorings, but this is pure raspberry.  REAL raspberry.  And it's fabulous beyond all expectations.  I can't wait to use this technique to make a raspberry Italian meringue buttercream!