Printer-friendly version
Homemade whoopie pies are like giant, soft Oreo cookies--two intensely chocolatey, cake-like cookies sandwiching a fluffy, old-fashioned vanilla filling.  This Amish whoopie pie recipe has been one of my family's favorite recipes for generations.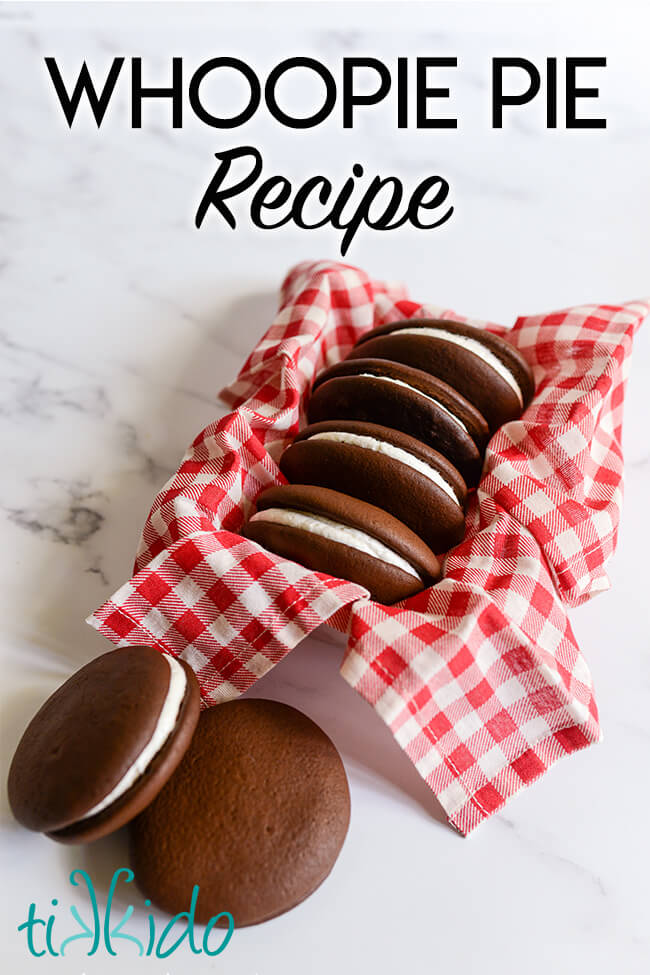 What is a Whoopie Pie?
A whoopie pie is an old-fashioned, American sandwich cookie traditionally made with two large, cakey chocolate cookies and a fluffy vanilla filling.   They are sometimes called Amish whoopie pies and many people believe they were first made in Amish country in western Pennsylvania.  New England, and Maine in particular, also claim to be the birthplace of the whoopie pie.  Wherever the first whoopie pie was made, the recipe for these delicious treats quickly spread and was embraced by Americans, particularly in the midwest and northeast.
I'm sharing this family favorite recipe today as part of the Taste Creations Blog Hop.  Our theme this month is Picnic Foods, and whoopie pies are absolutely perfect picnic desserts!  They have the flavor of an amazing chocolate cake with fluffy vanilla frosting, but they are much easier to transport for a picnic.  Be sure to scroll down to the bottom of the post to see the other amazing picnic recipes from my fellow blogger friends.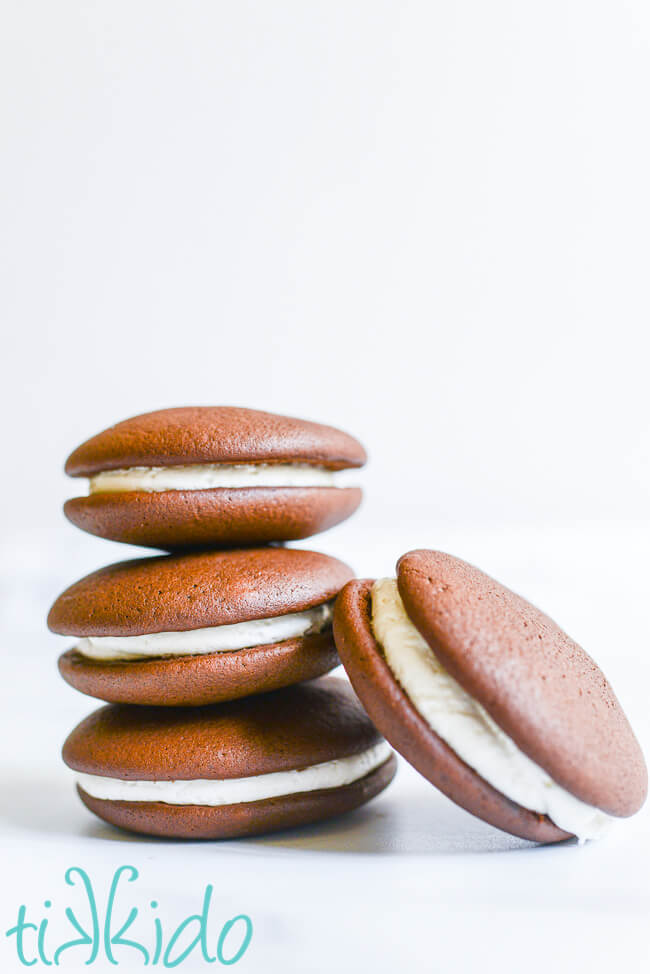 Homemade chocolate whoopie pies are the classic originals, but you can also make vanilla whoopie pies, oatmeal whoopie pies, pumpkin whoopie pies, and more.  Have fun switching out cookie and filling flavors!  I once even made Peeps themed whoopie pies for Easter, with homemade marshmallow fluff filling.
Whoopie Pie Cookies
The cookie part of whoopie pies is easy to make, but it does have a slightly unusual technique that I'll describe below and that you'll see in the video tutorial.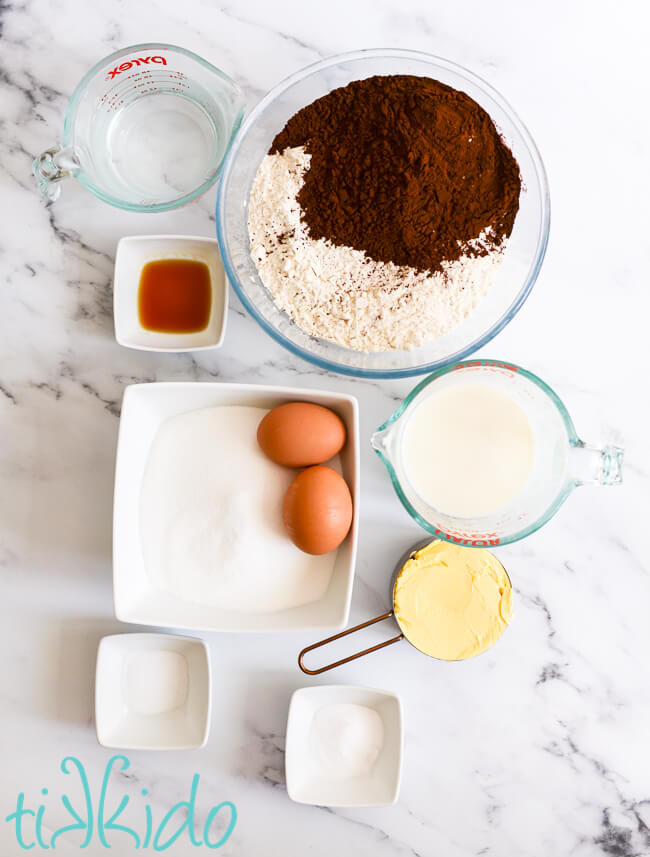 Chocolate Whoopie Pie Cookie Ingredients
2 cups sugar
1 cup shortening
2 eggs
4 cups all purpose flour
1 cup cocoa powder
2 teaspoons vanilla extract
1 teaspoon salt
1 cup milk
1 Tablespoon white vinegar
2 teaspoons baking soda
1 cup hot water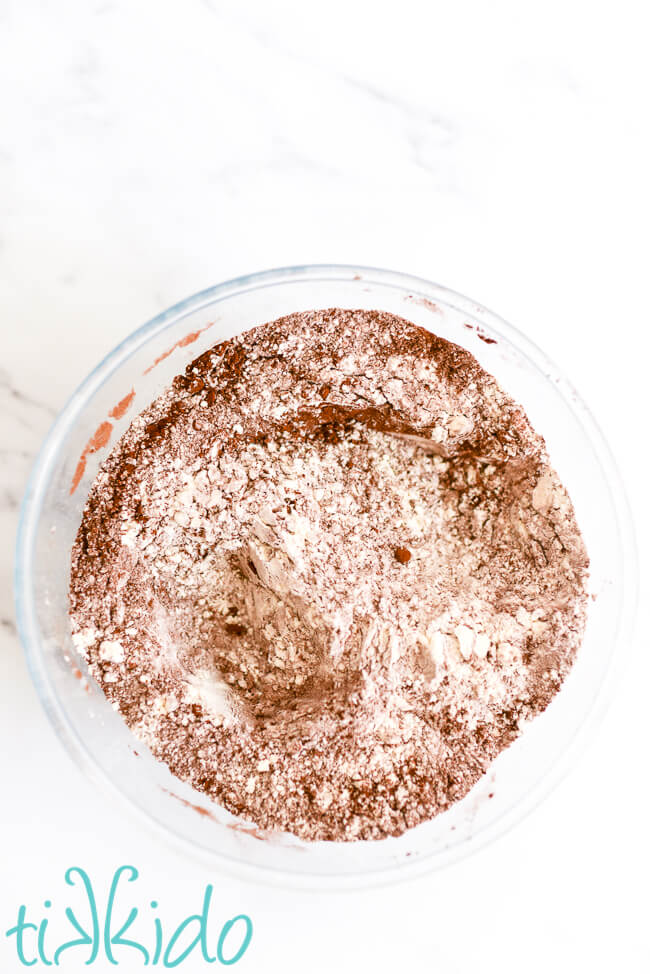 Combine the dry ingredients (flour, cocoa, and salt) in a large bowl.  Combine the milk and vinegar to make what our old family recipe calls "sour milk."  You could also use buttermilk instead of the milk and vinegar; it will work in exactly the same way in this recipe.
Cream shortening and sugar in the bowl of a stand mixer (I used butter-flavored Crisco in the cookie portion of this recipe).   Add the eggs and beat until fluffy.
Add the dry ingredients to the creamed mixture alternately with the soured milk.  Add the vanilla and mix.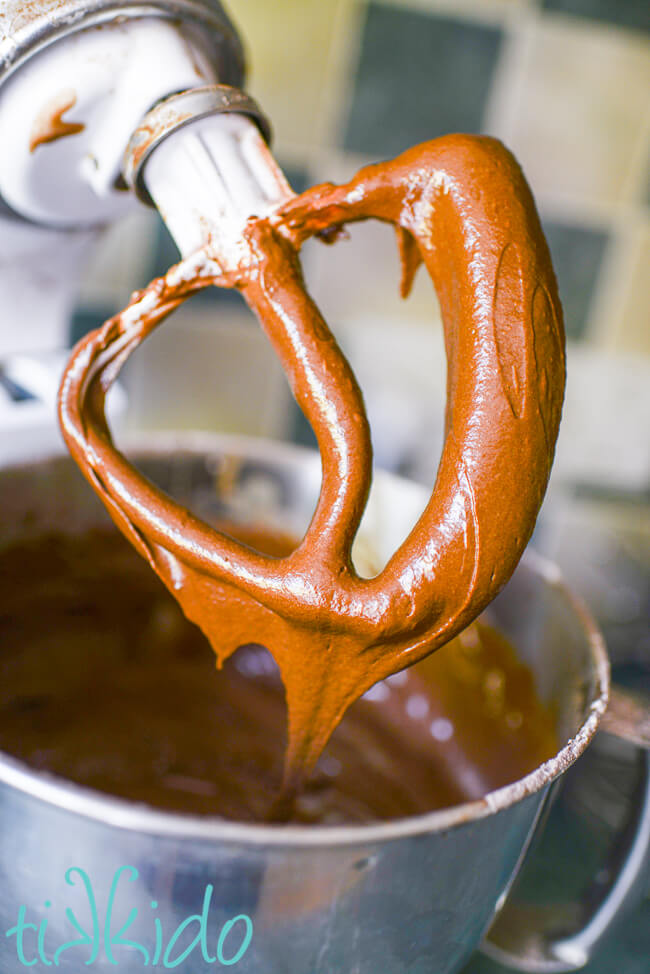 Dissolve the baking soda in HOT water, and add to the cookie batter last.  Mix well.  The texture will be more like a cake batter than a traditional cookie dough.  This simple recipe does make very cakey chocolate cookies, after all!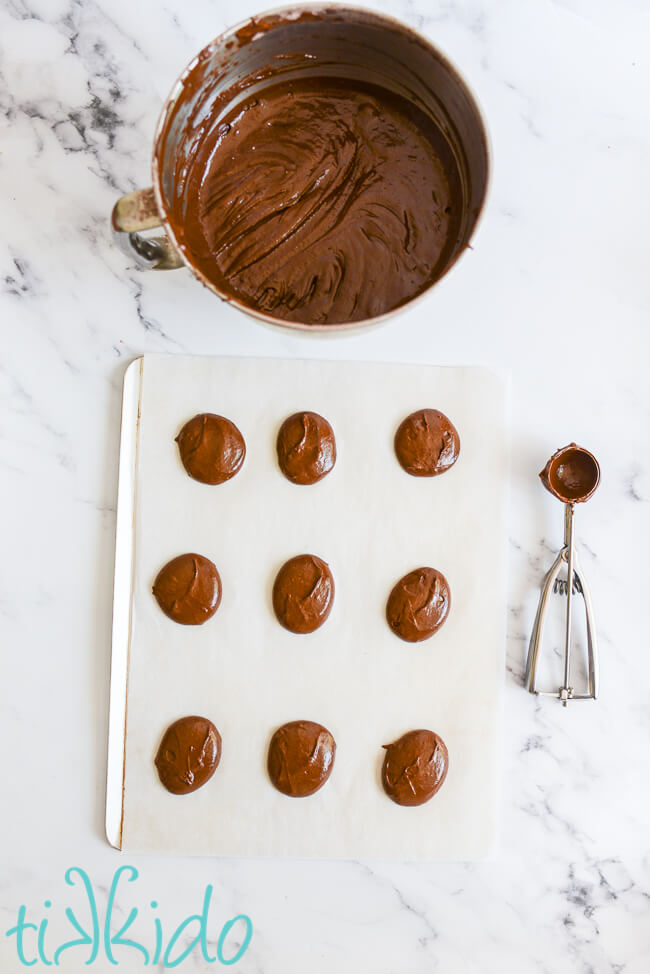 Place scoops of the batter on  prepared cookie sheets.  You can purchase special whoopie pie pan, but I prefer to just line my baking sheet with parchment paper.  If you use a cookie scoop, you'll get very evenly portioned cookies.  Maybe not always a perfect circle, but close enough.  And these are an old fashioned cookie recipe, after all--perfection is not necessary.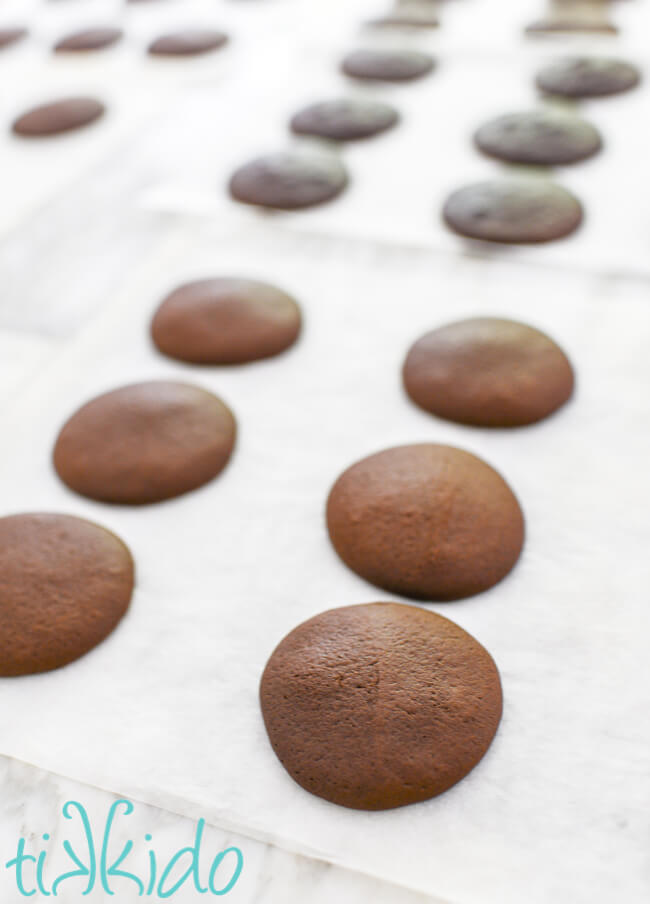 Bake for 8-10 minutes at 400 degrees Fahrenheit.  Let cool to room temperature on a wire rack or stone countertop while making the filling recipe.
Whoopie Pie Filling
Some whoopie pie recipes call for marshmallow cream as a filling, and that's a delicious choice.  But my favorite whoopie pie follows the Amish tradition, and calls for this homemade fluffy filling.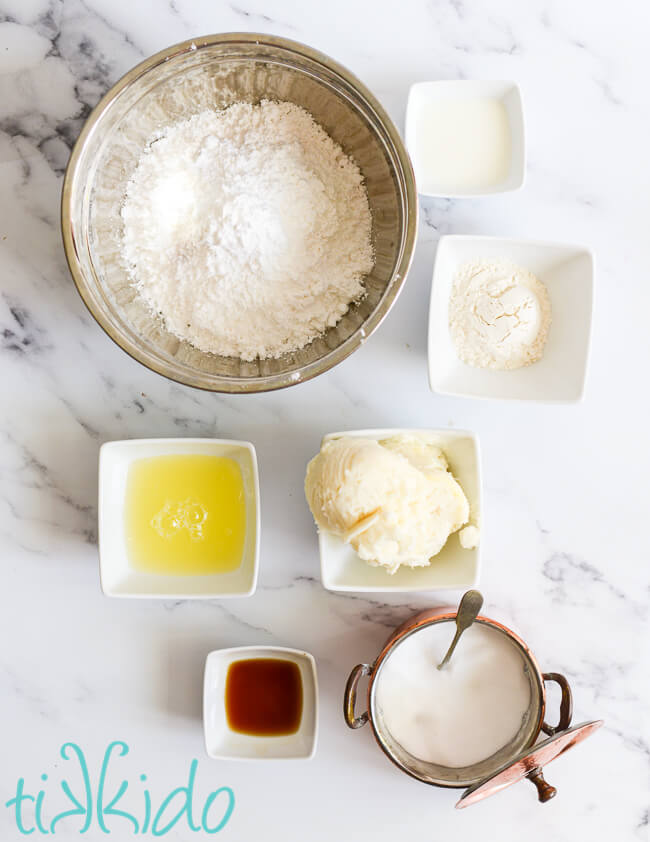 Whoopie Pie Filling Ingredients:
2 egg whites (6 Tablespoons)
2 teaspoons vanilla
3 ½ cups powdered sugar
4 tablespoons flour
2 tablespoons milk
1½ cups white vegetable shortening (like Crisco)
Pinch salt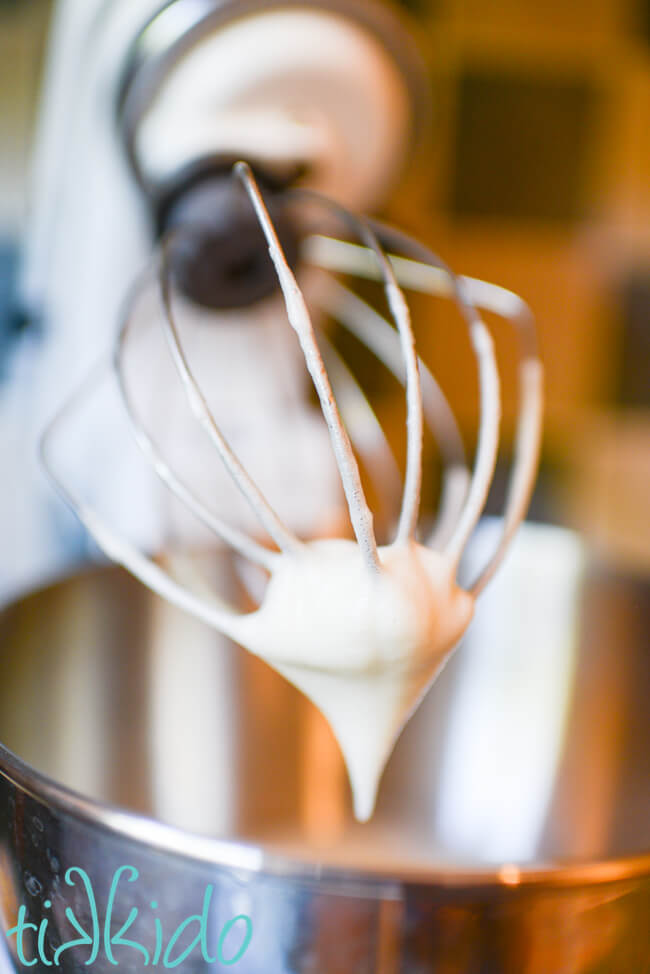 How to Make Whoopie Pie Filling
Beat the egg whites using a whisk attachment until soft peaks form.  Whenever I make a recipe that calls for raw egg whites, I always use pasteurized egg whites (the kind that come in a cardboard carton).  It's easier than separating eggs, safer, and it doesn't waste any egg yolk.  If you'd prefer to avoid using egg whites, you can use an equal amount of aquafaba--the liquid from a can of chickpeas.  It works brilliantly as a substitute!
Add vanilla and beat for two or three more minutes.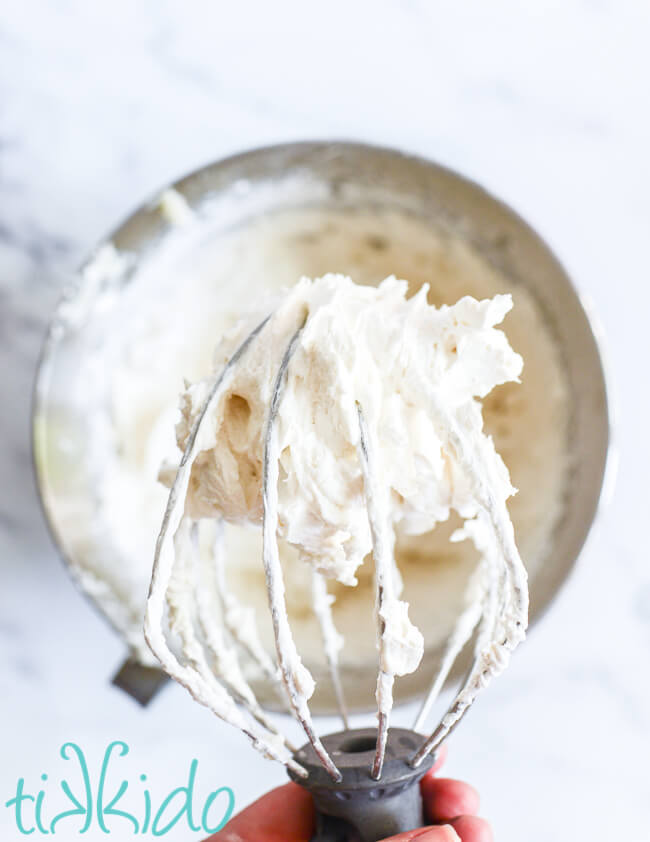 Gradually add the powdered sugar, flour, milk, salt, and Crisco.  Beat on high speed until the filling is fluffy, smooth, and spreadable.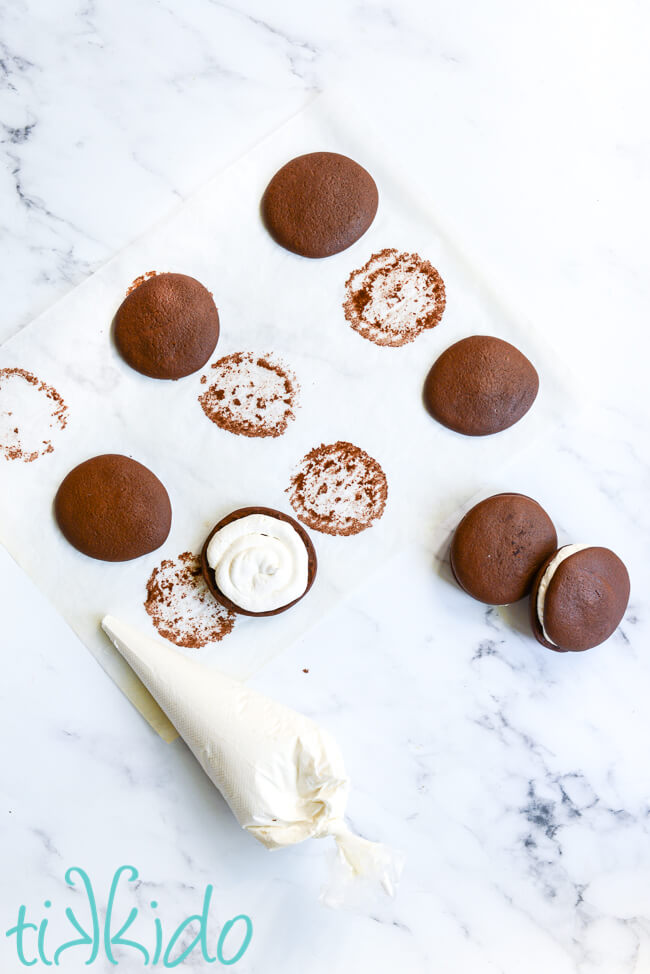 Make sandwich cookies from two cookies filled with homemade whoopie pie filling.  I like using a piping bag to add the filling, or you can place cream filling with a spatula or knife.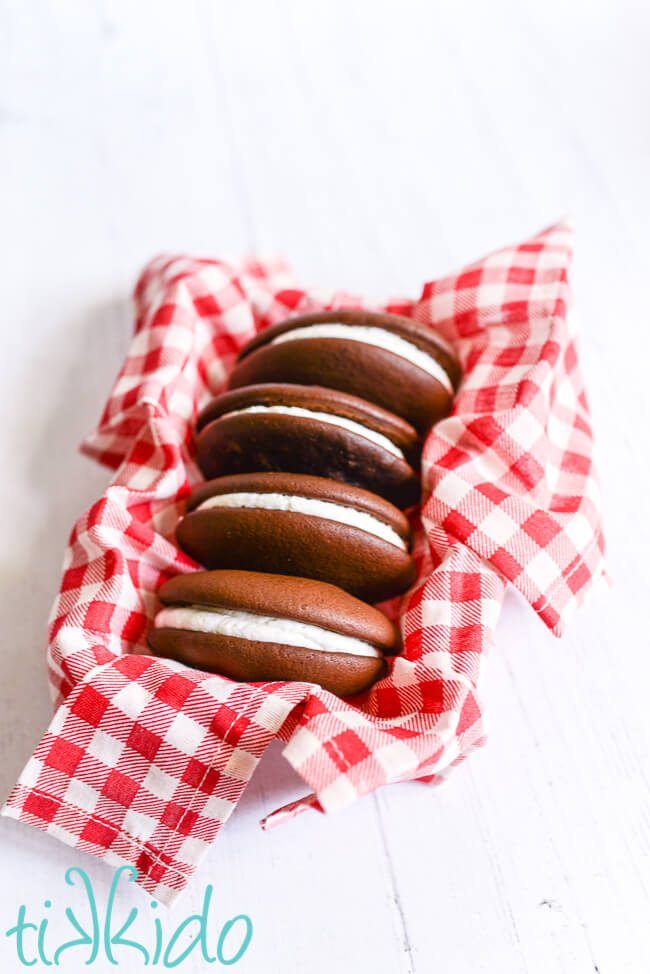 I've tried other recipes, and I keep coming back to our old family favorite.  I think these are the best whoopie pies around!
How to Store Homemade Whoopie Pies
Store whoopie pies in an airtight container.  These moist, soft cookies do tend to stick together if they touch, so store them in a single layer, or place parchment paper or waxed paper between layers of cookies. 
Printable Chocolate Whoopie Pies Recipe
Want a one page, printable version of this Amish whoopie pie recipe?  Click the image below to print directly or download the PDF to your device.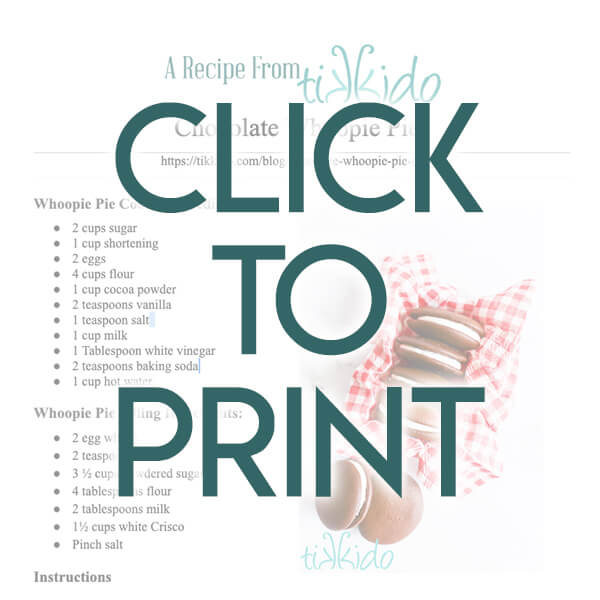 Other Picnic-Worthy Summer Recipes from the Taste Creations Blog Hop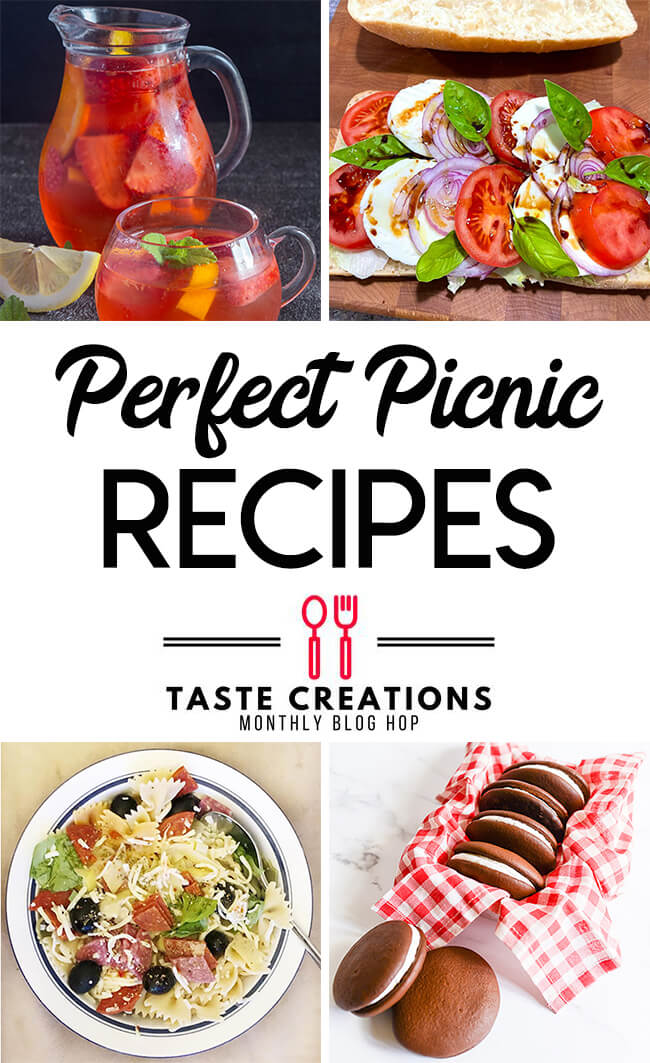 Be sure to check out the other delicious recipes perfect for summer picnics from my fellow bloggers in the Taste Creations Blog Hop!
Breads and Sweets:  Easy Strawberry Sangria
Our Good Life: Caprese Sandwich
Mom Home Guide: Mediterranean Pasta Salad
Other Sandwich Cookie Recipes You Might Like: