Printer-friendly version
Madeira cake is a classic loaf cake--much like a pound cake, with a dense texture and fine crumb, but with a light lemon flavor.  This Madeira cake recipe is a simple bake, and makes a delicious cake perfect for afternoon tea or dessert.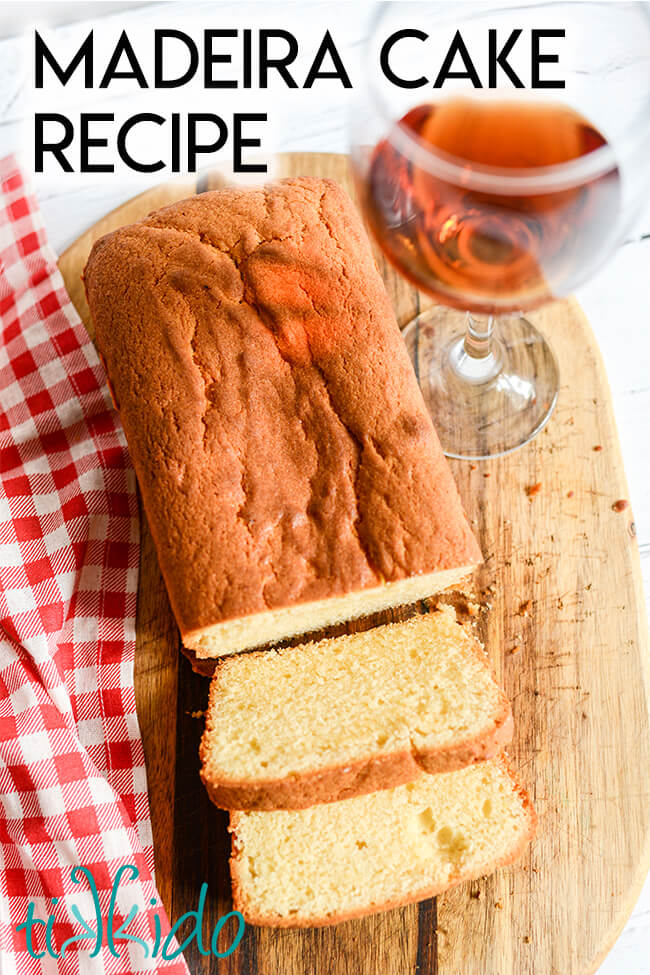 Madeira cake isn't from Madeira--it's an English cake.  It's called "Madeira Cake" because it's customarily served with a glass of Madeira wine.  It's a plain cake, but that doesn't mean it's boring!  It's a type of sponge cake, and tastes similar to a Victoria sponge cake or a pound cake.  It's a lemon cake, flavored with lemon juice and lemon zest--though the lemon flavor is light, not intense.  It's an easy cake to make,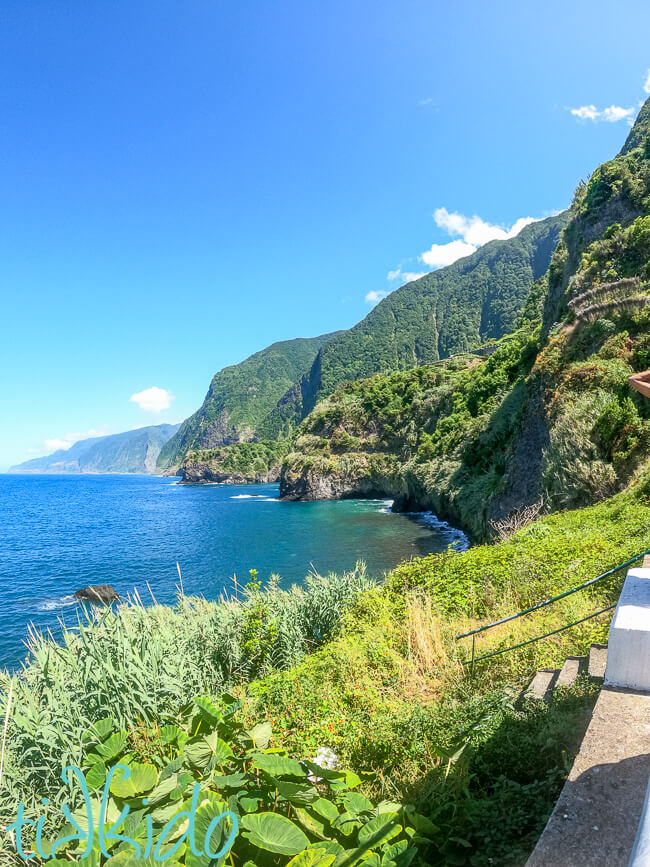 I just got back from a trip to the stunning Portuguese island of Madeira, where I tried Madeira wine for the first time.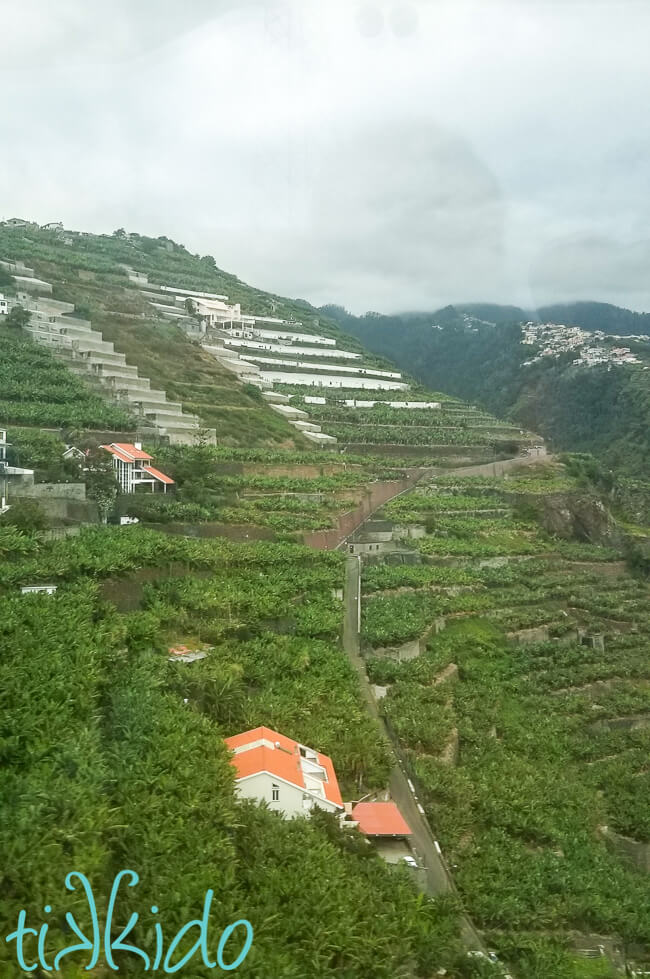 Madeira is a rugged, mountainous island, first settled in the early 15th century.  The residents started growing grapes and making wine shortly after.  The steep, terraced hillsides are planted with bananas and grape vines, often intertwined.  While on a tour of Fajã dos Padres, an organic farm on the coast of Madeira with a centuries-old wine-making history, I learned that the signing of the Declaration of Independence was toasted and celebrated with Madeira wine.  
I'm an American, but I've been living in England for the past three years.  Making an English cake, and drinking Madeira wine seemed like the perfect way for us to celebrate the 4th of July this year!
Madeira Cake Recipe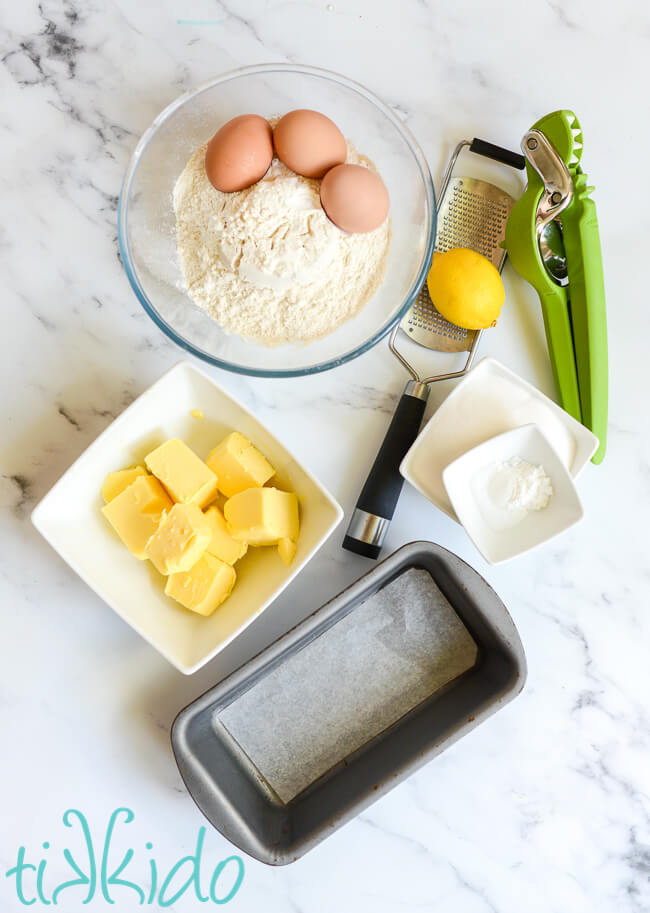 Madeira Loaf Cake Ingredient List:
1 1/4 cups unsalted butter, softened and at room temperature
1 cup sugar
3 eggs
1/2 teaspoon salt
1 1/2 teaspoons baking powder
Juice and zest of one lemon
2 1/2 cups all purpose flour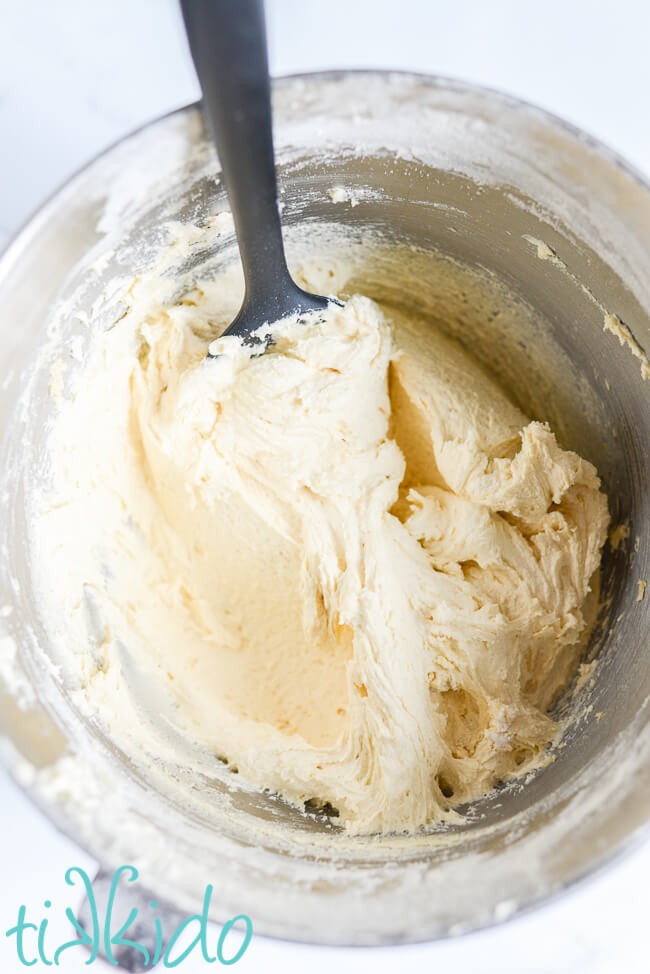 Cream butter and sugar together with an electric mixer.  Beat for several minutes, until the mixture is a light texture and color.  I use caster sugar (a fine sugar, but still a granulated sugar) for this recipe.  Actually, I use caster sugar all the time in the UK.  "Regular" sugar back in the United States is more fine, and more similar to caster sugar than the "regular" sugar here.  So I just always use caster sugar.  If you're using a more coarse sugar, take creaming the butter and sugar together very seriously--at least five minutes.
Add one egg at a time to the butter and sugar mixture, beating well after each addition.
Add the salt and baking powder, and mix to combine.
Zest one lemon, and then juice the lemon.  Add the lemon zest and the lemon juice to the batter and mix.
Add the flour, and mix just until combined.  I used regular flour, but you can also use cake flour for this recipe.  Be sure to scrape the sides of the bowl to be sure everything is mixed together well to make a smooth batter.   I like using a beater blade for my Kitchenaid mixer, because it scrapes the side of the bowl as it mixes.  But a spatula and a regular beater work just as well, too.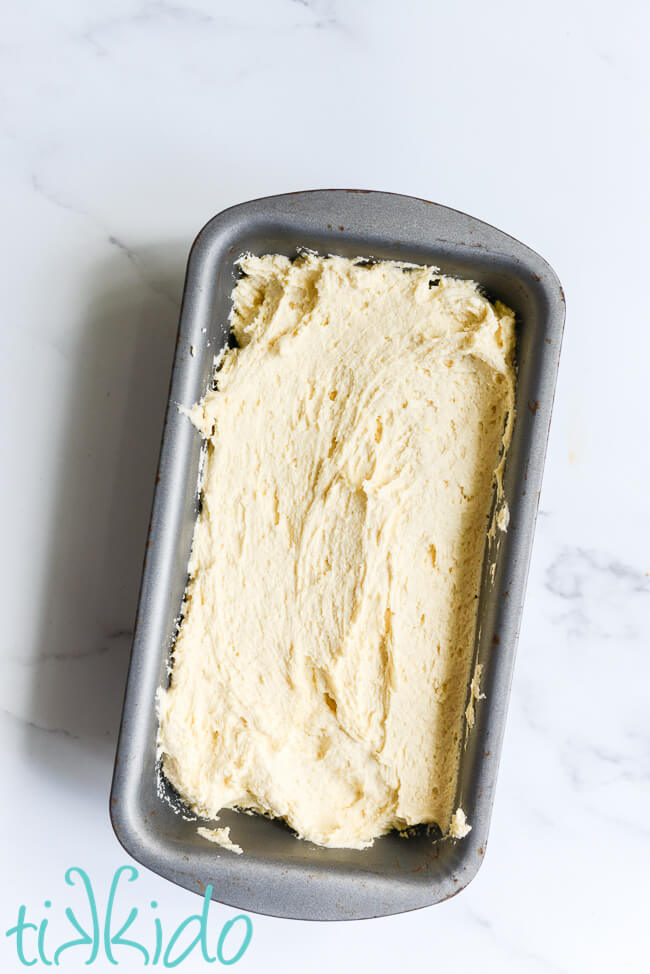 Line a 2lb loaf tin with parchment paper, and spread the thick cake batter in the prepared pan.  If you don't have any greaseproof paper, you can instead grease and flour your cake tin to help your classic madeira cake come free of the pan after it's baked. 
If you want to add a little sugary crunch to this classic British bake, add a sprinkle of sugar to the top of the unbaked cake before baking.  I like to use slightly larger sugar crystals (often used in cake decorating) to top cakes and pies, because it adds a lovely crunchy texture and some sparkle to a simple cake.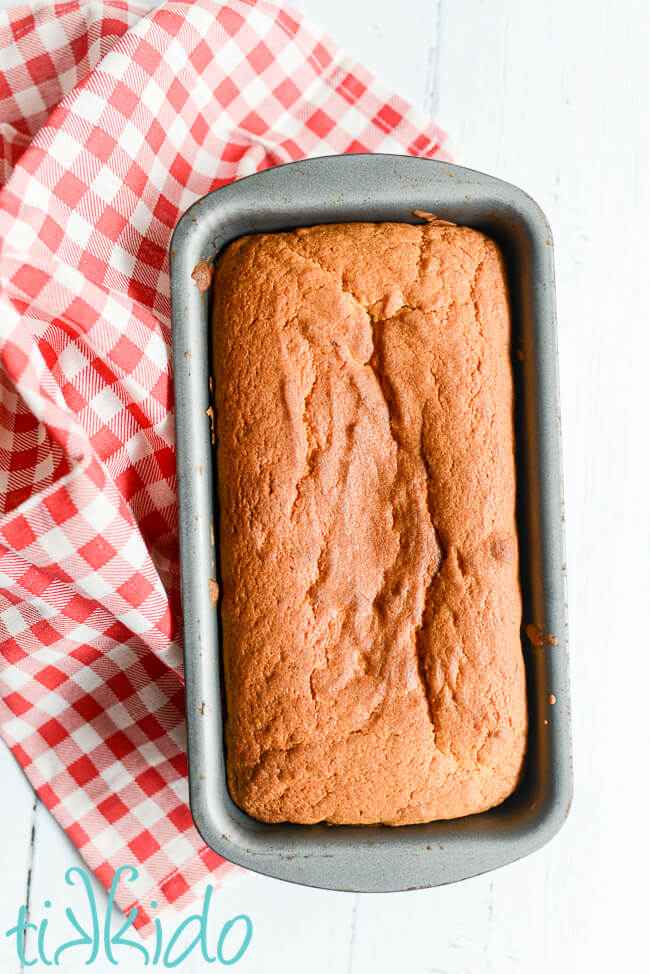 Bake for 50-60 minutes at 325 degrees Fahrenheit in a preheated oven.  A cake tester inserted into the center of the cake will come out clean when the cake is done, and the cake will be a golden brown color.  See a crack on top of the cake?  Don't worry, that's supposed to be there and is a sign of a traditional madeira cake!
You can leave it plain, or add a traditional garnish of candied lemon peel.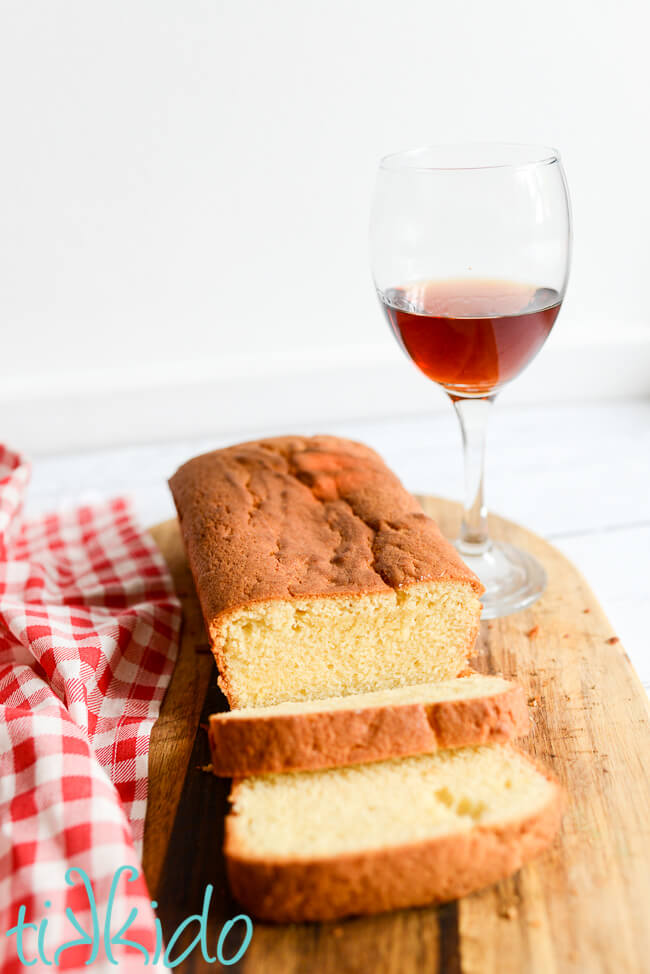 This simple Madeira cake is delicious on its own, but it's also the ideal cake to use in a trifle.  Or topped with some whipped cream and fresh berries.  Or even a scoop of ice cream.  And, of course, with a glass of Madeira wine.
Printable Madeira Cake Recipe
Want a one page, printable version of this recipe?  Click the image below to print or save a PDF directly to your device.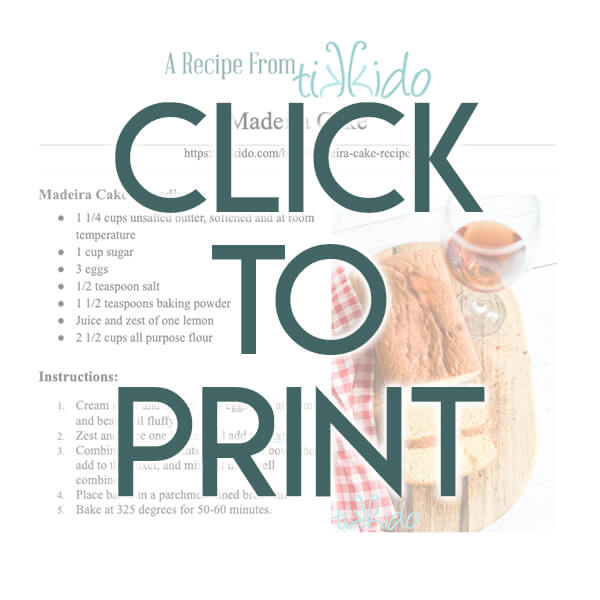 Other Loaf Cake Recipes You Might Like: