Printer-friendly version
This homemade fondant recipe is easy to make, easier to use than store bought fondant, MUCH more delicious than commercial fondant, and is much less expensive, too.   This easy fondant recipe is made without marshmallows, and is a must-have in the repertoire of any cake decorator.  Make beautiful cakes covered in rolled fondant with ease with this tutorial.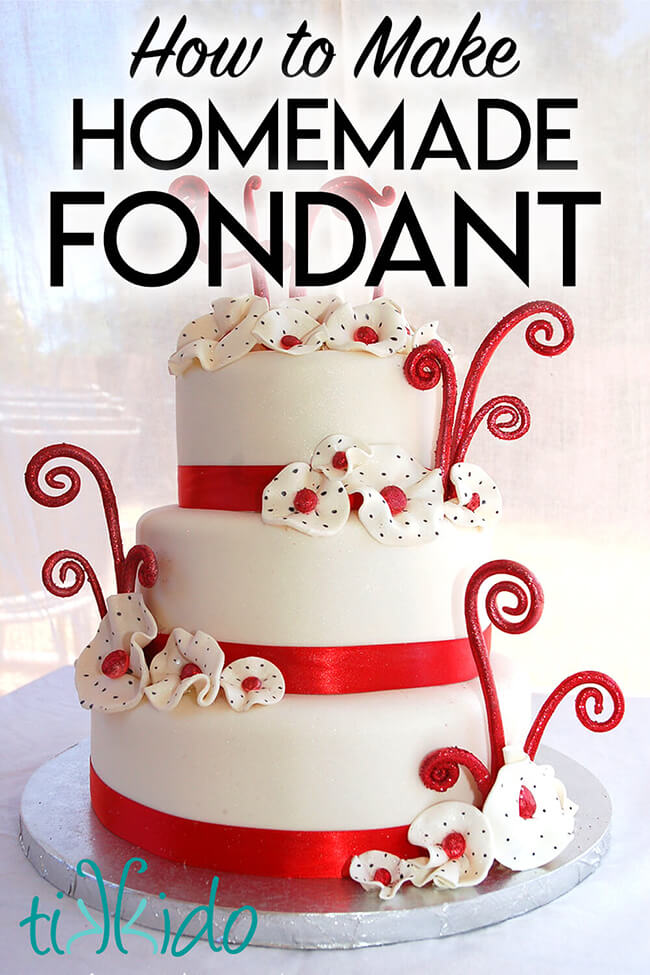 What is Rolled Fondant?
Fondant is a thick sugar paste designed to cover cakes.  It is thought to have been developed in England to cover wedding cakes instead of using royal icing, which dries very hard.  It is rolled out using a rolling pin, and smoothed over cake layers coated with a base coat of buttercream frosting.  Covering cakes in fondant creates a smooth surface that can be painted with food coloring, embellished with fondant or gum paste decorations, or left plain.
I started making my own fondant because I didn't want to pay the price for commercial fondant icing.  (If you do want to buy it pre-made, Satin Ice is my favorite brand.) But buying the commercial version makes the ingredients for the cake much more expensive.   I happily found out that not only is making my own fondant much more affordable, it's also really easy to make, easier to use than store-bought fondant, and it tastes much better.
Fondant cakes are beautiful, but a lot of people don't like the taste of fondant.  Perhaps because they haven't had the homemade version!  It's definitely very sweet, and tastes like a marshmallow.  It's not for everyone, but my children absolutely love my homemade fondant.  It's easy enough to peel off (there's regular buttercream underneath), so you can get the gorgeous look of a fondant cake without worrying about the taste.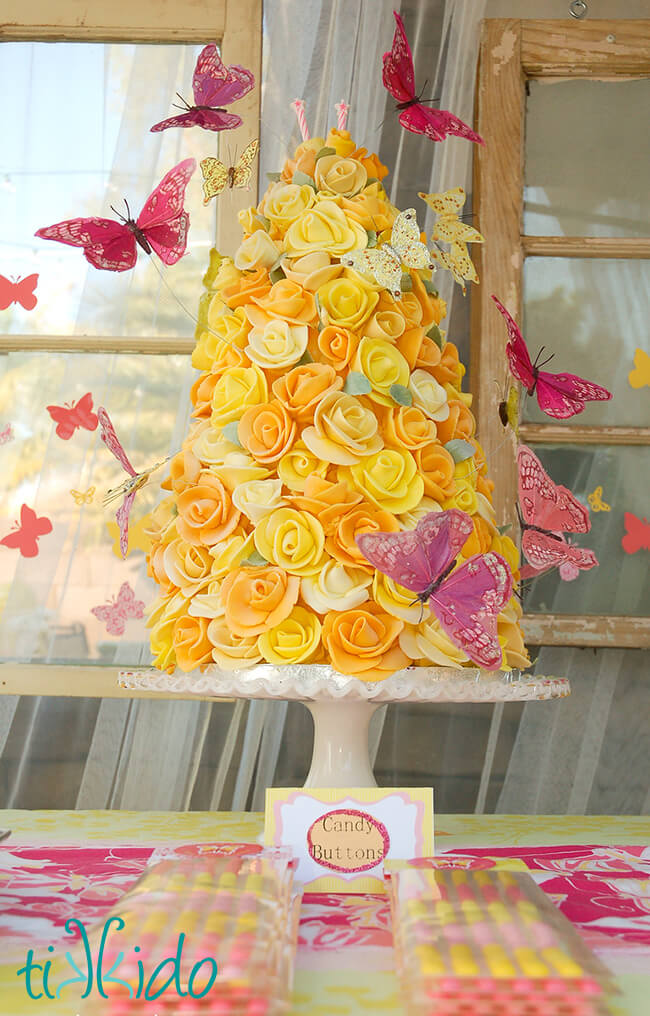 Fondant can also be used to make more sculptural decorations, like the roses on this butterfly rose tower cake I made for my daughter's second birthday  (It took a LOT of fondant roses to cover that cake!). It's incredibly versatile, and can be used for sleek, minimalist looks, or opulent, over-the-top cake designs.
What is the Difference Between Fondant and Marshmallow Fondant?
You may have read that marshmallow fondant is the "easy" way to make fondant, but I've tried both methods, and I don't agree.  I find MMF to be more expensive, harder and messier to make, and more difficult to use.   In fact, the main ingredients for making homemade marshmallows are essentially the same as making homemade fondant--just with a different technique and quantities.  That's why marshmallow fondant works at all.  But melted marshmallows make a sticky mess, and  I much prefer to cut out the middleman and make my own fondant from the raw ingredients.  True, you will have to pick up a couple ingredients you might not have in your pantry already, but for ease, cost, and a superior product, it is absolutely worth it.
My fondant recipe is based on a recipe I found in a fabulous cake decorating book by Colette Peters, but I've learned a few tricks from other pastry chefs through the years that I've incorporated into my recipe and technique. 
How do you Make Cake Fondant?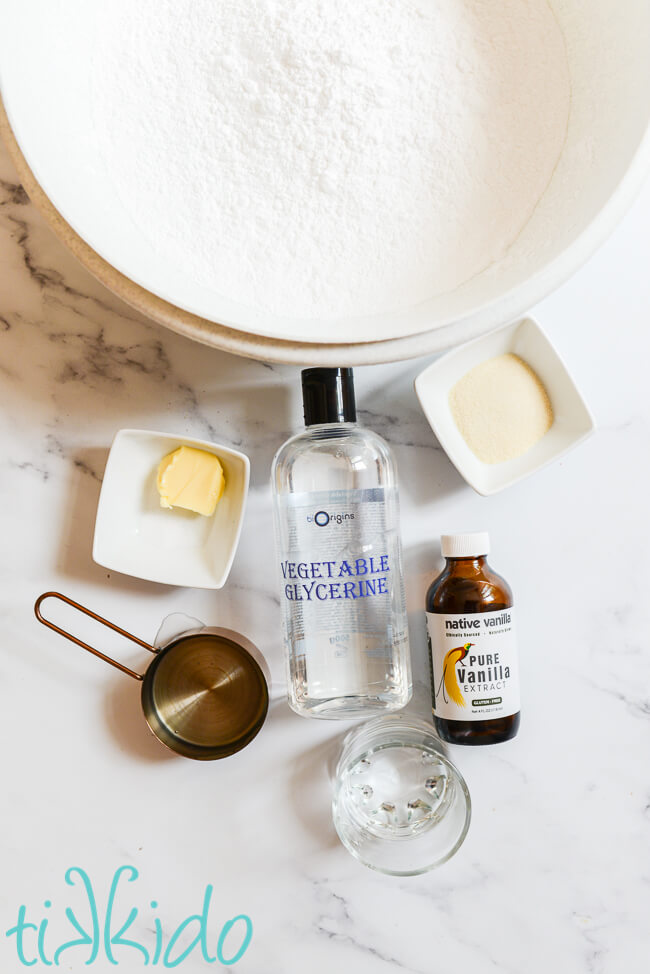 It all starts with some basic ingredients.  Most you'll be able to find at your local grocery store.  You can find vegetable glycerine with cake decorating supplies in craft stores, or online.
Ingredients for Homemade Rolled Fondant
2 pounds powdered sugar, sifted
1/4 cup cold water
1 Tablespoon unflavored gelatin (you can substitute an equal amount of agar agar for a vegetarian version)
1/2 cup clear corn syrup (can also use liquid glucose)
1 1/2 Tablespoons vegetable glycerine
1/4 teaspoon salt
1 teaspoon butter
1 teaspoon vanilla extract (or whatever flavoring you prefer)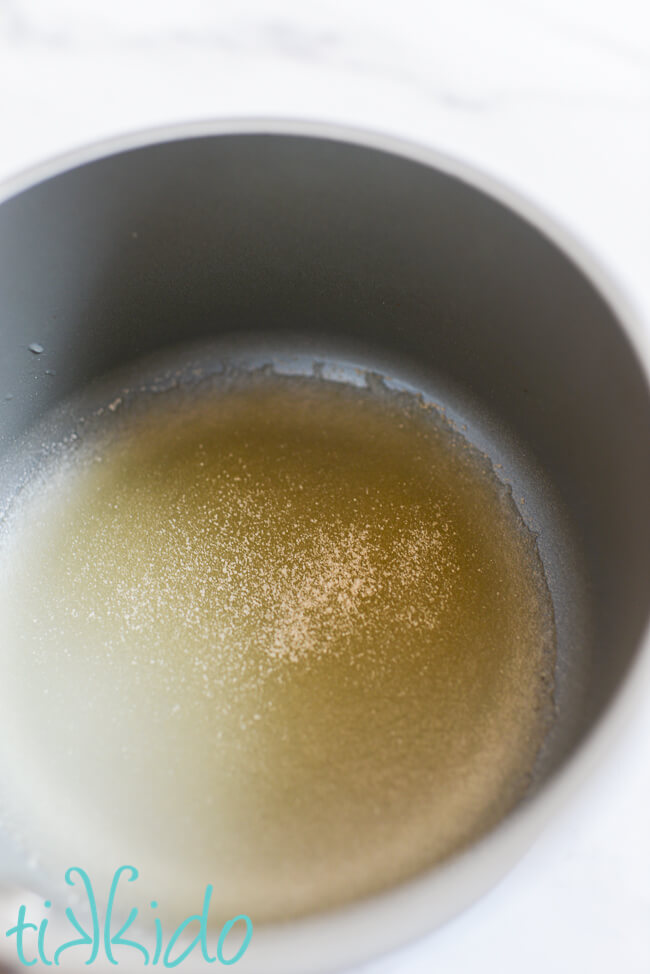 Homemade Fondant Instructions
Place the water in a small saucepan.  Add the unflavored gelatin to the water, but don't just dump it in or it will make clumps that will NOT go away!  Rain the gelatin in very slowly, gently, and evenly over the surface of the water.  Check out the video tutorial in this post for a demonstration of the technique.  Let the gelatin and water sit and soften for about five minutes.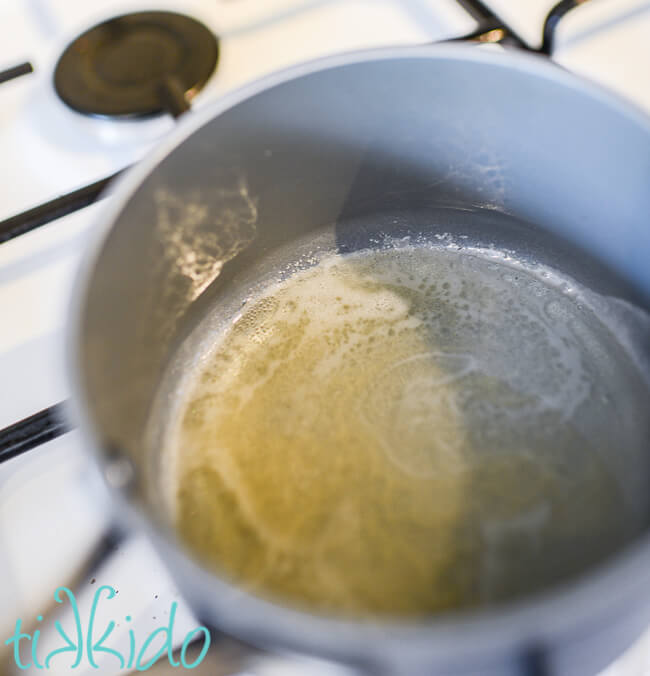 Heat the gelatin and water over medium heat just until the mixture melts into a liquid.  Do not let it boil!  As soon as the gelatin has melted, remove from heat.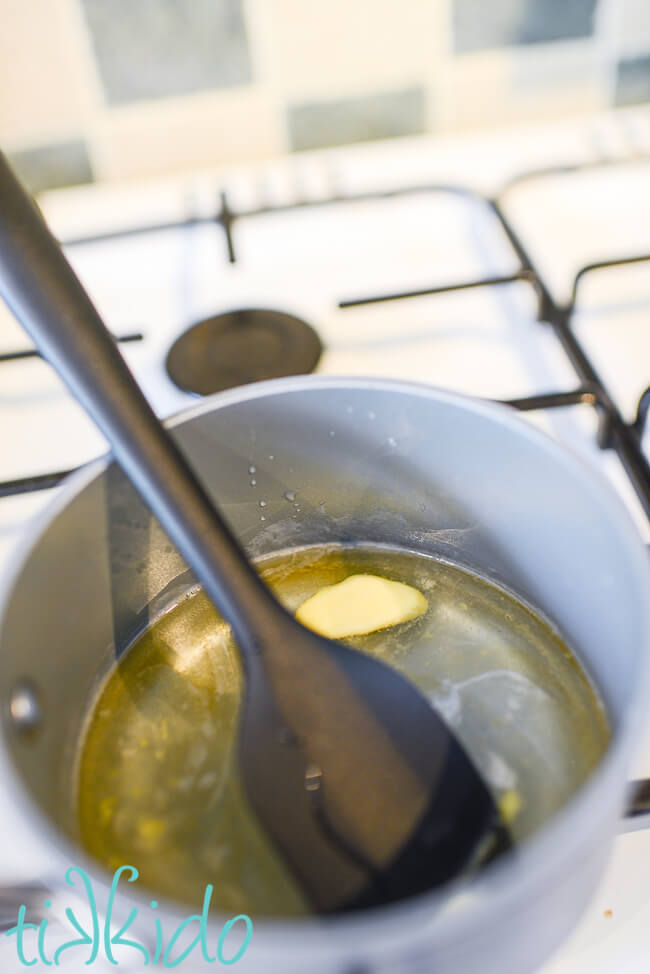 Add the light corn syrup, glycerine, salt, vanilla (or other flavoring), and butter.  Mix until the butter has melted and the the ingredients combine.  The butter (you could also use solid vegetable shortening) helps to get rid of any air bubbles or foam in the mixture.  Plus, butter makes everything taste better.
If you want the entire batch of fondant to be a color, add a few drops of food coloring at this point.  This is the best way to get even, consistent color.  Gel food colors are best to use, because they're very concentrated, and won't add too much moisture to the mixture.  If you want to have different colors of fondant, it's best to make your batch white, and then divide the finished fondant and color it after the fact.  The video shows colored fondant being made by adding the coloring to the liquid mixture, and these photos show regular fondant (just vanilla/white) being made.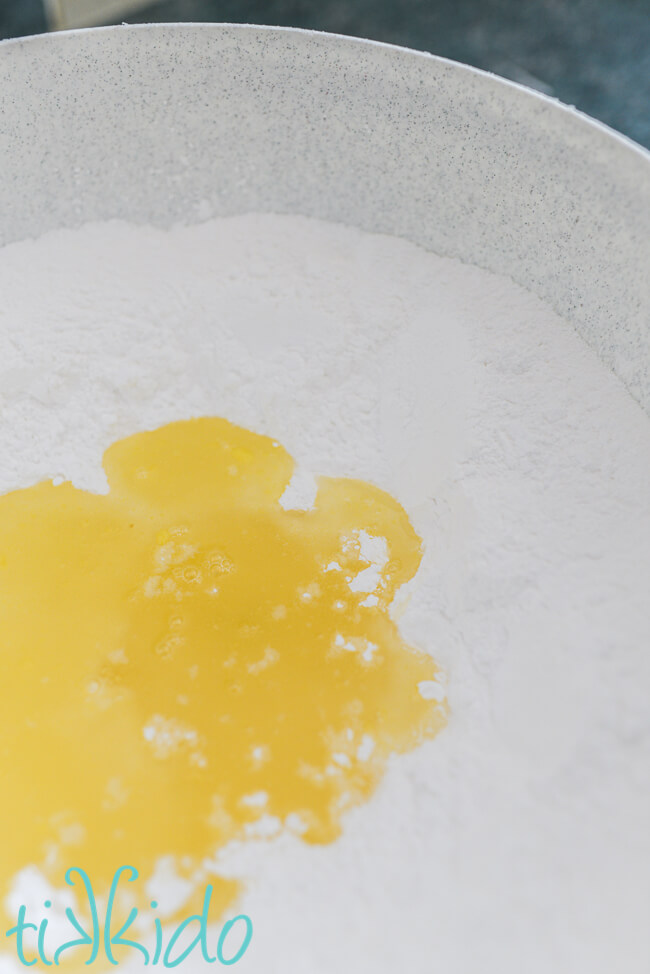 My "white" fondant is never a pure white, because I like to use real vanilla and the unflavored gelatin also has a bit of a yellow tint.  But the fondant does look really white when it's all mixed, despite how dramatic the photo above looks.
Sift two pounds of powdered sugar in a large bowl, and use a spatula or wooden spoon to make a well in the center of the icing sugar.  Pour the liquid into that center well.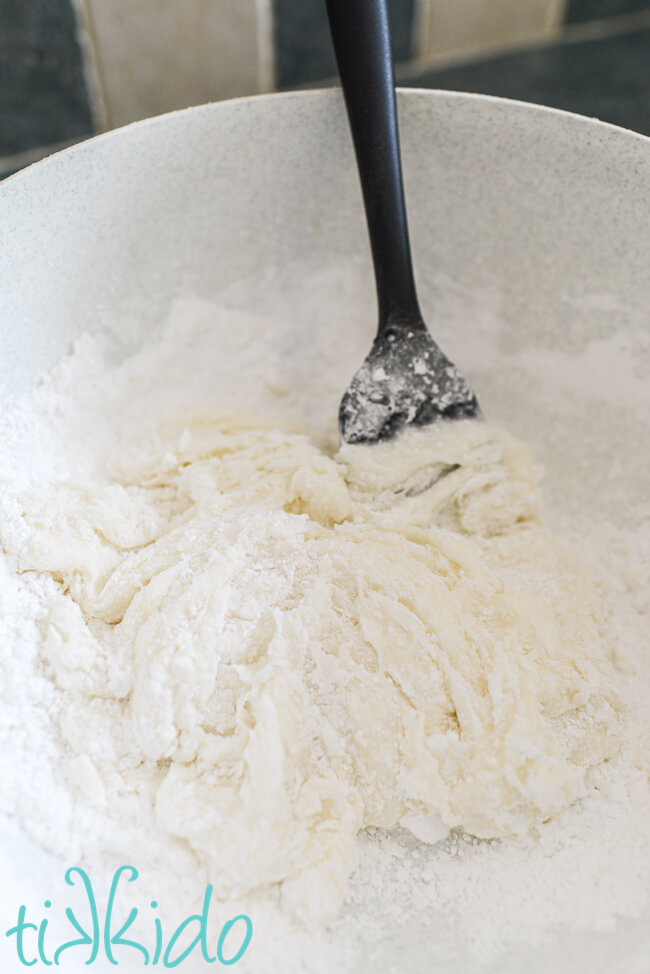 Use your spoon to begin mixing the liquid into the sugar.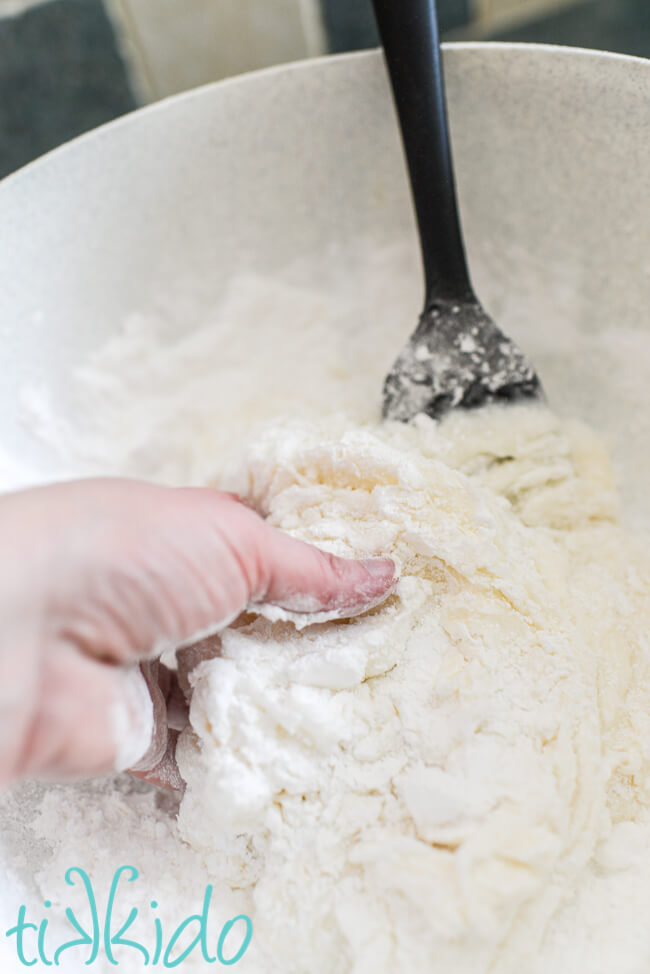 But honestly, there's nothing better than your hands for making the perfect fondant!  As soon as the ingredients are about half-mixed, I switch to kneading by hand.  You could also make this in the bowl of your stand mixer, and use a dough hook to knead the fondant, but it's quick and easy to do by hand, so that's what I always do.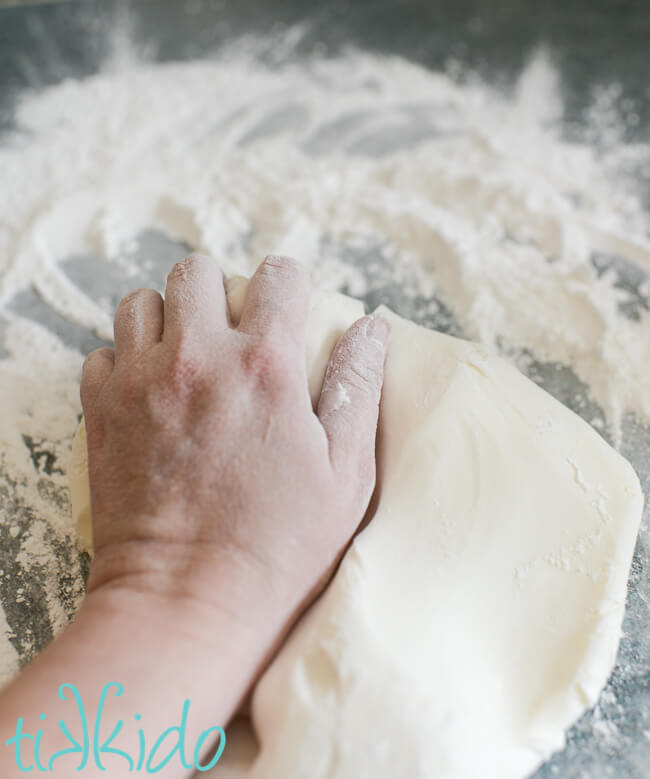 Keep kneading the fondant, adding more confectioner's sugar as needed, until it forms a stiff, smooth dough.   Like the most delicious play dough ever.  You'll feel it when it's the right consistency.   This recipe makes two pounds of fondant, enough to easily cover an 8 or 9 inch round cake.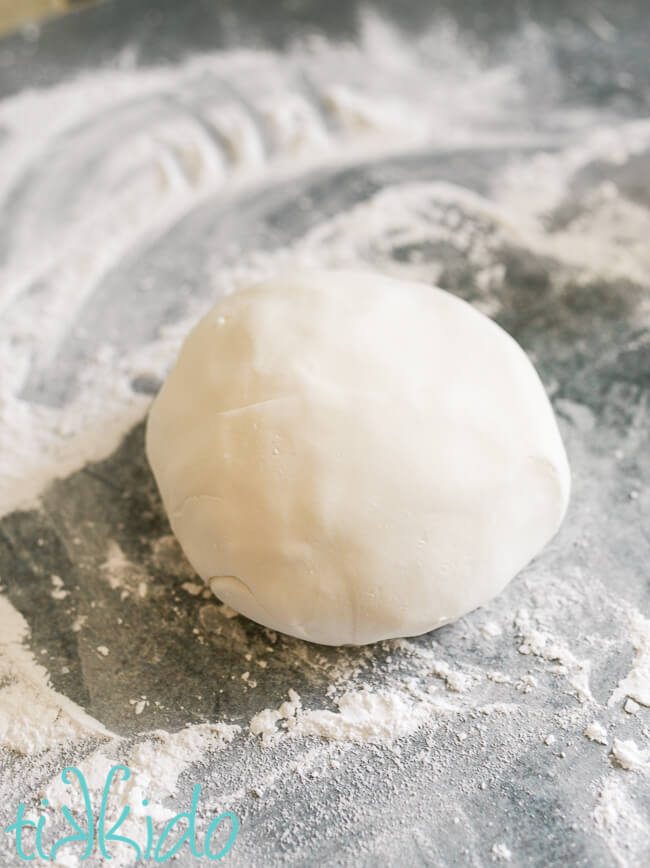 Form into a ball or flatten the ball into a disk.  Most recipes will tell you that you need to wait for a few hours or even a day to use the fondant to get the best results, but that is not true!  I find it much easier to use the fondant when it is fresh.  It rolls gorgeously, smooths onto the cake brilliantly, and I have never had a problem with using the fondant immediately after making it.  You can, of course, save it for later, though.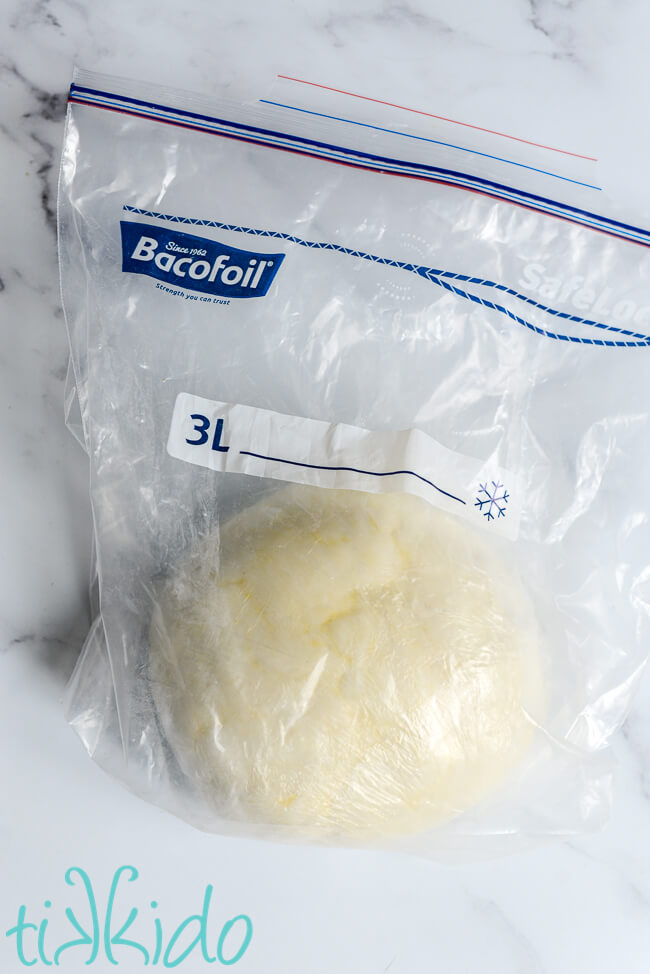 How to Store Homemade Fondant
Fondant will dry out in the air, so keeping air away from it is critical for storage.  Coat the entire ball of fondant with a thin layer of vegetable shortening (like Crisco).  Wrap the coated fondant well in cling wrap.  Place the plastic wrap covered fondant ball in a Ziploc bag with as much air squeezed out as possible.  Keep the fondant at room temperature until you want to use it (as long as you're using it in the next several days).  If you want to store the fondant for longer, you can keep it in the freezer for several months when wrapped like this.  Let thaw completely and come to room temperature before attempting to use the fondant.
I made three batches of fondant to cover this three tier cake (6, 8, and 10 inch round cakes), but honestly, I probably could have gotten away with making just two batches.  I'd always rather have excess fondant than try to stretch it too thin.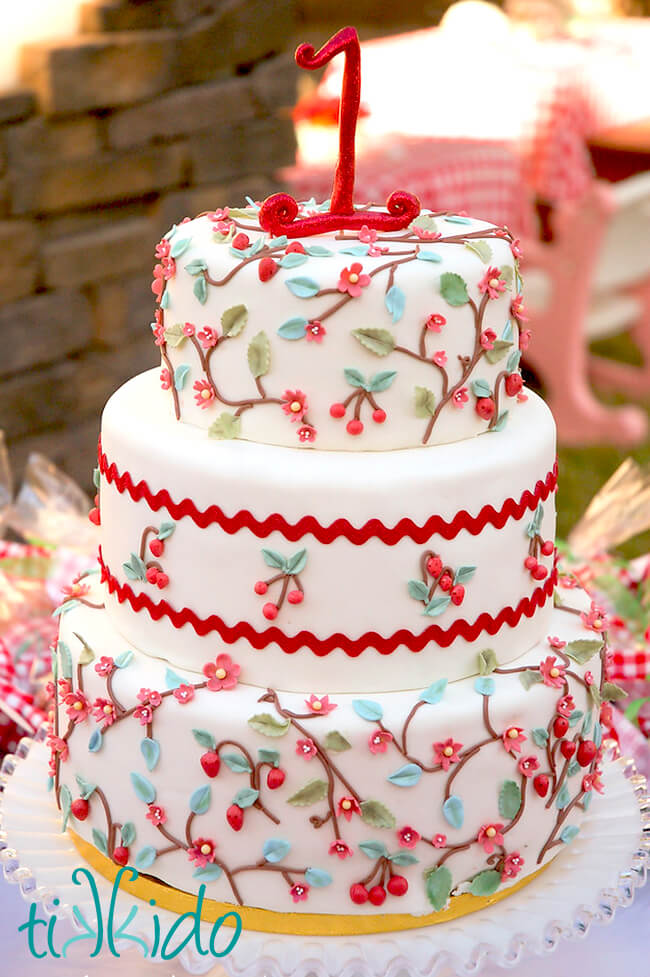 What do you think?  Ready to try this simple recipe and make your first fondant cake?
Printable Homemade Fondant Icing Recipe
Want a one page, printable version of this rolled fondant recipe?  Click on the image below to print the PDF or save it directly to your device.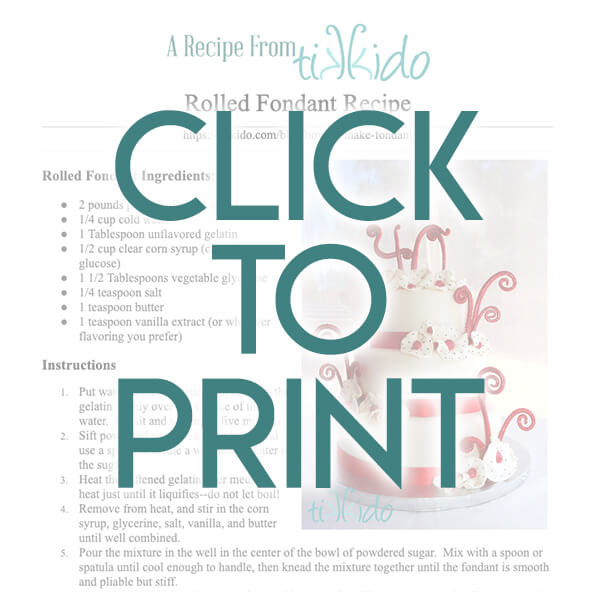 Fondant Cake Decorating Tutorials You Might Like: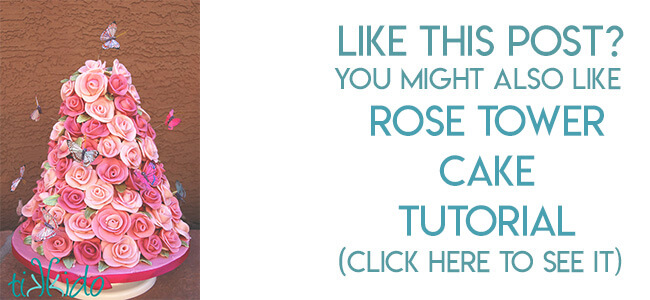 Other Icing Recipes You Might Like: