Printer-friendly version
What's the sweetest birthday party theme ever?  A cotton candy party!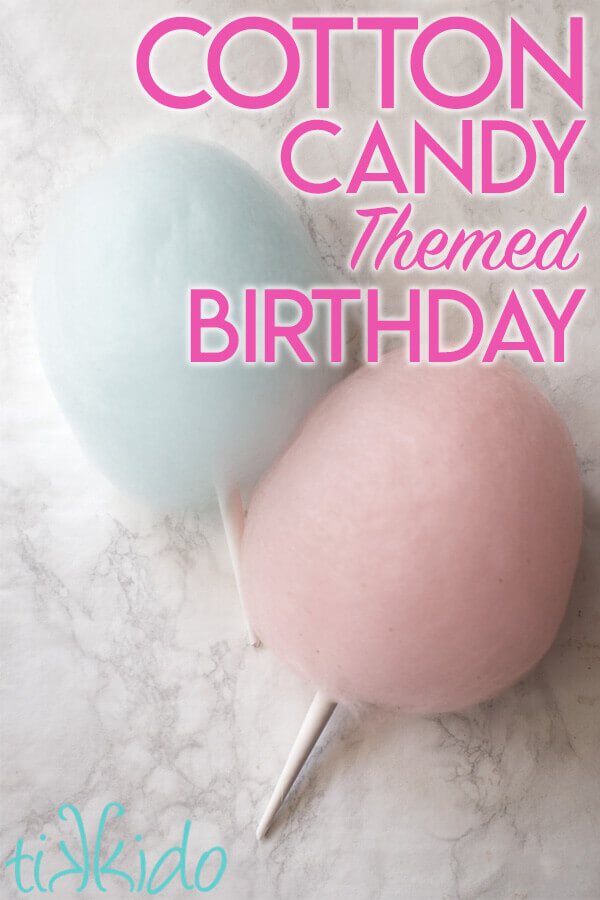 My youngest daughter has a knack for coming up with amazing party themes, starting with her third birthday party, a Sprinkles themed birthday.  (Yes, she came up with that one all by herself, too!) . This year she turned 10, and asked for a cotton candy party.  So. Much. FUN!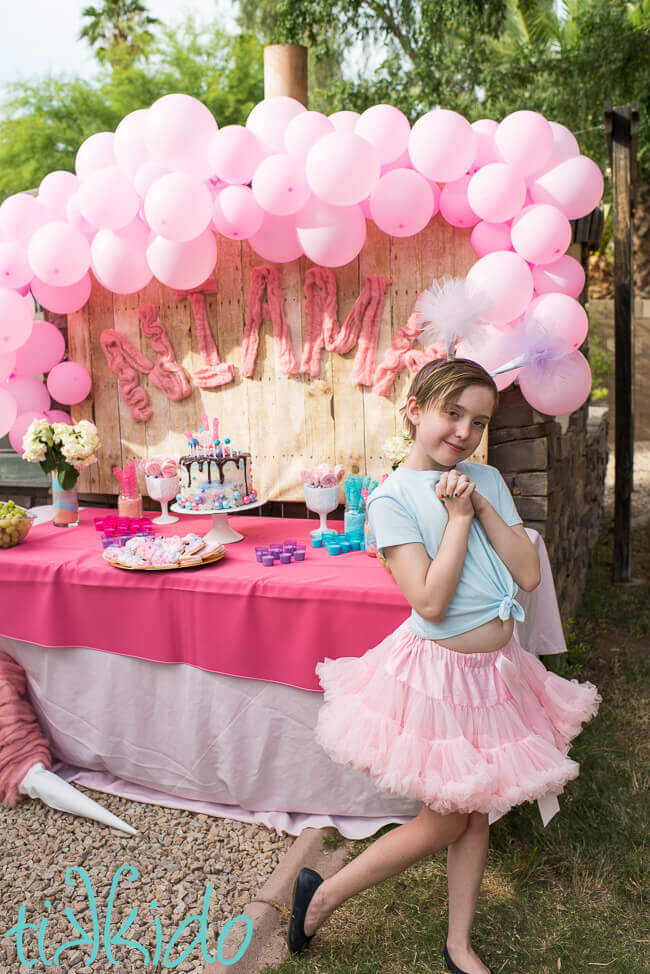 There's my sweet girl who is now double digits!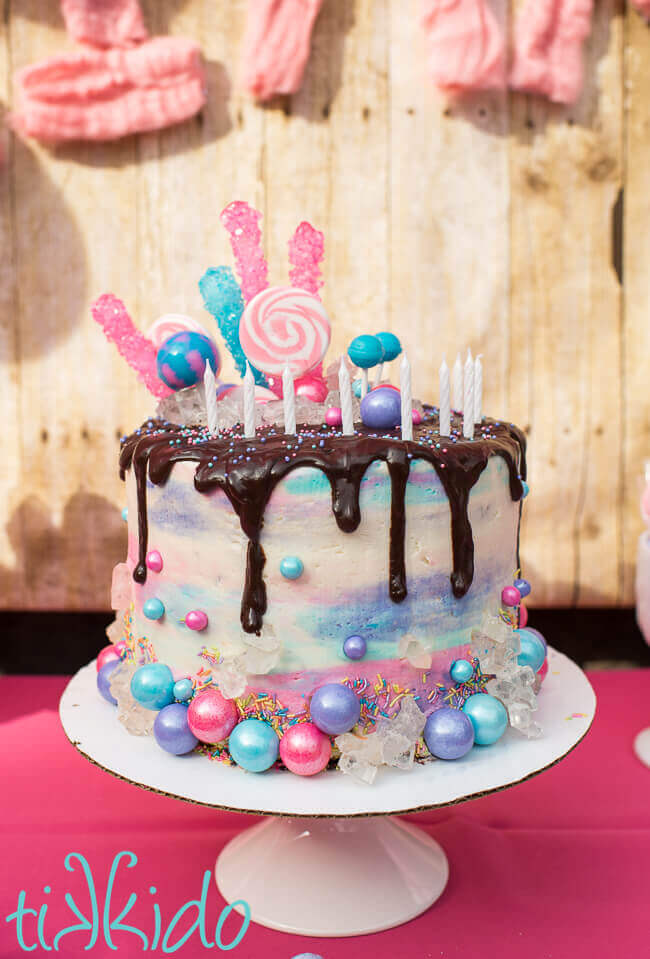 This was my second time trying to make a drip cake, and my first time doing a watercolor style blend of buttercream icing.  I love how the buttercream turned out; still working on my drip technique.  But it tasted AMAZING, and that's what counts the most!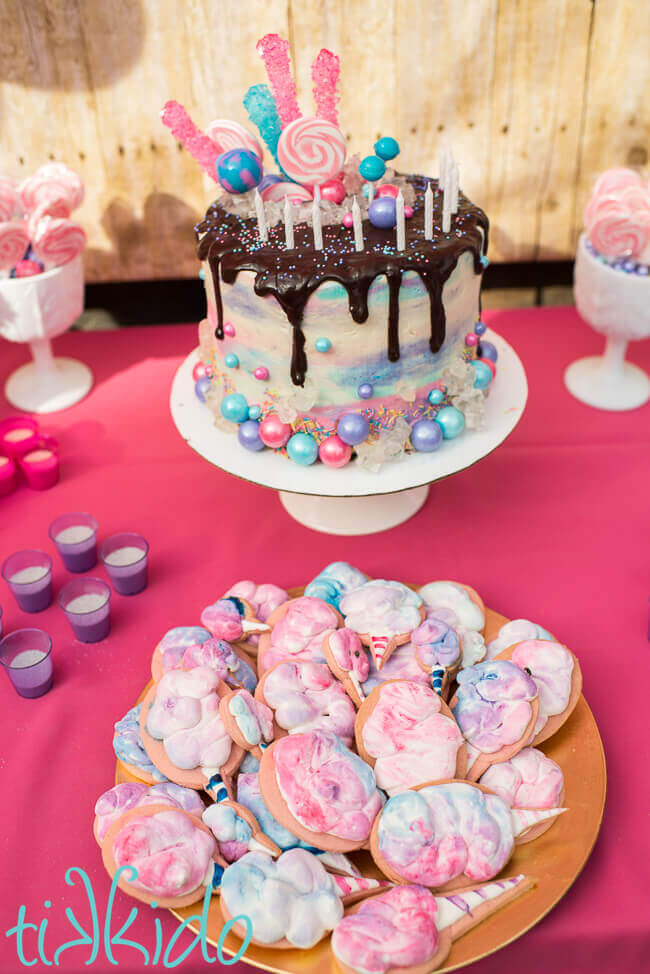 I made cotton candy flavored sugar cookies decorated like cotton candy cones.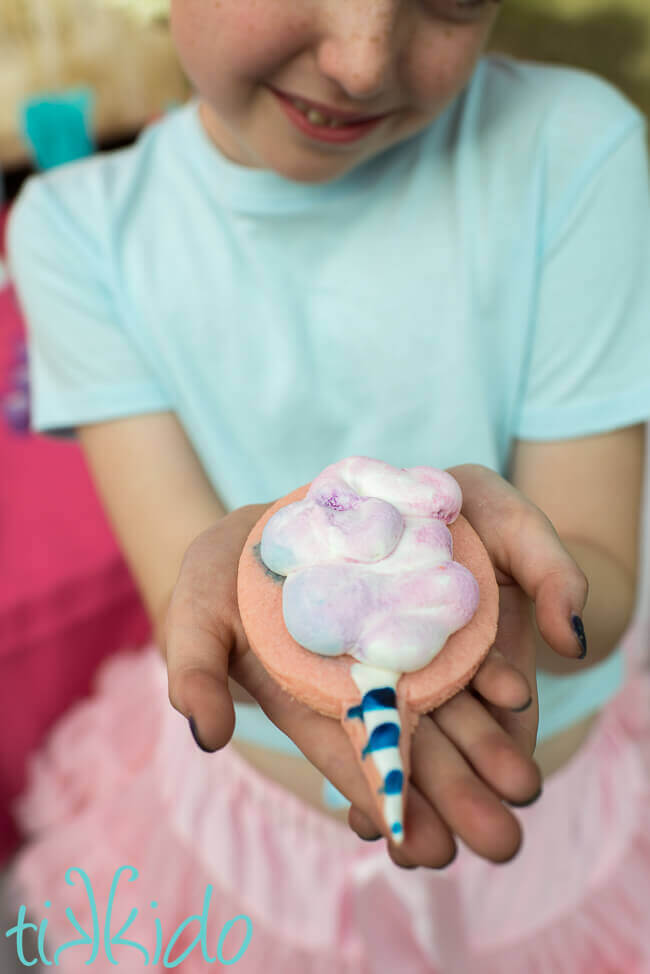 I piped the royal icing (on the cotton candy sugar cookies) in plain white icing, and then let my daughters paint food coloring like watercolors to make the cotton candy sugar cookies.  
It's awfully nice having kids old enough to actually help, not just desperately want to "help!"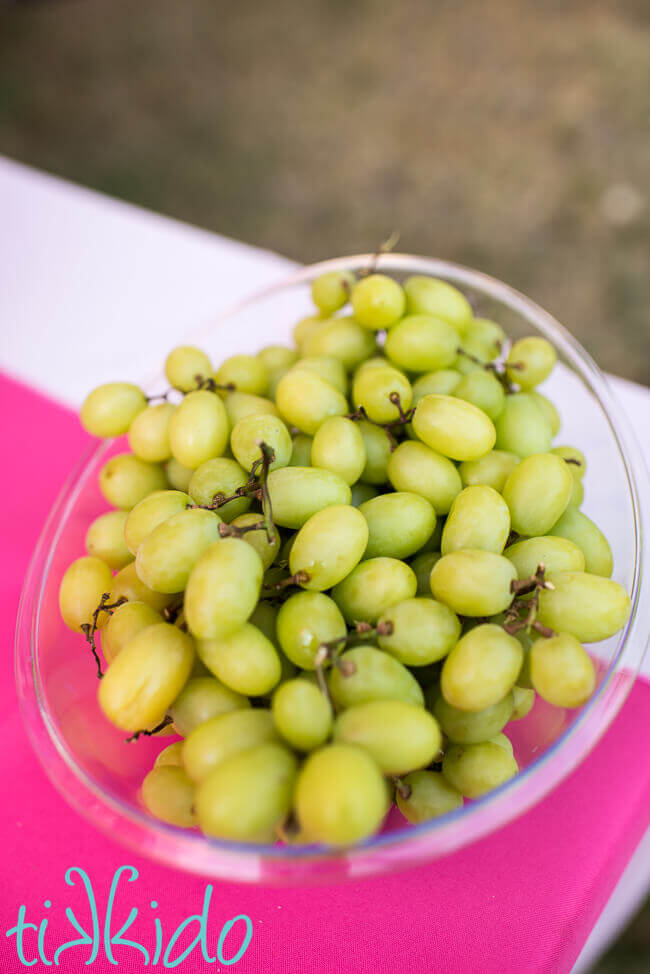 Cotton candy grapes provided a healthier choice on the dessert table.
Cotton Candy Party Decorations: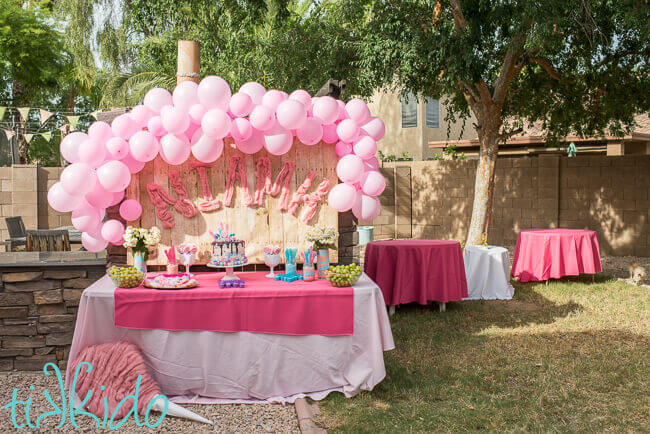 I made a balloon garland with pink balloons to surround our Cotton candy party dessert table backdrop.
Well, actually, I made my dear friends who were visiting do this for me.  But I provided the instructions.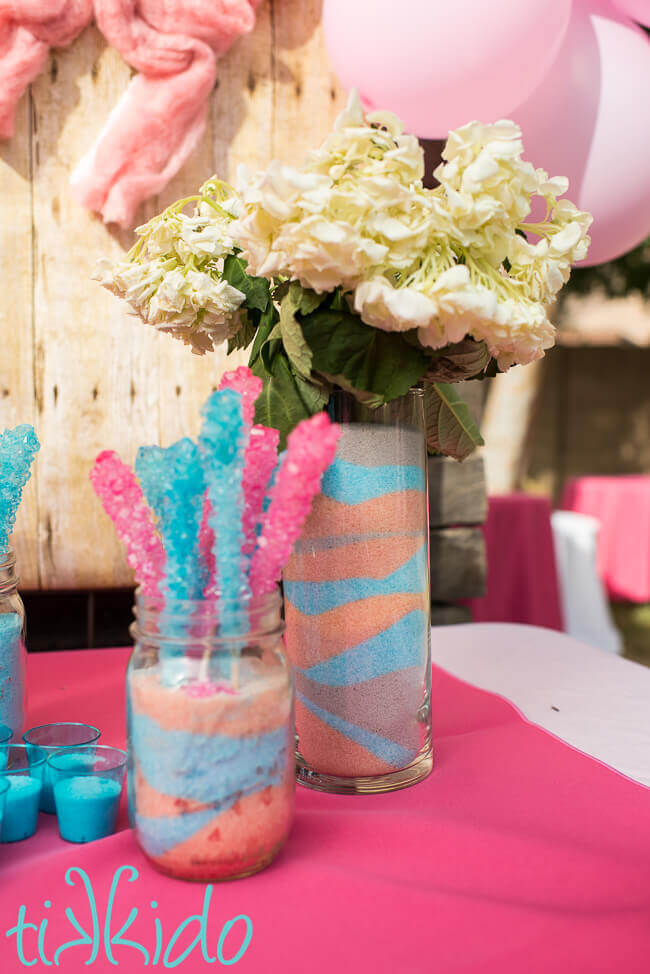 I had a delightfully clever idea to make a vase with cotton candy sugar layered like sand art.  Alas, the hydrangea didn't like the heat, even with water in the vase, so this picture looks pretty sad.  The flowers are lackluster, but the layered vase?  That's still pretty darn cool.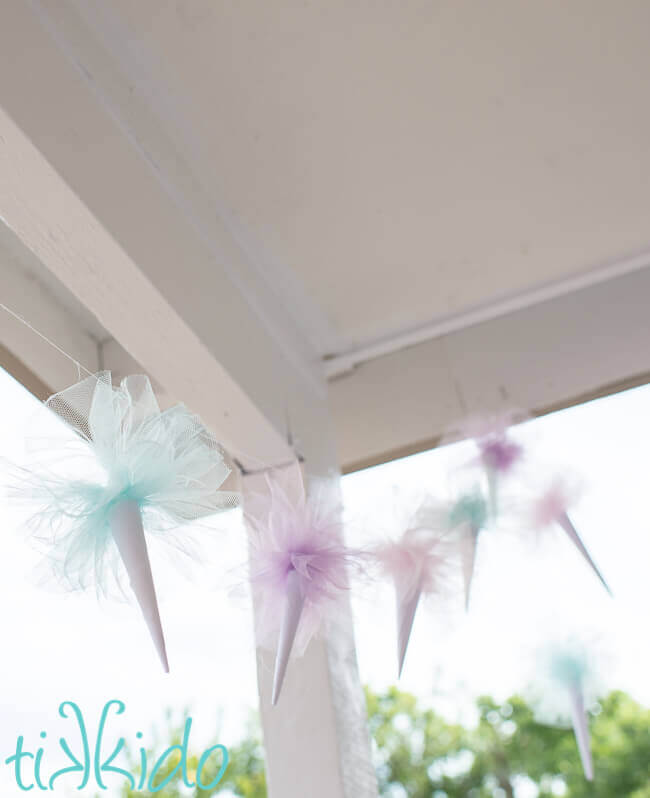 I also made tulle pom pom cotton candy garland to decorate the party space.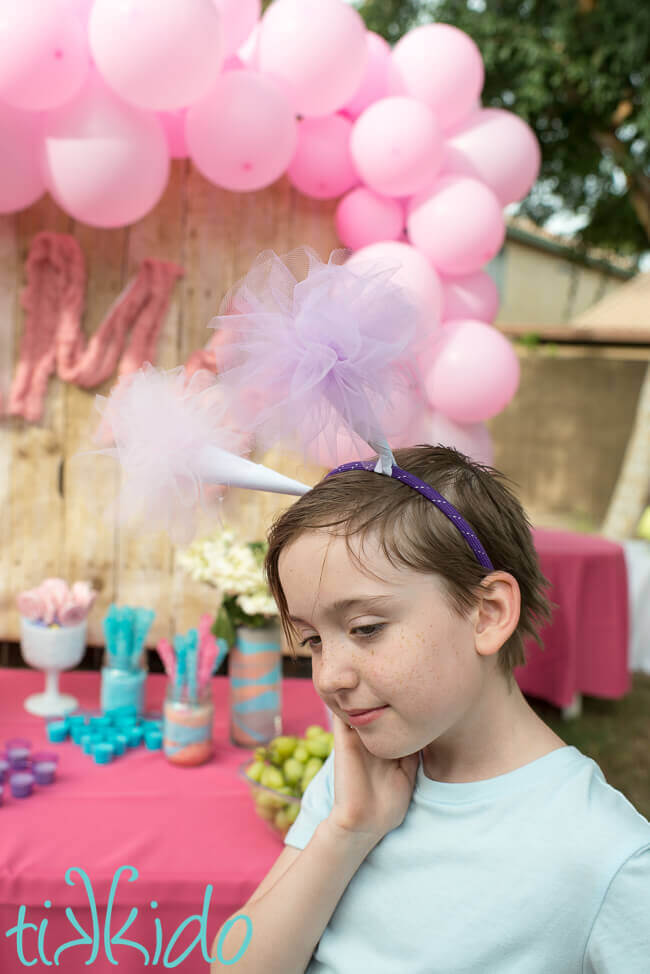 I had a couple of the cotton candy tulle puffs left over after making the garland, so at my friend Crysta's suggestion, I made an utterly delightful headband for my daughter to wear for the party.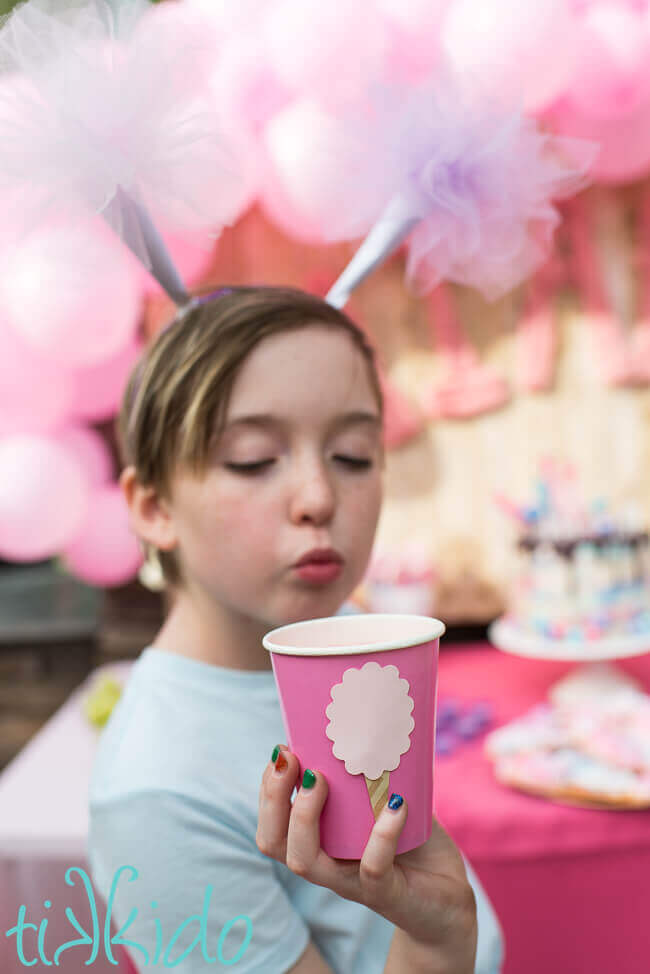 I love all the little details in a party, and these cotton candy cups are a prime example of that affectionate inclination.  A simple paper punch, cups from the dollar store, and you have something absolutely perfect for a Cotton Candy party.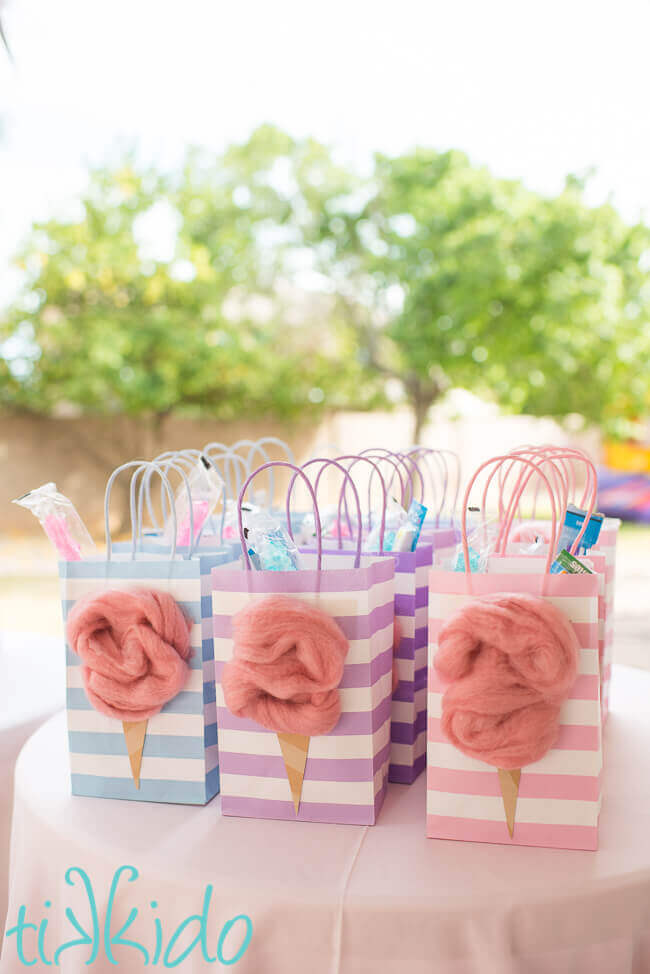 I am very, very proud of how my cotton candy favor bags turned out.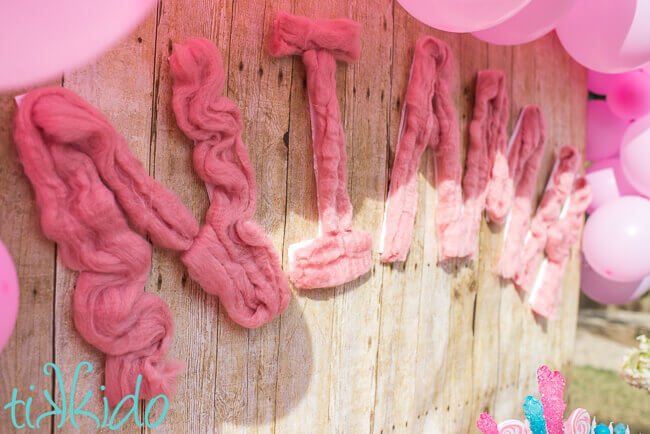 And I used some of that same fluffy, large scale yarn to make the cotton candy letters of Niamh's name for the dessert table backdrop.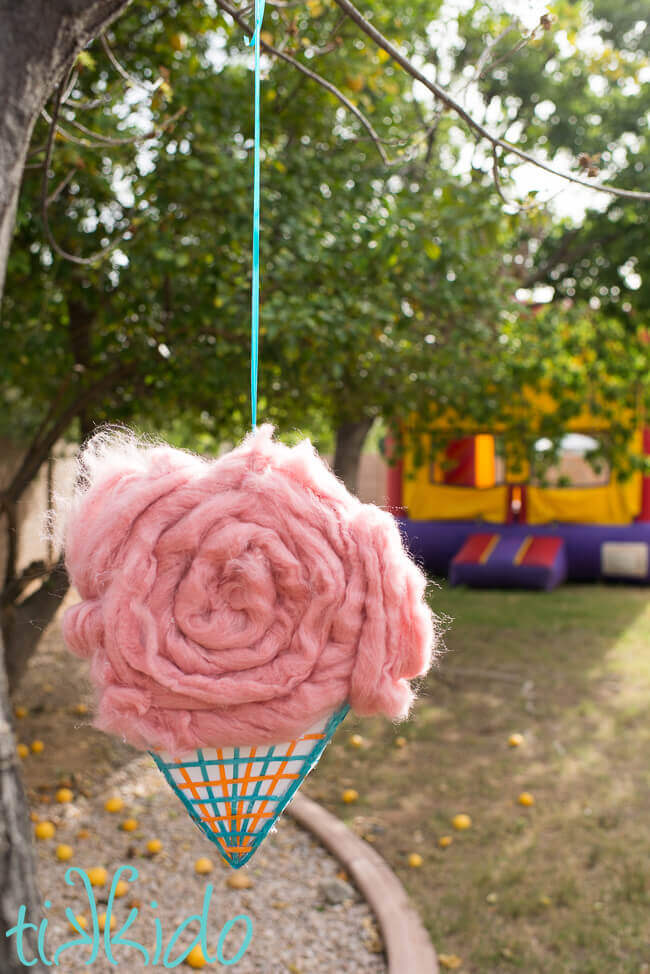 I made my own cotton candy pinata, but it fell from the tree before the party even started!  They always fail at the hanging point.  It's a good thing that my birthday girl made her own pinata, too.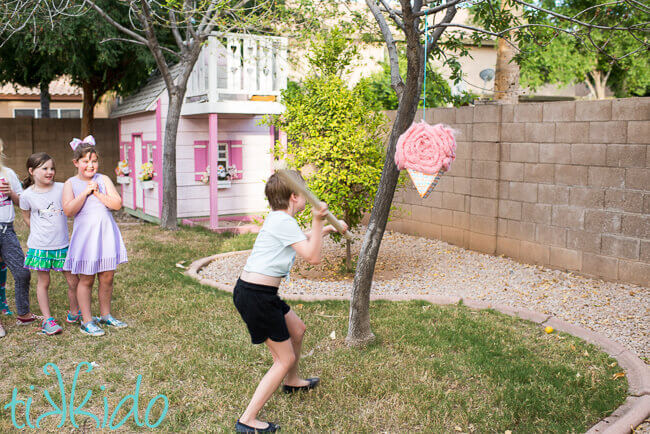 At least the birthday girl got a swing or two at her pinata.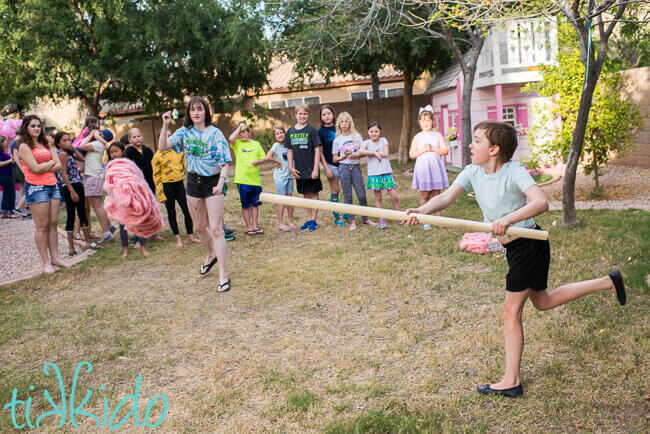 That one fell down pretty quickly, too, so her older sister decided to pitch the pinata I'd made like a softball.  That didn't work so well.  She's an Irish dancer, not a softball player.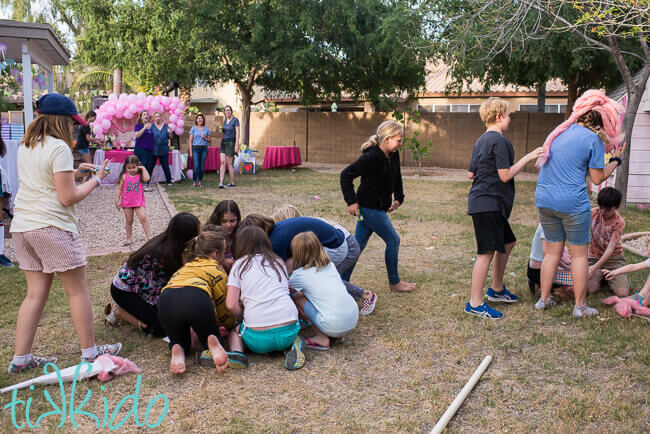 So I decided to tell the kids that we'd all just act like savages, and pull the pinatas apart with our bare hands!  They freaking loved it.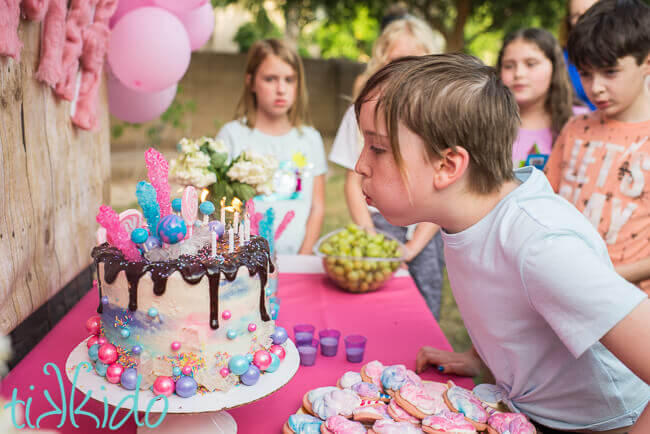 Obligatory blowing out of 10 candles for the birthday girl.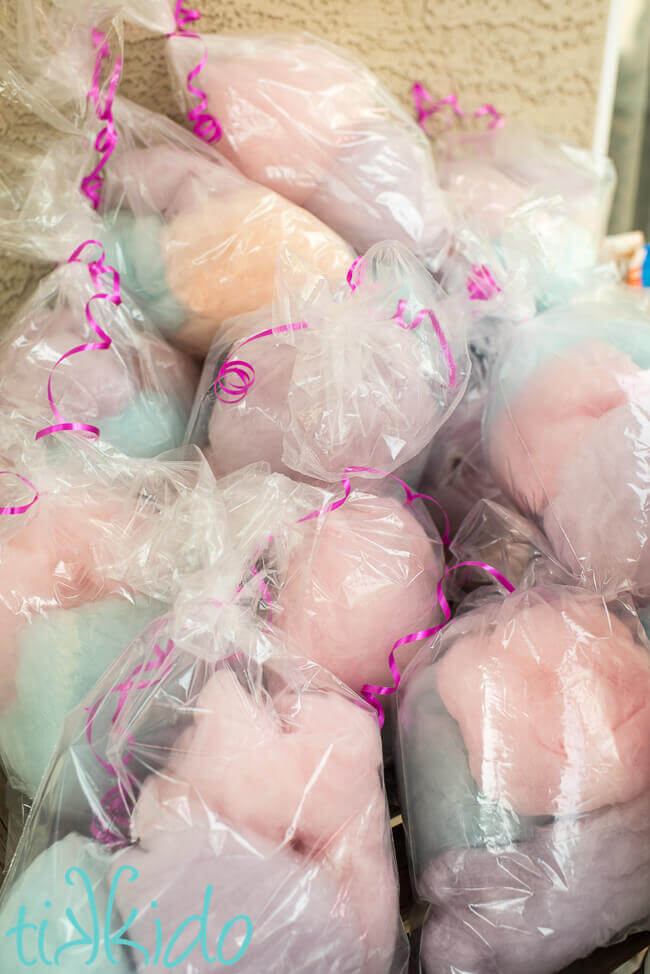 And mountains of cotton candy for the kids to take home at the end of the night!  
What's the best birthday party theme you'd ever heard of?