Printer-friendly version
Strawberry muffins are the perfect make-ahead summer breakfast.  This strawberry muffins recipe get their all-natural flavor from both fresh strawberries and freeze dried strawberries.  Every bite bursts with strawberry flavor in this easy muffin recipe!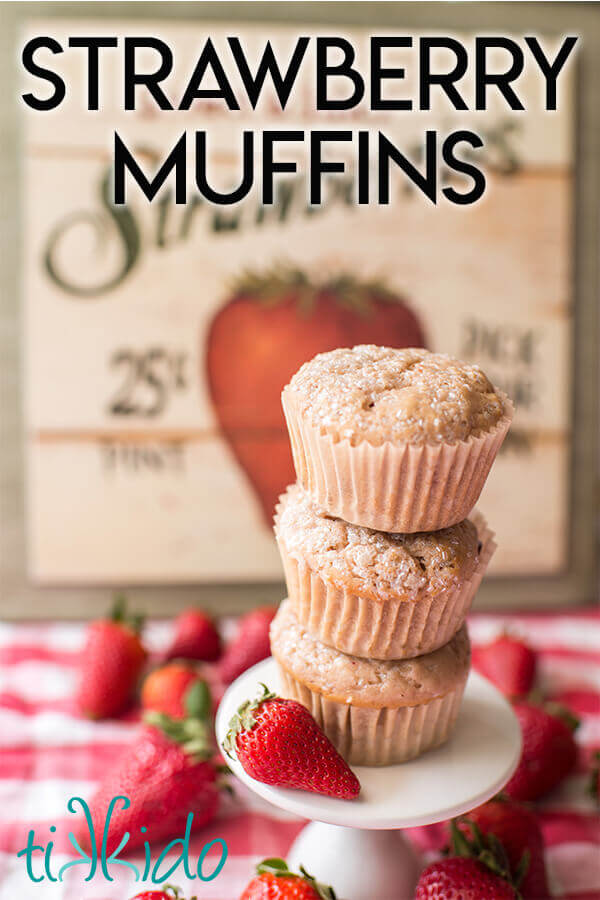 It's officially strawberry season, and I made these fresh strawberry muffins for my contribution to this month's Taste Creations Blog Hop.  Our theme this month is Sweet Strawberries!  I love how these tender muffins turned out.
Be sure to check out all the other amazing strawberry recipes from my blogger friends down at the bottom of the post!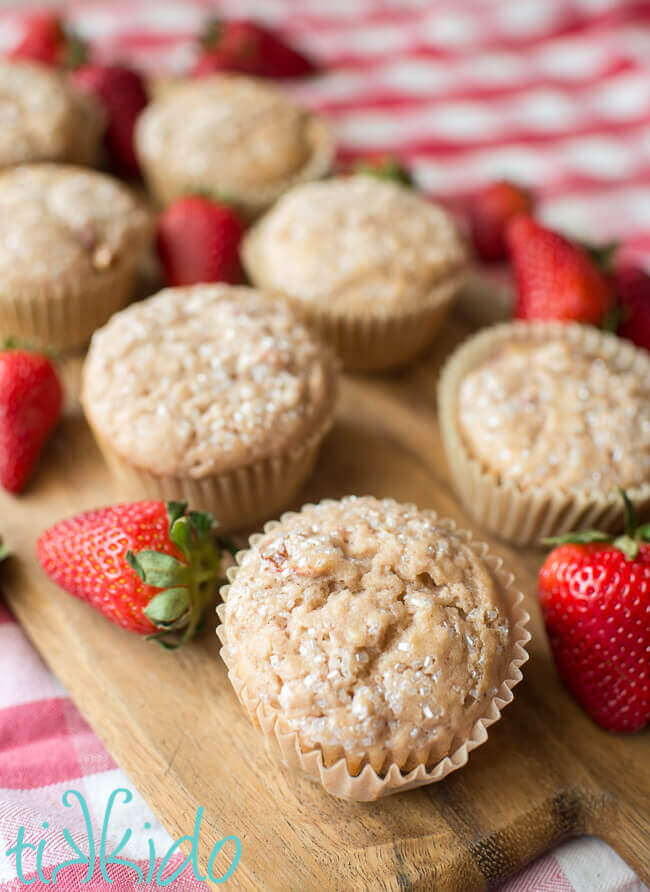 When developing this recipe, I wanted to create a strawberry muffin that would have real, vibrant strawberry flavor in every bite, not just when you were lucky enough to run into a piece of strawberry.  It experimented a bit and found that my favorite muffins combined both pureed fresh strawberries and freeze dried strawberries to deliver intense strawberry flavor.  I really do think I've come up with the best strawberry muffin recipe around!
Easy Strawberry Muffins Recipe:
3 cups all purpose flour
1 cup sugar
2/3 cup melted butter
2 eggs, beaten
1 cup buttermilk
1/2 teaspoon salt
1 Tablespoon baking powder
1 teaspoon vanilla bean paste (or just vanilla extract)
large sugar crystals for the tops of the muffins (optional)
approximately 10 large, fresh strawberries, hulled
approximately 1 cup of freeze dried strawberries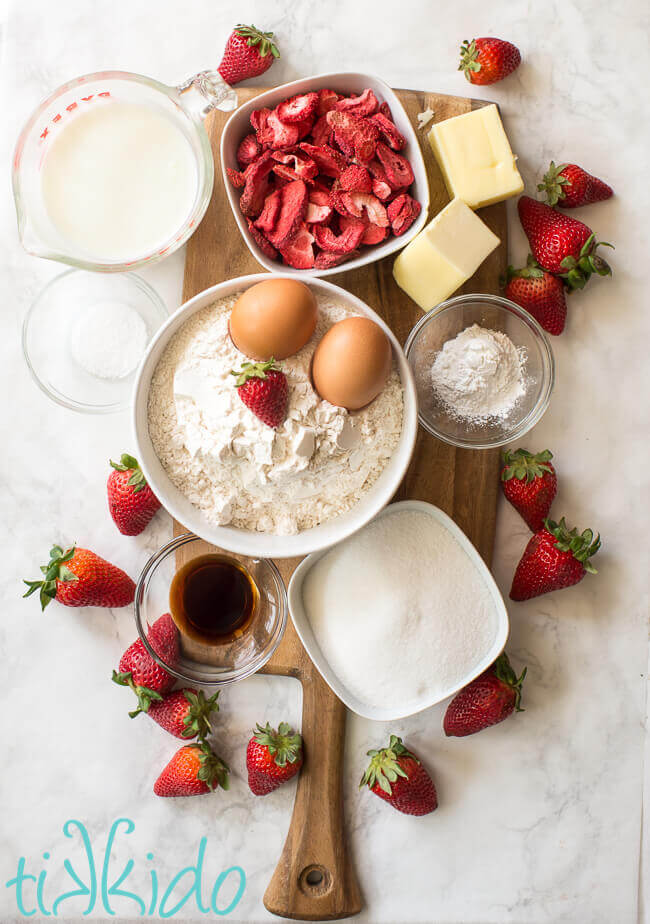 Why use Freeze Dried Strawberries in the Strawberry Muffins?
I absolutely love using freeze dried fruit in baked goods.  It adds an intense punch of real fruit flavor without messing with the liquid content of the recipe.  You'll get the best flavor by using a mix of juicy strawberries and freeze dried fruit.
You could certainly substitute diced fresh strawberries for the freeze dried strawberries in this recipe.  Just be aware that you might have to adjust your cooking time to account for the added moisture from the fresh fruit.  Similarly, if you're using frozen berries, you may need to adjust the recipe to account for the moisture content in the frozens strawberries.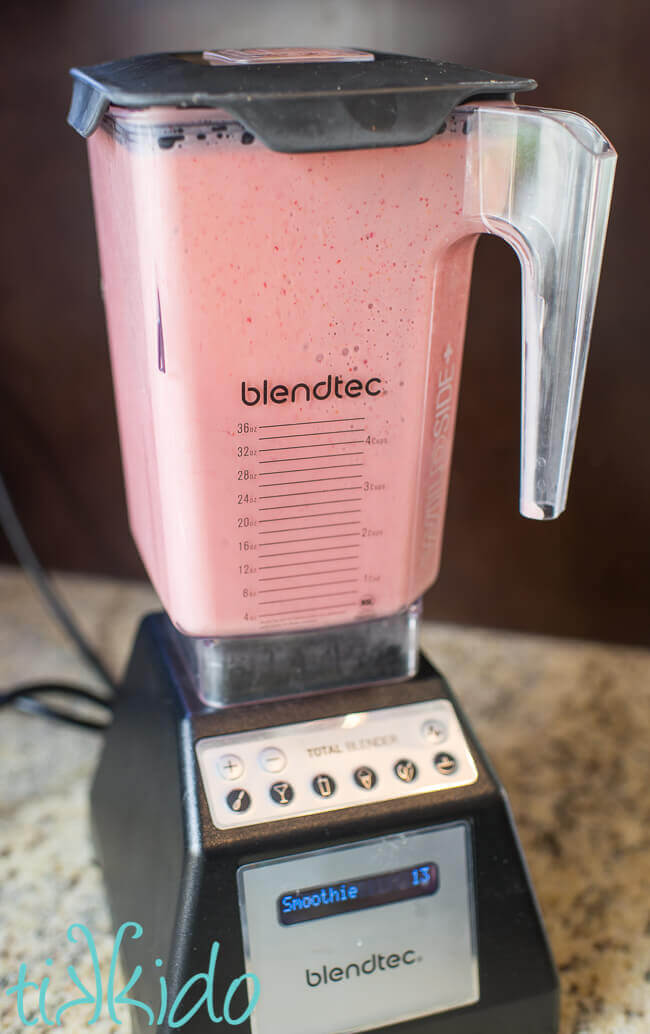 I wanted my strawberry flavor to be in every bite of muffin, so I blended my fresh berries with the buttermilk before mixing my muffin batter.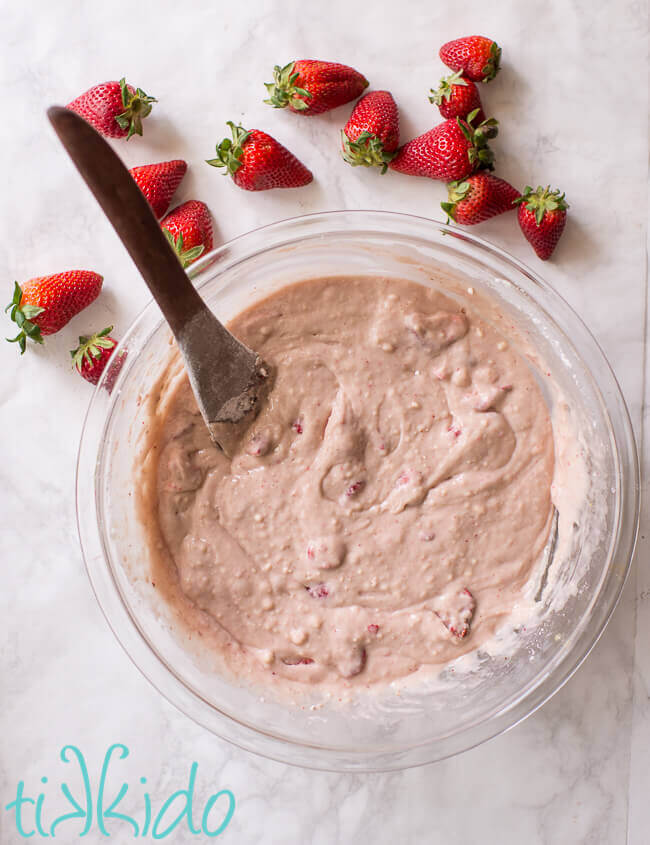 Mix wet ingredients together.  Combine sugar with the other wet ingredients.  I know, I know, sugar is dry, but it's actually considered a wet ingredient when making muffins!  
You can use a stand mixer if you want, but these delicious muffins can be made in a large bowl, mixed by hand with a wooden spoon or rubber spatula.  Mix the dry ingredients (except for the freeze dried strawberries) together in a separate bowl.  Add the flour mixture to the wet ingredients and mix well.  Add the freeze dried strawberries and mix until combined.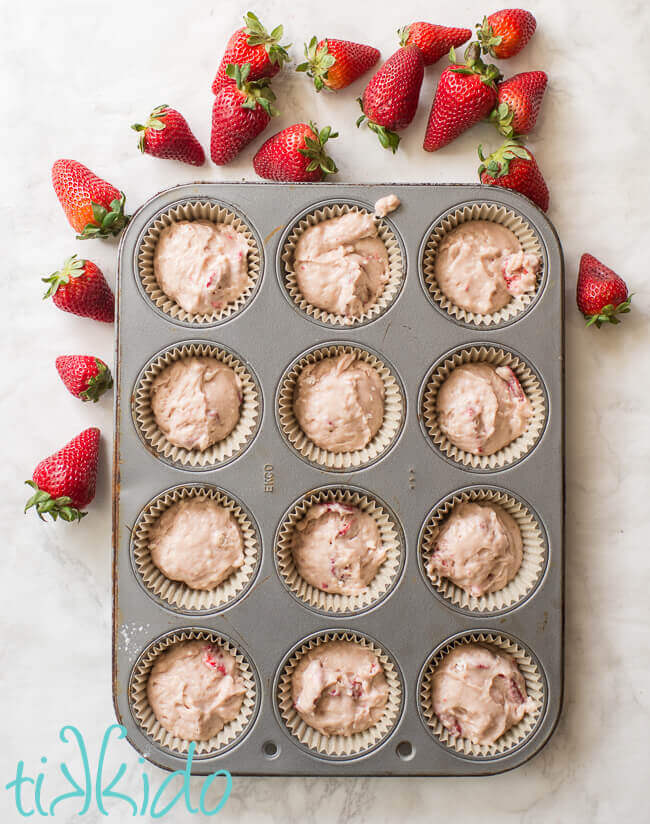 Line your muffin pan with standard muffin cups ( aka cupcake liners ).  Scoop batter into lined muffin tins. (The recipe makes a batch of 24 regular sized fluffy muffins, so you'll need two standard muffin tins.)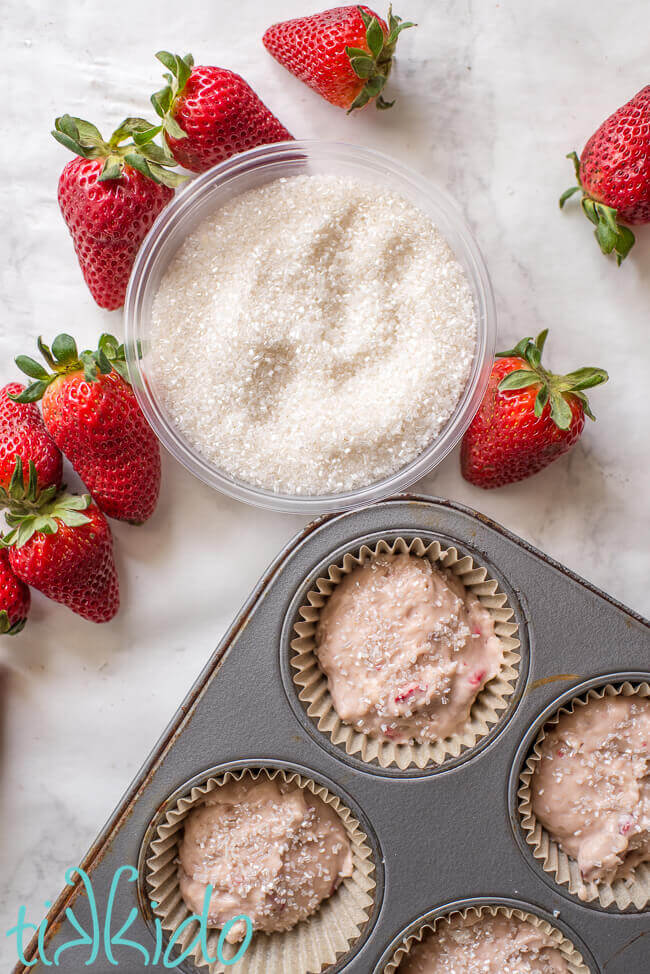 I like to sprinkle the top of the muffins with coarse sugar crystals.  The sugar adds a nice little crunch on the top of the muffin, and a little bit of sparkle.  Next time I make these, I'm going to experiment with a crumb topping and maybe even a cream cheese filling.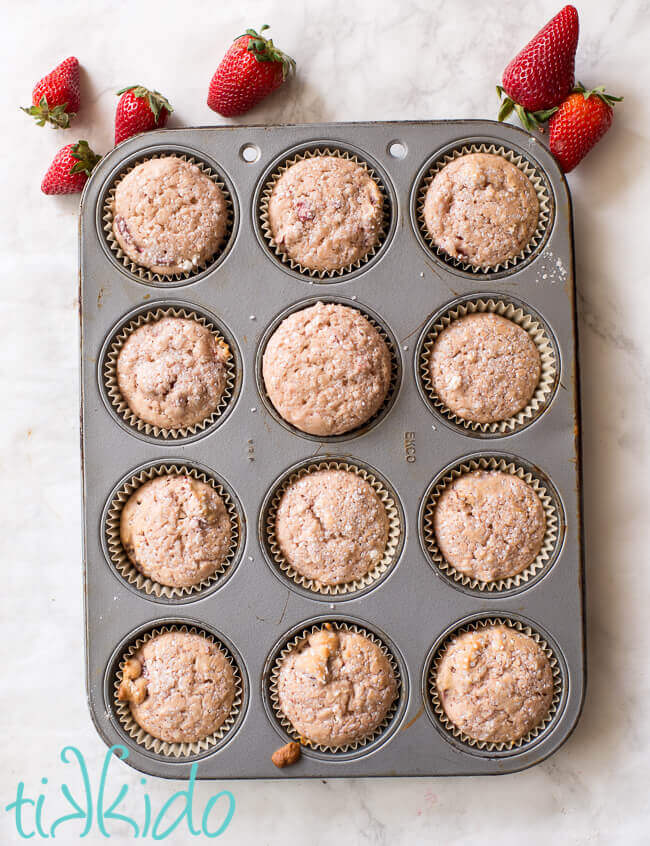 Bake at 350 degrees in a preheated oven for 22-25 minutes, until a test skewer comes out clean, and the muffins just start to turn a golden brown at the edges.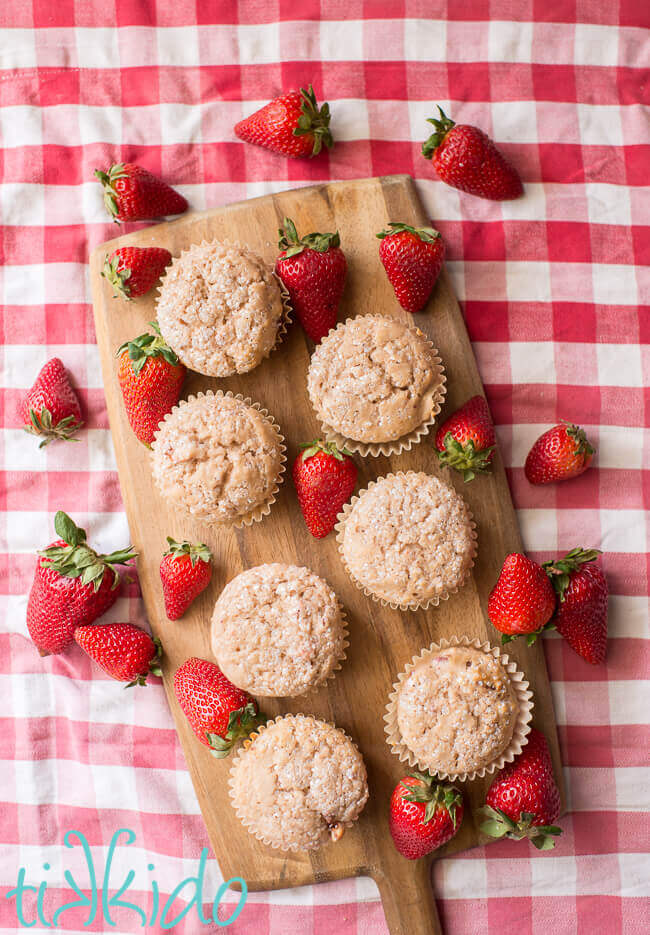 Let cool on a wire rack
I love anything made with berries, and these strawberry muffins are going to be a breakfast and snack staple in our house all summer long.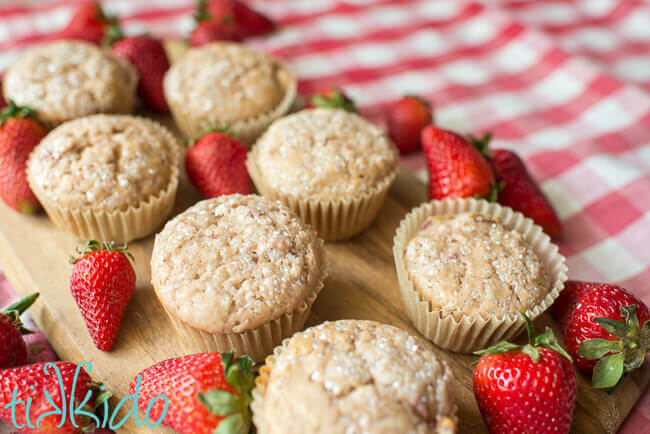 And since it only takes about 30 minutes start-to-finish to make these delicious homemade muffins, they're easy to keep on hand for happy snacking.
Making Jumbo Strawberry Muffins
Do you love those jumbo muffins you can get at the bakery?  Instead of making 24 standard muffins, you can absolutely bake these as 12 jumbo muffins!  You'll need jumbo muffin tins, and you'll need to bake the muffins longer, about 32-35 minutes.
Making Mini Strawberry Muffins
You can easily turn this recipe into a mini muffin recipe.   Make the strawberry muffin batter as directed, and bake in a mini muffin tin for about 10-12 minutes.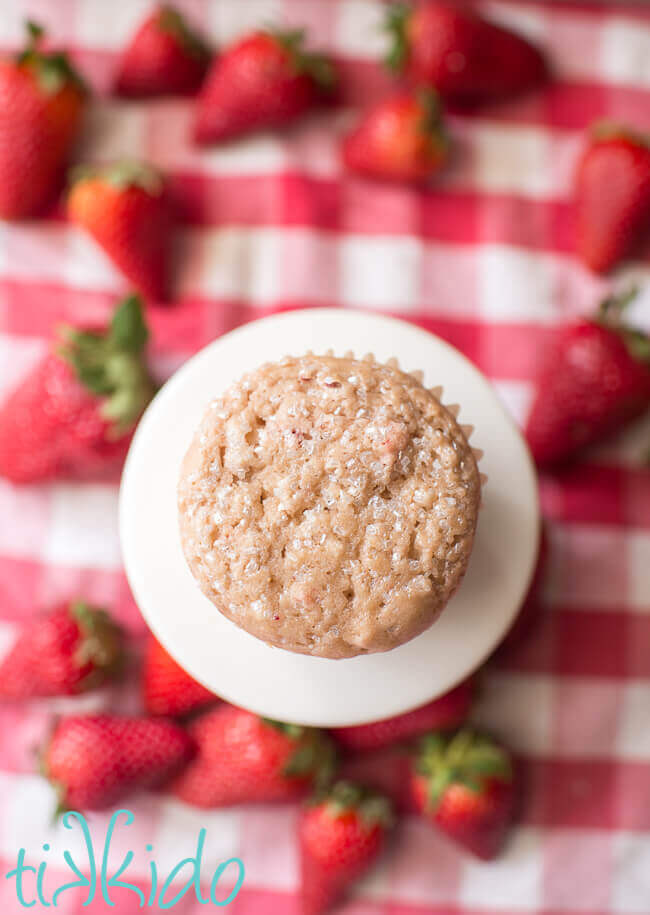 What's your favorite kind of muffin?
Printable Strawberry Muffins Recipe: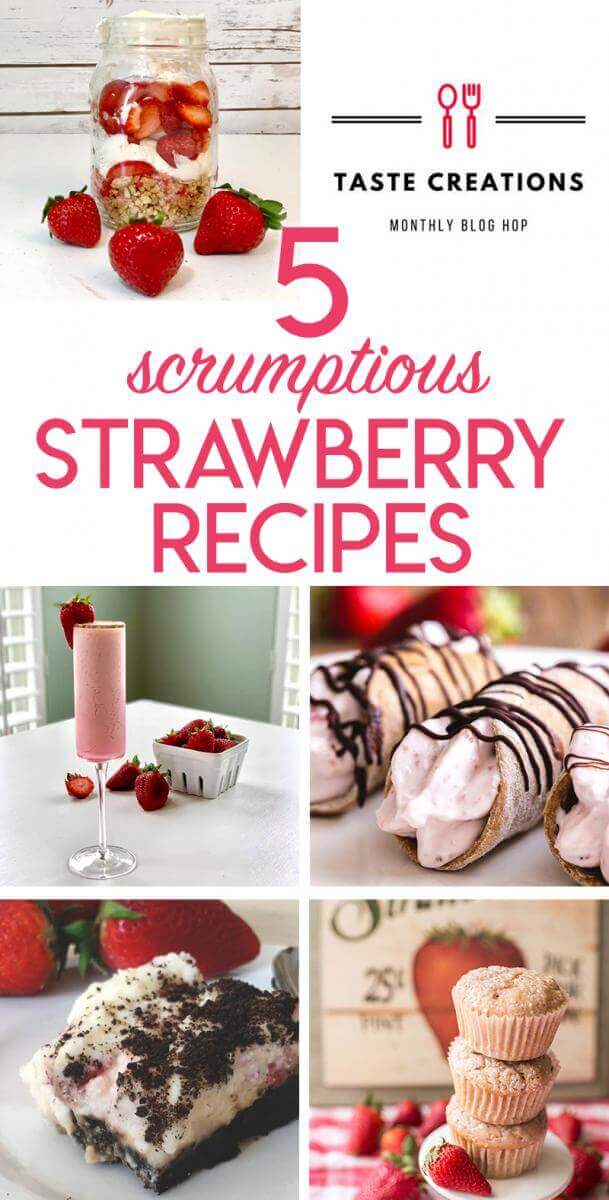 Be sure to check out the other amazing strawberry recipes in this month's Taste Creations Blog Hop:
Mom Home Guide:  Mason Jar Strawberry Cheesecake
Our Good Life: Strawberry Champagne Smoothies
An Italian in my Kitchen: Strawberry Cannoli
Nemcsok Farms: Strawberry Cream Cake
Other Muffin Recipes You Might Like: