Printer-friendly version
It's easy to make homemade cheese powder with just a dehydrator and some fabulous, flavorful cheeses.  Use the cheese powder to make the most delicious cheese popcorn you've ever had.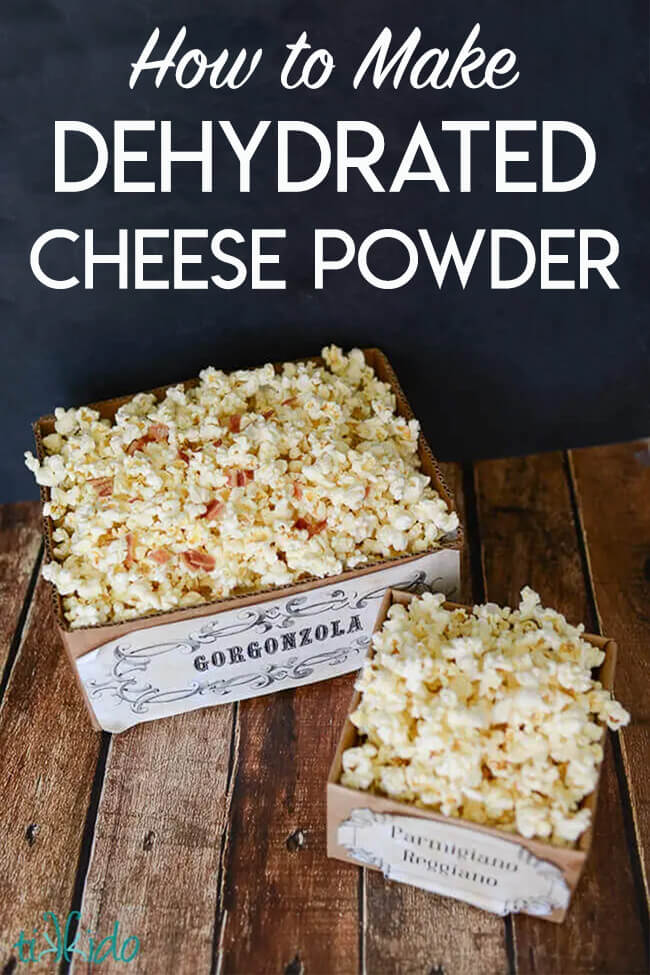 When I was planning our The Boxtrolls movie night, I knew I wanted to make some awesome popcorn for the evening.  And since we'd already seen and LOVED the movie, I knew that the perfect flavor had to be cheese.  But not just commercial cheese popcorn.  Amazing cheese flavors.  I knew I had to figure out how to make amazing dehydrated cheese powder out of all of our favorite, flavorful cheeses.
Like Gorgonzola Bacon, Asiago Rosemary, Parmigiano Reggiano, and Aged Cheddar.
We really like cheese in our family.
I couldn't find the cheese flavors I wanted commercially, so I knew it was time to experiment with a dehydrator and do it myself.
How to Make Cheese Powder:
The first step was to grate the cheese so it would dry more quickly and evenly.  I didn't want the cheese to fall through the cracks of my dehydrator, so I tried two methods: fruit leather tray inserts and small screen inserts.
Both definitely worked, but the next time I make dehydrated cheese powder, I'll use all fruit leather trays.  That's because as the cheese is dehydrating, it releases not only water, but a lot of oil.  A few times during the dehydrating process, I turned off the fan, checked on the cheese, and soaked up oil with a paper towel.  That was a much easier process on the fruit leather trays than the small screen trays.
Using the dehydrator is insanely easy.  Put the food on the trays, stack the trays, and push the power button.  Drying time for your cheese will really depend on how thickly it's grated, and the moisture content of the cheese.  My first batch took about 12 hours, but the second was done in eight.
Once the cheese was nicely dehydrated, I set it on a paper towel to soak up any excess oil that was still left.  
It was time to pulverize the cheese into delicious homemade cheese powder.  I tried using a mortar and pestle, and while it would certainly work, holy cow, that was laborious.  I quickly discarded that idea and pulled out my husband's coffee grinder.
That blended the cheese into powder beautifully...  but I learned the hard way that no matter how well you clean a coffee grinder, if it's been used for coffee, some of those oils will get on any other food you grind in there.  Vaguely coffee flavored cheddar turns out to be rather offputting.  Who would have guessed.  ;-)  So I bought my own coffee grinder that will be used only for spices and non coffee applications.  Ahh, much better.
How to Make Cheese Popcorn
Once I had my cheese powder, making the homemade cheese popcorn was a snap!  Just sprinkle hot, freshly popped popcorn with a tablespoon or two of the dehydrated cheese of your choice, and toss.  If you do it while the popcorn is piping hot, the cheese will stick nicely.  If you let the popcorn cool down, it's not going to stick well at all, so work quickly.
Yum--the perfect movie snack!  
Now, I can't wait to experiment with other uses for the cheese powder!  I'm thinking homemade macaroni and cheese packages, perhaps.  Or some great herb parmesan biscuits.  How would you use fancy dehydrated cheese powder?
Other Popcorn Recipes You Might Like: