Printer-friendly version
Maple bacon popcorn may be the most decadent, delicious, and completely addictive movie night snack I've ever made.  It's so good, you might forget all about watching the movie and just focus on how amazing this popcorn recipe is, in fact.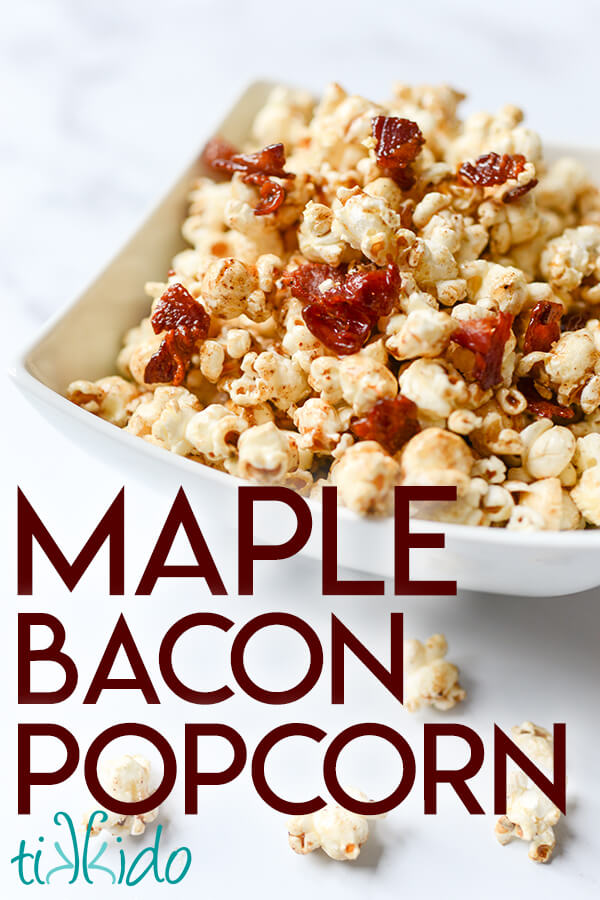 It's the first Monday of the month, and that means it's time for the Taste Creations Blog Hop.  This month, our theme is bacon!    Be sure to check out the other delectable bacon recipes from my fellow bloggers at the bottom of the post.
I love the flavor of maple syrup, but it's awfully sweet, and I like it balanced with something salty.  Maple and bacon are just made for each other.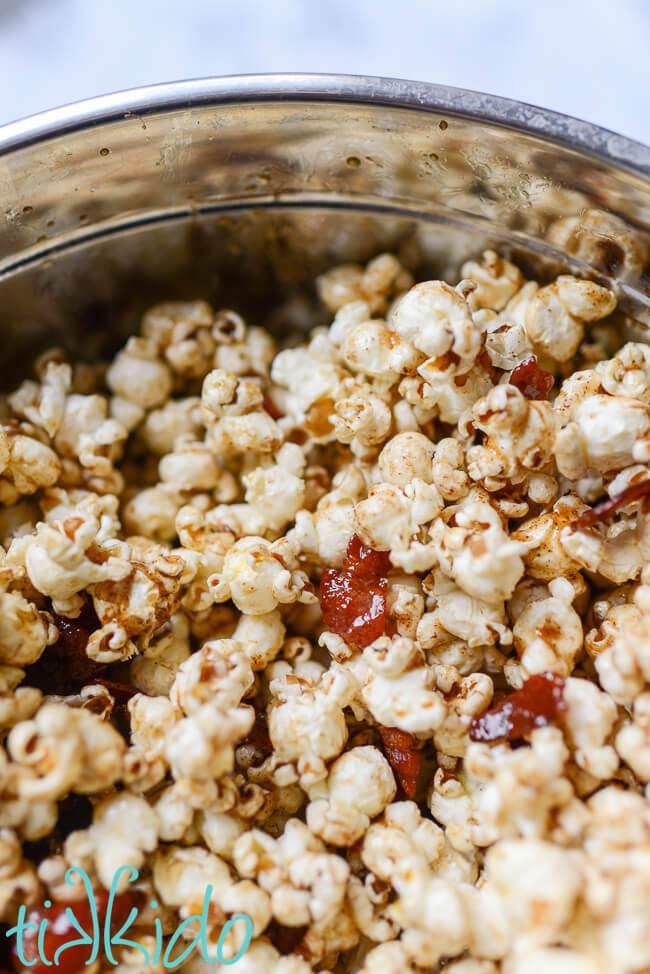 This maple bacon popcorn is made even more amazingly delicious with the addition of browned butter.  This is a snack with an incredible range and depth of flavors.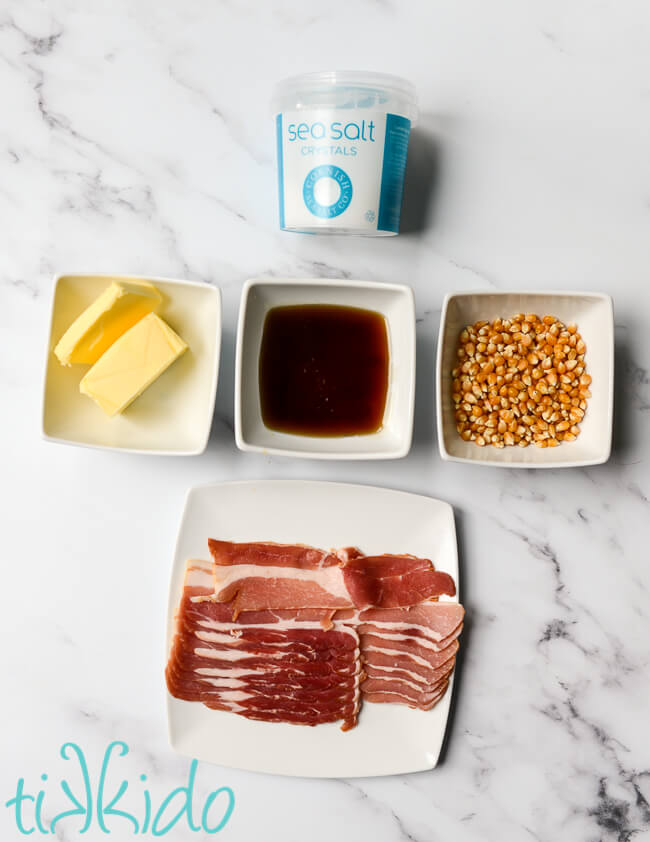 Maple Bacon Popcorn Ingredients:
8 slices of bacon
6 Tablespoons butter
6 Tablespoons maple syrup
1/2 cup popcorn kernels
sea salt to taste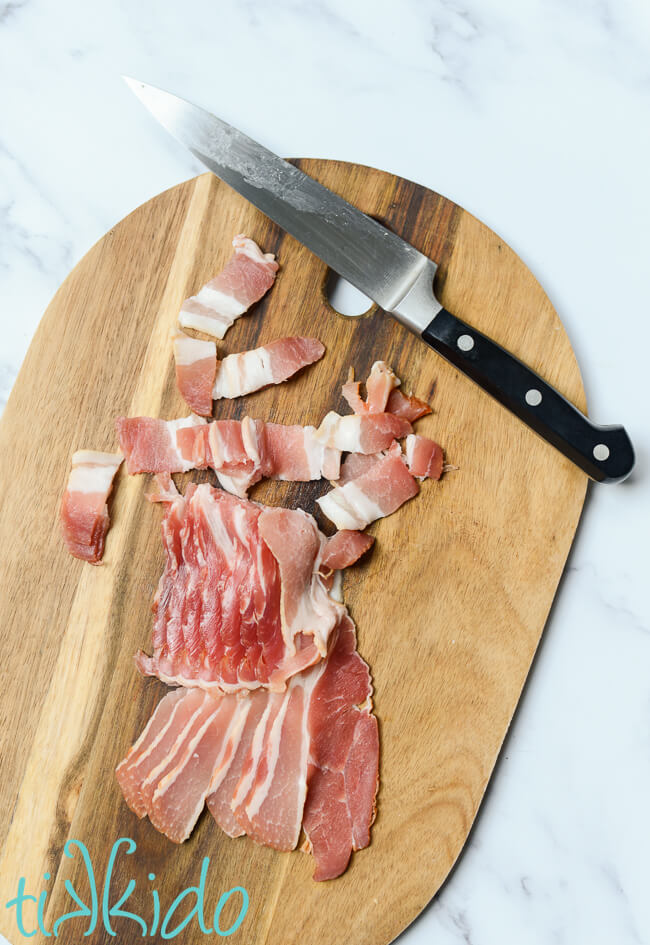 Cut the strips of bacon into small pieces.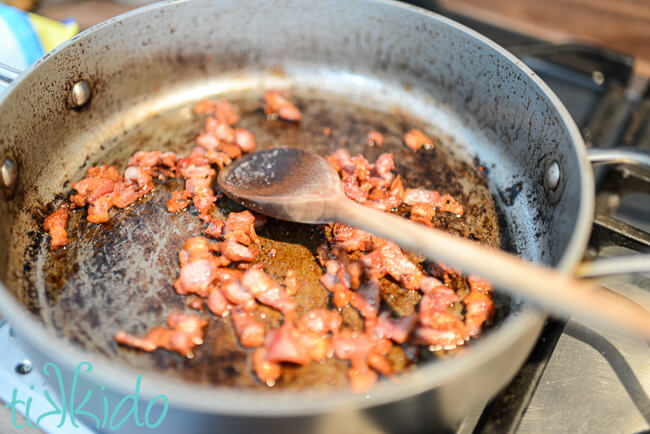 Fry the bacon up in a large frying pan.  Cook until nice and crispy, and the bacon fat has rendered.  Remove the bacon and set aside.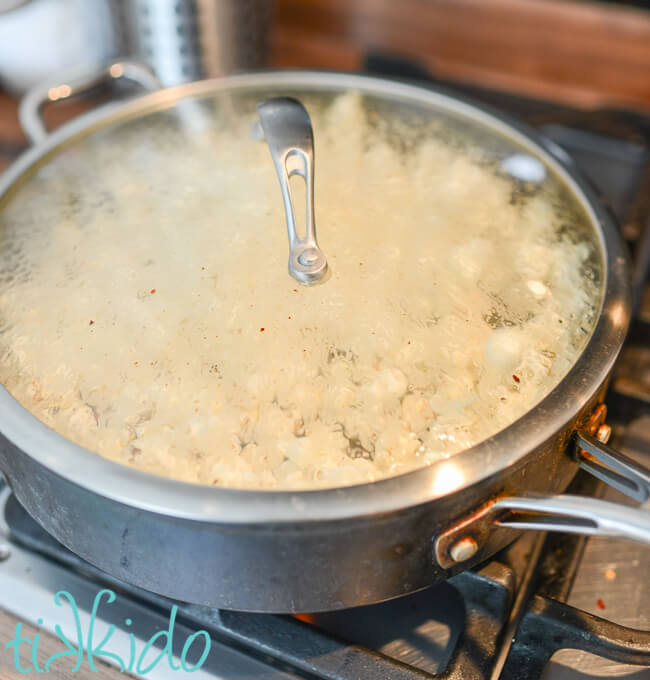 Use the bacon fat in that same pan to pop the popcorn kernels.  If not much bacon fat rendered, you can add another Tablespoon or two of a mild oil (like vegetable oil) to the pan to pop the popcorn.
I used a simple stovetop popcorn technique to make this popcorn--the same one I first used when making duck fat popcorn.  You can see the technique in the video and read a full explanation on the Duck Fat Popcorn blog post.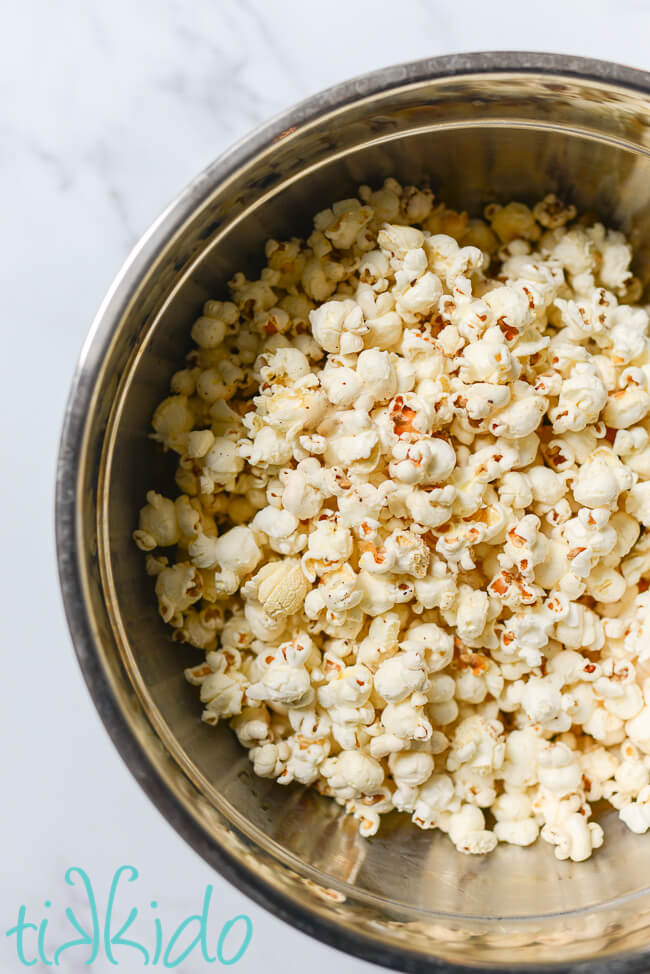 Place popped popcorn in a large mixing bowl.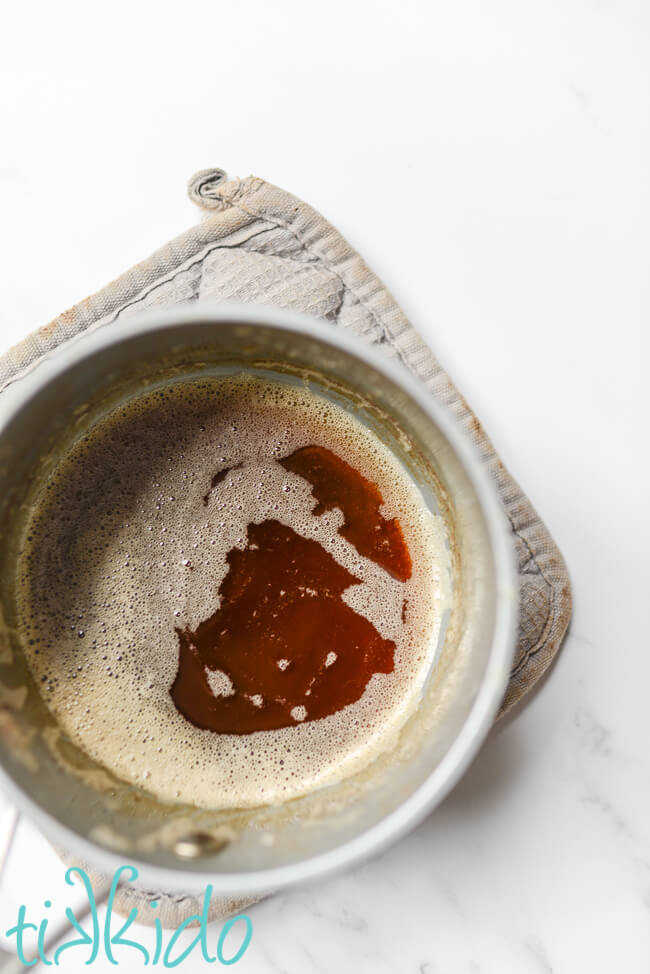 Cook the butter in a small saucepan until it turns a golden brown color.  Browned butter has an amazing, rich, complex flavor that you won't get if you just melt the butter.  It's worth the effort to do this step.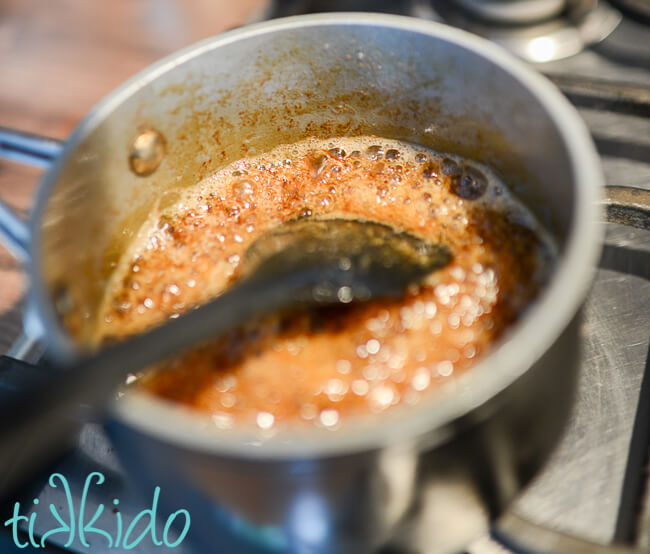 Add the maple syrup to the browned butter and cook, stirring all the while, for 4 minutes.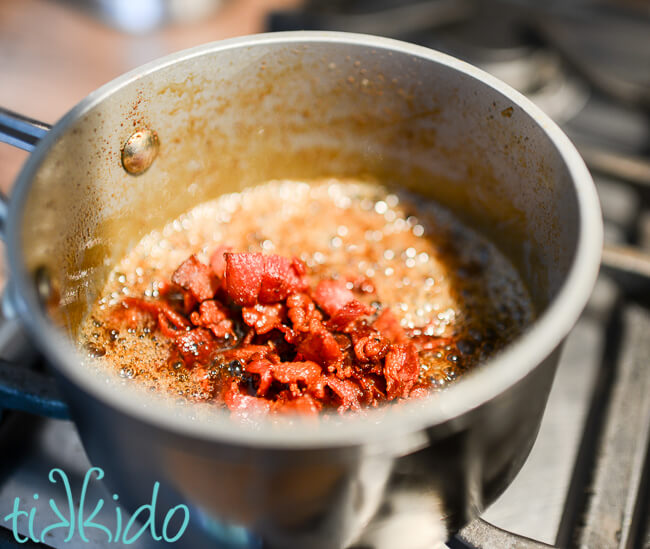 Add the bacon bits to the browned butter maple syrup mixture.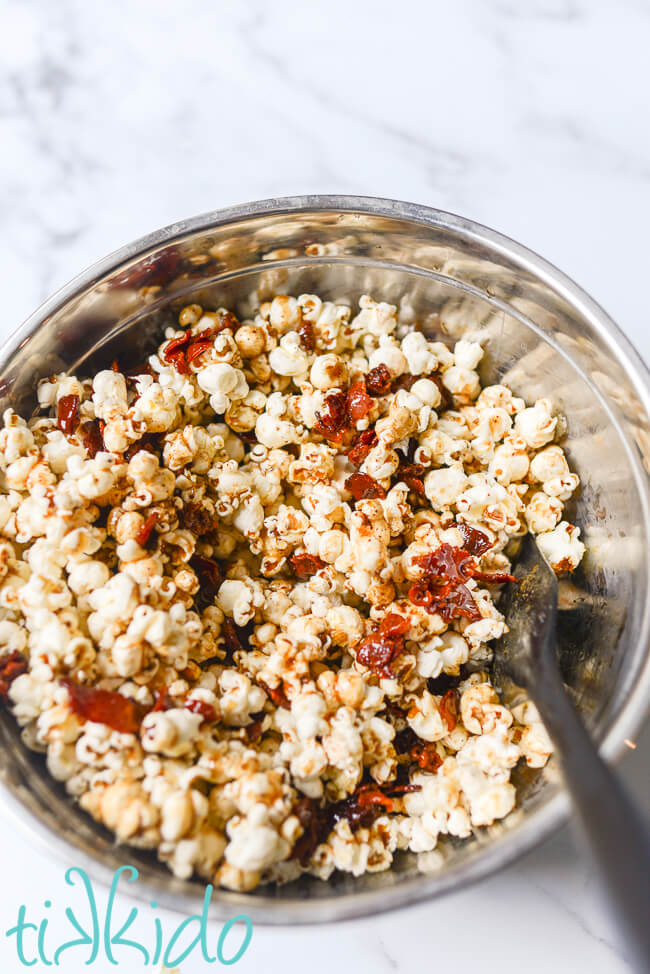 Pour the mixture over the popped popcorn, and toss well to evenly coat the popcorn.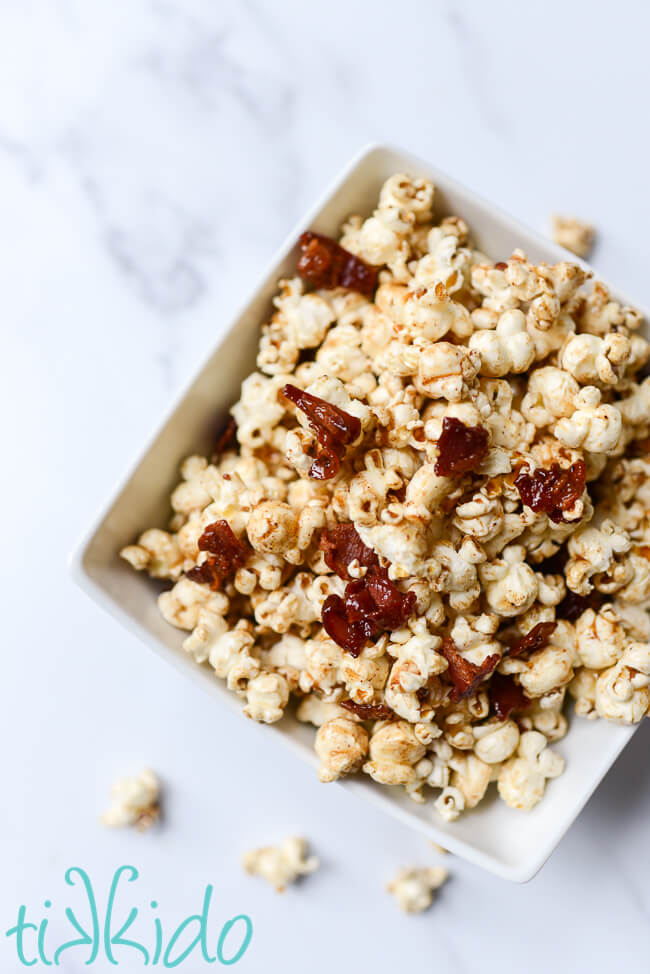 Serve immediately.  This is a very rich recipe, so we ended up having leftover popcorn sitting around, and it's still very good a few hours later.  But this is a recipe to make and enjoy right away, not something to be made well ahead of time.
Printable, One Page Maple Bacon Popcorn Recipe: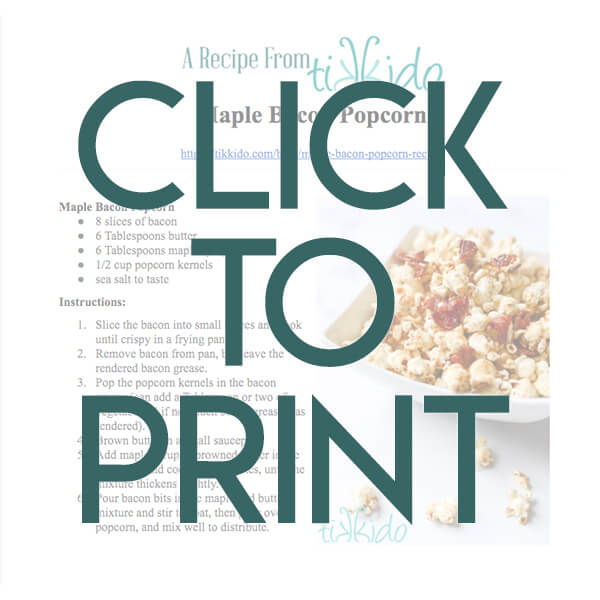 More Bacon Recipes from the Taste Creations Blog Hop: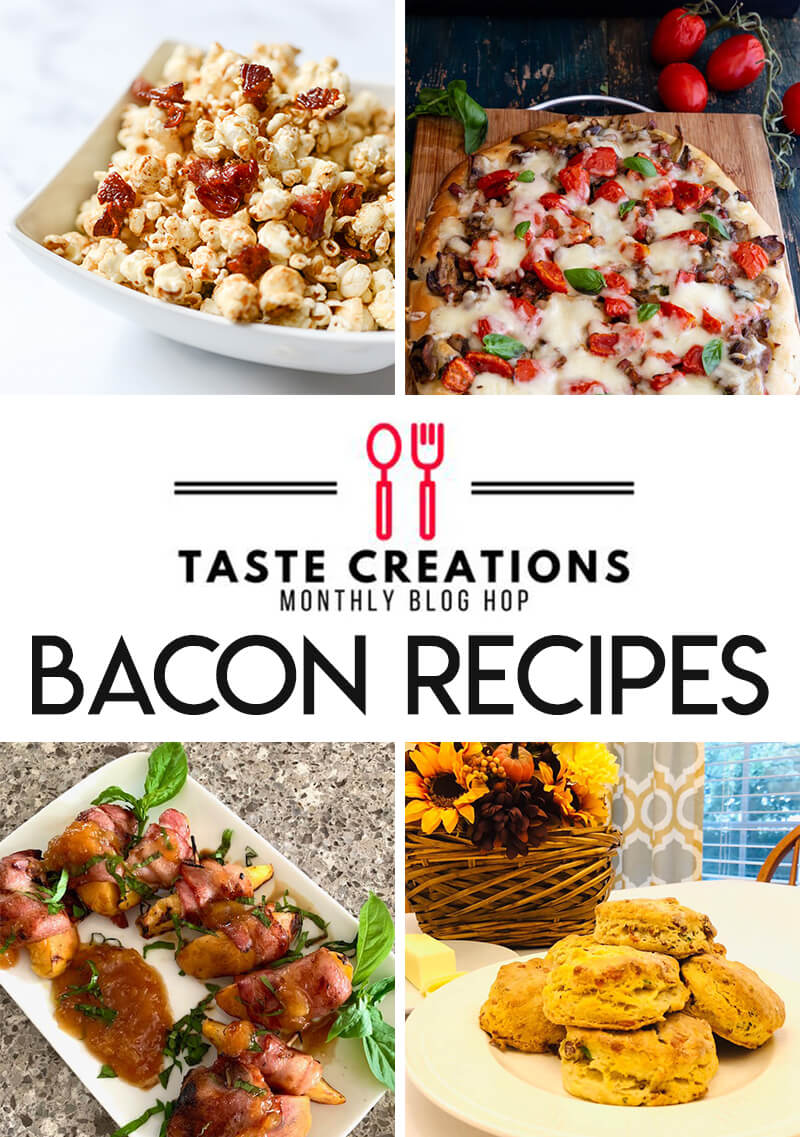 Our Good Life: Bacon Wrapped Fresh Peaches
An Italian in my Kitchen:  Mushroom Pancetta Pizza
Mom Home Guide:  Cheddar Biscuits with Bacon and Chives
Other Popcorn Recipes You Might Like: