Printer-friendly version
Regular caramel corn is delicious, especially when made with my tried-and-true recipe.  But if you want a snack absolutely packed with amazing fall flavor, you just can't beat Caramel Apple Popcorn.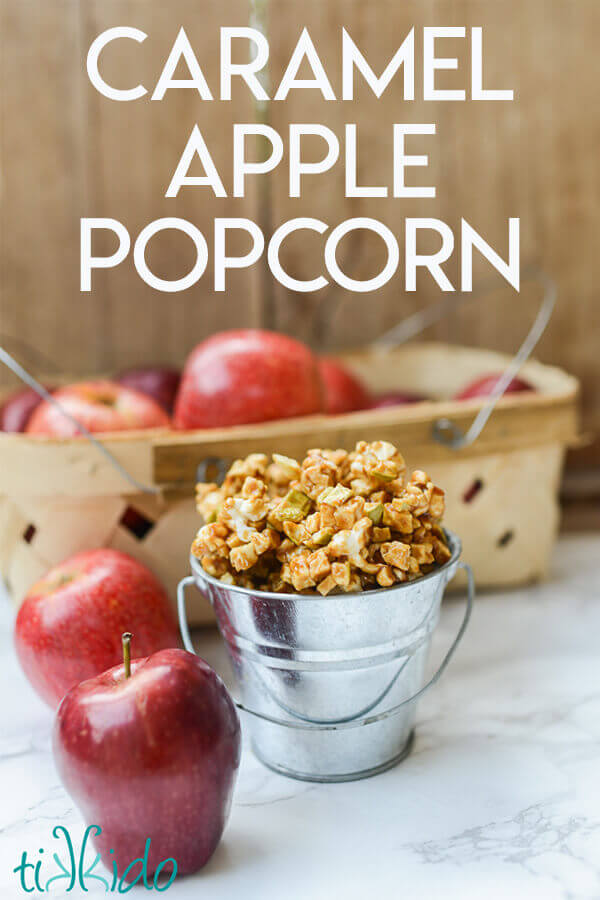 That's right.  Apples + caramel popcorn = one outrageously delicious snack. Hellooooooo, Fall!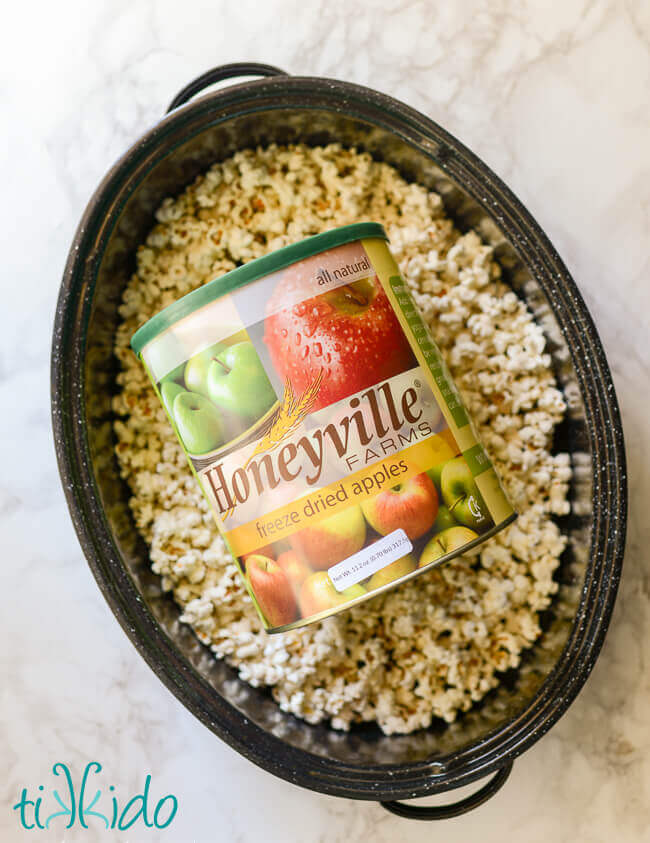 Fresh apples obviously wouldn't work for this recipe, but diced freeze dried apples do.  Really, really well.
Caramel Apple Popcorn Recipe:
Approximately 2.5 quarts of popped popcorn.  NO un-popped kernels!
1 8oz can of freeze dried diced apples.
2 cups packed brown sugar
1 cup butter
1/2 cup light Karo syrup
1 teaspoon salt
3 Tablespoons molasses
1 teaspoon baking soda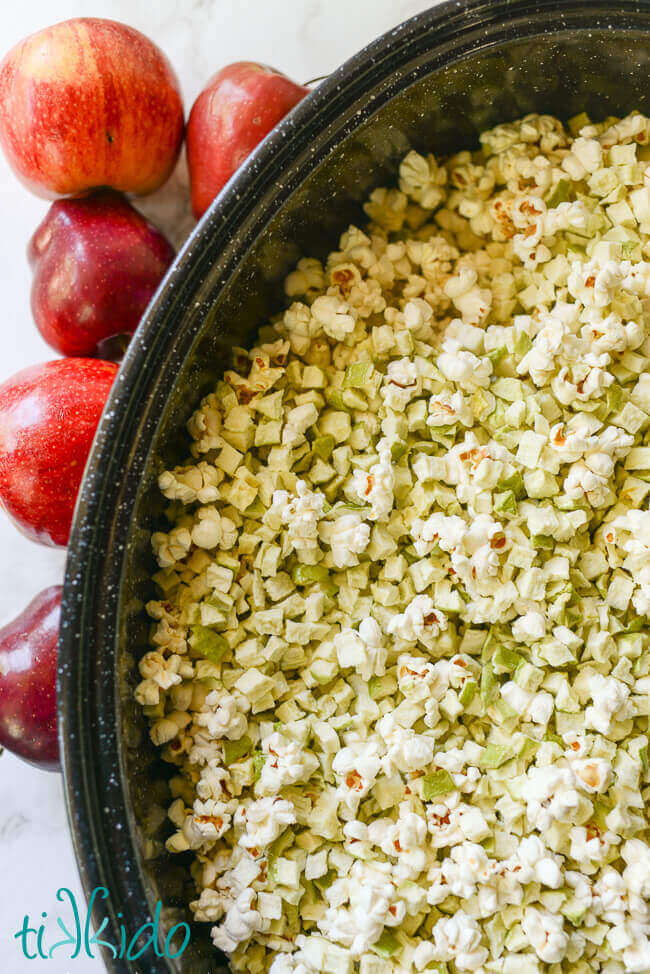 Mix popped popcorn and diced, freeze dried apples together in a large roasting pan (buy one here).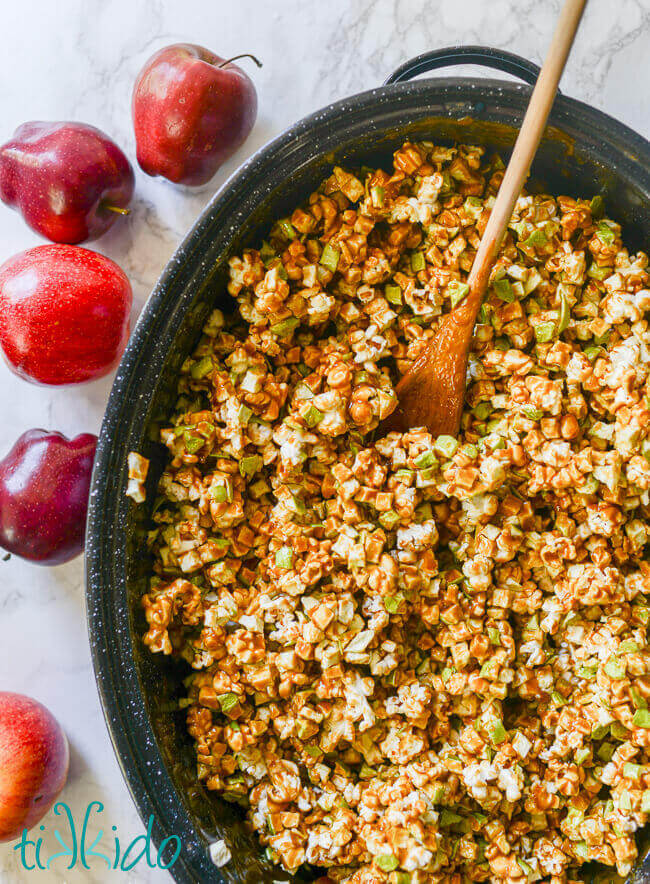 In a saucepan, combine the brown sugar, butter, corn syrup, salt, and molassas, and heat over medium heat, stirring occasionally, until the mixture is combined and begins bubbling at the edges of the pot.  Keep the pot on medium heat, and let cook for another five minutes.
After teh five minutes have passed, remove from heat, and stir in the teaspoon of baking soda.  Pour the mixture over the popcorn and apples, and mix to coat evenly.
Bake at 200 degrees for one hour, stirring every 15 minutes.
After done baking, spread the hot popcorn mixture out on parchment paper or baking sheets to cool down in a shallow, single layer.  Anything that is touching as it cools down WILL stick together.  Definitely don't leave it in the baking pan to cool down, or you will have one very large, very delicious, and very unwieldy giant lump of caramel corn.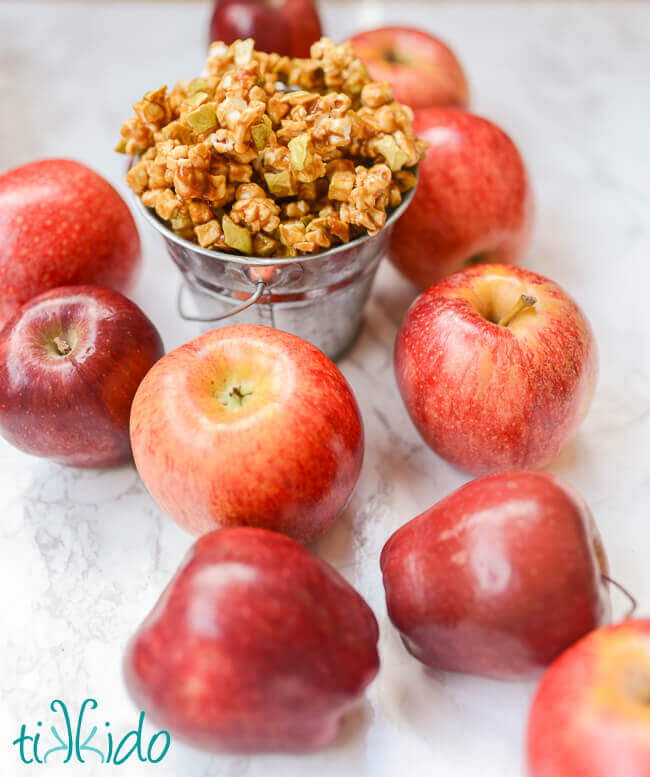 The freeze dried apples do soften a bit, but retain their incredible, intense apple flavor.  It's an amazing addition to the classic caramel corn.  
Be sure to check out the other delicious apple recipes from the rest of the Taste Creations Blog Hop crew:
An Italian in my Kitchen:  Apple Pie Cookies
Our Good Life: Sweet and Savory Applesauce
Mom Home Guide:  Quick Apple Crisp