Printer-friendly version
I like creating height on my dessert tables.  Often I do that with floral arrangements, or with cake stands.  And sometimes it's fun to do it with the actual food.  
At the Sprinkles party, that meant a donut topiary!
Reminiscent of the French croquembouche, it just looks festive and impressive, even though it was seriously simple to make!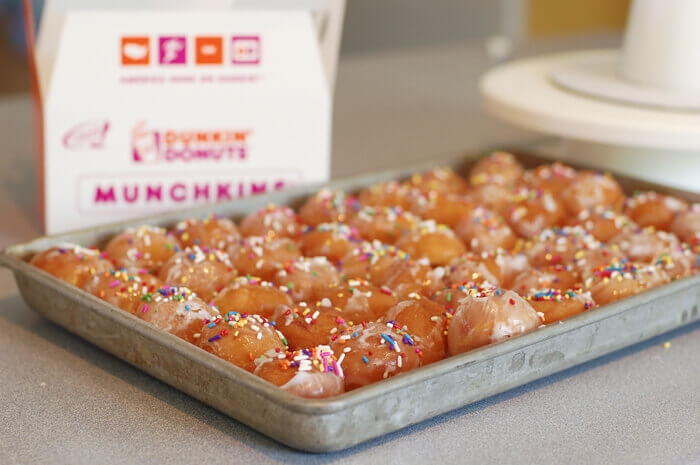 First, you have to get your donuts.  I simply bought Dunkin' Donuts Munchkins the morning of the party, came home, and added sprinkles to the sticky surface.  And then tried to fend off the family from pilfering my topiary materials.
Unlike a croquembouche, I decided to use a styrofoam cone from the craft store as a structure for creating my topiary.  Since styrofoam isn't food safe, I wrapped it in waxed paper before gluing it to an 8" cardboard cake round.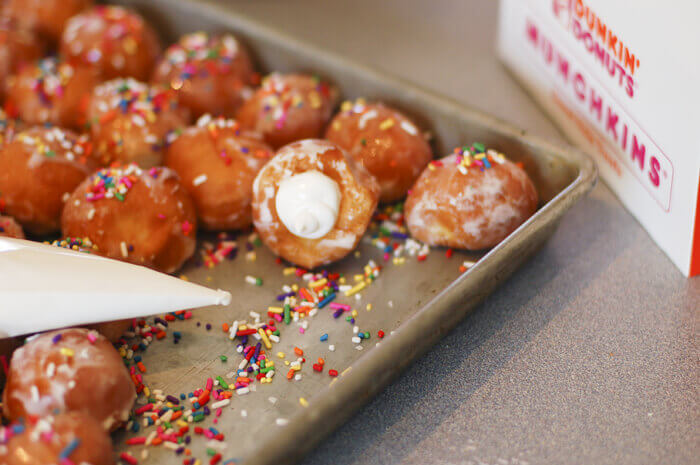 I used leftover thick royal icing from the icing covered pretzels, and simply squirted a good dollop of icing on the underside of the munchkin.
At that point, it's just a matter of attaching the donuts to the styrofoam structure.  Do this a few hours before the party, so the icing has a chance to set before the party.

, You could certainly also use something other than royal icing to stick the donuts to the topiary form.  Melted chocolate would work well, in places where it's not as hot as Phoenix!  Melted caramels would also work nicely, and would be awfully tasty.  Mmmm, caramel.  
As far as I'm concerned, this is a perfect party food.  Festive, thematic, quick to put together, and already in bite-sized servings.  And who can resist a donut hole?