Printer-friendly version
Turn a store-bought dinosaur piñata into a dragon piñata with this easy tutorial.  I used this technique to make the Smaug piñata for my daughter's Lord of the Rings birthday party.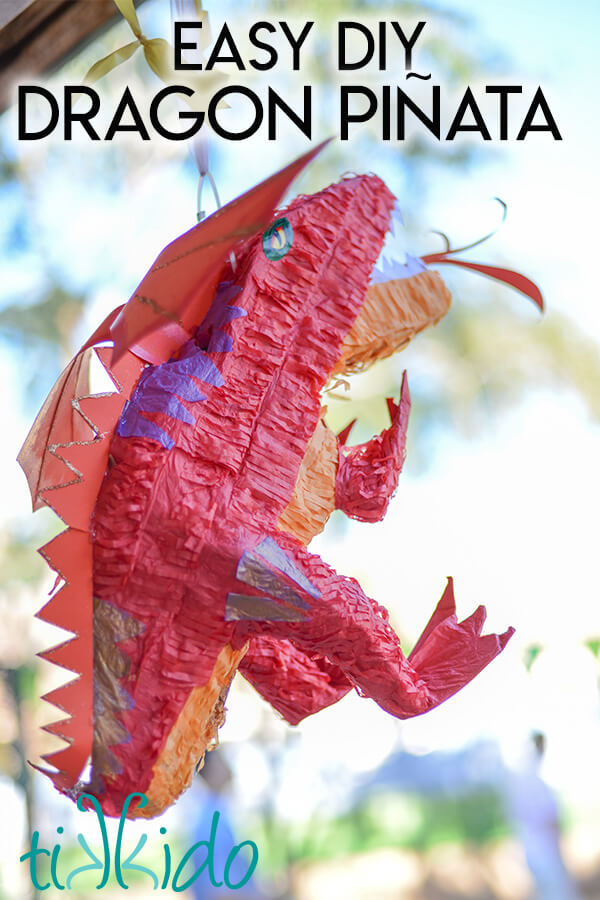 Pinatas are almost always a part of our birthday celebrations.  I like making my own, but I don't loooove the craft, so if I find a good looking one pre-made, I'm happy to buy it.  Or adapt it to my purposes.  That's exactly what I did for the Hobbit Birthday Party, to create a Smaug pinata.  None of the local party stores had dragon pinatas, but one did have a dinosaur.
A T-rex, to be precise.  And one that was even mostly red and gold already (Smaug's colors).  Score!  I knew it wouldn't take much to transform this prehistoric beast into a mythical one.
I started with a little gold paint to tame down the purple accents. 
Next came the fun dragony bits, made entirely out of red poster board (about $.50 worth of material!).  I cut a jagged ridge to go along Smaug's back, from the head to the tail.  I cut wings out of the same lightweight, red cardboard material.  I attached both with a hot glue gun.  Only glued myself twice during this process.  It's a good thing I use a low-temp glue gun.
I added some gold paint and glitter accents to the wings and ridge, and glued some curling flames coming out of Smaug's mouth.  I even glittered up his belly--because Smaug had a jeweled underbelly, of course.  
And that's all that it took to have a Smaug pinata, ready to defeat at the end of our treasure hunt.
Ah, is there any success sweeter than defeating a papier-mache dragon?
Other Hobbit Party Tutorials You Might Like: