Printer-friendly version
 I'm a sucker for a fairy theme, so I jumped at the chance to make some fairy sugar cookies for my friend Jodi's daughter's first birthday party.  I searched for fairy cookies on Pinterest and google for some inspiration, but surprisingly, found very few fairy cookies out there.  So I feel I'm making the world a better, more magical place by making these cookies and sharing them on the internet. ;-)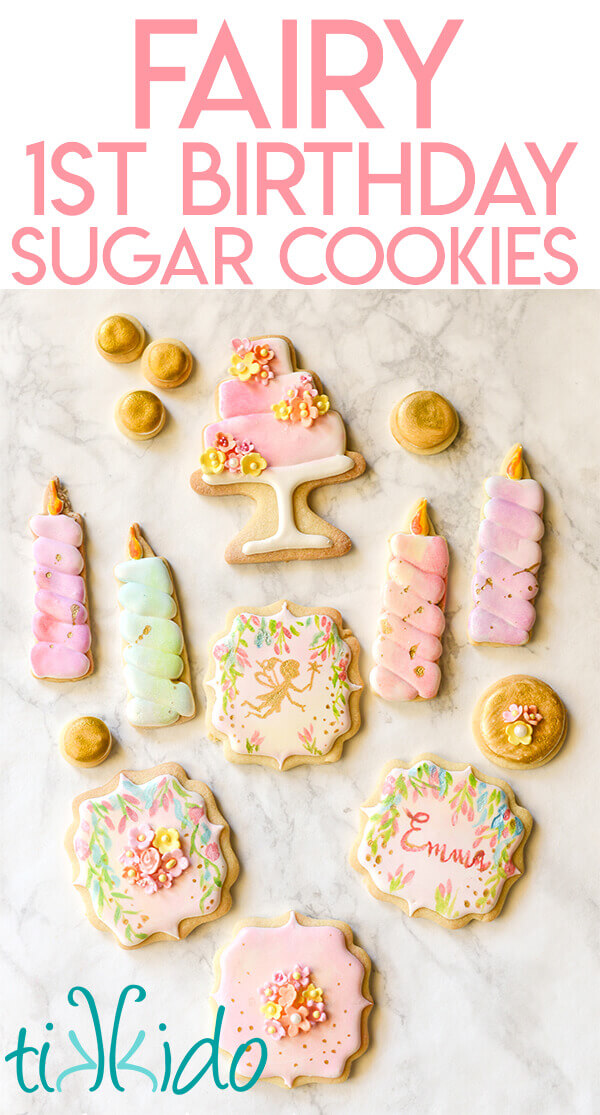 I used the gorgeous invitation Jodie picked out as my inspiration.  I love making watercolor style, handpainted sugar cookies, so the invitation design was the perfect starting point.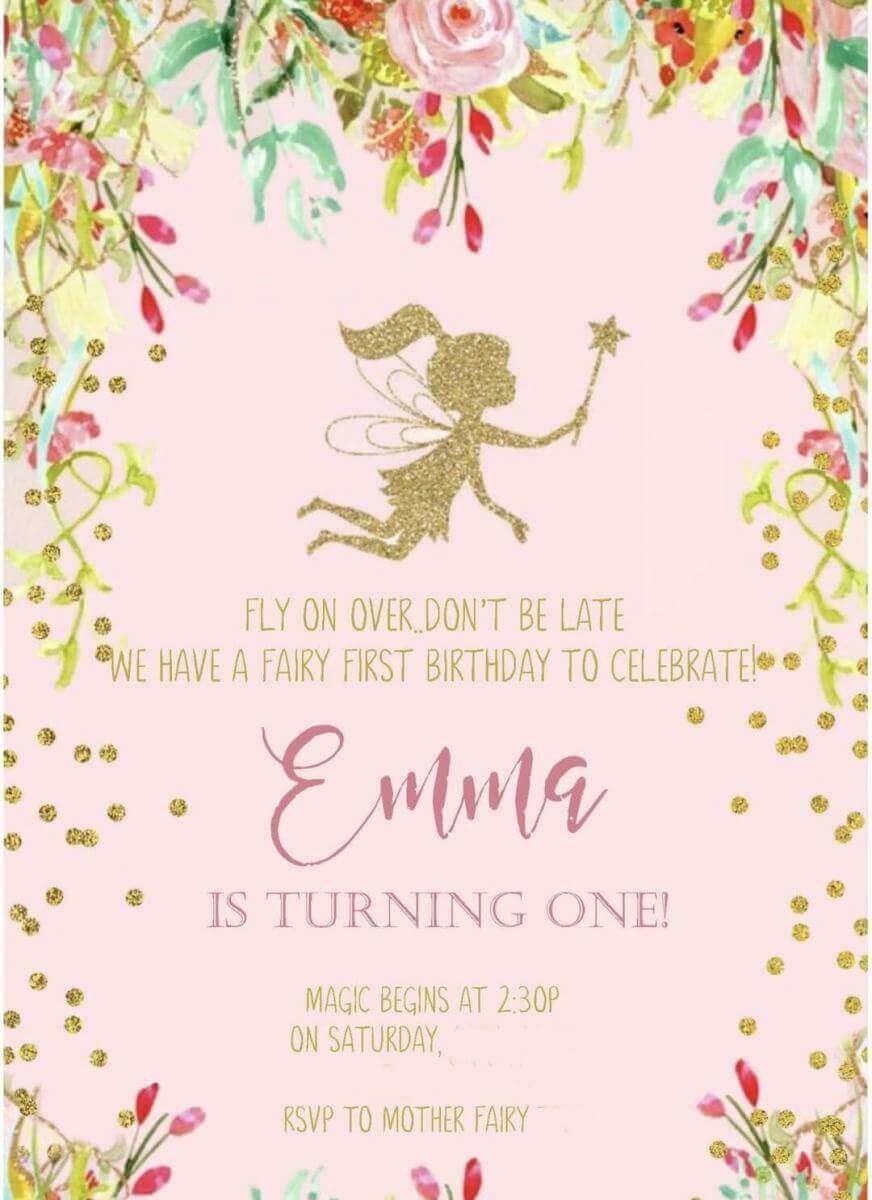 Look how sweet that fairy invitation is!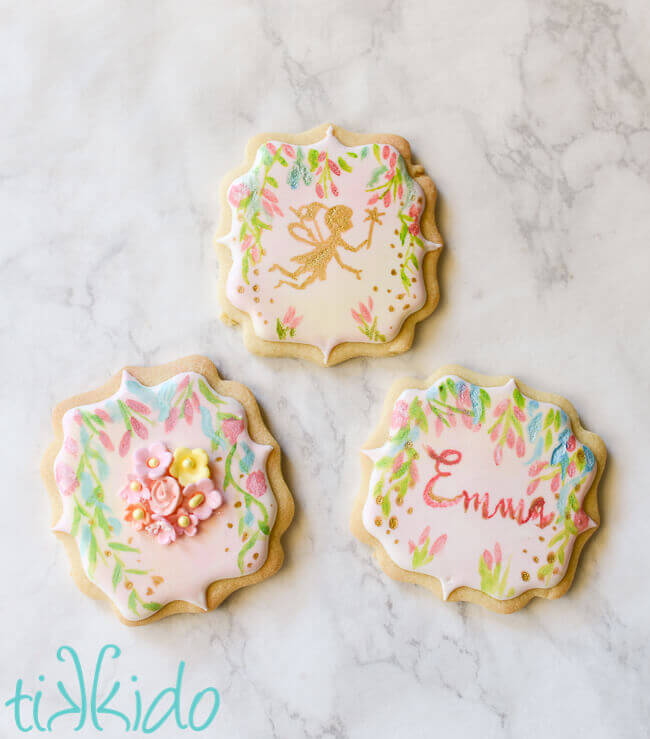 I looked for a fairy cookie cutter at my local cake decorating store, but they didn't have any.  So I pulled out some of my trusty generic shaped cookie cutters (like these plaque shapes) and decided to add the fairy magic with the painted details rather than the shape of the cookies.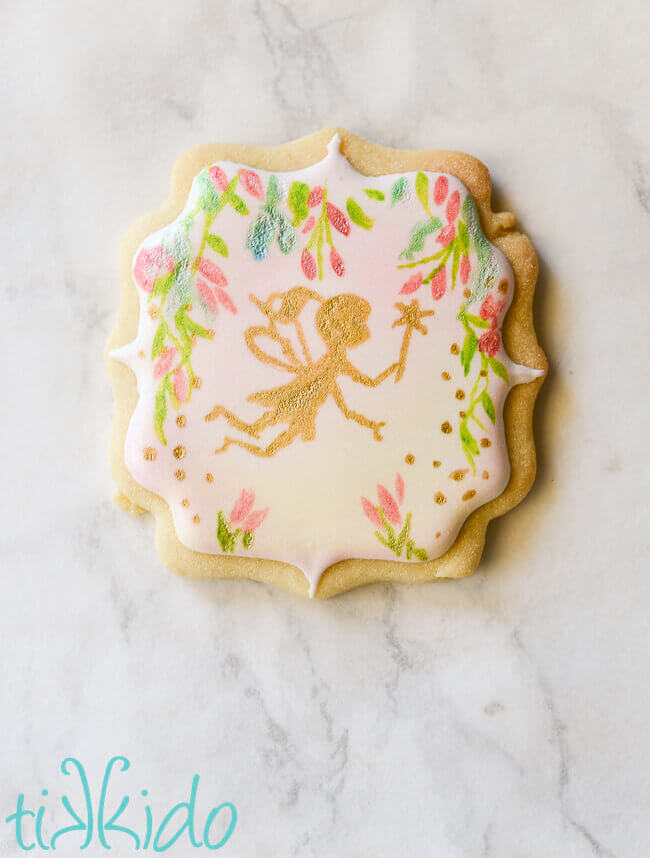 I like to paint my cookies with Americolor gel food coloring thinned down with Everclear or vodka.  The alcohol evaporates away quickly, leaving just the food coloring behind.  
Fairy Cookie Decorating Painting Tips:
If you need the food coloring to be a little more opaque than a watercolor style of painting, mix the colors with Americolor's white gel food coloring.  It's more watery than the other gel colors, but is nice and opaque.
You can mix up your own gold paint with gold luster dust and some vodka or Everclear, but I prefer to use gold AIRBRUSH food coloring instead.  It's already a thin liquid, ready for painting right out of the container.  Just remember to shake it up before you squirt some out.
Give the painted cookies a spray with aerosol super pearl luster dust to give it a fabulous, shimmery, magical finish.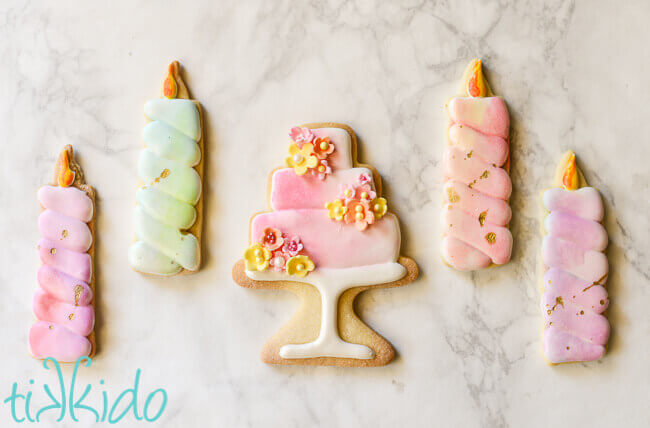 I got to use my cake on a cake stand cookie cutter for the first time for this project!  And birthday candle cookies seemed perfect for a first birthday, too.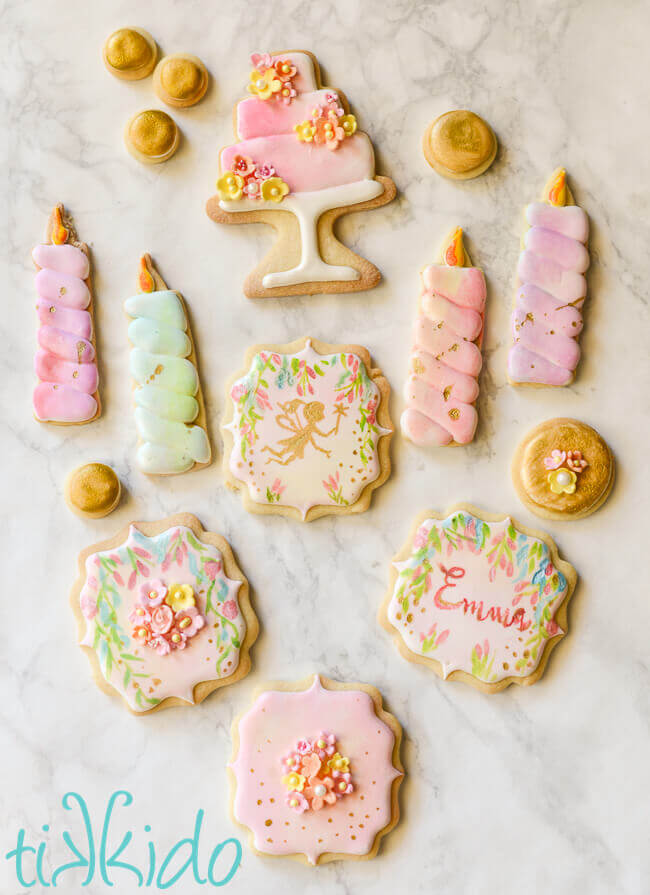 I like to make some mini cookies when I make cookies for parties, because a lot of adults want just a small nibble.  Some simple, small, golden circles inspired by the golden dots on the invitation were my solution.  Also, I just love anything miniature, including miniature cookies.
Have you ever seen a fairy cookie cutter?  Send me a link if you have!  This is clearly a major gap in my cookie cutter collection.