Printer-friendly version
Have you ever wondered how to freeze pies ahead of the busy holiday season?  This post will tell you how to freeze pies, what kinds of pies can be frozen, and how to defrost and bake the pies after they've been frozen.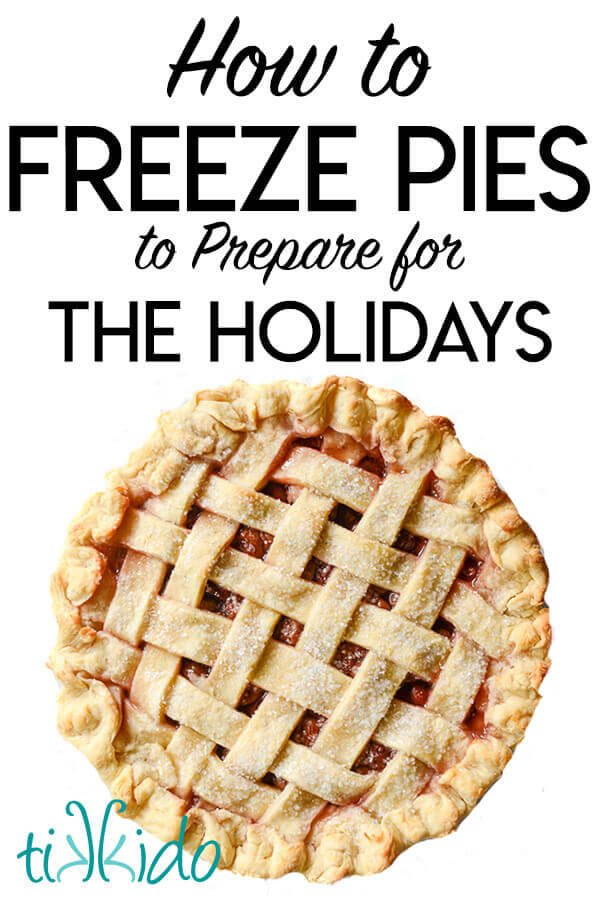 The hectic holiday season is notoriously stressful, with so many parties, events, and entertaining obligations that quickly fill calendars. Making homemade pies and cookies for Christmas dinner is often one of the first things to get cut from the to-do list; many people instead opt for sad, gummy, store-bought versions instead. Instead of running into a time crunch at the end of the holiday season, why not plan ahead and freeze pies weeks before any holiday, before the social calendar gets completely swamped?
Tracy DeWitt, a chef-instructor at the Arizona Culinary Institute, and Dave Smoake, a chef-instructor at Le Cordon Bleu, are a pastry-baking wonder team. Together, they won the 2006 National Bread and Pastry Championship, and took silver the following year at the National Pastry Team Championship. They've competed in five Food Network challenges as a team, and won two of those challenges. These guys know their pies, and we turned to them for advice for freezing ahead so all you have to do on Thanksgiving or Christmas day is pull the pies from the freezer and bake.
"Any time after Thanksgiving," DeWitt says, "as soon as there's room in the freezer, start filling up the space with pies and cookies for the holidays."
"We all want convenience," Smoake adds, "but who wants to give up the flavor and smell of a freshly baked pie?"
Some pies freeze better than others, but with Chef DeWitt and Chef Smoake's guidance, we've assembled a list of common favorite pie varieties, and their best tips and tricks for doing the fussy work of pie-baking ahead of time.
Can You freeze fruit pies?
Fruit pies, like apple and cherry, freeze beautifully, the chefs say. Cornstarch or tapioca work better as a thickener than flour when freezing pies, since they're frozen in a raw state, so choose or adapt recipes accordingly.
Make fruit pies as you normally would, and pop in the freezer unbaked. Once frozen solid, wrap well with several layers of cling wrap. When it's time to bake, unwrap and cook the pie straight from the freezer at the temperature recommended in the original recipe. You'll need to bake approximately an extra 10-15 minutes than is called for in the recipe to accommodate the frozen start.
Can you Freeze Pecan Pie and Pumpkin Pie?
Pecan pie is a Christmas favorite, but this traditional dish is best baked and then frozen, according to the chefs. On Christmas day, pull the pie out and let thaw, then put in the oven at 325 Fahrenheit for about 10 minutes. "The goal is not to add color," Smoake says, "just to get it warm and re-crisped." This technique works well for pumpkin pies, too. With both pecan and pumpkin pies, be sure that the pie is completely cooled down before wrapping in cling wrap.
Can you Freeze Chocolate Pie?
Classic chocolate silk pie doesn't freeze very well, but DeWitt reports that a very similar pie, a Diplomat, freezes beautifully. DeWitt recommends pre-baking the pie crust, or using a graham cracker or oreo pie crust (which she reports are absolutely delicious and her favorite with a chocolate Diplomat, and are great store-bought, too). The Diplomat filling is a cooked filling, so all that needs to be done when you're ready to eat is to thaw the pie and top with whipped cream and a few curls of chocolate, if you're so inclined.
If you're still not sure about making homemade pie, here's a liberating tidbit from the chefs: It's ok to buy pre-made pie dough. Chef DeWitt leans in toward Chef Smoake conspiratorily and says, "Should we admit this in print? Yeah. At home, we use the store-bought crusts. We take it out of the box, use our own pie dishes, and destroy the evidence. We've done the old switch-a-roonie." So there you have it: from the mouths of two of the very best chefs in the nation—the world!—using store-bought pie crusts is an acceptable shortcut. It's homemade filling that really makes the difference.