Printer-friendly version
Learn how to make a balloon tassel for an easy graduation party decoration. Tassels are a perfect design element to add to any graduation party, and who can resist a balloon at any age?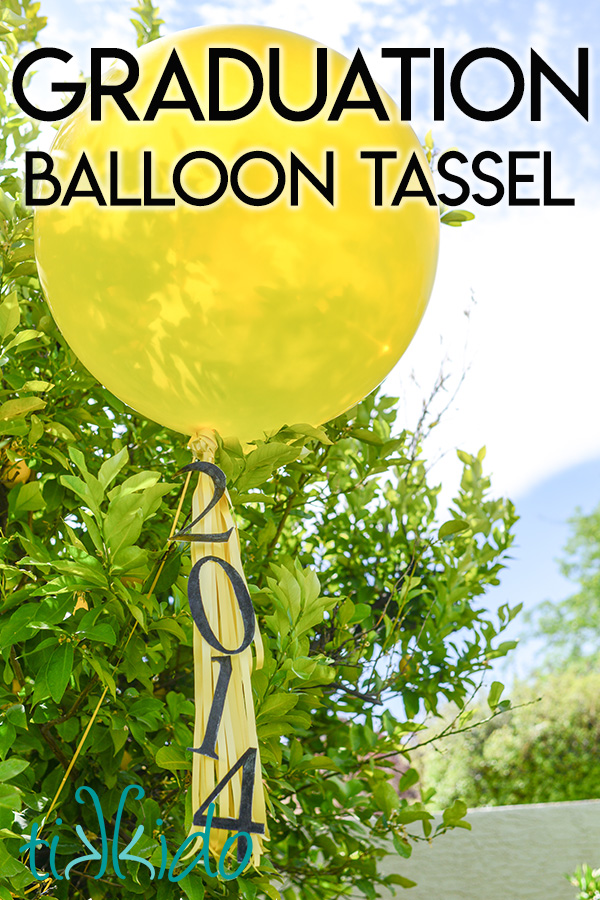 Nothing says "Party!" like a balloon!  
And what better way to dress up a big plain balloon for graduation than with a classic tassel and a glittery class year?
How to Make a Balloon Tassel
Material for Graduation Balloon Tassels
Florist's Satin Ribbon
almuminum foil
printed graduation year numbers
glitter
I used super-inexpensive florist's satin ribbon (also called satin acetate ribbon) for this craft.  It's the stuff that looks like nice satin ribbon, but feels more papery and stiff.  You could certainly use nicer ribbon, but it would definitely cost more than if you use the florist ribbon.
The process is almost the same as making the smaller tassels from yesterday's mortarboard cake stand project.  Start by cutting lengths of ribbon twice as long as you want the tassel to be, and tie in the center.
This time, however, we'll add a small extra step:  crumple up a ball of aluminum foil to give extra body to the top of the tassel, and give it that proper graduation tassel look, like this:
I used a dab of hot glue to hold the foil ball in place while I arranged the ribbons around it.
You certainly don't have to use the foil ball, but it definitely made the large scale balloon tassel look much better.   Tie the tassel just below the ball of foil hidden with ribbon.  If you'd like narrower strands, just use scissors to split the ribbon into thinner segments.
The glittery, crisp graduation year numbers were incredibly easy to make.  I just printed out a large 2014 on cardstock (to give the letters a little extra strength), then cut them out with scissors.
Add a little glue and a little glitter and let dry.
The moisture from the glue made my numbers curl a bit, but I simply placed the numbers between two sheets of parchment paper and pressed lightly with my iron.  They smoothed out nearly instantly.
I glued the numbers to my tassel using a hot glue gun.  Quick and easy.
And the perfect festive addition to our graduation spread!
Other Graduation Party Ideas You Might Like: