Printer-friendly version
Homemade granola bars are always delicious, but these homemade soft granola bars are something absolutely exceptional.  They're better than any granola bar you've ever bought, I promise you.
No Firefly/Serenity party would be complete without Fruity Oaty Bars.  And my husband's stash of snacks for work would be a much sadder place without them, too.
My version of Fruity Oaty Bars are a delicious, soft, homemade granola bar recipe that's been a favorite in our family for years.  We often mix up and modify the recipe to include different fruits and flavors, and no matter what we try, we always seem to love them.  
Fruity Oaty Bars Soft Granola Bar Ingredients
1 2/3 cups uncooked oatmeal
1/2 cup brown sugar
1/3 cup flour (I usually use whole wheat, sometimes even wheat germ)
2 cups dried fruit
1 t salt
1/4 t cinnamon
1/3 cup nut butter (I especially like cashew butter.  My husband Drew loves peanut butter.)
1/4 cup maple syrup or honey
2 T corn syrup
6 T melted butter
No special technique to this recipe.  Dump it in a bowl.  Mix it up.  I used dried cranberries, dried cherries, and dried apricots for my fruity oaty bars this time.   You could also mix in nuts, coconut, chocolate chips...  anything, really.
Press the mixture into a 9x9 pan.  If at all possible, use a silicone baking pan.  Seriously, it's my secret weapon for making caramels, bar cookies, granola bars--anything that benefits from being lifted out of the pan (usually with a parchment paper sling and copious Pam spray) and then cut.
Bake at 350 degrees Fahrenheit for 35 minutes.  Let cool COMPLETELY, and only then cut into bars.
See?  Look how gloriously the whole thing pops right out of that silicone baking pan.
These are fabulous for breakfast, snacks--and, of course, space cowboy birthday parties.
You can even buy the Fruity Oaty Bars girls (produced by Quantum Mechanix) as a prop to go along with your treats!
Who could resist those little bobble-heads?  They don't even need any subliminal messages for me to go nuts for these granola bars.
Printable Soft Granola Bars Recipe
Want a one page, printable version of this recipe for soft granola bars?  Click on the image below to print the PDF or download it to your device.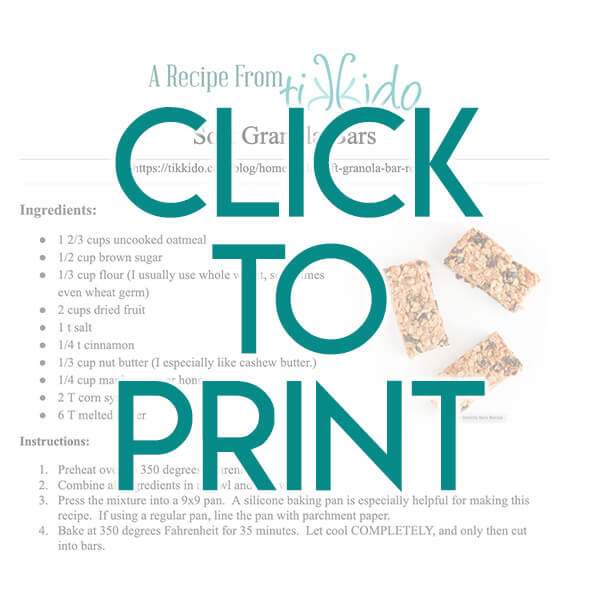 Other Granola Recipes You Might Like:
Other Firefly Birthday Party Ideas You Might Like: