Printer-friendly version
It's amazing what a few quick, super easy, gumpaste flowers can do for any baked good.  I'm talking homemade OR store-bought.  
You can whip up a ton of them very quickly.  You can do them weeks ahead of time, or at the last minute.  Knowing how to make these cute little flowers is a great skill to have in your party-planning toolbox.
Tools for Making Basic Gum paste Flowers:
food-safe paintbrushes
small rolling pin
Materials for Making Basic Gum paste Flowers:
Gum paste (I like Satin Ice)
sugar pearls or sprinkles (I used yellow)
vodka
food coloring
aerosol oil spray
Start by coloring the gum paste, and rolling it out.  I always roll out on a smooth surface lightly sprayed with olive oil spray to keep the gum paste from sticking to the counter.  Use the gum paste flower shaped cutters to punch out several flowers at a time.  (Not too many--you have to work quickly with gum paste, because it starts drying very quickly).  Keep the excess gum paste in a sealed plastic zip top bag while you work on the flowers.
Here's a quick and dirty video showing how to shape the basic gum paste flowers.  Something are just WAY easier to convey with video.  
Once you've shaped your gum paste flowers, it's time to add those little extra touches that really make them look magnificent.  I was making pink flowers, so I used a darker pink petal dust to add a little bit of shading to the centers of the flowers.  That sounds complicated, but all I mean by that is that I had a little bit of the petal dust on a dry paintbrush, and I poofed it in the center of the flower.  I also like to add a little bit of yellow petal dust to the center of each flower.  It  looks like a dusting of pollen, and really adds a little something special to these gum paste flowers.
The centers of the flowers are insanely easy to add.  Just put a dab of vodka in the center of each flower (it dries more quickly than water, and the wetness activates the sugar in the gum paste and makes a great glue).  Then drop either a sugar pearl (I used light yellow here) or a few yellow nonpareil sprinkles into the wet center of each flower.  
Ideally, you should let the flowers dry for a couple hours before using them to decorate cakes or cookies.  In reality, I made these to top the macarons about a half an hour before the party started.  You can get away with that when you're making small gum paste decorations that don't need a lot of drying time for structural integrity.  
I attached these with a little dab of the same buttercream icing I used to fill the macarons, but you could use the vodka trick here, too.
I used little gumpaste flowers to top these meringues I bought at Trader Joe's for Makenzie's 13th birthday party.  A just-fine treat was instantly transformed into something beautiful and special.  
I love having a selection of these little gum paste flowers around.  Whenever I have leftovers from a cake project, I always keep the extras.  They'll keep pretty much forever, and it makes it so easy to whip up beautiful cupcakes like these in no time at all.
How would you use a collection of little gum paste flowers?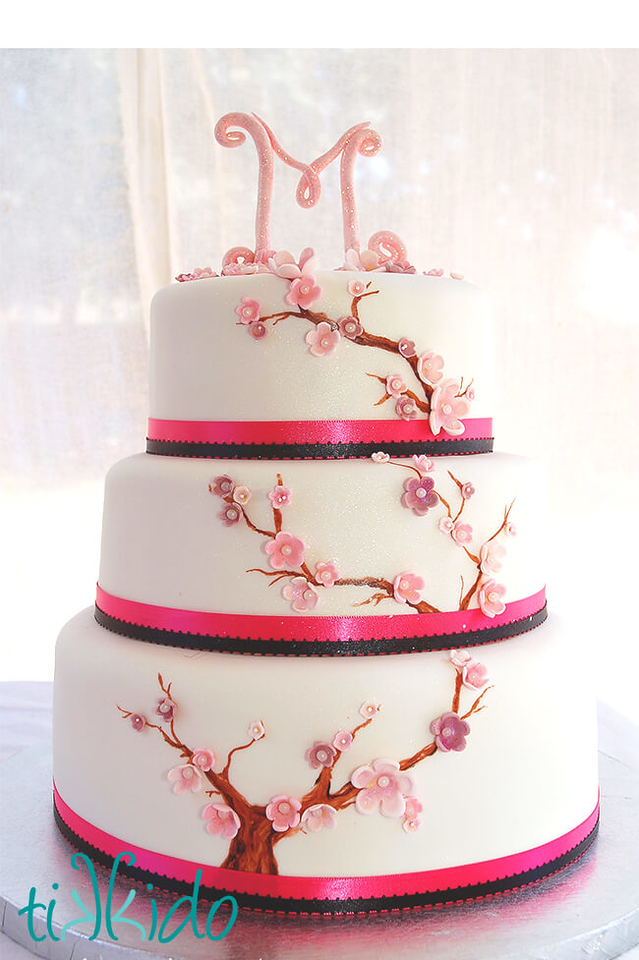 Other Cake Decorating Tutorials You Might Like: