Printer-friendly version
Make this cranberry Christmas pudding recipe in your Instant Pot!  This steamed pudding is easy to make for Christmas in under an hour using a pressure cooker.
Welcome to the 5th annual 12 Days of Holiday Ideas event, hosted by Shirley of Intelligent Domestications  and  Erlene of My Pinterventures Between Nov. 11th and December 6th there will be hundreds of new ideas shared by over 55 Co-host bloggers!   Today we're sharing Christmas desserts!
Go here  to see our kick-off collection of Holiday ideas as well as all of this years talented participating DIY and Foodie Blogs. Download this years November and December calendars with all of the topics and dates so you can make plans to watch for ideas!
We are hosting a BIG GIVEAWAY from our Sponsors this year! Be sure to scroll all the way down for more information and to enter to win!
---
Cranberry Christmas Pudding Recipe
We didn't often go to all the fuss of making a traditional steamed pudding when I was growing up, but oh, did I LOVE it when my mom did.  There's something about the texture that is absolutely magical, and this recipe, made with molasses and cranberries, is the perfect Christmas pudding recipe.  
Christmas Pudding Recipe Ingredients:
2 teaspoons baking soda
1/2 cup hot water
1/2 cup molasses
2 cups chopped cranberries
1/2 cup chopped nuts (I used walnuts)
1 Tablespoon sugar
1/4 teaspoon salt
1 1/2 cups flour (divided)
Mix the chopped nuts, chopped cranberries, and half a cup of the flour.  Set aside.
Combine the hot water, baking soda, and molasses.  It will foam up impressively, so be sure to do this in a container that has room for the growth.
Add the remaining one cup of flour, the salt, and the sugar to the molasses mixture.  Add the floured cranberries and nuts and mix to form the cranberry pudding batter.
Grease a lidded pudding bowl well with butter.  My pudding basin is a plastic one designed to work well in pressure cookers, but you could use a traditional metal one, too.
Put the pudding batter in the pudding bowl and seal the lid.
Put about three cups of water and your steamer rack in your Instant pot.  Place the pudding bowl, lid side up, in the pot.
Set the vent to the steaming position, and steam for 15 minutes.
Then flip the vent to the sealed position, and cook on manual, high pressure, for 20 minutes.
Let the Instant Pot do a natural pressure release.
While the pressure is coming down on the pudding, make a traditional Hard Sauce to go on top of your steamed Christmas pudding.
Hard Sauce Recipe for Cranberry Christmas Pudding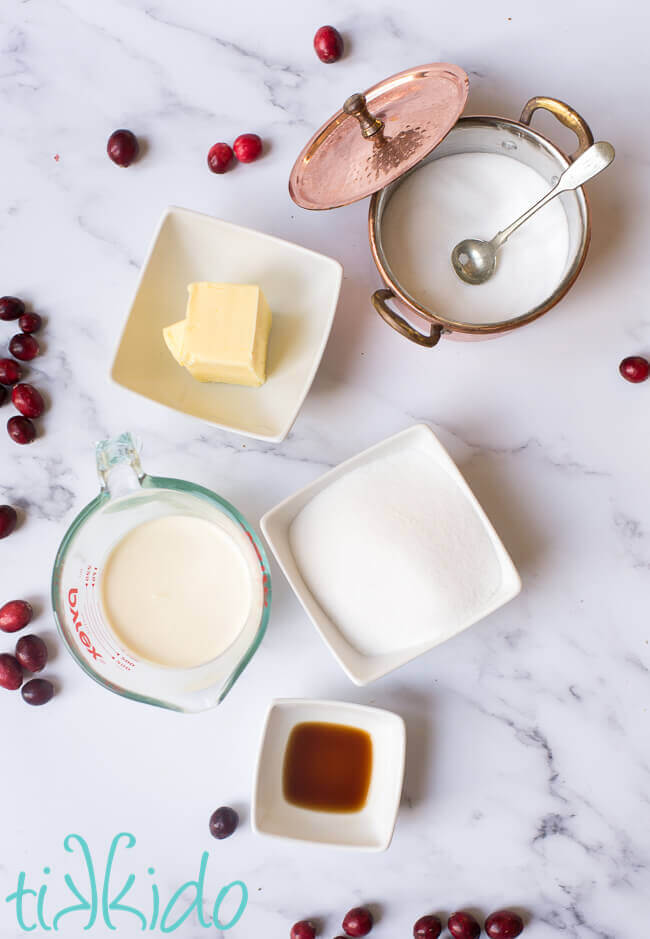 Hard Sauce Recipe Ingredients:
1/2 cup butter
1/2 cup cream
1 cup sugar
pinch of salt
1 teaspoon vanilla
Combine the butter, sugar, salt, and cream in a double boiler.  (Or, in my case, an improvised double boiler made with my regular pot and a large metal bowl.)
Cook, stirring, until the sugar is completely dissolved and the sauce starts to bubble.
Remove from heat and stir in the vanilla.
Slice the Christmas pudding and pour a generous portion of the hard sauce over the cake.  It's absolutely magical!
Have you ever tried a traditional steamed Christmas pudding?
Printable Cranberry Christmas Pudding with Hard Sauce Recipe:
---
MEET OUR SPONSORS who have generously donated fabulous prizes for the Big Christmas Giveaway!
DecoArt  winner will receive a prize package valued at $100!
Dixie Crystals/Imperial Sugar winner will receive a Keurig Coffee Maker valued at $100!
Oriental Trading winner will receive an OrientalTrading.com gift card valued at $200!
Cabot Cheese winner will receive a gift basket of Cabot products valued at $75!
Burlap Fabric winner will receive a prize pack of products valued at $50!
Zulay Kitchens winner will receive one Milk Frother and a Lemon Squeezer valued at $21
It's Home To You winner will receive one wooden Santa sign valued at $65
Giveaway begins Nov. 8, 2019 and ends Dec. 6, 2019. Winners will be notified by December 13, 2019. Sponsors will ship each prize to the winner. There will be a total of six winners, one for each prize. Drawing is by random selection using the Rafflecopter widget. 
Must be 18 to win. Open to U.S. residents only. Terms & Conditions
Other Cranberry Recipes You Might Like: